04/19/19 at 10:31 AM ET | Comments (0)
via the NHLPA,
Columbus Blue Jackets left winger Nick Foligno, New York Islanders goaltender Robin Lehner and San Jose Sharks center Joe Thornton have been named finalists for the 2019 Bill Masterton Memorial Trophy, which is awarded "to the player who best exemplifies the qualities of perseverance, sportsmanship and dedication to hockey."
The local chapters of the Professional Hockey Writers Association (PHWA) submitted nominations for the Masterton Trophy at the conclusion of the regular season and the top three vote-getters were designated as finalists. The winner will be announced Wednesday, June 19, during the 2019 NHL Awards show.
The finalists, in alphabetical order:
Filed in: | KK Hockey | Permalink

Blog: Abel to Yzerman By Paul
04/19/19 at 10:25 AM ET | Comments (1)
from Ansar Khan of Mlive,
"Yzie brings instant credibility, and that's not taking anything away from Kenny," Chelios told MLive. "Sometimes it's a player you acquire in the draft or a trade that gives you that boost. Yzie, from up in the press box, will have that effect. He speaks with conviction. The players will want to play for him. It's going to be great.

"It didn't take him long to build that team in Tampa. His work ethic as a GM was the same as a player. He's going to be chomping at the bit to get the team ready for training camp. … The timing is perfect. He's ready to take on the new challenge and I'm sure he's looking forward to it."
Filed in: | Abel to Yzerman | Permalink

04/19/19 at 10:20 AM ET | Comments (0)
from Steve Simmons of the Toronto Sun,
There is no doubt the Leafs have the best goaltender in the series, which under normal circumstances wins you playoff rounds. The best goalie doesn't always win, though — see Tampa's Andrei Vasilevskiy in Round 1 against Columbus. The hottest goaltender wins.

Andersen is better than Rask at this stage of their careers. But will he be hotter than Rask in the final games of what is now a best-of-three series?

That has yet to be determined.

No doubt, though, Andersen is world-class. Rask used to be world-class. He's slipped somewhat from his greatest days, but is still an above-average NHL goaltender. And, to date, through four very different playoff games, Andersen has outplayed Rask through the first three games, two of them won by the Leafs.
Filed in: NHL Teams, Boston Bruins, Toronto Maple Leafs, | KK Hockey | Permalink

04/19/19 at 09:47 AM ET | Comments (1)
from Curtis Pashelka of the Mercury News,
William Karlsson picked up a loose puck in the neutral zone and darted into the Sharks' end on a 2-on-1 with Reilly Smith. Karlsson put on the breaks, got the puck to his forehand and fed a perfect pass to Smith over the stick of Brenden Dillon.

Martin Jones stretched out his right leg, using every inch of his 6-foot-4 inch frame, to get a toe on the shot, preserving the Sharks' one-goal lead and maybe his team's season.

"Totally what we expected. He's a heck of a goalie," Sharks captain Joe Pavelski said. "We believe in this guy. We played the right way tonight and it probably started with him and he led the way out.

"We were committed, helped him out a little bit. He made some great saves, especially that 2-on-1 there after they scored. A game saving save there, and that's what he's always done for us, get those key saves."

After he was pulled in Game 4 after he allowed two goals on seven shots in the first period, Jones finished with 30 saves, and the Sharks came away with a gutsy 5-2 win over the Golden Knights on Thursday in Game 5.
Watch the game highlights below.
Filed in: NHL Teams, San Jose Sharks, | KK Hockey | Permalink
Tags: vegas+golden+knights
04/19/19 at 08:50 AM ET | Comments (0)
from Jim Thomas of the St. Louis Post-Dispatch,
By now the strategy is crystal clear for the Blues. They should simply forfeit Game 6 Saturday in St. Louis, proceed directly to Game 7 here, clinch the series, and move on to Round 2 of Lord Stanley's playoffs.

Because apparently it no longer is possible for the Blues to lose at Bell MTS Place. They were down 2-0 in the first period Thursday. On the ropes when they had to kill a four-minute high-sticking penalty to Robert Thomas. Within inches of trailing 3-0 when Colton Parayko fell on Kevin Hayes and Hayes' own stick redirected the dribbling puck away from the goal line.

A game-tying goal by Brayden Schenn — moved down to the second line — came with 6 minutes 8 seconds to play in the game. And then the game-winner by Jaden Schwartz with 15 seconds to play. It all added up to a spellbinding 3-2 victory. If the Blues manage to close out this series, it will be a game talked about for years in team lore.

Up 3-2 in this best-of-seven series, the Blues can send Winnipeg packing with a victory Saturday at Enterprise Center.
Filed in: NHL Teams, St. Louis Blues, Winnipeg Jets, | KK Hockey | Permalink

04/19/19 at 08:37 AM ET | Comments (0)
Hurricanes, Jets strike early to establish franchise records; Schwartz scores with 15 seconds remaining in regulation as Blues complete multi-goal third-period comeback; Sharks score five goals to force Game 6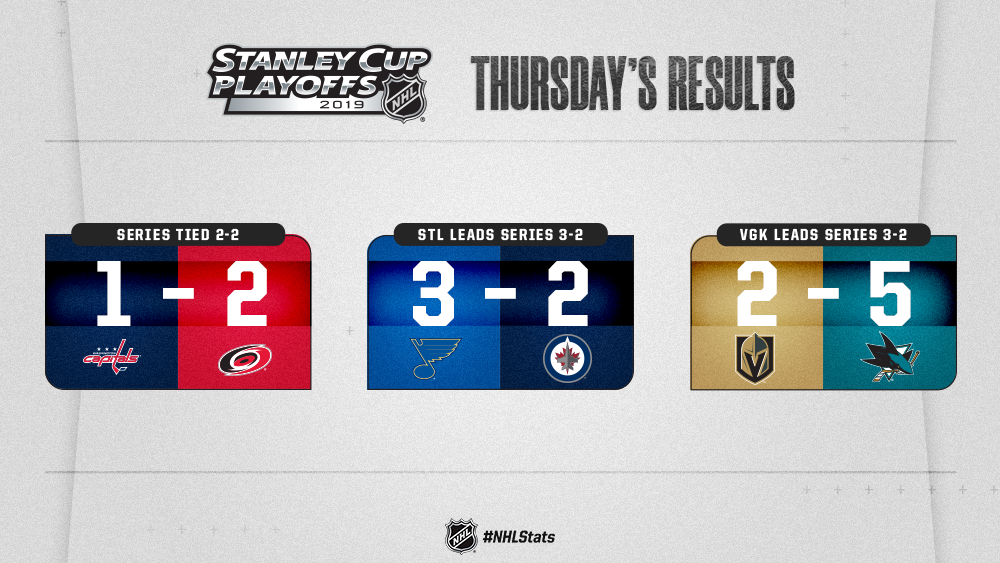 Filed in: KK Website Business, KK Interviews, NHL Teams, | KK Hockey | Permalink

Blog: Abel to Yzerman By Paul
04/19/19 at 08:05 AM ET | Comments (37)
added 8:21am, from Helene St. James of the Detroit Free Press,
The Detroit Red Wings aren't wasting time welcoming Steve Yzerman back into their fold.

Days after the Tampa Bay Lightning, where Yzerman was general manager, were eliminated from the playoffs, the Wings have called a press conference for this afternoon.

A tweet all but gave away the announcement: Signs point to Yzerman being named general manager and Holland moving into an advisory role.
added 8:30am, Below, tweets from Bob McKenzie...
Filed in: | Abel to Yzerman | Permalink

04/18/19 at 11:50 PM ET | Comments (0)
The St. Louis Blues can advance to round 2 on Saturday night.
Explanation of the second goal by the Blues is below along with the game highlights.
Filed in: NHL Teams, St. Louis Blues, Winnipeg Jets, | KK Hockey | Permalink

04/18/19 at 10:07 PM ET | Comments (5)
Filed in: NHL Teams, Washington Capitals, | KK Hockey | Permalink
Tags: t.j.+oshie
04/18/19 at 09:59 PM ET | Comments (1)
Series tied at 2.
Below, watch the two late saves by Mrazek.
Filed in: NHL Teams, Carolina Hurricanes, Washington Capitals, | KK Hockey | Permalink

About Kukla's Korner
Kukla's Korner is updated around the clock with the work of our own talented bloggers, plus links to the best hockey writing around the internet. We strive to bring you all the breaking hockey news as it happens.
The home page allows you to see the latest postings from every blog on the site. Subscribe here. For general inquiries and more, please contact us anytime.
Most Recent Posts
Most Recent Comments