05/19/22 at 11:22 AM ET | Comments (0)
Filed in: NHL Teams, Boston Bruins, | KK Hockey | Permalink

05/19/22 at 11:15 AM ET | Comments (0)
Five minutes to watch.
Filed in: NHL Teams, | KK Hockey | Permalink

05/19/22 at 10:31 AM ET | Comments (0)
NEW YORK (May 19, 2022) – Andrew Brunette of the Florida Panthers, Gerard Gallant of the New York Rangers and Darryl Sutter of the Calgary Flames are the three finalists for the 2021-22 Jack Adams Award, presented to the head coach who has "contributed the most to his team's success," the National Hockey League announced today.
Members of the NHL Broadcasters' Association submitted ballots for the Jack Adams Award after the conclusion of the regular season, with the top three vote-getters designated as finalists. The winners of the 2022 NHL Awards will be revealed during the Conference Finals and Stanley Cup Final, with exact dates, format and times to be announced.
Following are the finalists for the Jack Adams Award, in alphabetical order:
Filed in: NHL Teams, | KK Hockey | Permalink

05/19/22 at 08:57 AM ET | Comments (0)
from Benjamin Hochman of the St. Louis Post-Dispatch,
Wait, you're telling me a team once beat the Avalanche not just in a playoff game but in an entire playoff series?

After Colorado's first-round sweeps of the Blues and Predators the past two years — and the Game 1 domination of the Blues this year in the second round — it's sure hard to believe. But it happened. The Vegas Golden Knights ended the Avs' postseason in the second round last season.

So to win this year's second-round series, the Blues must look to the Vegas series for clues.

"Their forecheck really turned it around for them," Blues coach Craig Berube said Wednesday of the 2021 Golden Knights. "They were good in the forecheck and didn't give up odd-man rushes. They nullified (Colorado's) attack. And it starts with the forecheck, 100%.

"Our forecheck was not very good last night. We didn't get numbers in there. We didn't stall pucks. And when you don't do that, they're up the ice quickly. ... We were probably a little bit on our heels at times, you know? Too cautious. You've got to be smart, but you've got to be aggressive."
Filed in: NHL Teams, Colorado Avalanche, St. Louis Blues, | KK Hockey | Permalink

05/19/22 at 07:56 AM ET | Comments (1)
from Larry Brooks of the New York Post,
This was the goaltender who pushed Henrik Lundqvist to the bench for four straight games midway through the 2016-17 season, when such a thing had never ever been done before.

This was the goaltender who introduced himself to Rangerstown on the first day of training camp in 2015 by assuring everyone that he was not, "The biggest douchebag in the whole word."

This was the goaltender who stole Game 1 of the conference semifinals on Wednesday night by holding his badly outplayed club in the match through the first 40 minutes until his teammates struck for the tying goal late in the third period before getting the winner early in overtime.

This was Antti Raanta, the 33-year-old Finn who has been a backup throughout almost all of his career, which included two seasons in New York, and who ascended to the No. 1 spot for Carolina when Freddie Andersen went down with a lower body injury on April 16.

"You're always thinking, 'Am I good enough to be playing these games?', when you haven't gotten the chance to play these, you know?" Raanta said after his sparkling performance allowed the Hurricanes, after a 2-1 victory on Ian Cole's OT winner at 3:42, to get a 1-0 jump in the series. "You are always questioning yourself about, 'What if I get the chance to play?' "
Below are the game highlights.
Filed in: NHL Teams, Carolina Hurricanes, New York Rangers, | KK Hockey | Permalink

05/19/22 at 07:48 AM ET | Comments (1)
from Eric Francis of Sportsnet,
Count Darryl Sutter is one of the few folks in southern Alberta who wasn't buzzing with excitement following his club's tribute to the 80s.

Yet, he still found a way to play along.

"Missed the convert," was the Jolly Rancher's opening take on Wednesday's reinstallment of the Battle of Alberta.

"We were told it was a boring series last time, so I told the players yesterday, 'we've got to score 7-10 goals today because they'd probably score 5-8 to win,' so that's what we did."

Coming off a series against Dallas that took five games for the Flames to score nine goals, the Flames opened the first provincial punch-up in 31 years with a memorable 9-6 win over an Oilers squad that heard chants of "We want 10" a mere seven minutes in.

A classic in the eyes of almost everyone who wasn't skating in the game, the Flames scored twice in the opening minute, gave up two four-goal leads and broke a 6-6 tie early in the third with three finishing touches.
Game highlights are below.
Filed in: NHL Teams, Calgary Flames, | KK Hockey | Permalink

05/19/22 at 07:16 AM ET | Comments (1)
* The "Battle of Alberta" lived up to the hype, with the teams combining for 15 goals including the fastest two from the start of a playoff game in NHL history, a tying tally from the Oilers who climbed back from a four-goal deficit and a hat trick.
* Connor McDavid continued his scorching start to the 2022 Stanley Cup Playoffs, recording his seventh multi-point outing in Edmonton's first eight games.
* A tying goal by the Hurricanes in the final three minutes of regulation paved the way for Ian Cole to record his second career playoff tally. Cole became just the third defenseman in franchise history to score an overtime winner in the postseason and the third blueliner to do so in the 2022 Stanley Cup Playoffs.
* All eyes shift to Sunrise and Denver for a pair of Game 2s where the two-time defending champion and the No. 1 seed in the Western Conference each look to pull ahead 2-0 in their respective series.

Filed in: NHL Teams, | KK Hockey | Permalink

05/18/22 at 06:45 PM ET | Comments (8)
The Hurricanes went 3-1 against the Rangers in the regular season meanwhile Calgary and Edmonton had two wins each.
Feel free to discuss the games or anything NHL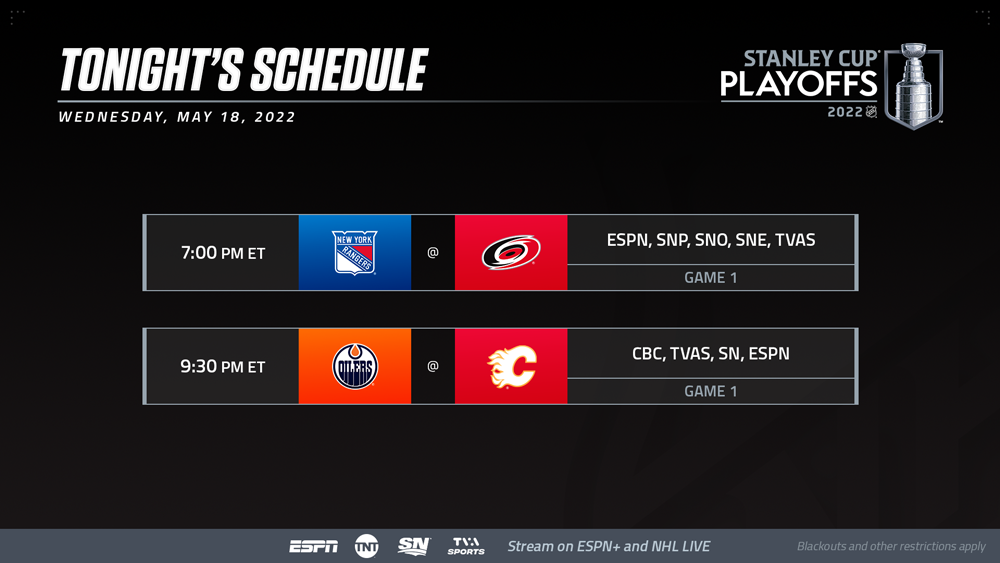 Filed in: | KK Hockey | Permalink

05/18/22 at 03:16 PM ET | Comments (7)
from Sportsnet,
NHL commissioner Gary Bettman said he doesn't anticipate stepping down from the job he's held for three decades anytime soon.

"If I wake up in the morning and I'm not excited about what I've got to do and what lays ahead of me for that day, I shouldn't be doing this anymore," Bettman said during an appearance Tuesday on the Marchand and Ourand sports media podcast.

Bettman, who turns 70 on June 2, has been commissioner of the NHL since Feb. 1, 1993. When asked on the podcast what criteria would have to be met for him to want to step down, he said he needs two things to be successful: the continued support of the league's owners and good health to foster the "energy and the desire and the passion" for the game.

He cited his recent week as an indication he still has that energy and passion: He went from Carolina to Montreal for Guy Lafleur's funeral, to Calgary to Edmonton to South Florida to Tampa, finishing up on Tuesday in New York for meetings after getting back at 4 a.m.

"Even when I was in my 20s, that would be a pretty good trek," he said. "When I can't do that anymore because I don't feel physically or mentally up to it, (if) it doesn't excite me to be at games...

"(I)t's about the game, it's about how I feel about the game and my connection to it that will determine how long I do it. Obviously, I can't do it forever. But I'm enjoying the run."
Filed in: NHL Talk, | KK Hockey | Permalink

Blog: Abel to Yzerman By Paul
05/18/22 at 02:24 PM ET | Comments (7)
from Ted Kulfan of the Detroit News,
The Wings are deep in defensive prospects, but if a defenseman that they like falls, they will gladly select him. But the Wings are comparably slimmer in the amount of quality forward prospects they possess, so a center or wing is possibly where they go.

Here are 10 forwards who have been linked to the Wings, make sense for where the Wings are drafting and are suited for what the Wings are looking for or need in their depth chart.

This is a first look at this process. Don't be surprised, given the fluidity of the draft process and likely rises and falls of certain players, if this list changes in the weeks ahead.

Possible Wings targets

Cutter Gauthier: center/left wing, 6-foot-3, 194 pounds, United States National Team Development Program: If Gauthier falls to the Wings, you would think they'd grab him, being that he is projected to go in the top five or six selections. With his size, Gauthier is projected to be an NHL power forward and he has a dangerous shot, as evidenced by his 53 goals in 76 games between two teams last season. Gauthier can play either wing or center, which the Wings would love. Gauthier is committed to Boston College.
Filed in: | Abel to Yzerman | Permalink

Looking to bet on Hockey? Find the best betting sites in Canada!
Find the best NHL sportsbook at bettingscanner.com
About Kukla's Korner
Kukla's Korner is updated around the clock with the work of our own talented bloggers, plus links to the best hockey writing around the internet. We strive to bring you all the breaking hockey news as it happens.
The home page allows you to see the latest postings from every blog on the site. Subscribe here. For general inquiries and more, please contact us anytime.
Most Recent Posts
Most Recent Comments