10/21/19 at 12:01 PM ET | Comments (0)
NEW YORK (Oct. 21, 2019) – Boston Bruins right wing David Pastrnak, Washington Capitals defenseman John Carlson and Buffalo Sabres goaltender Carter Hutton have been named the NHL's "Three Stars" for the week ending Oct. 20.
Filed in: NHL Teams, | KK Hockey | Permalink

10/21/19 at 10:25 AM ET | Comments (0)
from Emily Kaplan of ESPN,
On Thursday night in Montreal, Minnesota Wild forward Joel Eriksson Ek blocked a shot from Canadiens defenseman Shea Weber on the penalty kill. Ek hobbled a bit, but stayed on the ice. He then blocked another shot by Weber. Again, Ek was rattled. He stayed on the ice. And then Ek blocked his third consecutive shot by Weber -- all in one shift. Ek finally was able to limp off, getting a big embrace from teammate Matt Dumba on the bench.

Michael Russo of The Athletic reported that the 22-year-old Ek left the arena in a boot; he'll be out for a week or two.

Five nights earlier, in Colorado, Arizona Coyotes defenseman Niklas Hjalmarsson blocked a shot from Avalanche defenseman Erik Johnson. Hjalmarsson, one of the Yotes' best blueliners, broke his fibula and is expected to miss about three months; this is a major blow for a team that led the league in man games lost last season with a freakish number of injuries....

o this week, I decided to ask guys about it.

"Obviously sticks are a lot better," Blackhawks goaltender Robin Lehner said. "When I got into the league a while ago [in 2010], you always had that group of guys on the team that had good shots. Then you had a group of guys on the team that didn't have good shots. These days everyone shoots well. There's no more divide."

Lehner also mentioned the speed of the game as a contributing factor.
read on plus other topics...
Filed in: NHL Teams, | KK Hockey | Permalink

Blog: Abel to Yzerman By Paul
10/21/19 at 09:57 AM ET | Comments (0)
from Max Bultman of The Athletic,
Is simple positive regression from the rest of the bottom nine enough to make a difference, or does this roster simply not have enough firepower to get the job done?

How can they fix the power play?

One place the Red Wings do have the firepower, though, is on the power play, where the results have still been just as bad. They're sitting at a miserable 9.5 percent with the man advantage this season, 26th in the league, and that's despite a top power-play unit that has Detroit's entire top line, its most skilled forward in Athanasiou and a poised "quarterback" in Dennis Cholowski.

So what can be fixed? First, the Red Wings flat-out need more power plays. They have just 21 opportunities through eight games, which is tied for 28th in the league. And even worse, one of the only two teams below them (Chicago, with 18) has played two fewer games. The Red Wings mustered an average of two opportunities per game on this last three-game trip, which is rarely going to be enough.

But second, as Blashill mentioned in Calgary, they can't afford to lose so many faceoffs when they do get those limited opportunities. That's been a silent killer for them so far.
more (paid) with three more areas...
Filed in: | Abel to Yzerman | Permalink

10/21/19 at 09:52 AM ET | Comments (0)
Just south of 4 1/2 minutes to watch NHL action from the past week in slow motion.
Filed in: NHL Teams, | KK Hockey | Permalink

10/21/19 at 09:44 AM ET | Comments (0)
from Tom Timmermann of the St. Louis Post-Dispatch,
The St. Louis Blues right now know where they want to go and know how to get there. They just can't seem to fit the two together.

The style of play that lifted them to the Stanley Cup last season has been absent from the team for a lot of the first eight games of the season. It's not that it doesn't exist anymore — they've shown healthy stretches of it so far — but the team still is awaiting a 60-minute effort. Over the past eight days, when those lapses in their game have shown up, sometimes for just a few minutes, they've been costly, leading to four straight losses.

"We've managed to get points and that sort of thing," defenseman Jay Bouwmeester said Sunday, "but I think if anyone's honest, we're not playing very good. I think the good point is we recognize it and I think we can fix it. I don't think it's Xs and Os or anything like that. It's more, buckling down and (having) the effort and getting back to the way we have to play. It's a hard way to play. But I think we saw last year when we did commit to it it was very successful. It's just a matter of getting back there."

After a 5-2 loss to Montreal on Saturday, coach Craig Berube talked about the team not having the buy-in they have to have to be successful. He expanded on what he meant by that on Sunday.
Filed in: NHL Teams, St. Louis Blues, | KK Hockey | Permalink

10/21/19 at 09:35 AM ET | Comments (0)
from John Shipley of the Pioneer Press,
Sportswriters like to get players and coaches to qualify their wins. Does it mean more to battle back late? Was it special to beat your former team? Did it feel good to finally jump out of the gate fast?

The Wild took turns responding to those questions after Sunday's victory over the Montreal Canadiens, and of course there were specific reasons they came out on top. But, really, the how and the why were unimportant in the immediate wake of a 4-3 win at Xcel Energy Center.

The Wild won for the second time in eight tries; that's all that mattered.

"Thank God, eh?" said winger Marcus Foligno.

For at least another few days, the drama inside and outside Minnesota's NHL team will be gone. Mikko Koivu won't yell at everyone in a closed-door meeting, and coach Bruce Boudreau won't make the players sit through a horror movie recounting their bad passes and turnovers during a 1-6-0 start.

The pins and needles inside the dressing room were so dense that Jason Zucker apologized to Boudreau on Saturday after invoking his name in a self-flagellating quote following last Thursday's 4-0 loss at Montreal. Zucker's quote was taken at the team bus, minutes after a players-only airing of the grievances called by longtime captain Koivu.
Filed in: NHL Teams, Minnesota Wild, | KK Hockey | Permalink

10/21/19 at 09:29 AM ET | Comments (0)
from Rosie DiManno of the Toronto Star,
There was a time when big-personality NHL coaches walked the Earth and stomped the narrow confines behind team benches.

Pat Burns, on heated occasions, would jump atop the bench to holler at referees or gesticulate menacingly at his opposing number. Or Red Kelly, as well-mannered as they come, deployed pyramid power — placing five plastic pyramids beneath the Maple Leaf bench during the 1976 playoffs against Philadelphia — to blunt their Kate Smith anthem talisman. Can you imagine such colourful silliness and shenanigans today?

What a sober lot the NHL has become.

These are robotic and dim wattage days, depleted of characters on and off the ice. Perhaps because so much of the game has devolved to analytics doffins, hockey sadly following in the footsteps of baseball, worshipping at the altar of arcane eye-glazing metrics, video up the wazoo.

A pair of relics, however, will go cerebrally and charismatically mano a mano on Monday evening at Scotiabank Arena: Mike Babcock versus John Tortorella.
Filed in: NHL Teams, Columbus Blue Jackets, Toronto Maple Leafs, | KK Hockey | Permalink

10/21/19 at 08:48 AM ET | Comments (0)
Carlson takes sole possession of League lead in points; Maurice becomes seventh NHL head coach to join 700-win club; Dach makes League debut.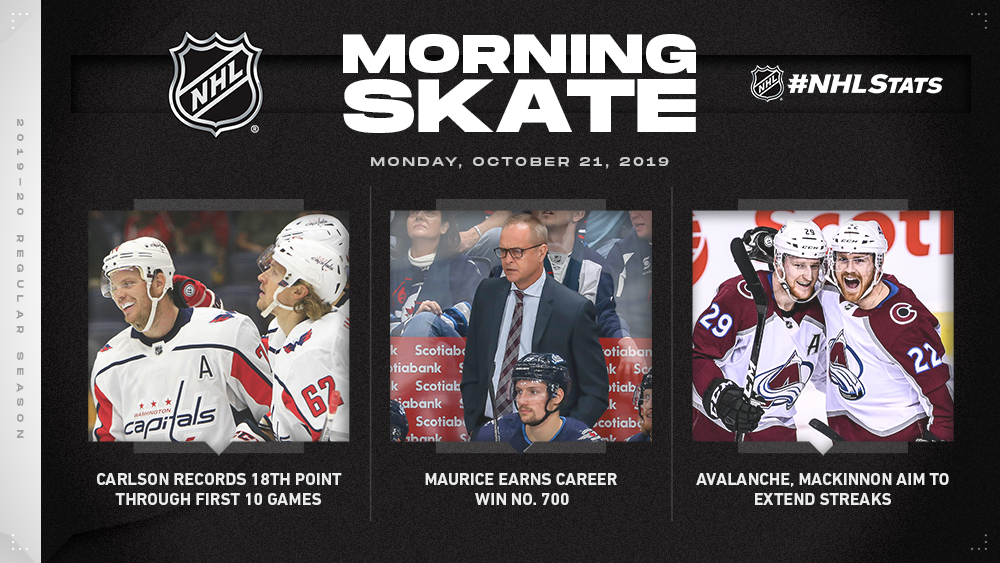 Filed in: NHL Teams, | KK Hockey | Permalink

10/20/19 at 10:01 PM ET | Comments (0)
from Chris Johnston of Sportsnet,
Jon Cooper calls it the elephant in the room.

The shock of last year's 62-win regular season and subsequent four-game sweep by Columbus in the first round of the playoffs.

That's why the Tampa Bay Lightning coach hasn't shied away from discussing the heart-breaking 2018-19 campaign — both behind the scenes with his players and during media scrums. He recently told reporters: "I'd be lying if I didn't think there was a burden carried over."

Tampa is off to a ho-hum start: 4-3-1 following Saturday's 6-2 loss to smoking-hot Colorado. These are still very early days, but the Lightning have been outshot, out-chanced and out-attempted at even strength. They are not nearly as dominant on specialty teams, either, scuffling along at a 70 per cent penalty kill rate after losing trusted soldiers Anton Stralman and Dan Girardi in the off-season.

The results don't scream powerhouse just yet.
more plus othet topic which were mentioned on Saturday Headlines, including the Leafs may have cap issues soon...
Filed in: NHL Teams, Tampa Bay Lightning, | KK Hockey | Permalink

10/20/19 at 09:42 PM ET | Comments (0)
from Ed Willes of the Vancouver Province,
Opinion: It's unrealistic to expect this level of goaltending from Markstrom and Demko every night over the next six months.

We wake up this morning to find the Vancouver Canucks in a playoff spot and the Calgary Flames not. Speaking of things which should make you happy, here are the Monday morning musings and meditations on the world of sports.

• With their 3-2 win over the Rangers in Manhattan on Sunday, the Canucks have now won five of their last six outings and a win in Detroit on Tuesday will send them home from their four-game roadie with a 3-1 record.

That's laudable. But some context is also required as the first three weeks of their season are considered.

Three of the Canucks' five wins have come on the strength of their goaltending. That doesn't mean their goalies have stolen wins. It does mean they've won because they had the better goalie for that game.
Filed in: NHL Teams, Vancouver Canucks, | KK Hockey | Permalink

About Kukla's Korner
Kukla's Korner is updated around the clock with the work of our own talented bloggers, plus links to the best hockey writing around the internet. We strive to bring you all the breaking hockey news as it happens.
The home page allows you to see the latest postings from every blog on the site. Subscribe here. For general inquiries and more, please contact us anytime.
Most Recent Posts
Most Recent Comments