12/09/19 at 05:23 AM ET | Comments (0)
from Curtis Pashelka of the Mercury News,
Less than 24 hours after they were smoked by the Tampa Bay Lightning, the Sharks trailed by two goals less than nine minutes into the first period Sunday and never fully recovered in a 5-1 loss to the Florida Panthers at BB&T Center....

The Sharks are now 0-2-1 on this trip that ends Tuesday in Nashville, and have been outscored 14-5 so far through regulation and overtime.

On road trips of more than one game this season, the Sharks are now 2-7-2.

Add it all up and the Sharks, on a four-game slide, are a pedestrian 15-15-2.

"I think we're a little too relaxed right now," Sharks winger Evander Kane said. "A couple games where we got off to bad starts and weren't able to fight back, and we really didn't have much fight-back after we got down. That's really the most disappointing part."
Filed in: NHL Teams, San Jose Sharks, | KK Hockey | Permalink

12/09/19 at 05:13 AM ET | Comments (1)
from Bryan Horwath of the Las Vegas Sun,
Many remember how the technology created a glowing puck on TV screens, leaving a cometlike trail of color once the puck reached certain speeds. But FoxTrax didn't last long, to the delight of hockey purists who'd denounced it as too gimmicky for a sport steeped in tradition. Dave Lehanski, the NHL's senior vice president of development and innovation, says FoxTrax was "way ahead of its time, but it just wasn't ready back then. You could see it wasn't working right."

Now, the NHL is preparing to introduce a more advanced version of the technology in 2020 in an attempt to make itself more attractive to younger viewers. Players will don wearable technology—sensors about the size of an Oreo cookie—on the back of their shoulder pads, which will track certain metrics in real time. The puck will also be outfitted with a chip that can communicate with a series of cameras and sensors.

The technology was tested in January during two Vegas Golden Knights games at T-Mobile Arena.

Golden Knights winger Max Pacioretty says he's intrigued by the idea, but adds, "There were a lot of issues with bouncing pucks and whatnot." Still, he says, "It's something that could be fun for the fans."

That's the league's goal for this technology, which will produce more in-game data to enhance the viewing experience, especially for statistics fans and sports bettors who desire more information.
Filed in: NHL Talk, | KK Hockey | Permalink

12/09/19 at 04:57 AM ET | Comments (0)
THREE HARD LAPS
* Jack Eichel assisted on the Sabres' overtime goal to extend the League's longest active point streak to 13 contests. He is one of 10 players on pace to reach the 100-point mark in 2019-20.
* Aleksander Barkov and Jonathan Huberdeau each eclipsed the 35-point mark Sunday. They became the first Panthers teammates to achieve the feat prior to their 30th game.
* Jacob Trouba was one of six Rangers defensemen with a point against the Golden Knights. New York leads all teams in points by defensemen this season (26-60—86).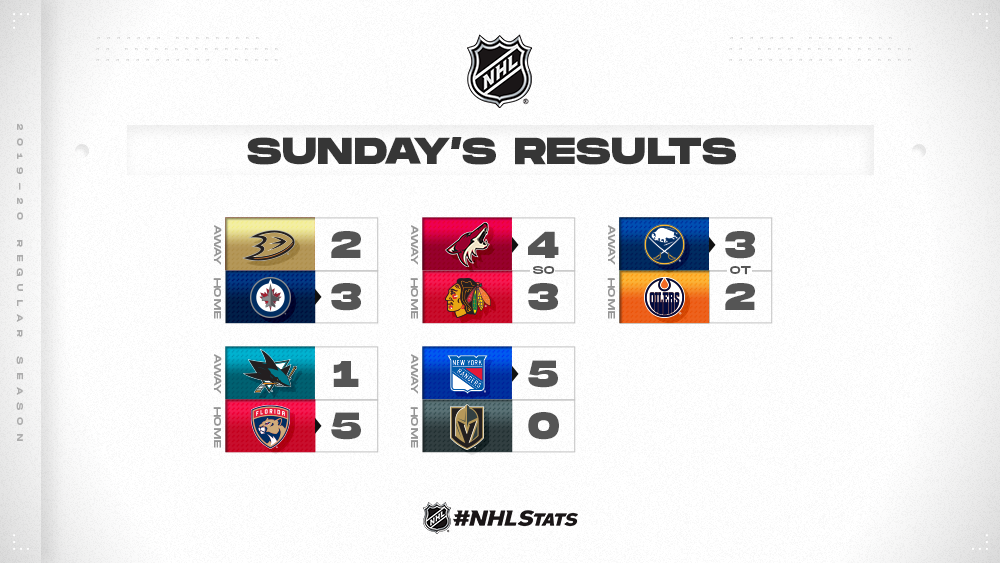 Filed in: NHL Teams, | KK Hockey | Permalink

12/08/19 at 08:12 PM ET | Comments (0)
via Sportsnet,
Kyle Bukauskas, Chris Johnston and Elliotte Friedman discuss the topics that will be discussed at the NHL Board of Governors meeting.
Filed in: NHL Talk, | KK Hockey | Permalink

Blog: Abel to Yzerman By Paul
12/08/19 at 04:55 PM ET | Comments (4)
from Ted Kulfan of the Detroit News,
If you look at the Red Wings' individual statistics today — and some of them are ghastly, so don't for long — there is a rather surprising player with the fifth-most points on the team.

It's not a forward. It's defenseman Filip Hronek, who continues to put together an admirable first full season in the NHL, while playing a ton of minutes and basically learning on the job.

With Danny DeKeyser hurt for the majority of the season thus far, and Trevor Daley and Mike Green missing portions of the schedule, Hronek has had to play more minutes than probably is ideal for a developing 22-year-old pro.

But Hronek has been up to the task, with 14 points (six goals, eight assists) in 29 games, with a minus-13 rating, while playing a competitive, 23 minutes a game (leading the team) — the brand of hockey that this roster needs.
added 5:47pm, Post-practce video is below.
Filed in: | Abel to Yzerman | Permalink

12/08/19 at 01:47 PM ET | Comments (0)
from Chris Johnston of Sportsnet,
All eyes turn to Gary Bettman and Bill Daly.

With NHL owners set to gather for a Board of Governors meeting unlike any other in recent memory, the league's most powerful men will speak publicly for the first time since Bill Peters resigned from the Calgary Flames, Marc Crawford was suspended by the Chicago Blackhawks and hockey's culture was placed under the microscope by a series of allegations from former players.

The two-day gathering at America's most scenic golf resort isn't expected to produce sweeping answers. The issues are deep enough and serious enough that time will be required to form a complete plan of action, which is why the tone set by Bettman and Daly will be so significant.

The commissioner and deputy commissioner have already met with Akim Aliu, the player who spoke up about mistreatment from Peters — his former coach in the American Hockey League who used racial slurs in the dressing room. That was followed by allegations from others about abuse from their coaches, both physical and mental, which led to Crawford being removed from the bench while the Blackhawks conduct an investigation.
continued with more topics which were discussed on Saturday Headlines last night...
Filed in: NHL Teams, NHL Talk, | KK Hockey | Permalink

Blog: Abel to Yzerman By Paul
12/08/19 at 12:38 PM ET | Comments (1)
Tyler Bertuzzi practicing today. Blocked shot yesterday. Red Wings next game is Tuesday at Winnipeg.
If there are post-practice interviews, I will add them to this post.
added 5:46pm, Putting a post practice video in the Hronek post from today.
Filed in: | Abel to Yzerman | Permalink

12/08/19 at 11:39 AM ET | Comments (0)
from Sonny Sachdeva of Sportsnet,
Marco Argentino has been the man NHL superstars from Gretzky to McDavid trust with their gear. Now, he's also helping shape the future of equipment design.

The smell of leather hangs thick in the air, tangled with the scent of metal and wood and the years-old collections of dust that gather here and there atop the shelves lining every wall in the place. It's mid-March of 1991, and 26-year-old Marco Argentino is perched on a stool in the back corner of this unassuming shoe repair shop, engrossed as he inspects the finer details of the hockey gloves on the desk in front of him. This isn't any old run-of-the-mill establishment, though walking down Wellington Street and glancing up at the curling blue-and-white lettering atop the storefront — Cordonnerie Argentino — a passerby could be forgiven for not feeling the full weight of the Argentinos' place in Montreal's storied hockey history.

No, this shop isn't interchangeable with any of the others that have lined this street, precisely because the pair of gloves sitting before Argentino isn't interchangeable with any other in the city. These particular gloves belong to Guy Carbonneau, captain of the Montreal Canadiens, who's awaiting the results of Argentino's work as he prepares for the '91 playoffs. The problem is the palms. The captain wants them replaced with something thinner, something that gives him a better feel for his stick. Argentino's already made one unsuccessful attempt today, sewing on a fresh horsehide palm and making the trek up to the Montreal Forum, only to be met with a stern, "Thinner."
Filed in: NHL Teams, | KK Hockey | Permalink
Tags: marco+argentino
Blog: Abel to Yzerman By Paul
12/08/19 at 09:53 AM ET | Comments (6)
Not sure if this is new, but I believe it is. When the Wings scored last night, the rink lights went out at the LCA except for a spotlight on the goal scorer along with some flashing lights.
My idea is just the opposite. Keep the lights off during play, then turn them on when the Wings score. Imagine the saved energy!
Please LCA, don't do this again.
Filed in: | Abel to Yzerman | Permalink

Blog: Abel to Yzerman By Paul
12/08/19 at 09:31 AM ET | Comments (0)
from Helene St. James of the Detroit Free Press,
When a team is as fragile as the Detroit Red Wings are, anything positive helps.

Their losing streak has grown to 11 games, but at least they came away from Saturday's game with a little more confidence in their ability to score. After scoring just five goals the previous six games, the Wings scored twice in the third period in the 5-3 loss to the Pittsburgh Penguins.

"We have to do a better job of trying to keep four out, or five, but I thought we competed right till the end and that's a good sign for this team," Luke Glendening said. "We had a tough first getting down 2-0, but we battled till the last minute."
from Ansar Khan of Mlive,
It was another night where the Detroit Red Wings answered more questions about the many things that have gone wrong during the team's worst stretch in years.

But if there is anything positive to be gleaned from Saturday's 5-3 loss to the Pittsburgh Penguins at Little Caesars Arena, it was Dylan Larkin looking like his usual self, following an extended slump.

Larkin picked up a goal and an assist, giving him four points in three games (two goals, two assists) after seven games without a point. He led the comeback efforts and had chances to score the tying goal in the final minute before John Marino's empty-net goal with nine seconds remaining sealed it.

"His drive's great," Red Wings coach Jeff Blashill said.
Below, watch 5 1/2 minutes of Blashill after the game.
Filed in: | Abel to Yzerman | Permalink

About Kukla's Korner
Kukla's Korner is updated around the clock with the work of our own talented bloggers, plus links to the best hockey writing around the internet. We strive to bring you all the breaking hockey news as it happens.
The home page allows you to see the latest postings from every blog on the site. Subscribe here. For general inquiries and more, please contact us anytime.
Most Recent Posts
Most Recent Comments