Kukla's Korner Hockey
by Paul on 04/05/18 at 12:07 PM ET
Comments (0)
via the NHL PR department
SEDIN TWINS SET FOR FINAL NHL GAMES AFTER ANNOUNCING RETIREMENT
After combining for 2,107 regular-season points over 17 NHL seasons, twin brothers Henrik and Daniel Sedin will play their final home game tonight in Vancouver and final NHL game Saturday in Edmonton. Henrik enters his final two contests with 240-828—1,068 in 1,328 GP, while Daniel follows closely with 391-648—1,039 in 1,304 GP. Since making their NHL debuts at the beginning of the 2000-01 season, all 1,463 Canucks games have featured at least one Sedin (1,358 regular season and 105 playoffs).
* The Sedins joined the Canucks organization at the 1999 NHL Draft when the club traded up to select Daniel at No. 2 and Henrik at No. 3. They will retire as the only players in franchise history to record at least 1,000 career points, with Henrik reaching the mark on Jan. 20, 2017, and Daniel joining him 315 days later, on Nov. 30, 2017.
* Henrik is the club's all-time leader in assists, points and games played, while Daniel sits atop the Canucks' goals list and ranks second in each of the other categories.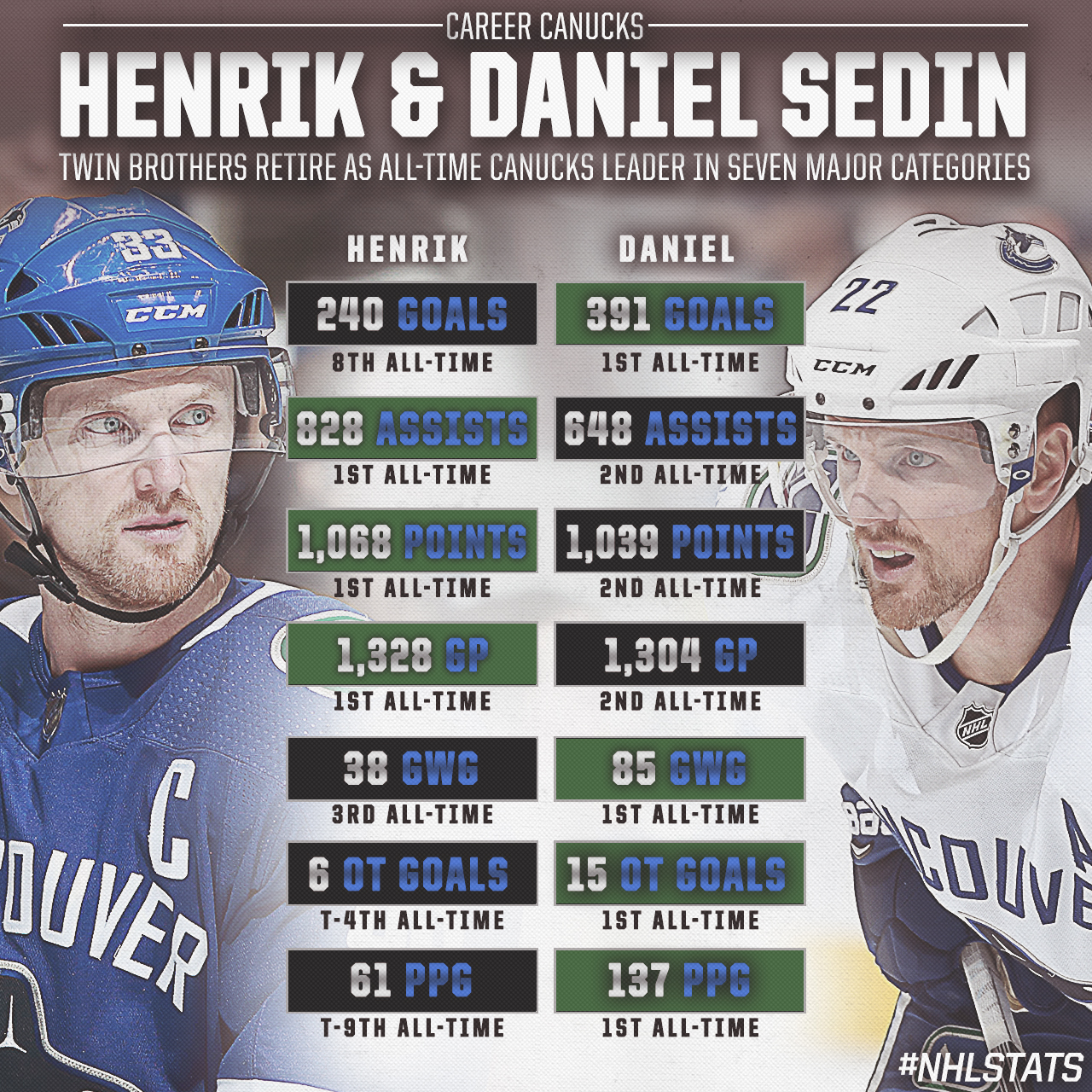 * The Sedins are the only sibling duo in NHL history to each record 1,000 career points. In fact, only three brother combos – and only one pair – have combined for more career NHL points.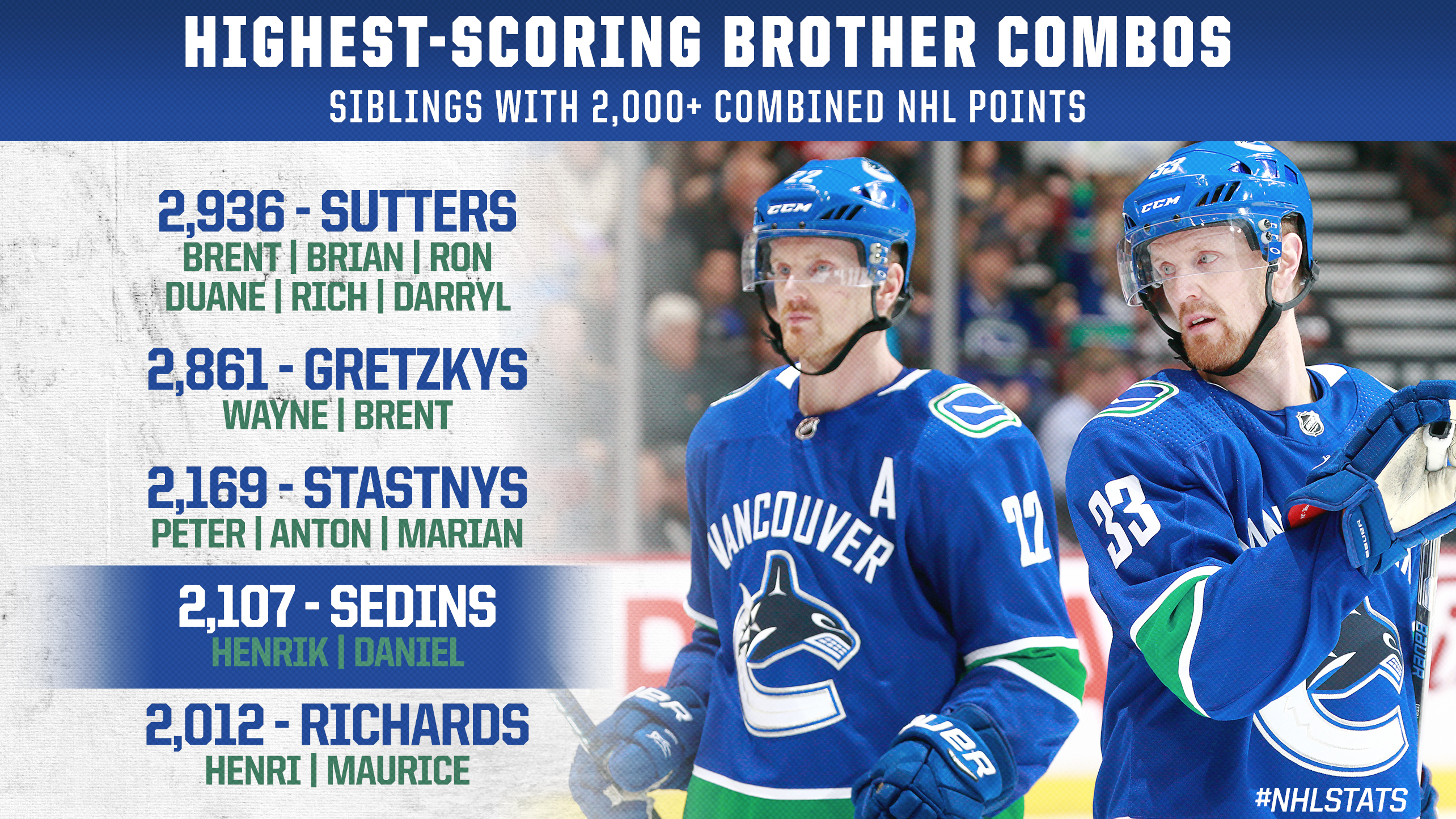 * The Ornskoldsvik, Sweden, natives are among a group of five Swedish-born players to record 1,000 career NHL points. The others: Mats Sundin(564-785—1,349), Daniel Alfredsson (444-713—1,157) and Nicklas Lidstrom (264-878—1,142).

* The brothers made their NHL debut on Oct. 5, 2000, in Philadelphia – nine days after celebrating their 20th birthday – and recorded their first career points soon after. Henrik had an assist in their second game (Oct. 6 at FLA) and Daniel scored in their third contest (Oct. 8 at TBL, assisted by Henrik).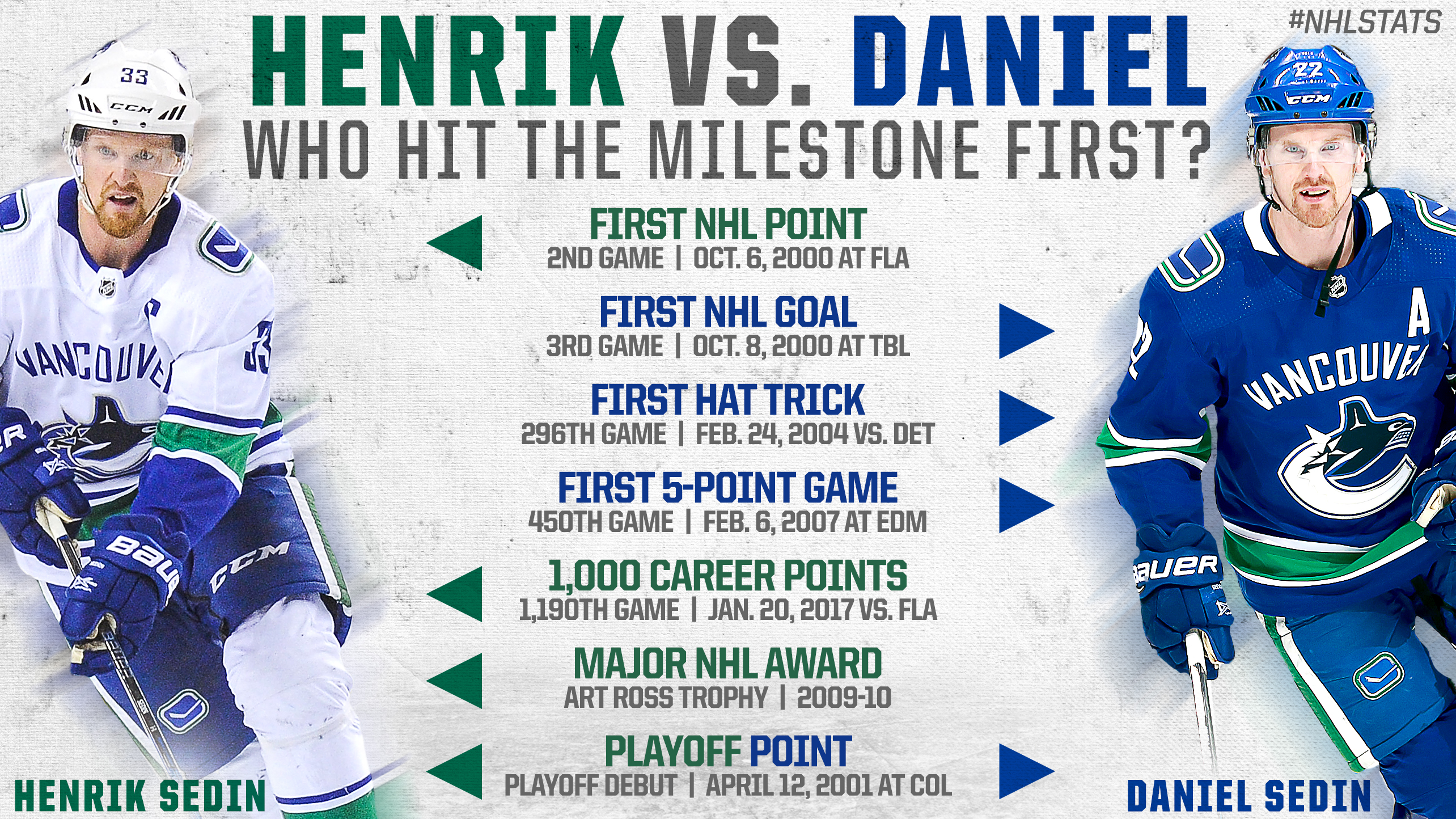 * Since the start of 2000-01, 36% of Canucks regular-season goals scored in regulation or overtime have featured at least one Sedin (1,363 of 3,799), including 743 in which each brother recorded a point. Only Wayne Gretzky and Jari Kurri (764) have factored on the same goal more times in NHL history.
* Since the Sedins debuted in 2000-01, there hasn't been a single Canucks game without at least one of them in the lineup. Overall, 94% of Canucks games in that span have featured both Sedins (1,376 of 1,463), 4% have included only Henrik (57 of 1,463) and 2% have featured only Daniel (30 of 1,463).
* The Sedins recently became the only brother duo to each play 1,300 regular-season NHL games, with much of that action featuring Henrik and Daniel on the ice simultaneously. Since the start of 2009-10, the brothers have been on the ice together for 9,916:02 – that's 90% of Daniel's TOI and 89% of Henrik's TOI in that span.
* Only one pair of teammates has played in more regular-season NHL games together than the Sedins (1,274): Gordie Howe and Alex Delvecchioskated in 1,353 regular-season contests together over 21 seasons as teammates.
* The Sedin brothers also are just the fourth pair of teammates to play at least 17 NHL seasons together. The others: Howe and Delvecchio with the Red Wings (21); George Armstrong and Tim Horton with the Maple Leafs (20); and Nicklas Lidstrom and Kris Draper with the Red Wings (17).
* In addition to the Sedins (1,274 GP), only one other pair of brothers has played at least 600 regular-season NHL games as teammates: Anton and Peter Stastny with the Nordiques (609 GP).
* The Sedins have combined to win five major NHL awards, including back-to-back seasons in which they each won the Art Ross Trophy as the NHL's top point-getter. They are the only pair of brothers in NHL history to lead the League in scoring in consecutive campaigns. In fact, only two other pairs of brothers achieved the feat at any point in their careers: Charlie and Roy Conacher (w/ TOR and CHI, respectively) and Doug and Max Bentley (both w/ CHI).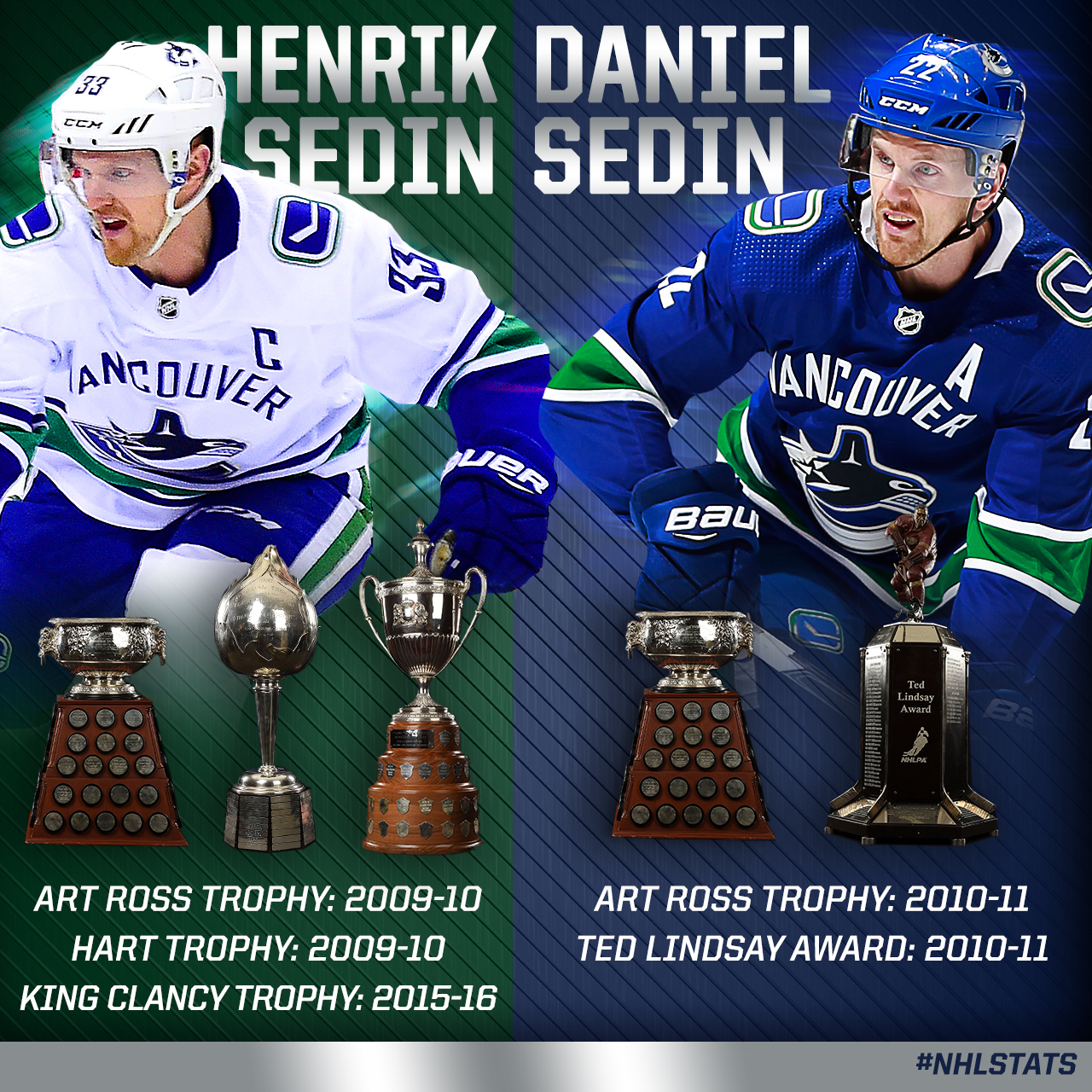 Filed in: NHL Teams, Vancouver Canucks, | KK Hockey | Permalink
Tags: daniel+sedin, henrik+sedin
Comments
Be the first to comment.
Add a Comment
Please limit embedded image or media size to 575 pixels wide.
Add your own avatar by joining Kukla's Korner, or logging in and uploading one in your member control panel.
Captchas bug you? Join KK or log in and you won't have to bother.
Most Recent Blog Posts
About Kukla's Korner Hockey
Paul Kukla founded Kukla's Korner in 2005 and the site has since become the must-read site on the 'net for all the latest happenings around the NHL.
From breaking news to in-depth stories around the league, KK Hockey is updated with fresh stories all day long and will bring you the latest news as quickly as possible.
Email Paul anytime at pk@kuklaskorner.com
Tweets by @kuklaskorner