Kukla's Korner Hockey
by Paul on 09/17/20 at 12:13 AM ET
Comments (0)
THREE HARD LAPS

* After surviving elimination with a double-overtime victory in Game 5, the Islanders look to join the 2000 Devils as the second team in NHL history to win either a Conference Finals or Semifinals series after facing a 3-1 deficit. There have been five instances of a club forcing a Game 7, outlined below.

* The Lightning aim to close out a Conference Finals in Game 6 for the first time. Tampa Bay required a Game 7 in each of its five previous appearances in the series.

* The Stars and head coach Rick Bowness await either the Lightning or Islanders in the Stanley Cup Final.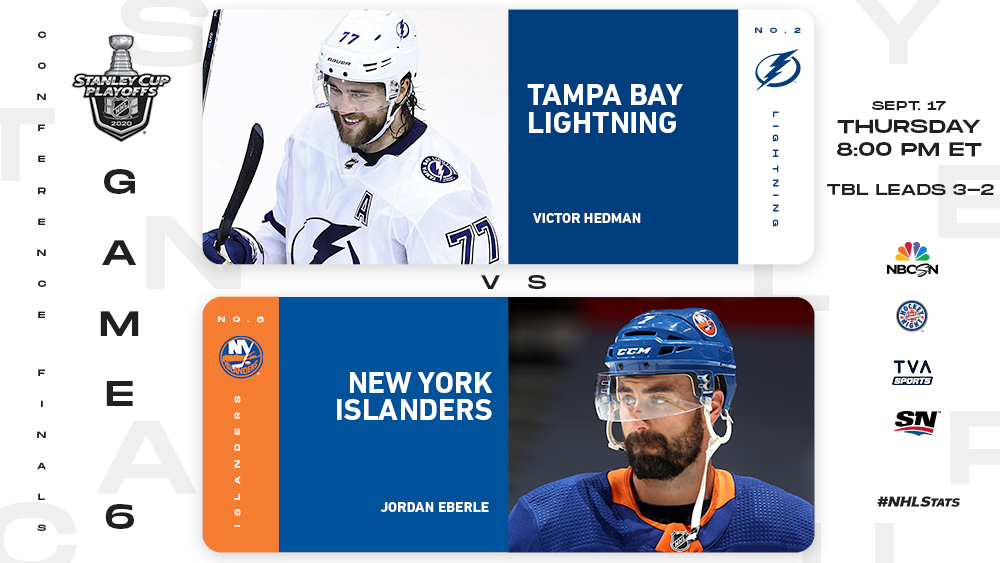 HISTORY OF 3-1 SERIES COMEBACKS IN CONFERENCE FINALS/SEMIFINALS
There have been five instances in NHL history of a team forcing a Game 7 in either a Conference Finals or Semifinals series after facing a 3-1 deficit. Only one of those series resulted in a victory for the team which mounted the comeback:

1939 Semifinals – Boston Bruins 4, New York Rangers 3
The series was the first in NHL history to require a Game 7, with the Rangers forcing the decisive contest in their fourth all-time playoff meeting against the Bruins. Goaltender Bert Gardiner led the rally, allowing only three goals in Games 4-6, but Boston halted the comeback attempt when Mel "Sudden Death" Hill scored after 108:00 of playing time in Game 7 to put his team into the Final for the fourth time. It was Boston's second triple-overtime victory of the series – with Hill tallying the game winner in both.

1975 Semifinals – Philadelphia Flyers 4, New York Islanders 3
Facing a 3-0 deficit against the defending Stanley Cup champions, the Islanders earned wins in each of the series' next three contests – sparked by Jude Drouin's overtime goal in Game 4 – to force a seventh-and-deciding showdown at the Spectrum. Rick MacLeish accounted for three of Philadelphia's four goals in the winner-take-all contest to become the third player in NHL history with a hat trick in a Game 7 and send the Flyers to their second Final in as many years.

2000 Eastern Conference Final – New Jersey Devils 4, Philadelphia Flyers 3
The Devils reeled off three consecutive wins to rally past the Flyers with Patrik Elias recording 3-1—4 across those contests, including the series-clinching goal with 2:32 remaining in regulation in Game 7. New Jersey remains the only team in NHL history to win either a Conference Finals or Semifinals series after facing a 3-1 deficit.

2003 Eastern Conference Final – New Jersey Devils 4, Ottawa Senators 3
The Devils earned three straight wins in which they outscored the Senators by a combined 10-3 margin, but Ottawa rebounded with back-to-back victories – which included defenseman Chris Phillips scoring an overtime winner on goaltender Martin Brodeur in Game 6. In the winner-take-all showdown, Jeff Friesen scored the go-ahead goal with 2:14 left in regulation to lift New Jersey into its third Stanley Cup Final in four years (also 2000 & 2001).

2014 Western Conference Final – Los Angeles Kings 4, Chicago Blackhawks 3
The defending Stanley Cup champions earned consecutive come-from-behind wins by a one-goal margin to force a seventh-and-deciding showdown at United Center, which included a 5-4 double-overtime victory in Game 5 where Patrick Kane had four assists. Game 7 also was decided by a one-goal margin, but it was the Kings who claimed the victory thanks to a goal by defenseman Alec Martinez at 5:47 of overtime to power them into the Final.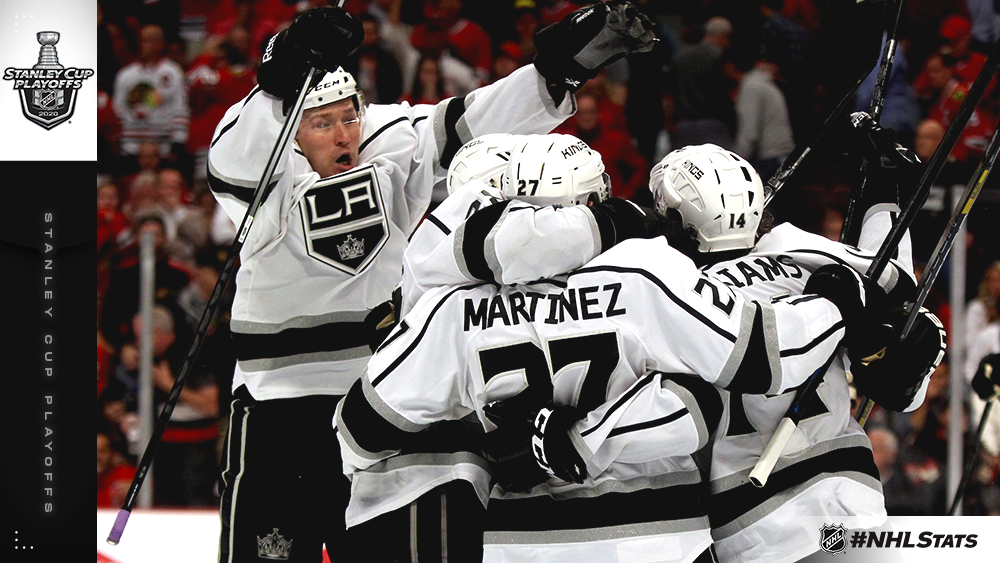 LIGHTNING AIM TO AVOID HANGING STANLEY CUP FINAL HOPES ON GAME 7 AGAIN
Tampa Bay sits one win away from reaching the Stanley Cup Final for the third time since joining the League in 1992-93. Among the 10 franchises that joined the NHL in the 1990s or later, none have made three trips to the championship series (ANA is the only other with two SCF appearances).

* This is the sixth time that the Lightning have been within one win of reaching the Final, following Game 7s in each of their previous five trips to the Conference Finals. A look at their five previous Conference Finals appearances as Tampa Bay tries to avoid another winner-take-all showdown with a victory tonight:

2004 vs. Philadelphia Flyers
Down 3-2 in the series, Keith Primeau scored a tying goal with 1:49 remaining in regulation and Simon Gagne potted the overtime winner as Philadelphia staved off elimination in Game 6. Two days later, the Lightning rebounded with a 2-1 win in Game 7 – with Brad Richards assisting on both goals including the series clincher by Freddy Modin – to advance to the Stanley Cup Final for the first time in franchise history.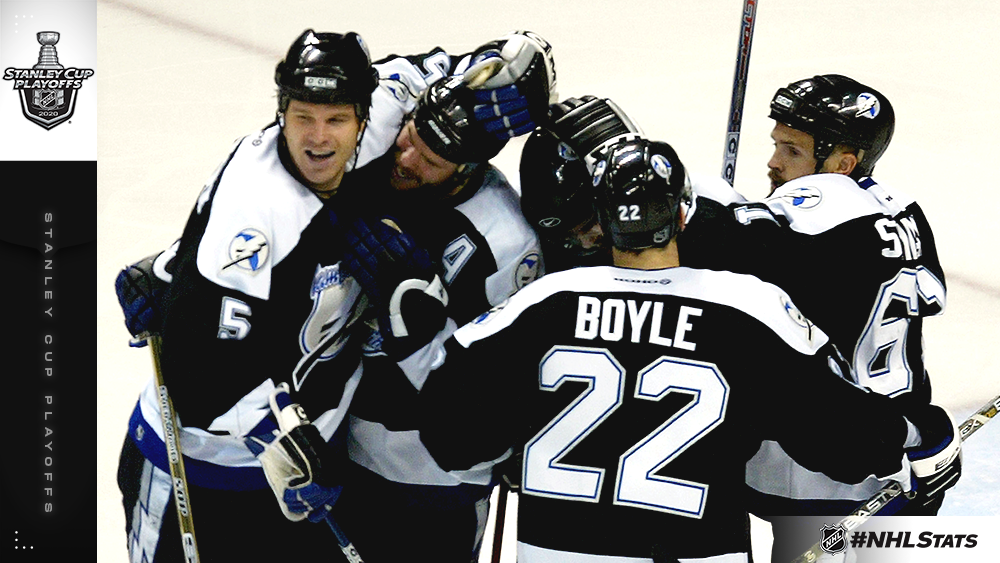 2011 vs. Boston Bruins
Martin St. Louis (2-1—3) and Steven Stamkos (1-2—3) had three points apiece as Tampa Bay earned a 5-4 win in Game 6 over Boston, which received a hat trick from David Krejci, to force a decisive contest at TD Garden. Tim Thomas turned aside all 24 shots he faced in Game 7 to record his first of two series-clinching shutouts in the 2011 Stanley Cup Playoffs and backstop the Bruins to their first Final since 1990.

2015 vs. New York Rangers
The Lightning allowed seven goals against in Game 6 as the Rangers kept their season alive, but goaltender Ben Bishop bounced back with a 22-save shutout at Madison Square Garden in Game 7 to lead Tampa Bay to its second appearance in the Stanley Cup Final.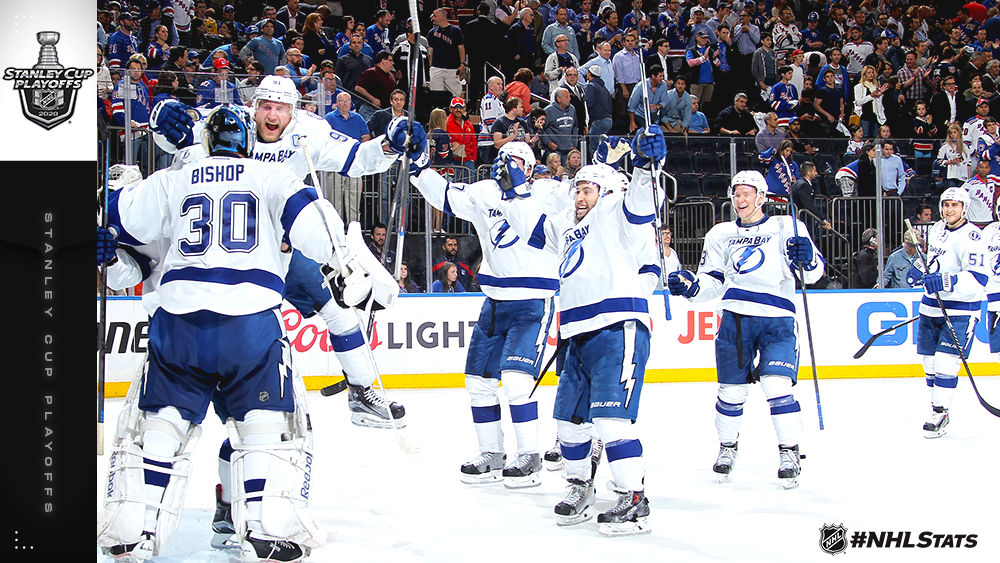 2016 vs. Pittsburgh Penguins
Facing a 3-2 series deficit, the Penguins earned a 5-2 win in Game 6 and a 2-1 victory in Game 7 to rally past the Lightning and advance to their first of two straight Final appearances.

2018 vs. Washington Capitals
Like Pittsburgh in 2016, Washington also rallied from a 3-2 series deficit to defeat Tampa Bay in the Eastern Conference Final. The Capitals earned a shutout win in each contest to close out the series, outscoring the Lightning by a combined 7-0 margin.

* The Lightning already are the first team to contest five Game 7s in the Conference Finals since the round took its name in 1982. The only teams to play as many Game 7s in the series leading into the Final are all Original Six franchises: Boston (8), Chicago (6), Detroit (6), Montreal (5), New York (5) and Toronto (5).

STARS, BOWNESS PATIENTLY AWAIT STANLEY CUP FINAL OPPONENT
The Stars and head coach Rick Bowness, who was in attendance for Game 5 of the Eastern Conference Final, will face either the Lightning or Islanders in the Stanley Cup Final. Dallas will make its first Final appearance since 2000, while Bowness is set to reach the championship series for the first time as an NHL head coach – he was an assistant coach with the Canucks and an associate coach with Lightning during their appearances in 2011 and 2015, respectively.

* Bowness began his NHL head coaching career with the original Winnipeg Jets in 1988-89 and has since served in the same capacity with the Bruins (1991-92), Senators (1992-93 – 1995-96), Islanders (1996-97 – 1997-98), Coyotes (2003-04) and Stars (2019-20).

* Bowness has reached the Final after 536 career games as an NHL head coach (500 regular season, 36 playoffs) and after more than 2,500 combined games behind an NHL bench in any role.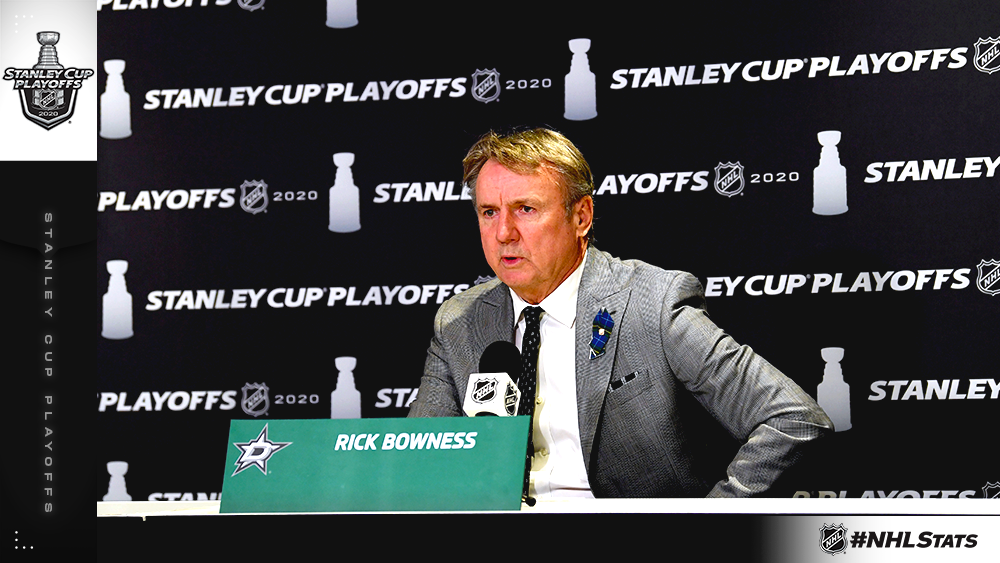 QUICK CLICKS

* Lightning turn focus to next chance, not missed opportunity in Game 5
* Islanders must 'attack the game' in Game 6 of Eastern Final
* Lightning must stick to system in Game 6 of East Final against Islanders
* Stars' trip to Cup Final has GM Jim Nill feeling blessed
* Eric Staal traded to Sabres by Wild for Marcus Johansson

EPISODE THREE OF "QUEST FOR THE STANLEY CUP" NOW AVAILABLE
Episode three of Quest For The Stanley Cup, the critically-acclaimed behind-the-scenes documentary series chronicling teams in the 2020 Stanley Cup Playoffs, is now available on ESPN+ in the U.S. and YouTube.com/NHL in Canada.

In addition to the action on the ice, this week's episode visits with Golden Knights goaltender Robin Lehner, who speaks openly about managing his mental health, the demands of the Playoffs and the challenges of spending time away from his family. Cameras also follow Lightning players as they enjoy outdoor sports at Commonwealth Field.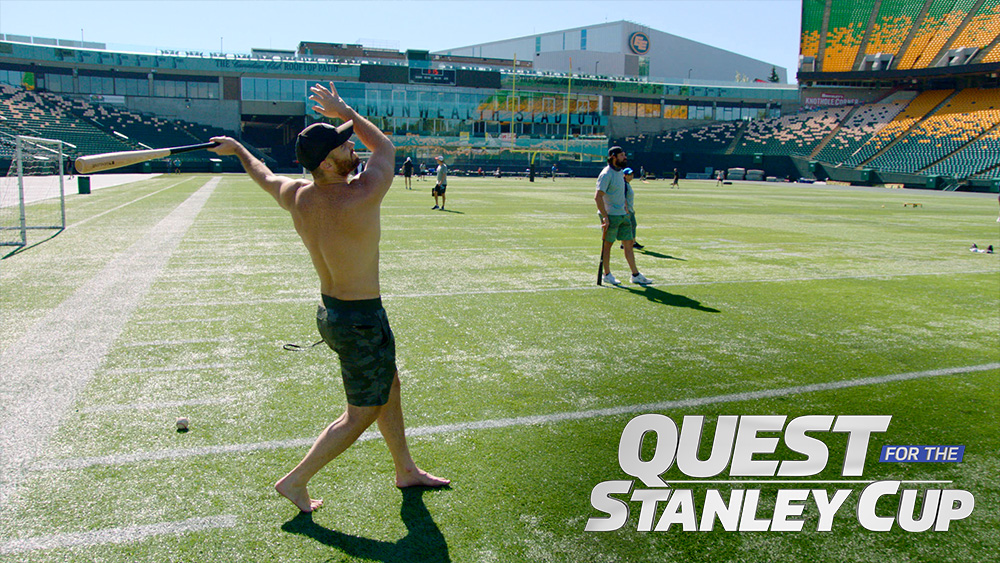 Thanks to the NHL PR department for the information above.
Filed in: NHL Teams, | KK Hockey | Permalink

Comments
Be the first to comment.
Add a Comment
Please limit embedded image or media size to 575 pixels wide.
Add your own avatar by joining Kukla's Korner, or logging in and uploading one in your member control panel.
Captchas bug you? Join KK or log in and you won't have to bother.
Most Recent Blog Posts
About Kukla's Korner Hockey
Paul Kukla founded Kukla's Korner in 2005 and the site has since become the must-read site on the 'net for all the latest happenings around the NHL.
From breaking news to in-depth stories around the league, KK Hockey is updated with fresh stories all day long and will bring you the latest news as quickly as possible.
Email Paul anytime at pk@kuklaskorner.com
Tweets by @kuklaskorner