Kukla's Korner Hockey
by Paul on 05/05/21 at 03:34 AM ET
Comments (0)
THREE HARD LAPS

* Sebastian Aho found the score sheet yet again to help the NHL-leading Hurricanes pad their lead in the standings and extend their point streak to 12 games.

* Sidney Crosby leads the NHL with 151 three-point games since debuting in 2005-06 and helped Pittsburgh overtake Washington for first place in the MassMutual East Division.

* Connor McDavid inched closer to 100 points in 2020-21 and Leon Draisaitl scored twice as the duo collected multiple points in the same game for the 18th time this season.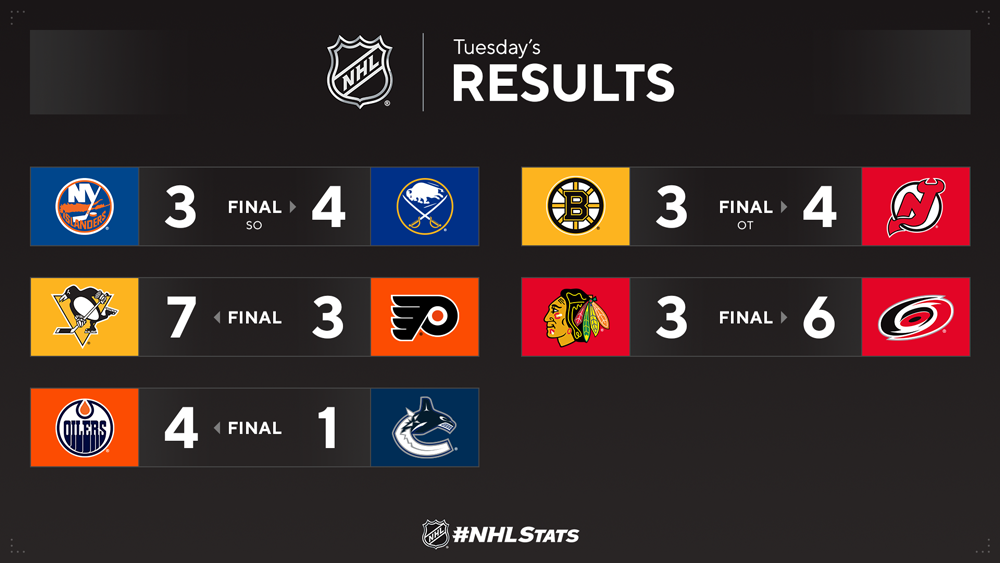 STREAKING HURRICANES CONTINUE REIGN ATOP NHL STANDINGS
Sebastian Aho (0-2—2) extended his point streak to nine games, including six multi-point outings over that span, as the Hurricanes (36-10-7, 79 points) padded their lead in the NHL standings and continued their chase for the franchise's first-ever Presidents' Trophy. Carolina has three games remaining in 2020-21 and owns a four-point cushion over second-ranked Florida (35-14-5, 75 points), which has two game left.

* Aho has collected 17 points over his nine-game point streak dating to April 20 (6-11—17 in 9 GP), trailing Oilers captain Connor McDavid (7-12—19 in 7 GP) for the most over that span. Aho's current run also marks his fourth point streak of at least nine contests and longest since a career-best 14-game stretch in 2019-20 (12-9—21).

* Carolina, 9-0-3 over its last 12 games dating to April 15, trails only Colorado (15 GP from March 10 – April 5) for the longest point streak by any team this season.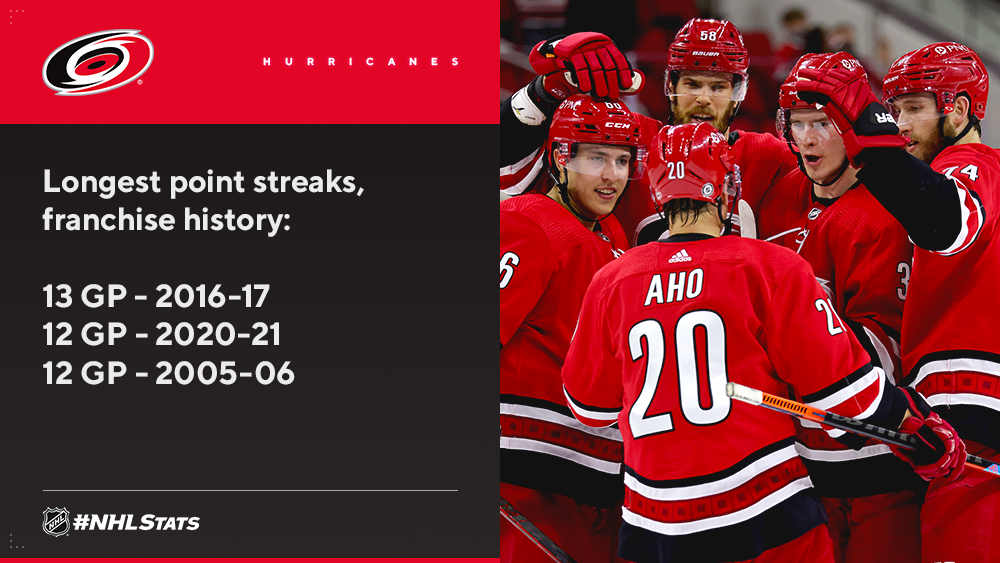 PENGUINS REBOUND WITH SEVEN-GOAL OUTBURST AND CLIMB EAST STANDINGS
Sidney Crosby (2-1—3) recorded his 151st career outing with three-plus points as the Penguins (35-16-3, 73 points) overtook the idle Capitals (33-14-5, 71 points) for first place in the MassMutual East Division standings. Pittsburgh, which allowed seven goals against Philadelphia on Monday, has two games remaining in their regular-season schedule (May 6 & May 8 vs. BUF) while Washington has four (May 5 at NYR, May 7 vs. PHI, May 8 vs. PHI & May 11 vs. BOS).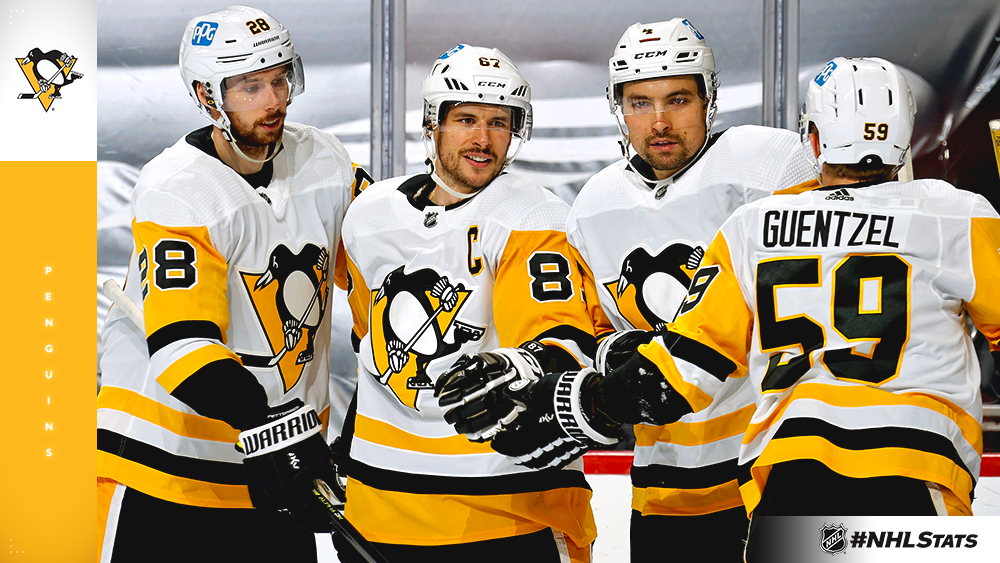 * Crosby, who boosted his career totals to 485-838—1,323 (1,037 GP) and moved past Alex Ovechkin (730-590—1,320 in 1,196 GP) on the NHL's all-time points list, leads all players with 151 three-point games since entering the League in 2005-06 – 35 more than the next closest skater (Ovechkin: 116).

* Each of the last two times Pittsburgh has scored at least seven goals after allowing seven or more in its previous game has also featured Philadelphia: Game 3 and Game 4 of the 2012 Conference Quarterfinals as well as Nov. 21, 1996 (vs. PHI) and Nov. 22, 1996 (at HFD).

* Tuesday marked the 300th regular-season rendition of the 'Battle of Pennsylvania'. Pittsburgh and Philadelphia became the sixth set of teams to meet at least 300 times in the NHL's expansion era (since 1967-68). The others: St. Louis and Chicago (319 GP), Boston and Montreal (316 GP), Philadelphia and NY Rangers (308 GP), Detroit and Chicago (307 GP) as well as Buffalo and Boston (304 GP).

McDAVID, DRAISAITL COLLECT ANOTHER MULTI-POINT OUTING IN OILERS WIN
Connor McDavid (0-2—2), who inched closer to hitting the century mark in 2020-21 (31-62—93 in 51 GP), and Leon Draisaitl (2-0—2) each collected multiple points for the third consecutive game to propel the Oilers (32-17-2, 66 points) to their fifth straight road win. Edmonton moved nine points ahead of idle Winnipeg (27-21-3, 57 points) for second place in the Scotia North Division.

* This marks the 18th time this season that both McDavid and Draisaitl recorded multiple points in the same game, seven more such performances than the next closest teammates on another club: Colorado's Nathan MacKinnon and Mikko Rantanen and Toronto's Auston Matthews and Mitch Marner have each had 11 such outings.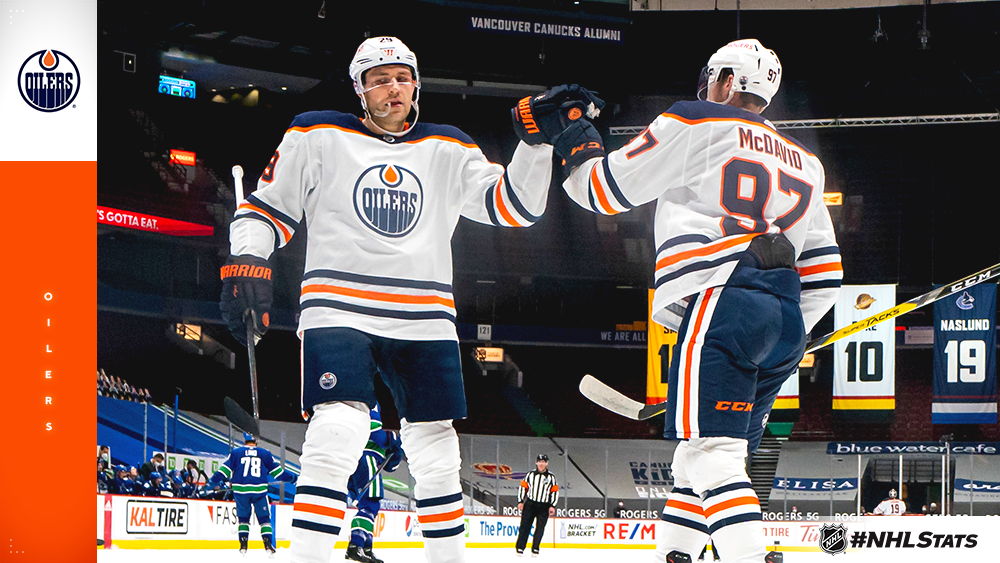 QUICK CLICKS

* Auston Matthews NHL goals leader for Maple Leafs in 'hard season'
* T.J, Oshie's father dies, was on ice for Capitals' emotional Cup celebration
* Lightning captain Steven Stamkos could be ready for start of playoffs
* Milan Lucic waives no-move clause ahead of expansion draft
* Tom Wilson fined for actions in Capitals game against Rangers

RACE FOR FINAL PLAYOFF SPOTS CONTINUES TONIGHT
Many of the key teams in the races for the final four postseason berths will be in action as part of tonight's nine-game slate. Two playoff spots remain in the Scotia North Division as well as one opening still up for grabs in both the Discover Central Division and Honda West Division.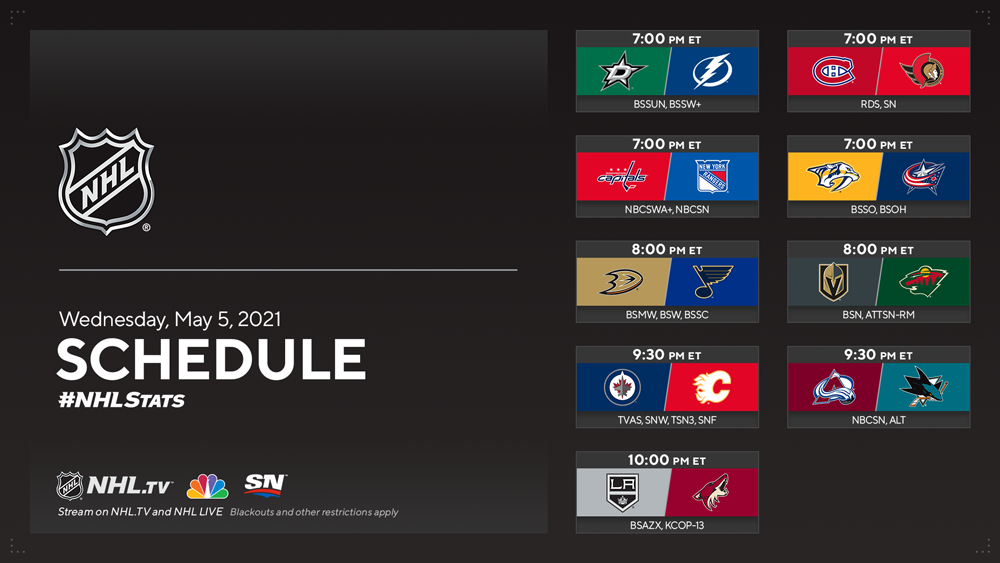 * The Blues (24-19-7, 55 points) look to cement their status as one of the top four teams in the Honda West Division when they host the Ducks with a five-point edge and three games in hand over the fifth-place Coyotes (22-25-6, 50 points). Arizona will hold a Cinco de Mayo party to thank fans in their final home game of the season against the Kings.

* The Predators (29-22-2, 60 points) have won four of their last five outings and sit fourth in the Discover Central Division heading into their trip to Columbus. They sit four points up on the Stars (21-17-14, 56 points), who have a game in hand and will face the Lightning in the first of a two-game set with their 2020 Stanley Cup Final opponents.

* The Scotia North Division's third-place Jets (27-21-3, 57 points) and fourth-place Canadiens (24-18-9, 57 points) are neck-and-neck in the standings and will face the fifth-place Flames (22-25-3, 47 points) and Senators (20-27-5, 45 points), respectively.

VETERANS LOOK TO HIT MILESTONES IN TONIGHT'S ACTION
Veteran skaters will look to leave their mark tonight as Ducks forward Ryan Getzlaf (1,099 GP) is set to hit a games played milestone, Coyotes forward Phil Kessel and Kings forward Anze Kopitar sit one point shy of 900 and 1,000 in their careers, respectively, and 41-year-old Maple Leafs forward Joe Thornton can join rare company should he extend his point streak to seven games.

* Getzlaf (279-703—982 in 1,099 GP), already the franchise leader in assists, is set to become the 14th active player and only member of the Ducks franchise to skate in 1,100 career games.

* Kopitar (346-653—999 in 1,123 GP) aims to become the fourth player to collect 1,000 points with the Kings franchise, joining Marcel Dionne (550-757—1,307 in 921 GP), Luc Robitaille (557-597—1,154 in 1,077 GP) and Dave Taylor (431-638—1,069 in 1,111 GP).

* Kessel (389-510—899 in 1,119 GP), who hails from Madison, Wis., can become the 13th U.S.-born player to reach the 900-point milestone and just the second active skater among that group (Patrick Kane: 404-682—1,086 in 1,026 GP).

* Thornton (41 years, 307 days) has collected 2-4—6 over the course of his six-game point streak dating to April 22 and can post a run of at least seven straight contests for the first time since doing it on four separate occasions in 2015-16 (last: 7 GP from March 28 – April 9, 2016).


Thanks to the NHL PR department for the information above.
Filed in: | KK Hockey | Permalink

Comments
Be the first to comment.
Add a Comment
Please limit embedded image or media size to 575 pixels wide.
Add your own avatar by joining Kukla's Korner, or logging in and uploading one in your member control panel.
Captchas bug you? Join KK or log in and you won't have to bother.
Most Recent Blog Posts
About Kukla's Korner Hockey
Paul Kukla founded Kukla's Korner in 2005 and the site has since become the must-read site on the 'net for all the latest happenings around the NHL.
From breaking news to in-depth stories around the league, KK Hockey is updated with fresh stories all day long and will bring you the latest news as quickly as possible.
Email Paul anytime at pk@kuklaskorner.com
Tweets by @kuklaskorner