Kukla's Korner Hockey
by Paul on 12/04/18 at 01:03 PM ET
Comments (0)
SEA ISLAND, Ga. (Dec. 4, 2018) – The National Hockey League announced today that it has granted an expansion franchise to Seattle. The League's 32nd franchise, which will begin play in 2021-22, was approved in a unanimous vote by the NHL's Board of Governors during a meeting today in Sea Island, Ga.
Ownership of the Seattle franchise will principally reside with David Bonderman. The franchise will play its home games at Seattle Center Arena, which is currently undergoing renovations.
The Seattle franchise will pay a $650-million expansion fee. That fee will be distributed in equal shares to 30 of the NHL's presently existing clubs (all except Vegas, which entered the League with an expansion fee of $500 million in 2017-18).
"Today is an exciting and historic day for our League as we expand to one of North America's most innovative, beautiful and fastest-growing cities," NHL Commissioner Gary Bettman said. "We are delighted to add David Bonderman, Tod Leiweke and the entire NHL Seattle group to the National Hockey League family. And we are thrilled that Seattle, a city with a proud hockey history that includes being the home for the first American team ever to win the Stanley Cup, is finally joining the NHL."
Alignment
The Seattle franchise will begin play in the Pacific Division of the Western Conference in 2021-22. The Arizona Coyotes will move to the Western Conference's Central Division that season. There will be no other changes to the NHL's alignment.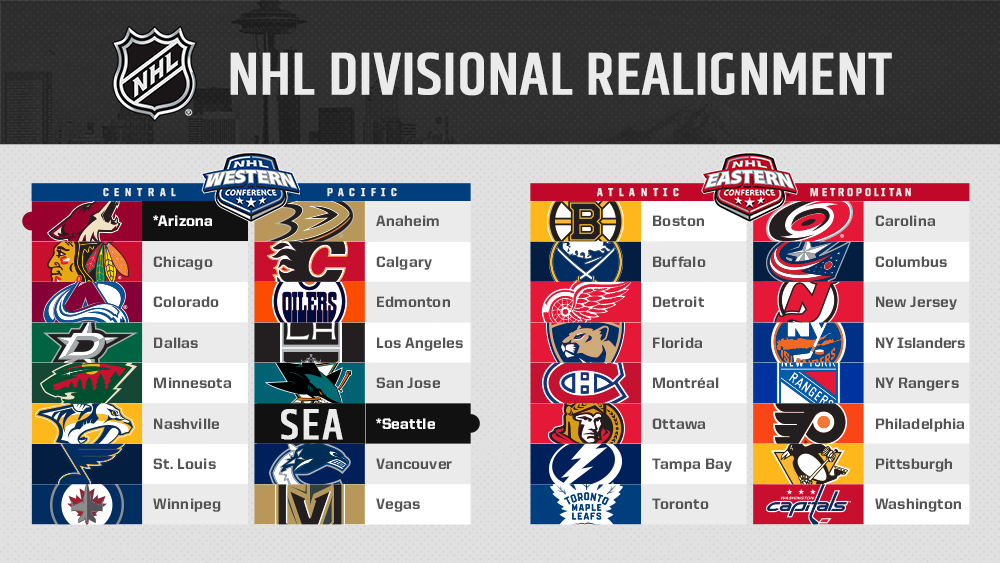 Expansion Draft
Seattle will follow the same rules for the 2021 Expansion Draft as Vegas did in 2017:
Regulations Relating to Seattle Expansion Franchise
* The Seattle franchise must select one player from each presently existing club – all except Vegas – for a total of 30 players (not including additional players who may be acquired as the result of violations of the Expansion Draft rules).
* The Seattle franchise must select the following number of players at each position: 14 forwards, nine defensemen and three goaltenders.
* The Seattle franchise must select a minimum of 20 players who are under contract for the 2021‑22 season.
* The Seattle franchise must select players with an aggregate Expansion Draft value that is between 60-100 percent of the prior season's upper limit for the salary cap.
* The Seattle franchise may not buy out any of the players selected in the Expansion Draft earlier than the summer following its first season.
Protected Lists
* Clubs will have two options for players they wish to protect in the Expansion Draft:
a) Seven forwards, three defensemen and one goaltender
b) Eight skaters (forwards/defensemen) and one goaltender
* All players who have currently effective and continuing "No Movement" clauses at the time of the Expansion Draft (and who decline to waive such clauses) must be protected (and will be counted toward their club's applicable protection limits).
* All first- and second-year professionals, as well as all unsigned draft choices, will be exempt from selection (and will not be counted toward their club's applicable protection limits).
Player Exposure Requirements
* All clubs must meet the following minimum requirements regarding players exposed for selection in the Expansion Draft:
i) One defenseman who is a) under contract in 2021-22 and b) played in 40 or more NHL games the prior season OR played in 70 or more NHL games in the prior two seasons.
ii) Two forwards who are a) under contract in 2021-22 and b) played in 40 or more NHL games the prior season OR played in 70 or more NHL games in the prior two seasons.
iii) One goaltender who is under contract in 2021-22 or will be a restricted free agent at the expiration of his current contract immediately prior to 2021-22. If the club elects to make a restricted free agent goaltender available in order to meet this requirement, that goaltender must have received his qualifying offer prior to the submission of the club's protected list.
* Players with potential career-ending injuries who have missed more than the previous 60 consecutive games (or who otherwise have been confirmed to have a career-threatening injury) may not be used to satisfy a club's player exposure requirements, unless approval is received from the NHL. Such players also may be deemed exempt from selection by the League.
More Information
Other details regarding the Seattle expansion franchise – including a timeline for the 2021 NHL Expansion Draft, percentages for the 2021 NHL Draft Lottery and the 2021-22 schedule matrix – will be announced at a later date.
Filed in: NHL Teams, NHL Talk, | KK Hockey | Permalink

Comments
Be the first to comment.
Add a Comment
Please limit embedded image or media size to 575 pixels wide.
Add your own avatar by joining Kukla's Korner, or logging in and uploading one in your member control panel.
Captchas bug you? Join KK or log in and you won't have to bother.
Most Recent Blog Posts
About Kukla's Korner Hockey
Paul Kukla founded Kukla's Korner in 2005 and the site has since become the must-read site on the 'net for all the latest happenings around the NHL.
From breaking news to in-depth stories around the league, KK Hockey is updated with fresh stories all day long and will bring you the latest news as quickly as possible.
Email Paul anytime at pk@kuklaskorner.com
Tweets by @kuklaskorner