Kukla's Korner Hockey
by Paul on 08/12/20 at 03:33 AM ET
Comments (1)
THREE HARD LAPS

* Brayden Point scored the quintuple-overtime winner to lift the Lightning past the Blue Jackets in the fourth-longest game in NHL history.

* Columbus goaltender Joonas Korpisalo made 85 saves – that's correct, 85 saves – to eclipse Kelly Hrudey's 73 from the "Easter Epic" for the highest single-game total since 1955-56.

* Due to the length of the Lightning-Blue Jackets contest, Game 1 between the Bruins and Hurricanes – originally scheduled for 8:00 p.m. ET Tuesday – was rescheduled for 11:00 a.m. ET today.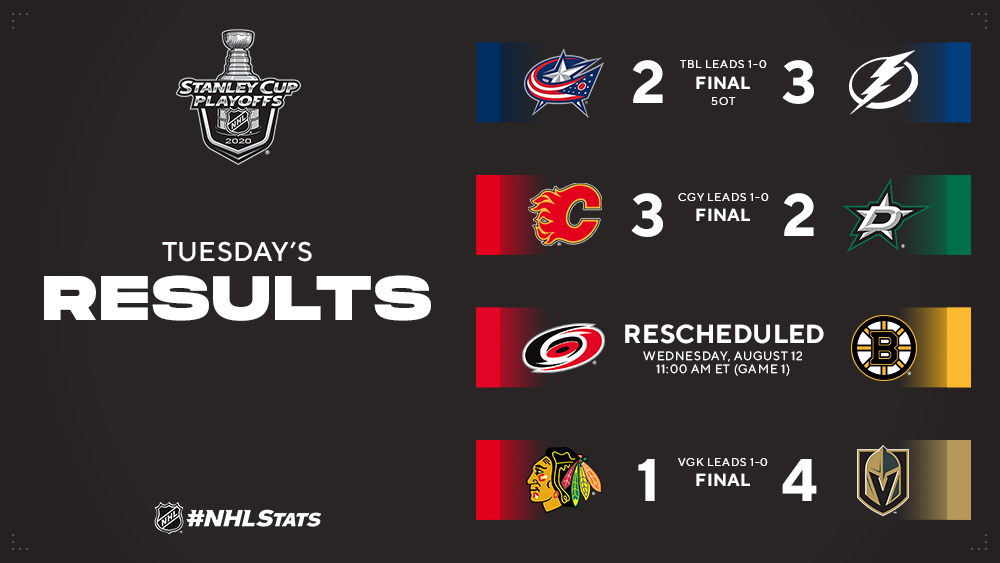 LIGHTNING OUTLAST BLUE JACKETS IN FOURTH-LONGEST GAME IN NHL HISTORY
Brayden Point (2-0—2) scored the winner at 10:27 of the fifth overtime to lift the Lightning past the Blue Jackets, capping the lengthiest game ever contested by either franchise.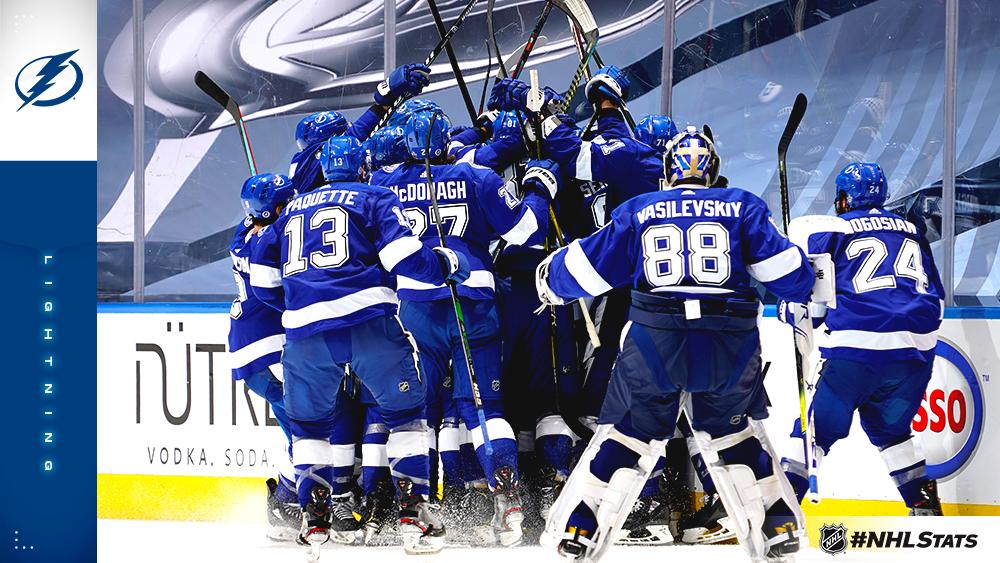 * Game 1 between Tampa Bay and Columbus, which featured 150:27 of total game time, was the fourth-longest in NHL history. It fell shy of Game 1 of the 1936 Semifinals between the Red Wings and Maroons (176:30), Game 5 of the 1933 Semifinals between the Maple Leafs and Bruins (164:46) and Game 4 of the 2000 Conference Semifinals between the Flyers and Penguins (152:01).

* Point, who ended the contest six hours and 13 minutes after it began, became the fifth player in NHL history to score the winner in a game which required five or more overtimes. He joined Red Wings forward Mud Bruneteau (Game 1 of 1936 SF), Maple Leafs forward Ken Doraty (Game 5 of 1933 SF), Flyers forward Keith Primeau (Game 4 of 2000 CSF) and Ducks forward Petr Sykora (Game 1 of 2003 CSF).

* Point, who potted his first career playoff overtime goal, became the third different player in franchise history to score the winner in a contest which required multiple overtimes. Nikita Kucherov (0-2—2), who assisted on the winner by Point, was the last Lightning player to do so before Tuesday.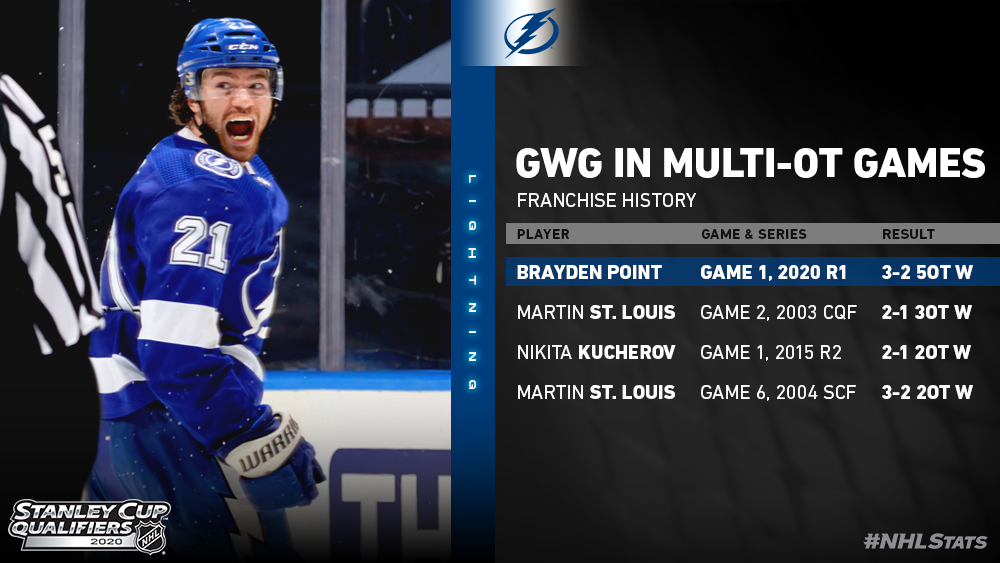 TAMPA BAY, COLUMBUS COMBINE FOR SEVERAL FRANCHISE, NHL RECORDS
Per Records.NHL.com, the Lightning and Blue Jackets combined for several franchise and NHL benchmarks in both the player and team categories:
* Blue Jackets goaltender Joonas Korpisalo turned aside 85 of the Lightning's 88 shots, which marked the NHL's highest single-game save total since 1955-56. The previous mark of 73 was set by Islanders goaltender Kelly Hrudey in the "Easter Epic," Game 7 of the 1987 Division Semifinals.

* Lightning goaltender Andrei Vasilevskiy made 61 saves to establish a franchise record for most in a game, besting the previous mark of 60 set by Nikolai Khabibulin in Game 6 of the 2003 Conference Quarterfinals.

* Tampa Bay's 88 shots on goal were the highest single-game total by a team, 12 more than Dallas' 76 in Game 1 of the 2007 Conference Quarterfinals. The Lightning and Blue Jackets – who logged a franchise-record 63 shots on goal – combined for a total of 151 shots on goal.

* Did You Know? Prior to shots on goal becoming an official NHL statistic, select games logged them - creating incomplete SOG data for those campaigns. One of those games happened to be the longest in NHL history, between the Montreal Maroons and Detroit Red Wings in Game 1 of the 1936 Semifinals when Red Wings goaltender Normie Smith was credited with 90 saves.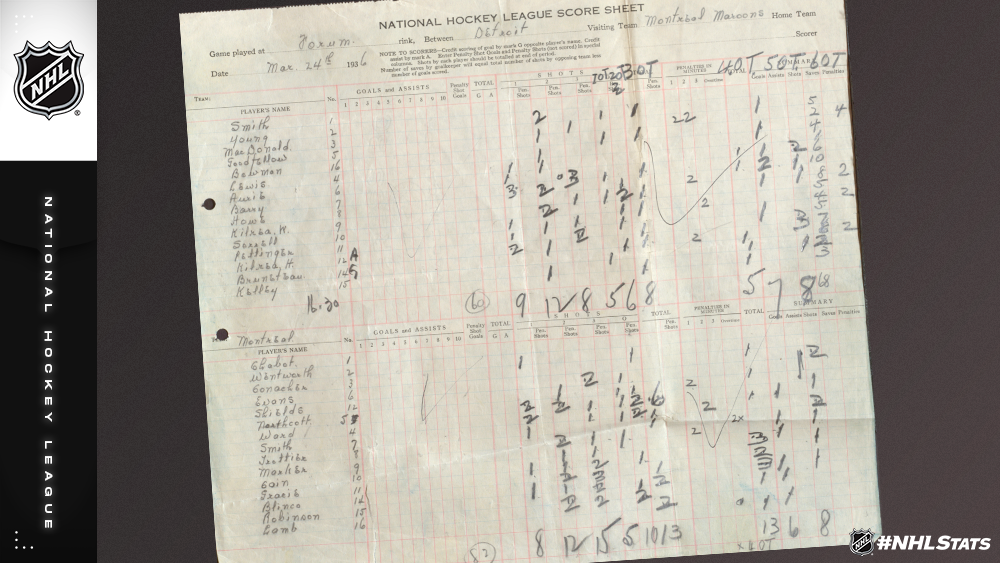 * Blue Jackets defenseman Seth Jones logged 65:06 of ice time, the NHL's highest single-game total by a skater since 1997-98 when time on ice was officially tracked. He eclipsed the mark of 63:51 set by Stars defenseman Sergei Zubov in Game 1 of the 2003 Conference Semifinals. Overall, skaters from Game 1 between Tampa Bay and Columbus now account for three of the top eight single-game totals on record.


FLAMES, GOLDEN KNIGHTS WIN WESTERN CONFERENCE OPENERS
* The Stars set a franchise record with two goals in a span of nine seconds to erase a 2-0 deficit, but Rasmus Andersson scored five minutes later to put the Flames ahead en route to a Game 1 victory. Andersson and Dillon Dube (2-0—2) each scored in consecutive games for the first time in their NHL careers. Dube, 22, became the seventh different Flames player to post a multi-goal game in the playoffs before age 23; teammate Matthew Tkachuk (Game 1 of 2019 R1 vs. COL) is the only other to so in the last 26 years.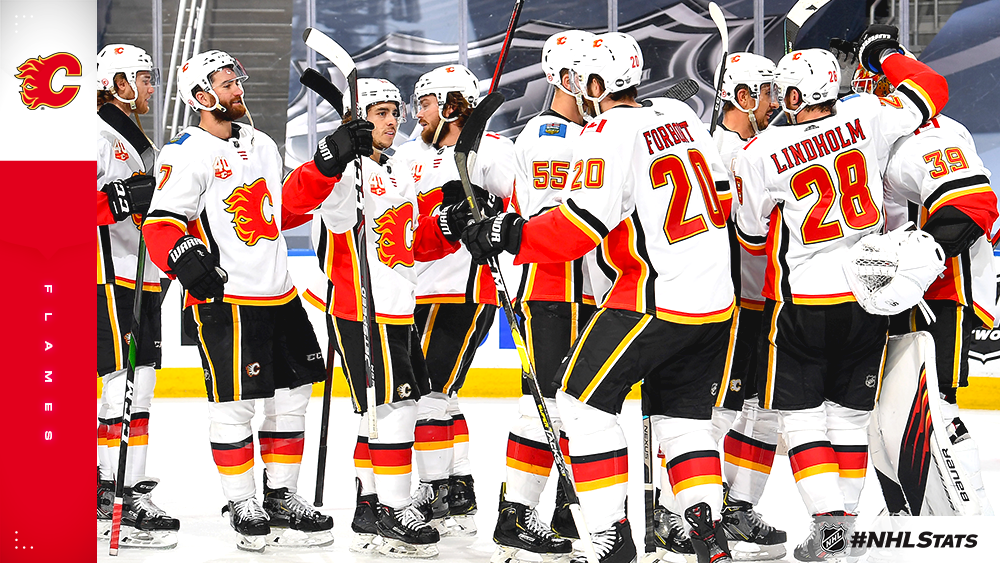 * Reilly Smith collected 2-1—3 to help the Golden Knights take a 1-0 lead in their First Round series. Smith, who is Vegas' all-time leader in postseason points with 33 (8-25—33 in 31 GP), has 6-6—12 in nine games versus Chicago since the start of the Golden Knights' inaugural season in 2017-18 (1.33 P/GP). Robin Lehner made 19 saves against his former club and has earned wins in all six appearances since being acquired by Vegas at the 2020 NHL Trade Deadline (3-0-0 in regular season, 3-0 in playoffs).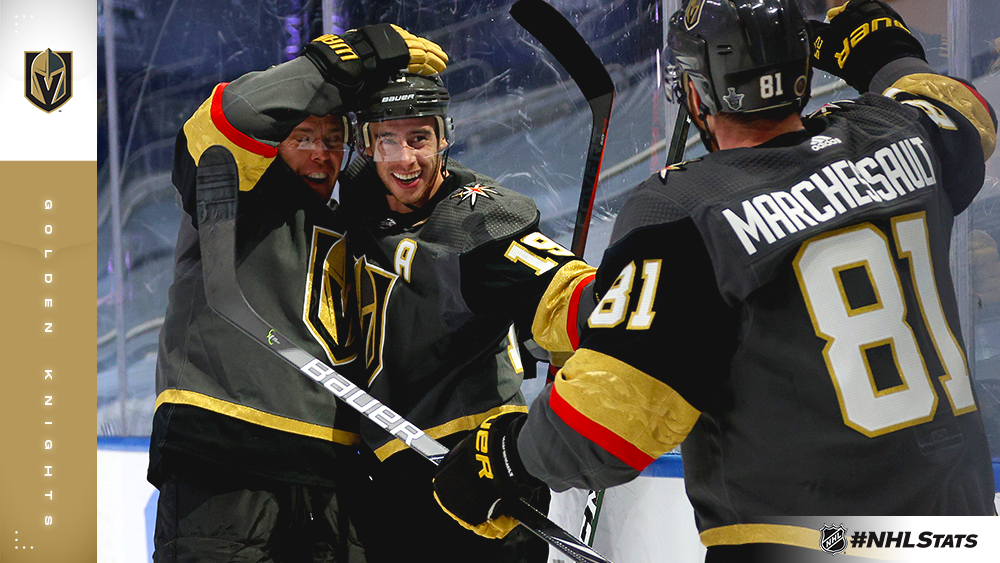 QUICK CLICKS

* Hockey Hall of Fame postpones 2020 Induction Weekend/Celebration
* Bruce Boudreau joins NHL Network as guest analyst
* Oskar Lindblom joins Flyers in hub city for Playoffs
* Stanley Cup Playoff first-round storylines include Blues' title defense
* Lightning, Blue Jackets begin Playoffs with 5OT game for the ages

PREVIEW OF TODAY'S ACTION
The second day of the First Round will get an early start, with the Bruins and Hurricanes squaring off at 11 a.m. ET after their game – which was previewed in the Aug. 11 Morning Skate – was rescheduled due to the five-overtime game.

* Teams that win Game 1 in a best-of-seven series hold an all-time series record of 478-219 (68.6%).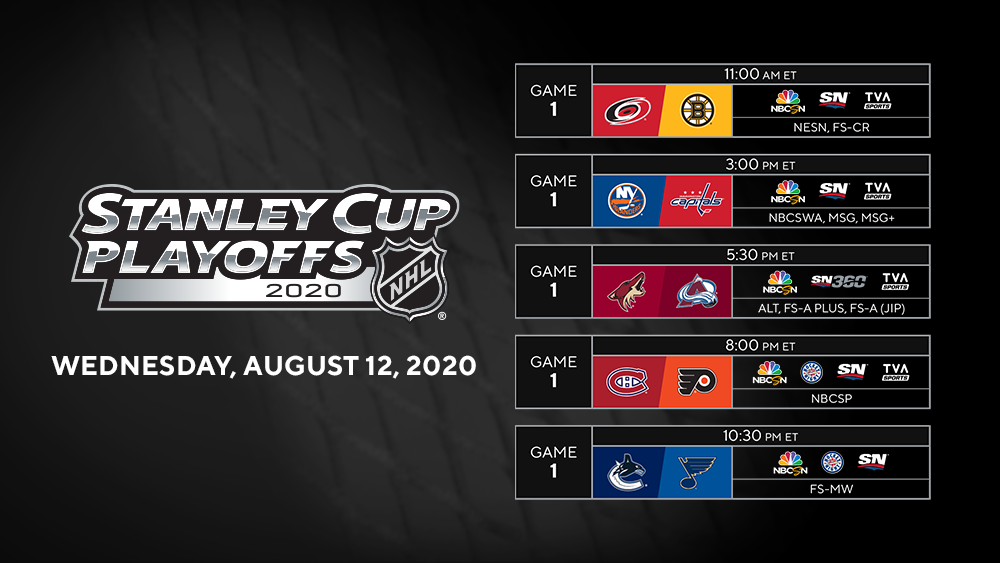 New York Islanders vs. Washington Capitals
* Islanders goaltender Semyon Varlamov - who played with Washington from 2008-09 to 2010-11 - stopped 96 of 103 shots in the qualifying round (1.77 GAA, .932 SV% in 4 GP). He is 4-6-1 against the Capitals, including a 36-save victory with the Islanders on New Year's Eve.

* Alex Ovechkin, who was held off the score sheet in three games during the round robin, sits five playoff goals shy of becoming the 18th player in NHL history to score 70 in his career. Patrick Marleau (72) and Sidney Crosby (68) are the only active players with more playoff goals than Ovechkin.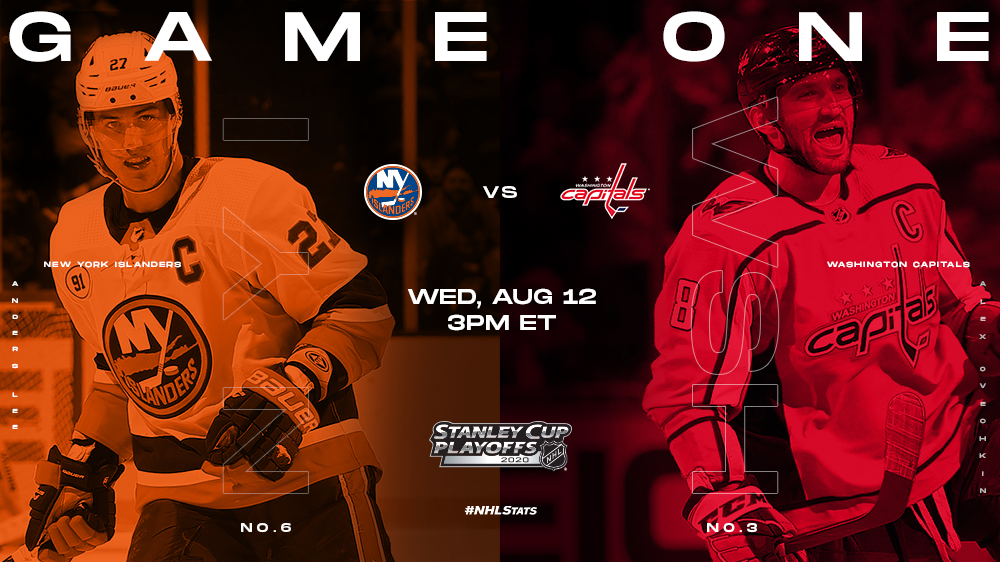 Arizona Coyotes vs. Colorado Avalanche
* The teams split the regular-season series in 2019-20. Colorado edged Arizona in overtime on Oct. 12, while the Coyotes blanked the Avalanche on Nov. 2 (COL: 1-1-0, ARI: 1-0-1).

* Nazem Kadri (1-3—4) and Mikko Rantanen (0-4—4) led the Avalanche during round robin play, while four Coyotes finished the qualifying round tied for the team lead with four points: Clayton Keller (2-2—4), Phil Kessel (1-3—4), Taylor Hall (1-3—4) and Oliver Ekman-Larsson (1-3—4).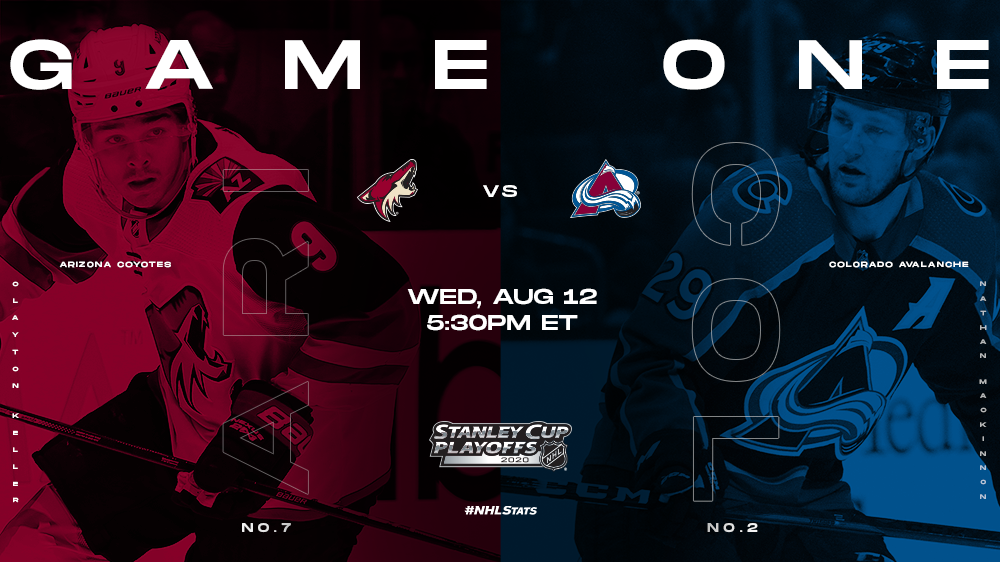 Montreal Canadiens vs. Philadelphia Flyers
* The Flyers enter the First Round as the No. 1 seed after posting a 3-0-0 record in round-robin play, outscoring their opponents by an 11-3 margin.

* Multiple Flyers personnel have ties to the Canadiens organization: general manager Chuck Fletcher was born in Montreal and his father, Cliff Fletcher, began his hockey career as a scout with the club in 1956; head coach Alain Vigneault's first NHL head coaching job was with the Canadiens (1997-98 to 2000-01). Vigneault was runner-up for the Jack Adams Award in 1999-00.

* Flyers forward Nate Thompson played for the Canadiens in each of the past two seasons, including 63 games with Montreal in 2019-20. Additionally, Canadiens forwards Jordan Weal (2015-16 to 2018-19) and Dale Weise (2016-17 to 2018-19) have skated with the Flyers.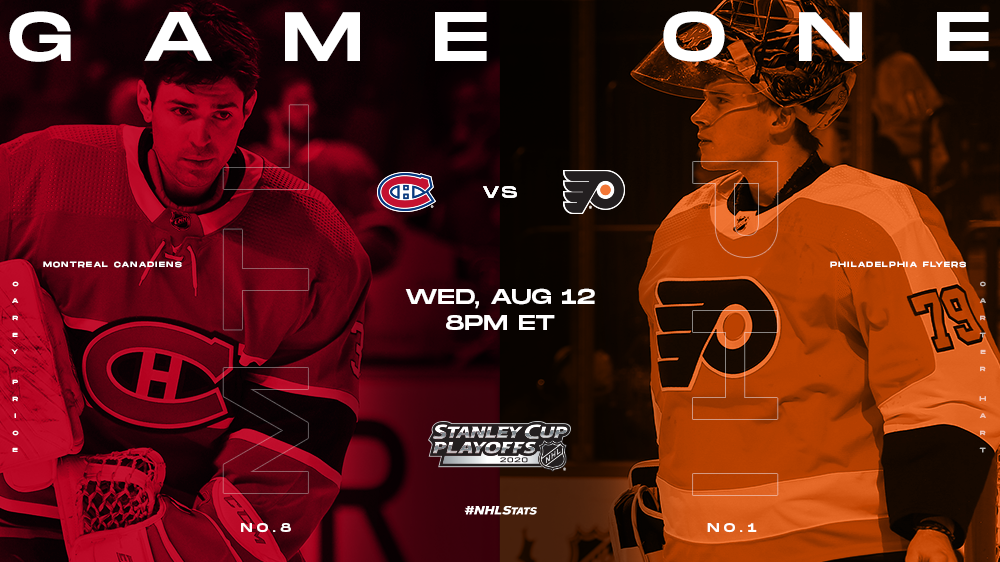 Vancouver Canucks vs. St. Louis Blues
* The Blues will continue their defense of the first Stanley Cup championship in franchise history when they face the Canucks in Game 1. St. Louis looks to become the fourth team in the last 30 years to win back-to-back championships following the Penguins who did so twice (1991 and 1992; 2016 and 2017) and Red Wings (1997 and 1998).

* The series features the reigning Conn Smythe Trophy winner Ryan O'Reilly – who led St. Louis and the NHL (tied) with 23 points in the 2019 playoffs – and a quintet of Calder Trophy finalists in Blues goaltender Jordan Binnington (2018-19 runner-up) and Canucks teammates Tyler Myers (2009-10 winner w/ BUF), Brock Boeser (2017-18 runner-up), Elias Pettersson (2018-19 winner) and Quinn Hughes (2019-20 finalist).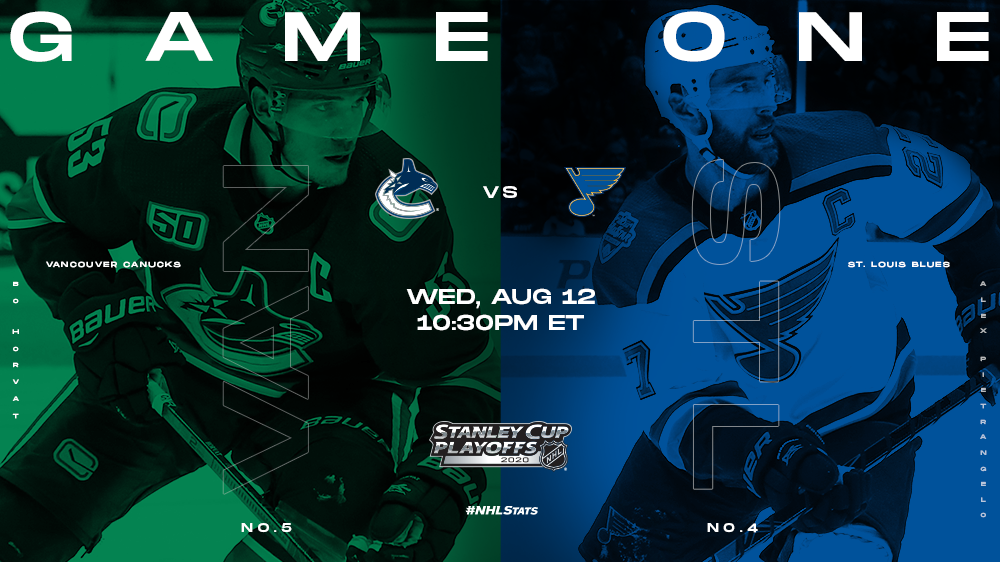 Thanks to the NHL PR department for the information above.
Filed in: NHL Teams, | KK Hockey | Permalink

Comments
Add a Comment
Please limit embedded image or media size to 575 pixels wide.
Add your own avatar by joining Kukla's Korner, or logging in and uploading one in your member control panel.
Captchas bug you? Join KK or log in and you won't have to bother.
Most Recent Blog Posts
About Kukla's Korner Hockey
Paul Kukla founded Kukla's Korner in 2005 and the site has since become the must-read site on the 'net for all the latest happenings around the NHL.
From breaking news to in-depth stories around the league, KK Hockey is updated with fresh stories all day long and will bring you the latest news as quickly as possible.
Email Paul anytime at pk@kuklaskorner.com
Tweets by @kuklaskorner