Kukla's Korner Hockey
by Paul on 02/23/20 at 05:46 AM ET
Comments (0)
THREE HARD LAPS

* Alex Ovechkin became both the second-youngest and second-fastest player to join the NHL's 700-goal club. The only player to reach the 700-goal mark at a younger age or in fewer games than Ovechkin (age 34, 1,144 GP) is all-time goals leader Wayne Gretzky (age 29, 886 GP)
* Forty-two-year-old emergency backup goaltender David Ayres came in relief for the Hurricanes and became the oldest goaltender in League history to win his NHL deut
* The Canucks and Coyotes erupted for nine and seven goals, respectively, en route to victories over the Bruins and Lightning – the top two teams in the NHL this season.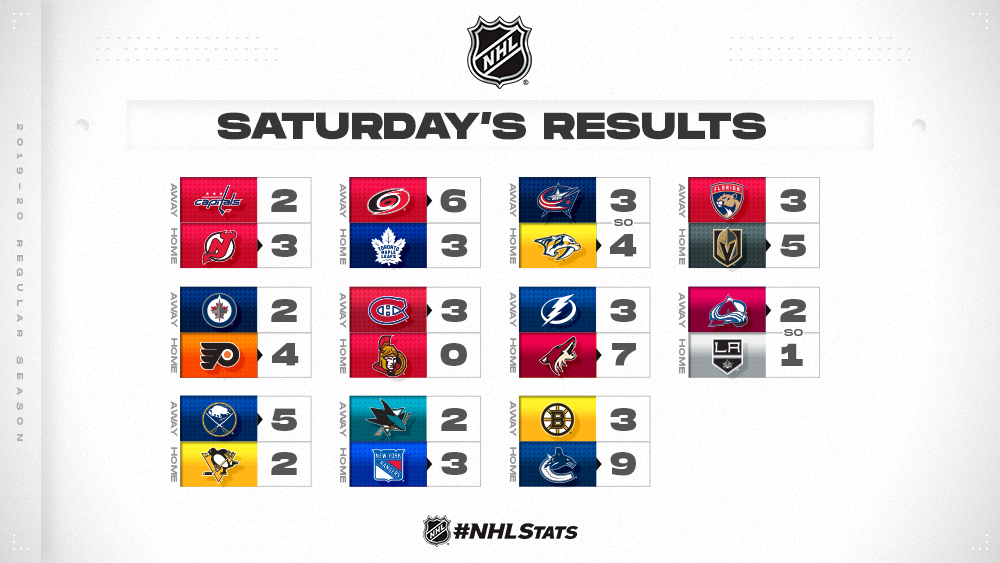 OVECHKIN BECOMES EIGHTH MEMBER OF NHL'S 700-GOAL CLUB
Alex Ovechkin became both the second-youngest and second-fastest player to join the NHL's 700-goal club with his tally Saturday in New Jersey, joining seven others in the prestigious group. The only player to reach the 700-goal mark at a younger age or in fewer games than Ovechkin (age 34, 1,144 GP) is all-time goals leader Wayne Gretzky (age 29, 886 GP), whom Ovechkin now trails by only 194 goals.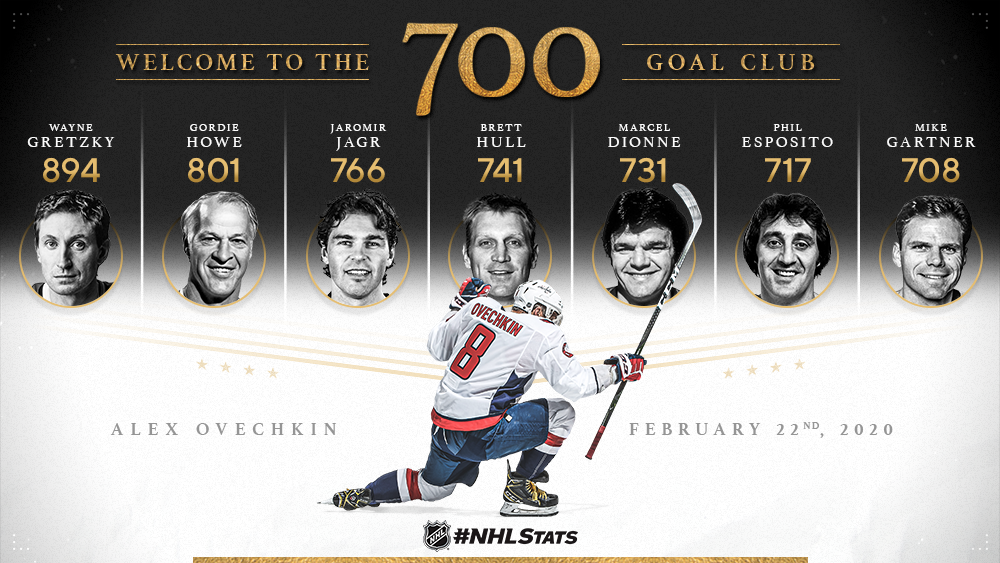 A collection of Ovechkin notes is below, but a detailed look at his achievement is available in the latest "Alex Ovechkin: The Road to 700 Goals" document compiled by the NHL Stats & Information team.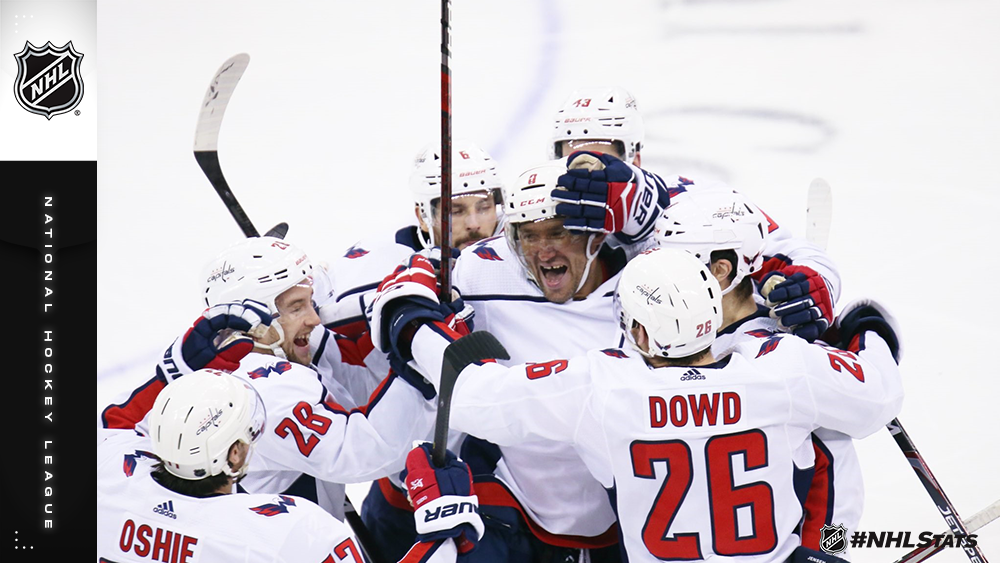 * Ovechkin's achievement at age 34 is rare not only from an NHL perspective, but also across the professional sports landscape. Among major career scoring milestone lists with fewer than 10 names for NBA players (30,000 points), MLB hitters (600 home runs) and NFL quarterbacks (400 passing touchdowns), only two players reached the benchmark before age 35: LeBron James and Kobe Bryant.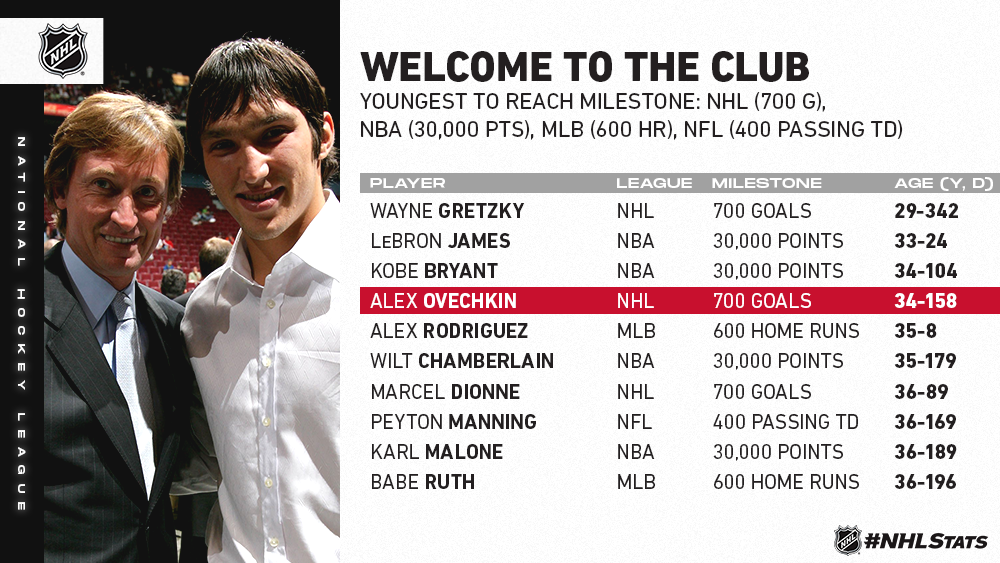 * Ovechkin scored his milestone goal just shy of the six-year anniversary of Jaromir Jagr becoming the seventh member of the 700-goal club – and against the team Jagr was skating for at the time. In a matinee at Nassau Coliseum on March 1, 2014, Jagr scored his 700th goal to give the Devils a 2-0 lead – mere moments after Ovechkin became the fastest Russian to reach the 800-point milestone (658 GP) with his second goal during a matinee in Boston. Ovechkin notched his 800th point at 2:24 of the second period, which had a start time of 2:01 p.m. ET; the second period of the Devils-Islanders game started at 2:04 p.m. ET, with Jagr scoring 3:31 into the frame.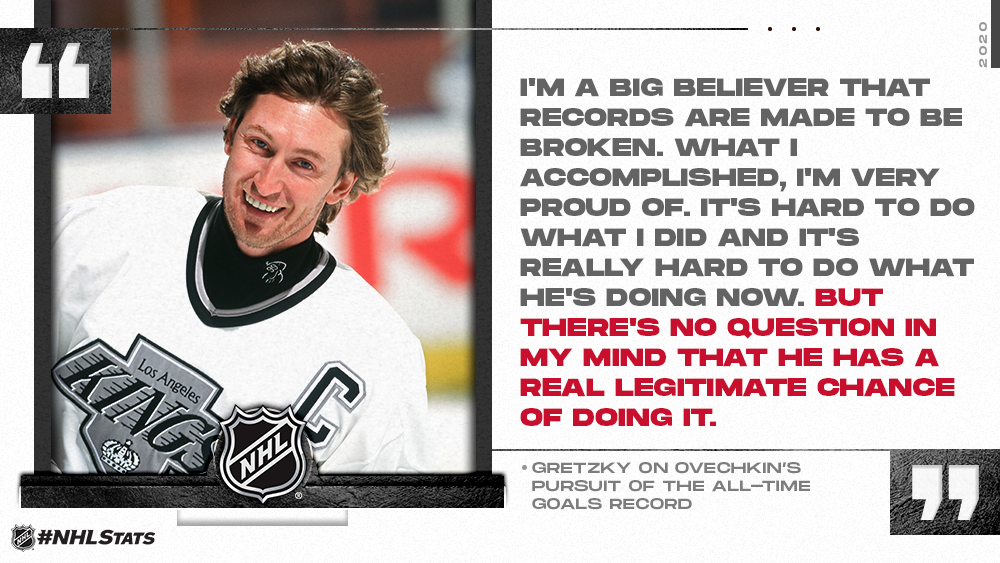 42-YEAR-OLD EMERGENCY BACKUP GOALTENDER CLOSES OUT HURRICANES WIN
With James Reimer and Petr Mrazek leaving the game due to injury, 42-year-old emergency backup goaltender David Ayres turned aside eight shots to help preserve a Hurricanes (35-22-4, 74 points) victory.

* Ayres, who served as an emergency backup goaltender for the American Hockey League's Charlotte Checkers on Feb. 1 against the Toronto Marlies, left with First Star honors and became the oldest goaltender in NHL history to win his NHL debut. The previous mark was held by Hugh Lehman on Nov. 17, 1926 with Chicago (41 years 21 days).

* Additionally, Ayres became the second-oldest player in NHL history, regardless of position, to make his NHL debut, behind Lester Patrick (43 years, 80 days) on March 20, 1927 with the Rangers.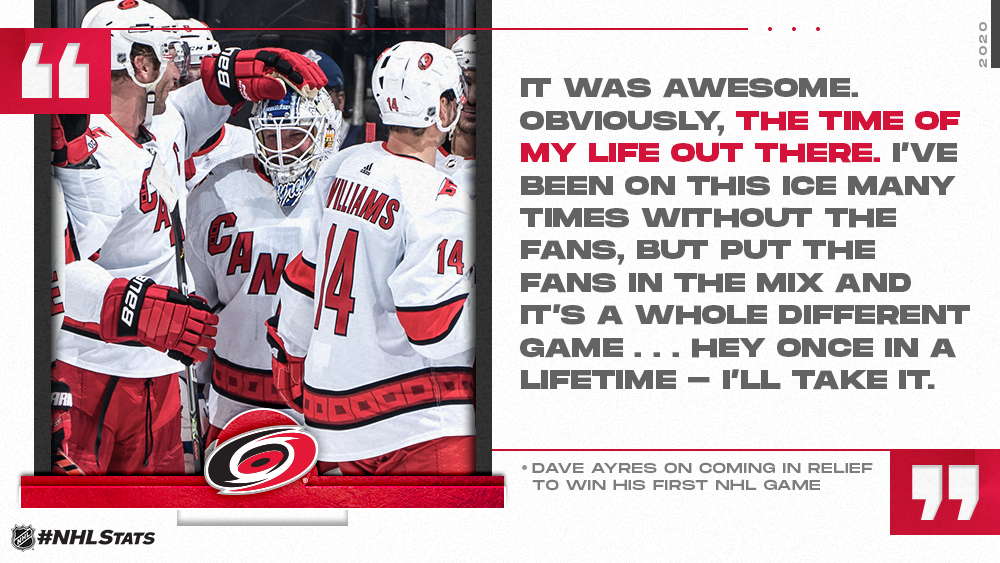 CANUCKS, COYOTES ERUPT AGAINST LEAGUE LEADERS
The Canucks (33-22-6, 72 points) and Coyotes (31-26-8, 70 points) erupted for nine and seven goals, respectively, en route to victories over the Bruins (39-12-12, 90 points) and Lightning (40-17-5, 85 points) – the top two teams in the NHL this season.

* Vancouver and Arizona are two of four Pacific Division teams separated by four points which also includes Vegas (33-22-8, 74 points) - who also won Saturday – and Edmonton (32-22-7, 71 points). The Coyotes however, have played the most games among the group (65 GP).

* Quinn Hughes (8-41—49) factored on two of nine Vancouver goals and became just the second rookie defenseman in franchise history to collect at least 40 assists in a single season. Additionally, he joined Bryan Berard (40 in 1996-97 w/ NYI), Janne Niinimaa (40 in 1996-97 w/ PHI) and Nicklas Lidstrom (49 in 1991-92 w/ DET) as just the fourth rookie defenseman to achieve the feat in the last 30 years.

* The Canucks, who scored nine goals in a regular-season game for the 16th time in franchise history and first since Jan. 6, 1996 (9-2 W vs. TBL), trail only the Lightning for the highest goals for per game played at home this season.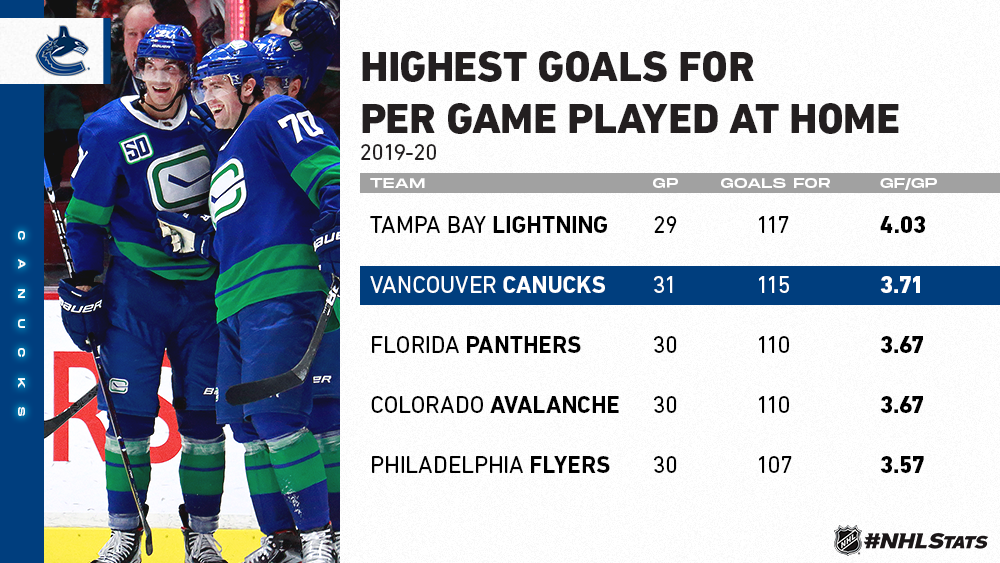 * Conor Garland (2-2—4) factored on four of seven goals to establish a single-game career high. The Coyotes scored seven goals in a game for the second time in as many seasons after also doing so against the Lightning in their previous meeting on Oct. 27, 2018.

24-YEAR-OLD SHERSTERKIN RECORDS NHL FIRST WITH ANOTHER 40-SAVE WIN
Igor Shesterkin turned aside 44 shots, including 21 in the first period, to backstop the Rangers (33-24-4, 70 points) to their eighth win in 10 contests. After also registering 40-save victories on Jan. 9 (46), Feb. 9 (42) and Feb. 11 (42), the 24-year-old became the NHL's first goaltender since 1955-56 (when shots on goal officially began being tracked) to register four such wins through his first 10 career games.

* After sitting a season-high 11 points out of a playoff spot on Feb. 10, including nine points out through 50 games on Feb. 1, the Rangers moved within four points of the Hurricanes for the second Wild Card spot in the Eastern Conference standings. Should New York reach the 2020 Stanley Cup Playoffs, it would mark the first time in franchise history the club has qualified for the postseason after being at least nine points shy of a playoff position through their first 50 games of a season.

* Shesterkin, who's allowed two or fewer goals in six of his last eight contests, extended his win streak to seven games and became just the fourth goaltender in NHL history to earn nine wins through his first 10 career games.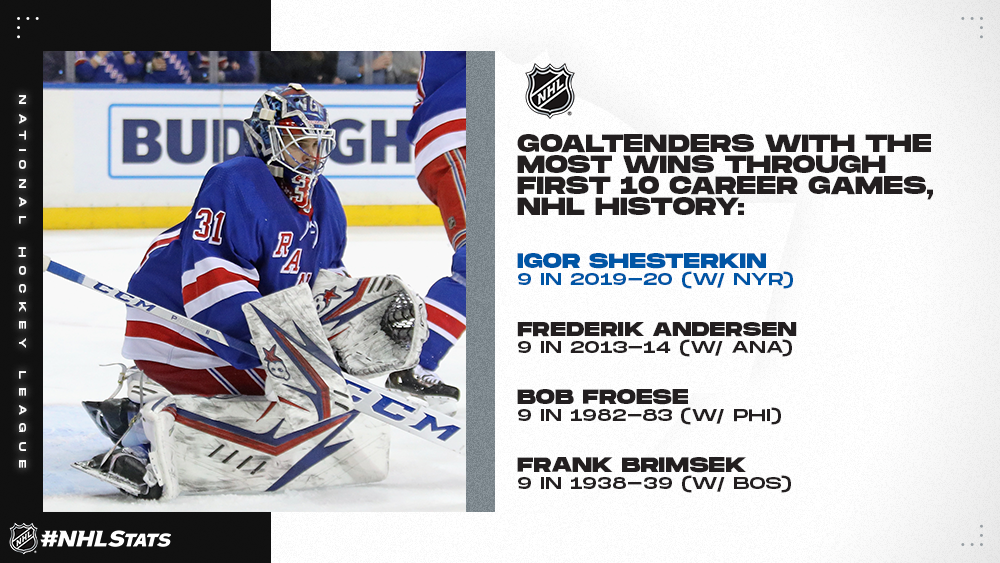 FLYERS MAKE GROUND ON CAPITALS, PENGUINS WITH ANOTHER HOME WIN
Welcomed by Oskar Lindblom in the dressing room following their victory, the Flyers (35-20-7, 77 points) improved to 21-5-4 through 30 contests at Wells Fargo Center this season and moved within three points of the Penguins (37-16-6, 80 points) and Capitals (37-18-6, 80 points) for top spot in the Metropolitan Division.

* Philadelphia's nine total home losses are tied with Tampa Bay (20-7-2) for the fewest among all clubs in 2019-20. The Flyers look to conclude a regular season with the fewest home losses among all teams for the fifth time in franchise history (led outright or tied). The others: 1985-86 (6), 1984-85 (4), 1979-80 (5) and 1975-76 (2).

DID YOU KNOW?
The Flyers are one of two professional sports franchises based out of Philadelphia to stifle the visiting opposition in 2019-20. The NBA's Philadelphia 76ers have recorded a League-best 26 home victories this season (tied), while pacing the Association with two such losses.

QUICK CLICKS

* Alex Ovechkin career timeline: Draft through 700 goals
* Social media goes wild for Ovechkin's 700th NHL goal
* Ovechkin can catch Gretzky after scoring No. 700 for Capitals, greats say
* Facts and Figures: Ovechkin's road to 700
* Carey Price, Max Domi lift Canadiens to win against Senators

PREVIEW OF TODAY'S ACTION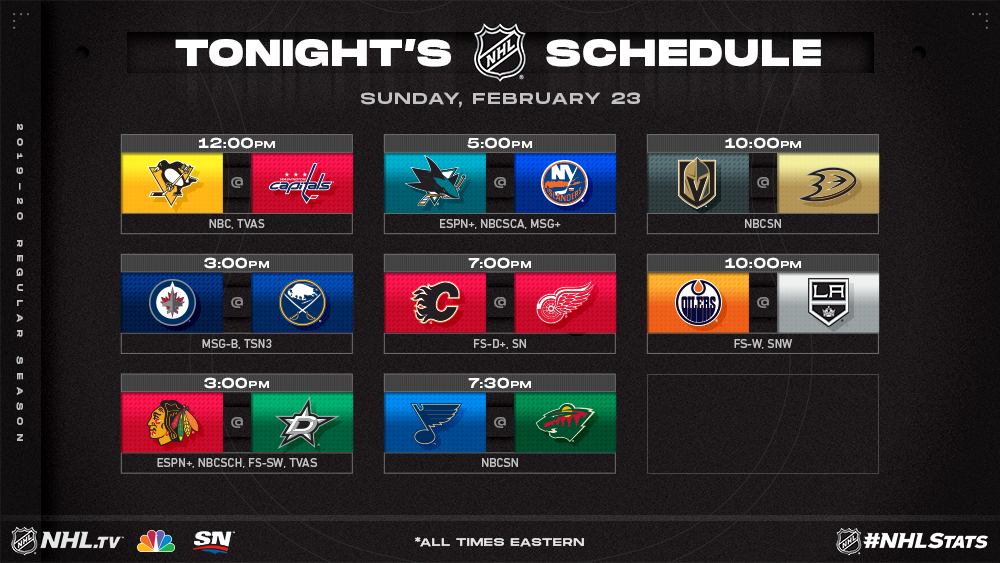 OVECHKIN, CROSBY SET TO RENEW RIVALRY AS PLAYOFF PUSH HEATS UP
Alex Ovechkin and Sidney Crosby are set to go head-to-head in the regular season for the 51st time when Metropolitan Division-leading Pittsburgh (37-17-6, 80 points) travels to Washington (37-18-6, 80 points).

* The Penguins and Capitals are in a neck-and-neck battle for the top seed in the Metropolitan Division. Since the Metropolitan Division was formed in 2013-14 – either the Capitals (4x) or Penguins (once) have taken top seed in five of the six seasons. The year prior in 2012-13 – both the Penguins (Atlantic) and Capitals (Southeast) also won their respective divisions.

* Crosby (24-47—71) has the edge in assists and points in those contests with the Penguins going 31-17-2 in those games. Ovechkin (30-21—51) leads the face-to-face matchups in goals – the Capitals are 19-24-7 in those contests.
Thanks to the NHL PR department for the information above.
Filed in: NHL Teams, | KK Hockey | Permalink

Comments
Be the first to comment.
Add a Comment
Please limit embedded image or media size to 575 pixels wide.
Add your own avatar by joining Kukla's Korner, or logging in and uploading one in your member control panel.
Captchas bug you? Join KK or log in and you won't have to bother.
Most Recent Blog Posts
About Kukla's Korner Hockey
Paul Kukla founded Kukla's Korner in 2005 and the site has since become the must-read site on the 'net for all the latest happenings around the NHL.
From breaking news to in-depth stories around the league, KK Hockey is updated with fresh stories all day long and will bring you the latest news as quickly as possible.
Email Paul anytime at pk@kuklaskorner.com
Tweets by @kuklaskorner