Kukla's Korner Hockey
by Paul on 12/08/19 at 05:42 AM ET
Comments (0)
THREE HARD LAPS

* Sebastian Aho (3-2—5) scored an even-strength, power-play and shorthanded goal en route to recording his third career hat trick and the NHL's eighth five-point performance of the season.
* Captain Gabriel Landeskog scored the last of four Avalanche goals as Colorado handed Boston its first regulation loss at TD Garden this season.
* Tampa Bay was one of seven teams to score at least five goals Saturday (also Vancouver, Buffalo, Pittsburgh, Carolina, Toronto and Nashville). It marked the fourth time this season that seven teams each scored five or more goals on the same night.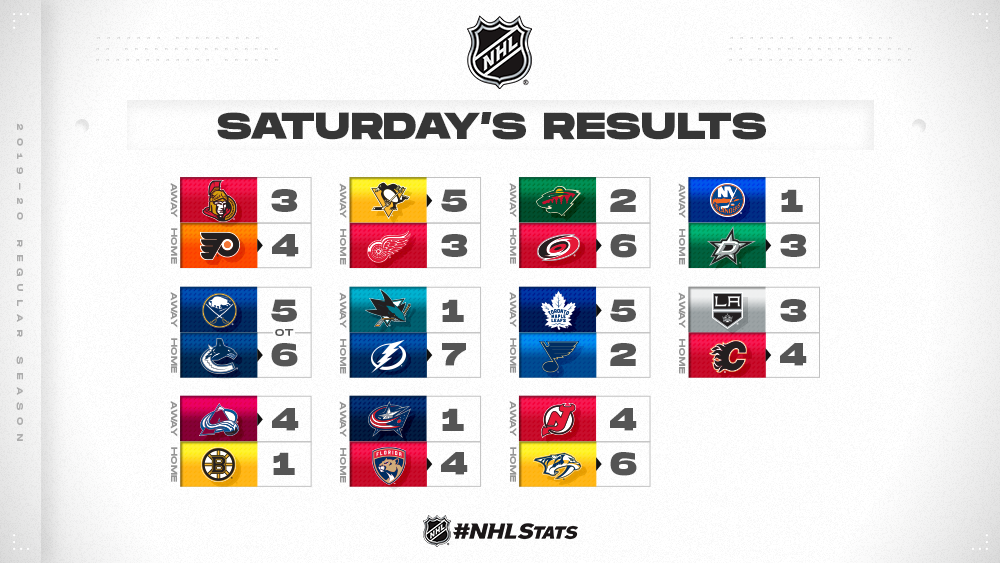 AHO RECORDS FIVE POINTS, INCLUDING THREE GOALS THREE DIFFERENT WAYS
Sebastian Aho (3-2—5) factored on five of six Hurricanes goals to record the NHL's eighth five-point performance of the season, joining Connor McDavid (2x), Brad Marchand (2x), Leon Draisaitl (Nov. 14), David Pastrnak (Oct. 27) and Evgeni Malkin (Nov. 27).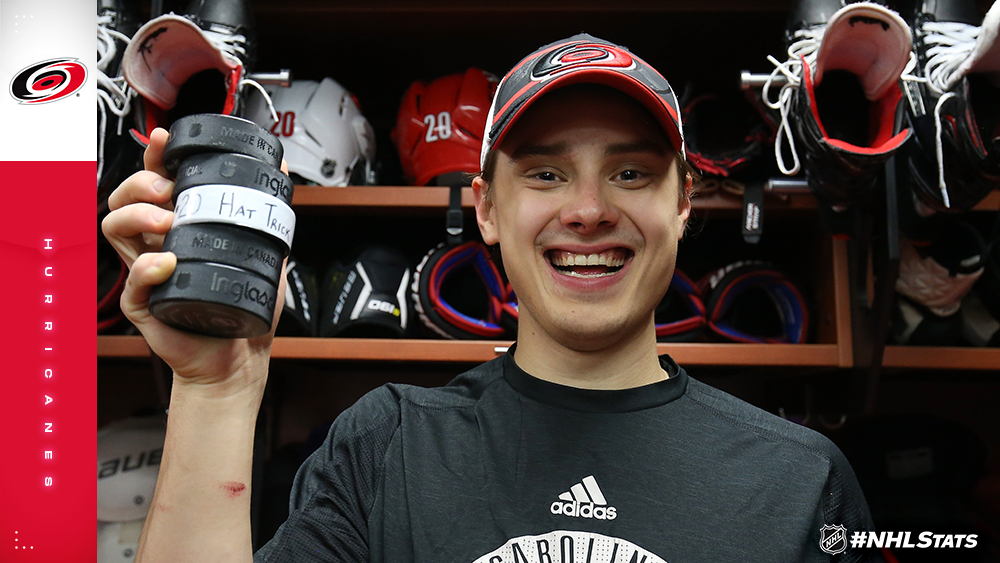 * The eight five-point performances through the first 462 games of 2019-20 are the most at this point of a season in over a decade, when 2007-08 featured nine such outings.

* The Hurricanes' second-round pick (35th overall) in the 2015 NHL Draft registered his first career five-point game and became the seventh different Hurricanes player in team history to collect five or more points in a game.

* Aho's third career hat trick marked his second to feature one even-strength, one power-play and one shorthanded goal (also Jan. 13, 2019 vs. NSH). He is the only active player to do so on multiple occasions.

* Mario Lemieux achieved the feat a League-high seven times in the regular season, highlighted by a five-goal performance on December 31, 1988 against the Devils – when he became the only player in NHL history to score five goals five different ways in the same game.

AVALANCHE HAND BRUINS FIRST REGULATION LOSS AT TD GARDEN
Four different Avalanche players scored as Colorado extended the League's longest active win streak to seven games and handed Boston its first regulation loss at TD Garden this season (12-1-5). They are the fifth team to win seven or more consecutive games in 2019-20 - a list paced by the Islanders (10-0-0 from Oct. 12 – Nov. 5).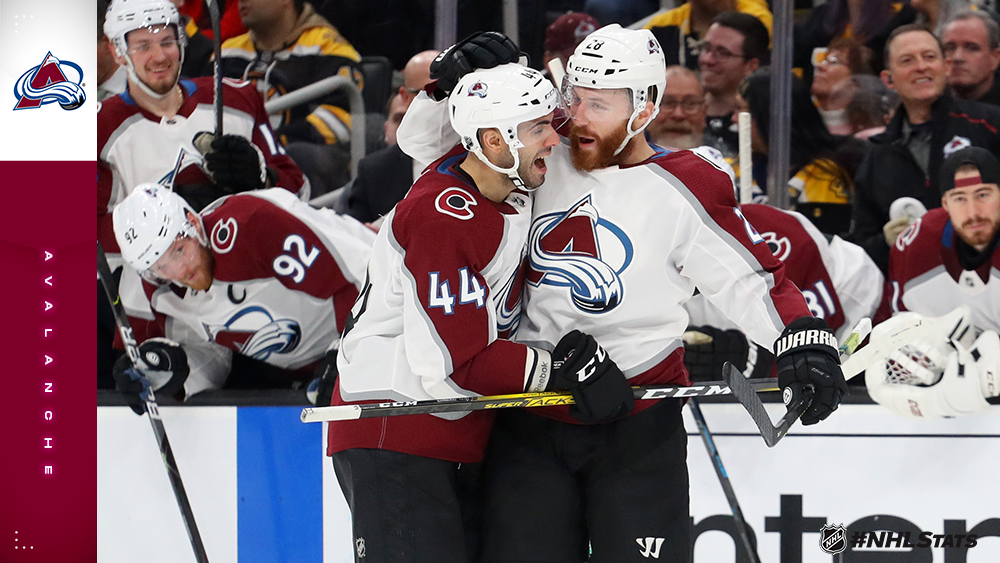 * The Avalanche swept their season series with the Bruins and stand as just one of three teams to defeat Boston in regulation this season, joining the Canadiens (Nov. 5) and Red Wings (Nov. 8). Additionally, they are just the second team to hold Boston to one or fewer goals in a game. The other: Arizona, who lost 1-0 to the Atlantic Division leaders on Oct. 5.

* Colorado, with points in each of its last 14 games in Boston, became the 24th team in NHL history to record a road point streak of at least 14 outings against one opponent. The longest such run of 21 games is shared by three clubs: Vancouver (Dec. 18, 1970 – Jan. 16, 1979 at MTL), Los Angeles (Nov. 14, 1973 – Dec. 30, 1984 at PHI) and St. Louis (April 9, 1999 – Jan. 26, 2007 at DET).

LIGHTNING STRIKE SEVEN TIMES TO KEEP PACE WITH ATLANTIC-DIVISION FOES
Alex Killorn (1-3—4), Steven Stamkos (2-1—3), Victor Hedman (1-2—3) and Carter Verhaeghe (1-2—3) all collected at least three points as the Lightning scored seven or more goals in a game for the fourth time this season. Only the Penguins have recorded more such outings in 2019-20.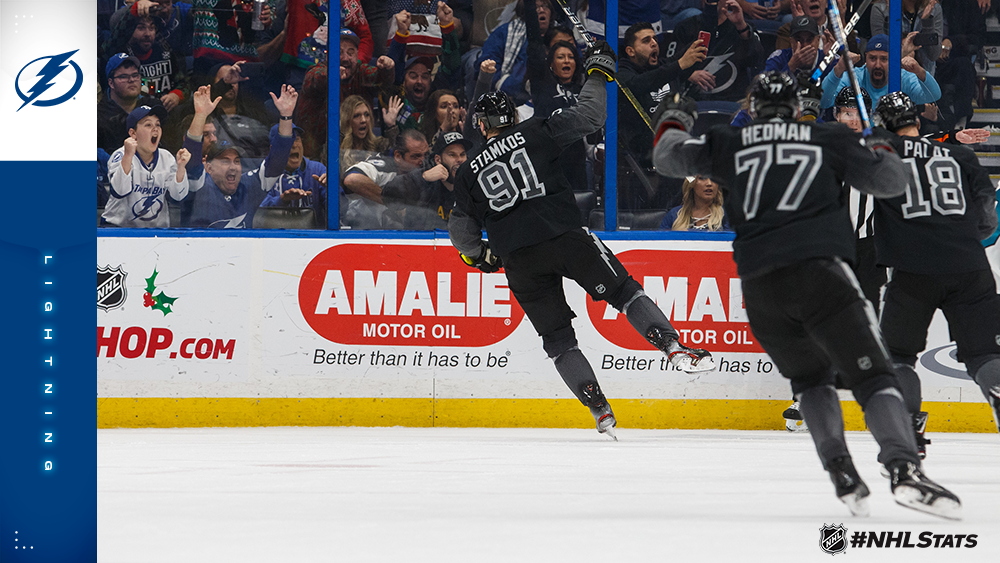 * Tampa Bay was one of seven teams to score at least five goals Saturday, joining Vancouver, Buffalo, Pittsburgh, Carolina, Toronto and Nashville. It marked the fourth time this season that seven teams each scored five or more goals on the same night. The others: Oct. 5, Oct. 27 and Nov. 21.

* The Lightning were also one of four Atlantic Division clubs to secure at least one point on Saturday. Outside of the Bruins, who lead the eight-team grouping with 46 standings points, five teams are separated by just two points: FLA (14-9-5, 33 points), BUF (13-11-6, 32 points), MTL (13-11-6, 32 points), TOR (14-13-4, 32 points) and TBL (14-10-3, 31 points).

CANUCKS, FLYERS ENDURE THREE-GAME TYING GOALS TO WIN
The Canucks (15-11-4, 34 points) and Flyers (17-8-5, 39 points) each skated to victories on home ice after their opponents each rallied to tie the game on three separate occasions:

* After the Sabres overcame 2-0, 3-2 and 5-3 deficits, J.T. Miller (1-1—2) netted the overtime winner to help the Canucks capture their fourth win in five contests. Vancouver, which scored five goals in their last contest on Dec. 3 (vs. OTT), has tallied at least five goals in 13 of its first 30 games this season.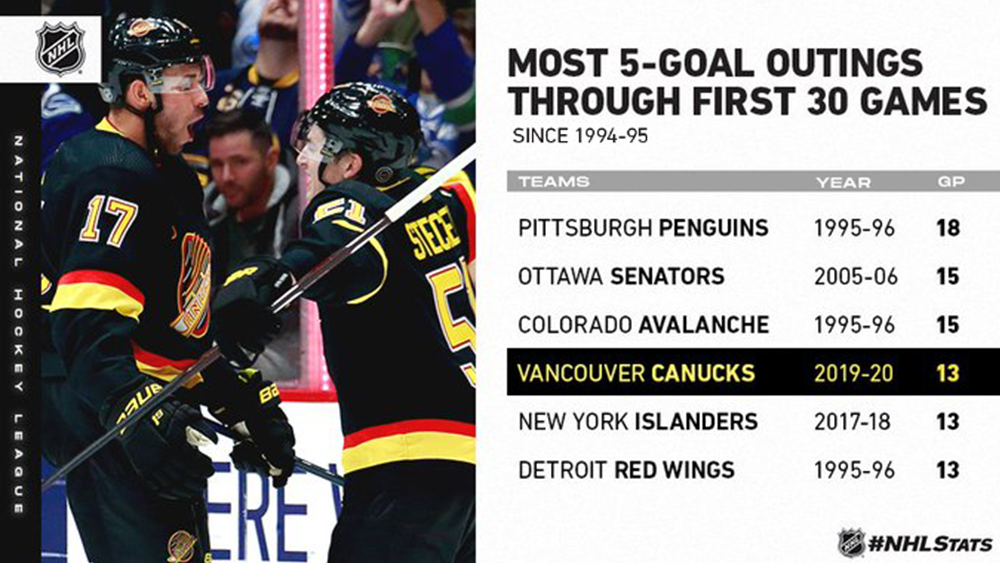 * Miller, who leads the Canucks with 13 goals in 2019-20 (13-18—31), has collected at least one point in each of his last eight games (5-6—11). The last player to record a longer point streak in his first year with Vancouver was Mark Messier in 1997-98 (5-9—14 in 10 GP).

* After Anthony Duclair (2-0—2) tied the game in the third period, Scott Laughton responded 11 seconds later to help the Flyers improve to 7-1-1 in their last nine contests. Only two seasons in the last decade have witnessed the Flyers register more wins through their first 30 games of a season: 2011-12 (20-7-3) and 2010-11 (18-7-5).

* Philadelphia responded within two minutes of an opponent's goal for the fifth time since Nov. 1 and the second time in three games after doing so against Toronto on Dec. 1 (1:22). Montreal leads all NHL clubs with 15 such instances in 2019-20.

EICHEL EXTENDS STREAK TO 12 GAMES, REACHES 300-POINT MILESTONE
Jack Eichel (0-2—2) assisted on two of Buffalo's three game-tying goals to extend his point streak to a career-high 12 games and record his 300th career point. It marks the longest point streak by a Sabres player since Tim Connolly (16 GP in 2009-10).

* Buffalo's captain collected multiple points for the fifth time over the course of his 12-game point streak to reach 300 in his NHL career (119-181—300 in 316 GP) - a milestone Connor McDavid reached almost one year ago in his 240th contest (104-197—301 on Dec. 13, 2018).

* Eichel and McDavid are the fifth pair of top two picks from the same draft to each record 300 career points in fewer than 320 games.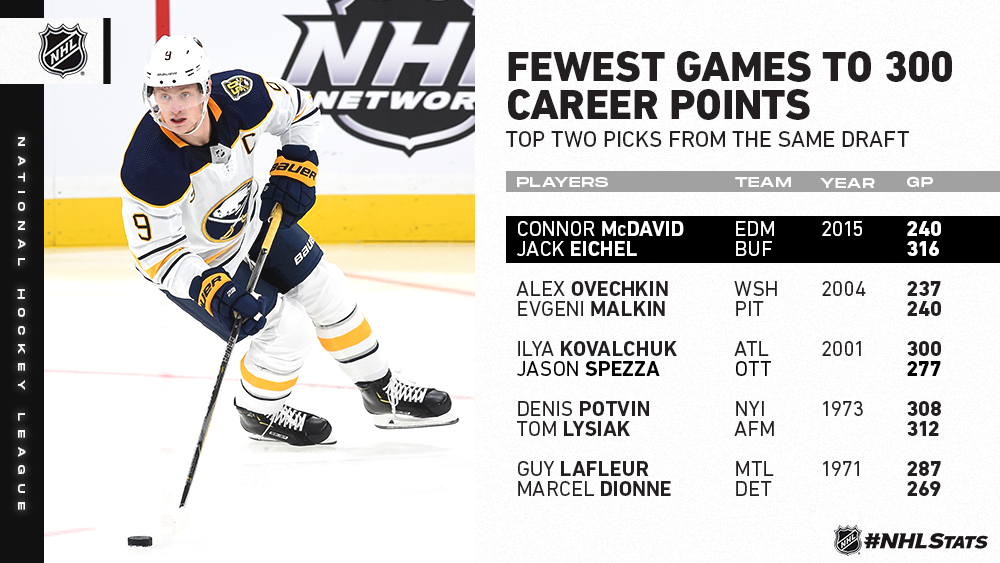 OTHER STREAK SNAPPERS STRIKE SATURDAY
The Maple Leafs (14-13-4, 32 points) and Penguins (17-9-4, 38 points) each snapped losing streaks against the Blues and Red Wings, respectively.

* Auston Matthews (2-0—2), Zach Hyman (2-0—2) and Mitchell Marner (0-2—2) each posted multi-point outings as the Maple Leafs halted a seven-game winless stretch against the Blues dating to Jan. 2, 2016 – including their first victory at Enterprise Center since Dec. 5, 2015 (4-1 W).

* Evgeni Malkin (1-2—3) factored on three of the Penguins five goals to extend his point streak against the Red Wings to six games (4-8—12) and improve his career totals to 11-18—29 in 19 contests against the franchise. Pittsburgh halted a four-game slide in Detroit, collecting its first win since March 26, 2016 at the legendary Joe Louis Arena.
QUICK CLICKS

* Laila Anderson attends Blues game with her bone marrow donor
* Brady Tkachuk fined for cross checking
* Phil Kessel appreciates reception from Pittsburgh fans in return with Coyotes
* Tyler Bozak hosts former Maple Leafs teammates for mini stick hockey with son
* Canucks turn back clock with Flying V, Flying Skate jerseys on 80s Day

PREVIEW OF TODAY'S ACTION


* Three of the NHL's top seven point-getters will share the same ice Sunday when Jack Eichel and the Sabres visit Leon Draisaitl, Connor McDavid and the Oilers. This will be the seventh all-time NHL meeting between McDavid and Eichel, the top two picks from the 2015 draft, with their stats nearly identical over the previous six contests.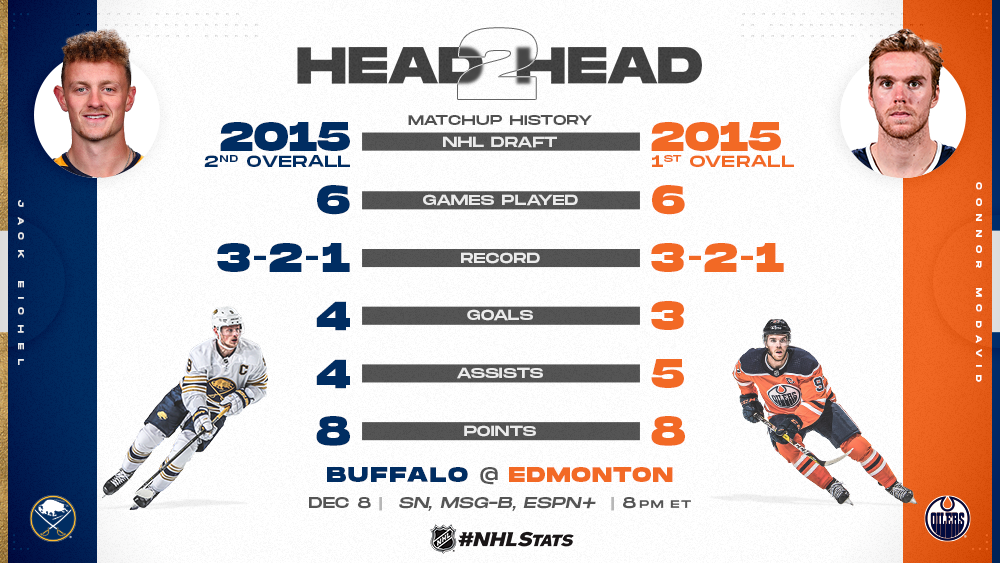 Information above was provided by the NHL PR department.
Filed in: NHL Teams, | KK Hockey | Permalink

Comments
Be the first to comment.
Add a Comment
Please limit embedded image or media size to 575 pixels wide.
Add your own avatar by joining Kukla's Korner, or logging in and uploading one in your member control panel.
Captchas bug you? Join KK or log in and you won't have to bother.
Most Recent Blog Posts
About Kukla's Korner Hockey
Paul Kukla founded Kukla's Korner in 2005 and the site has since become the must-read site on the 'net for all the latest happenings around the NHL.
From breaking news to in-depth stories around the league, KK Hockey is updated with fresh stories all day long and will bring you the latest news as quickly as possible.
Email Paul anytime at pk@kuklaskorner.com
Tweets by @kuklaskorner