Kukla's Korner Hockey
by Paul on 02/17/19 at 07:16 AM ET
Comments (0)
SATURDAY'S RESULTS
Home Team in Caps
PHILADELPHIA 6, Detroit 5 (OT)
Calgary 5, PITTSBURGH 4
St. Louis 3, COLORADO 0
TAMPA BAY 3, Montreal 0
NY ISLANDERS 5, Edmonton 2
Ottawa 4, WINNIPEG 3 (OT)
ARIZONA 2, Toronto 0
CAROLINA 3, Dallas 0
Columbus 5, CHICAGO 2
VEGAS 5, Nashville 1
SAN JOSE 3, Vancouver 2
Boston 4, LOS ANGELES 2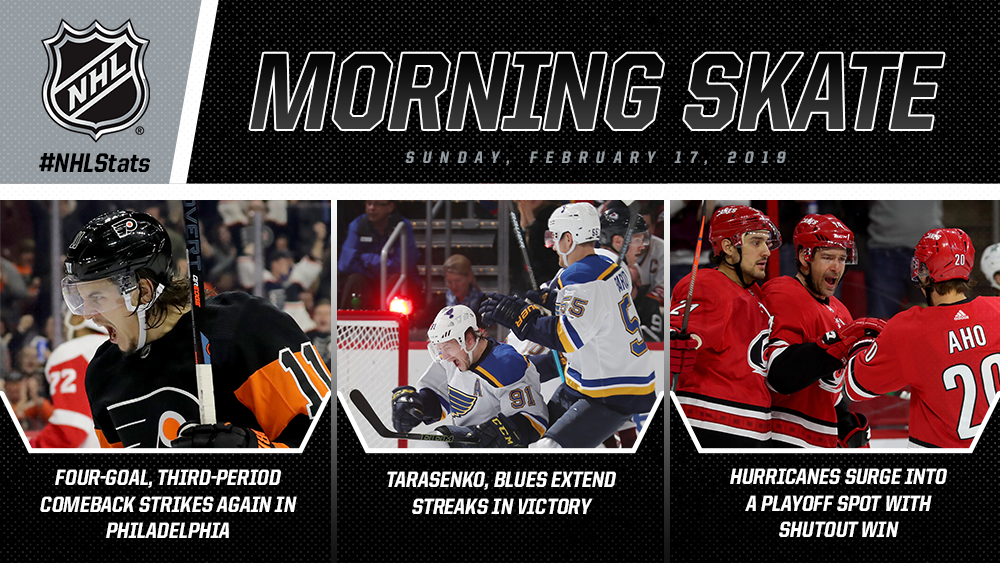 FOUR-GOAL, THIRD-PERIOD COMEBACK STRIKES AGAIN IN PHILADELPHIA
Travis Konecny (2-0—2) scored in overtime as the Flyers emerged with a win after withstanding a Red Wings comeback that saw them tally four straight goals in the third period - including the tying marker with seven seconds on the clock - to erase a 5-1 deficit and earn a point. The dramatic finish came nearly three months to the day that Philadelphia clawed back from a four-goal deficit in the final 10 minutes of regulation -also during a matinee at Wells Fargo Center in which Konecny scored twice.
* A team has erased a four-goal, third-period deficit to at least even the score on 55 occasions in League history, with three of the last six such instances happening in Philadelphia (also Nov. 17, 2018 vs. TBL and Dec. 11, 2008 vs. CAR).
* The Red Wings became the third team this season to overcome a four-goal deficit at any point of a game and the second to do so in the third period after the Flyers in November. The Ducks trailed 5-1 in the second period on Dec. 2 in Washington before scoring five unanswered goals to win in regulation.
* Saturday marked the sixth time in franchise history that Philadelphia surrendered a four-goal lead but held on to win. Additionally, the Flyersbecame the seventh team in NHL history to relinquish a lead of at least four goals in the third period and go on to win the game.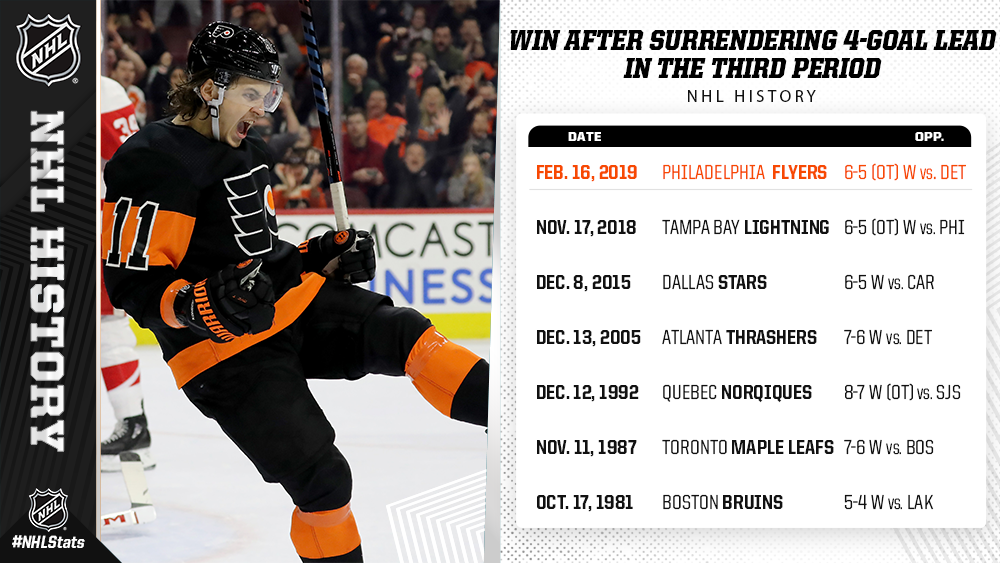 TARASENKO, BLUES KEEP STREAKING WITH SECOND STRAIGHT SHUTOUT
Vladimir Tarasenko (1-1—2) and Zach Sanford scored 57 seconds apart in the third period and Jake Allen posted a 32-save shutout as theBlues extended their win streak to nine games, tied for the second-longest in franchise history. St. Louis posted consecutive shutouts for the 16th time in franchise history and first since Feb. 6-7, 2017 when Carter Hutton and Allen combined for the feat.
* St. Louis has recorded at least three consecutive shutouts on four occasions, including a four-game stretch from March 19-26, 2016 that sawBrian Elliott record the first three clean sheets and Allen the fourth. The other instances, all of three games: April 7-11, 2013 (Elliott), March 22-27, 2012 (Elliott) and Dec. 1-6, 1988 (Greg Millen).
* St. Louis became just the fifth team in NHL history to string together at least nine consecutive wins after ranking last in the League standings (min. 10 GP). The 2015-16 Ducks (11-0-0) are the only team to extend such a streak beyond nine games.
* Tarasenko, who extended his point streak to a career-high 11 games (10-9—19), now sits two points shy of 400 in his career (203-195—398 in 477 GP). Of the 10 players with at least 400 career points in a Blues uniform, only five hit the mark within their first 480 games with the club:Brett Hull (288 GP), Bernie Federko (371 GP), Pavol Demitra (401 GP), Garry Unger (414 GP) and Keith Tkachuk (479 GP). Of those five players, only Federko started his NHL career with St. Louis.
* The Blues will look to match a franchise record for longest win streak as well as equal the longest win streak by any team in 2018-19 (BUF: 10-0-0) when they visit the Wild today in the second half of a Hockey Day in America doubleheader on NBC. St. Louis has also won seven straight road games, the second-longest such run in club history.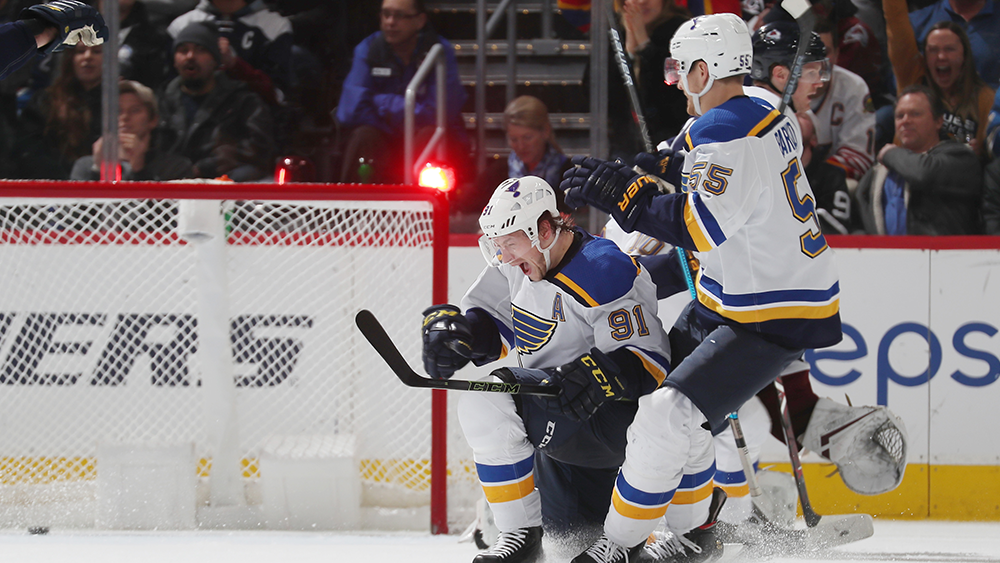 ISLANDERS MOVE INTO SECOND PLACE IN EASTERN CONFERENCE
In the final regular-season game at Barclays Center in 2018-19, Mathew Barzal, Anders Lee and Brock Nelson each scored in the final frame to help the Islanders (35-17-6, 76 points) extend their home point streak to nine contests (8-0-1) and move into second place in the Eastern Conference.
* New York concluded the 2017-18 campaign with a record of 35-37-10 (80 points) and now are on pace to finish this season with 107 points. It would mark the third-highest year-to-year improvement in franchise history (+27 point differential), behind a 44-point jump from 2000-01 (52) to 2001-02 (96) and a 32-point increase from 1973-74 (56) to 1974-75 (88).

HURRICANES SURGE INTO PLAYOFF SPOT WITH HOME-ICE SHUTOUT . . .
In-season acquisition Nino Niederreiter (0-1—1) found the score sheet for the sixth time in the past seven contests as the Hurricanes (31-22-6, 68 points) leapfrogged the Penguins (30-21-7, 67 points) into the second Wild Card spot in the Eastern Conference.

* Since Carolina's last postseason appearance in 2009 - when the "Cardiac Canes" reached the Conference Finals on the strength of two dramatic Game 7 victories on the road - the club has held a playoff position at this stage of a season (min. 59 GP) in only two other campaigns: 2017-18 and 2010-11.

* Niederreiter has collected 8-5—13 in 13 contests since joining the Hurricanes on Jan. 17. Among players to play on multiple teams this season, he is the only skater to average at least one point per game (min. 10 GP).

* In the last 12 years, only four players to play on multiple teams in the same season finished with an average of at least a point per game for their new club - all in 2009-10: Peter Mueller (1.33 w/ COL), Wojtek Wolski (1.00 w/ PHX), Lee Stempniak (1.00 w/ PHX) and Ilya Kovalchuk(1.00 w/ NJD).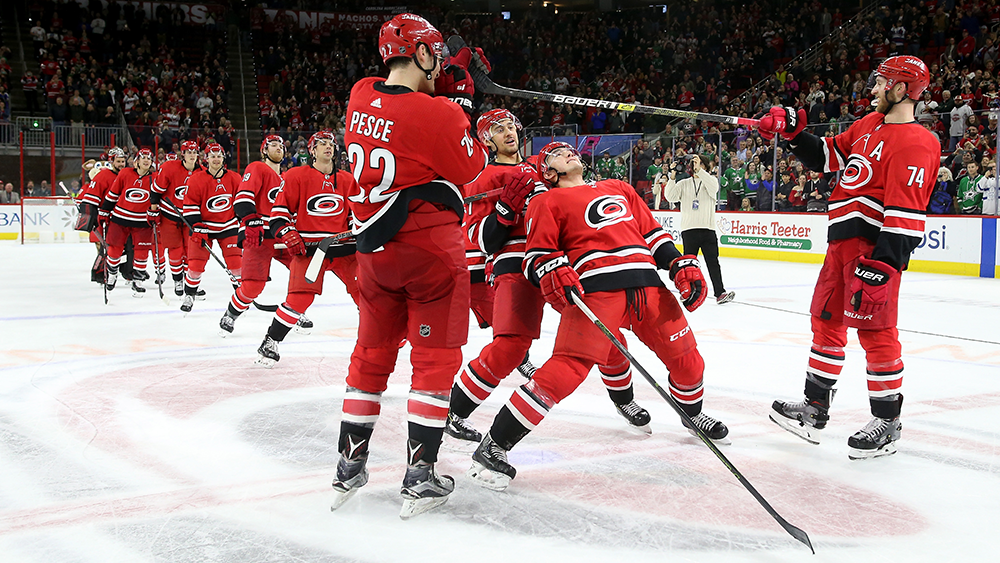 . . . CROSBY CLIMBS ALL-TIME LIST AS PENS FALL TO UNFAMILIAR TERRITORY
Sidney Crosby registered three points for the second time in the past three games to improve his totals to 25-44—69 in 55 games this season. In doing so, Crosby (436-749—1,185 in 919 GP) surpassed Rod Brind'Amour (452-732—1,184 in 1,484 GP) for sole possession of 49th place on the NHL's all-time points list, just back of Alex Ovechkin (646-542—1,188 in 1,060 GP) who sits in 48th place. The last time Crosby had more career points than Ovechkin was following games played Jan. 5, 2011.

* With a loss to Calgary and Carolina's victory, Pittsburgh fell into the first spot outside the playoff picture. This marks the first time that thePenguins have been outside the playoff picture at this stage of a season (min. 58 GP) since March 7, 2009, when they sat in ninth in the Eastern Conference. Pittsburgh, however, went on to win the Stanley Cup that year.

* This marks just the third season since Crosby entered the League that the Penguins have been outside the NHL's playoff picture after playing at least 70% of their schedule (also the aforementioned 2008-09 campaign and his rookie season of 2005-06).
KUCHEROV, STAMKOS CONTINUE TO PACE LEAGUE-LEADING LIGHTNING
Nikita Kucherov (1-1—2) and Steven Stamkos (0-2—2) each posted multi-point outings to help the League-leading Lightning (44-11-4, 92 points) extend their point streak to nine contests (7-0-2). Stamkos boosted his season totals to 32-39—71 as Tampa Bay became the first team since 1995-96 (Pittsburgh) to have three players each accumulate at least 70 points apiece in fewer than 60 games.

* Kucherov (27-67—94 in 59 GP) has collected only three of his League-leading 94 points on goals scored into an empty net - all of which have been primary assists. Last season, Connor McDavid registered five such points en route to winning the scoring title. Meanwhile, the last player to collect fewer than three empty-net points in his Art Ross Trophy-winning season was Martin St. Louis (2 in 2012-13) - the only Lightningskater ever to win the award.

* Andrei Vasilevskiy (20 saves) registered his second shutout in as many games and 18th of his career to establish a franchise record. Saturday marked the sixth time in team history that the club has posted consecutive shutouts.

QUICK CLICKS
* Tuukka Rask improves to 11-0-2 in last 14 appearances as Bruins climb standings
* Jake Guentzel proud to face Rangers with Penguins on Hockey Day in America
* Scott Niedermayer 'humbled' by having No. 27 retired by Ducks
* Oilers acquire Sam Gagner from Canucks
SNEAK PEEK AT SUNDAY'S ACTION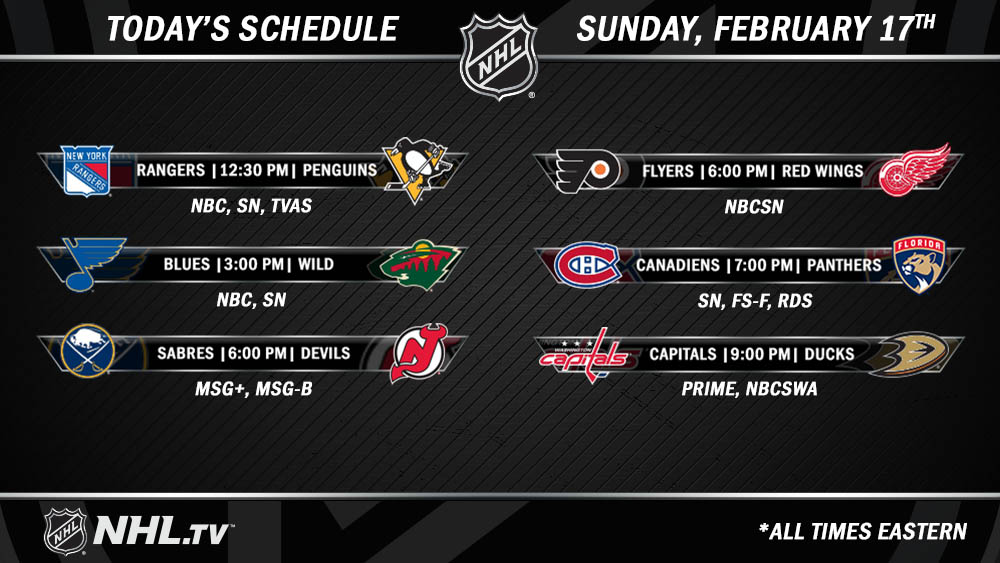 HOCKEY DAY IN AMERICA COVERAGE INCLUDES DOUBLEHEADER ON NBC
A doubleheader on NBC will highlight Hockey Day in America - the kickstarter to USA Hockey's annual Hockey Week Across America - as the Rangers visit the Penguins and the Wild welcome the Blues. Overall, the network will carry three national games Sunday - including the second half of a home-and-home between the Flyers and Red Wings on NBCSN - and begin its pre-game broadcast at noon ET from downtown Detroit. NBC Sports also will provide updates and interviews from the finale of the three-game Rivalry Series between the Canadian and American women's national teams.
* Since the League's inaugural season in 1917-18, there have been 1,245 U.S.-born players (1,134 skaters, 111 goaltenders) that have played in at least one NHL game (regular season and/or playoffs). That amounts to 16% of all players in League history (1,245 of 7,846) and includes four Americans who made their debut Saturday: Joel L'Esperance (DAL; Brighton, Mich.), Kole Sherwood (CBJ; Columbus, Ohio), Karson Kuhlman (BOS; Esko, Minn.) and Matt Roy (LAK; Detroit, Mich.).
* So far this season, eight teams are led in scoring by players born in the United States, with three of those players expected to play on Sunday: Jack Eichel (BUF; North Chelmsford, Mass.), Kyle Palmieri (NJD; Smithtown, N.Y.) and Zach Parise (MIN; Minneapolis, Minn.).
* Blackhawks forward Patrick Kane (Buffalo, N.Y.), the highest-scoring active American, also leads his team in scoring following a 1-1—2 performance Saturday in which he extended his point and assist streaks to 17 and 16 games, respectively (13-24—37 in 17 GP).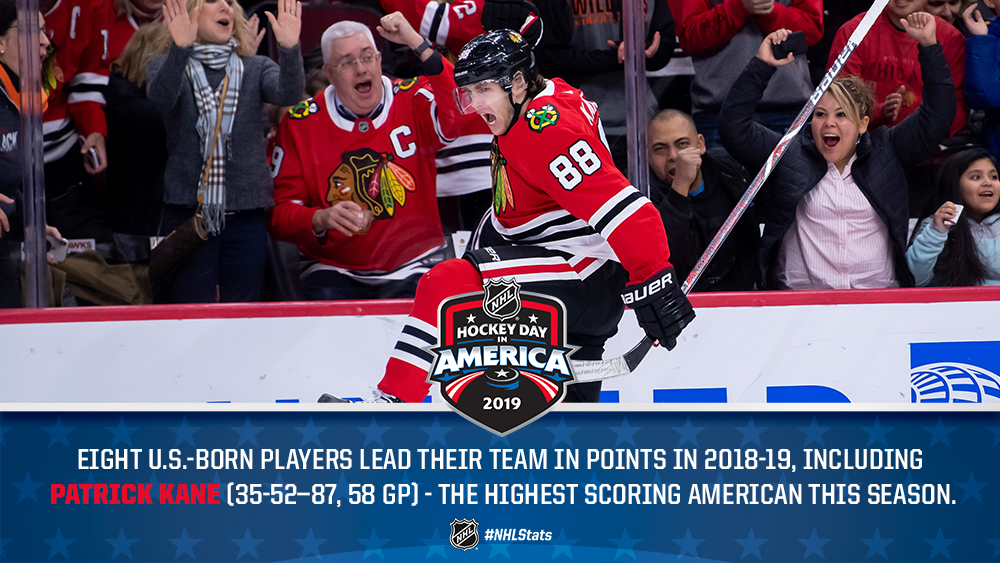 * Kane became the fifth different player in League history to record an assist in at least 16 consecutive team games, joining Wayne Gretzky(3x), Adam Oates, Paul Coffey and Jaromir Jagr. He also matched Panthers forward Mike Hoffman (17 GP from Oct. 13 - Nov. 21) for the longest point streak by any player in 2018-19.
Thanks to the NHL PR department for the information above.
Filed in: NHL Teams, | KK Hockey | Permalink

Comments
Be the first to comment.
Add a Comment
Please limit embedded image or media size to 575 pixels wide.
Add your own avatar by joining Kukla's Korner, or logging in and uploading one in your member control panel.
Captchas bug you? Join KK or log in and you won't have to bother.
Most Recent Blog Posts
About Kukla's Korner Hockey
Paul Kukla founded Kukla's Korner in 2005 and the site has since become the must-read site on the 'net for all the latest happenings around the NHL.
From breaking news to in-depth stories around the league, KK Hockey is updated with fresh stories all day long and will bring you the latest news as quickly as possible.
Email Paul anytime at pk@kuklaskorner.com
Tweets by @kuklaskorner