Kukla's Korner Hockey
by Paul on 01/19/19 at 07:06 AM ET
Comments (0)
RIDAY'S RESULTS
Home Team in Caps
FLORIDA 3, Toronto 1
Montreal 4, COLUMBUS 1
NY Islanders 2, WASHINGTON 0
Ottawa 4, CAROLINA 1
CALGARY 6, Detroit 4
Pittsburgh 3, ARIZONA 2 (OT)
VANCOUVER 4, Buffalo 3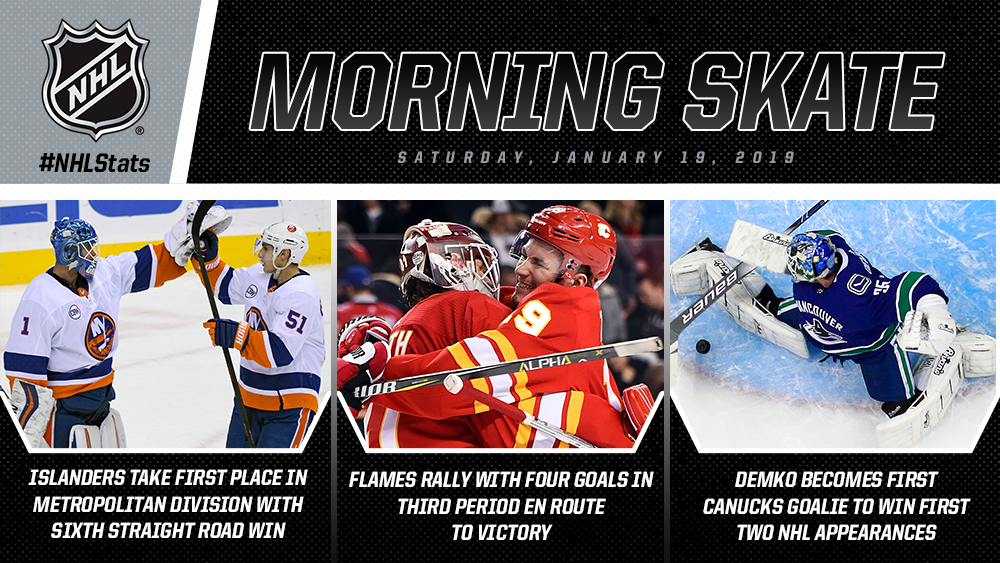 As many know, sports wagering is now legal and there are plenty of sports betting sites to choose from when trying to make a decision.
The NHL fans are gaining more interest in sports betting so enjoy the options and with the knowledgeable fans, chances are good you will succeed.
ISLANDERS MOVE INTO FIRST IN THE METROPOLITAN DIVISION
Thomas Greiss (19 saves) posted his 10th career shutout and Josh Bailey scored the winning goal as the Islanders defeated the Capitals, giving head coach Barry Trotz a victory in his first game in Washington since guiding the club to its first Stanley Cup in June. The Capitals paid tribute to Trotz, who posted a 205-89-34 regular-season record over four seasons in D.C.
* The Islanders (28-15-4, 60 points) picked up their sixth consecutive road victory to leapfrog both the Blue Jackets (28-16-3, 59 points) and Capitals (27-15-5, 59 points) into first place in the Metropolitan Division.
* Since 1990-91, the Islanders have been atop their division past the halfway mark of their season in only one other campaign: 2014-15, when they held first place through their 69th game before eventually finishing third.
* This marks the fifth time in franchise history that the club has won six or more consecutive road games. The other such instances: 8-0-0 in 1980-81, 7-0-0 in 2013-14, 6-0-0 in 1981-82, 6-0-0 in 2001-02.
* Through 47 games, the Islanders lead the NHL with only 119 goals against (including three shootout-deciding goals). At the same point last season the club had allowed 173 goals against, the most in the League.
* New York also improved to 12-2-0 in back-to-back games this season, the best such record among all teams.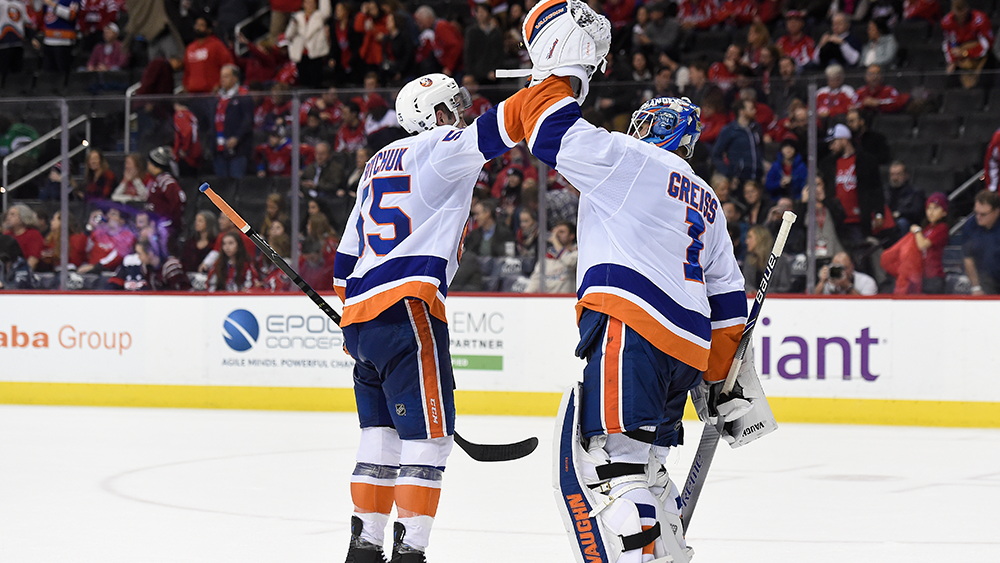 FLAMES, PENGUINS, CANUCKS CLAIM VICTORY IN BACK-AND-FORTH CONTESTS
The Flames, Penguins and Canucks each emerged victorious in back-and-forth affairs:
* Sam Bennett (2-1—3) posted his fifth career performance of at least three points - scoring one of Calgary's four third-period goals - as the Flamestied the game four times (including twice in the final frame) en route to victory. Captain Mark Giordano netted his third shorthanded goal of the season to tie the game with 5:57 remaining in regulation, helping the Flames (31-13-5, 67 points) open a four-point lead atop the Pacific Division standings. Calgary also increased its third-period goal total to 78 this season, tops in the League and 42.9% of their overall goal count (182 GF).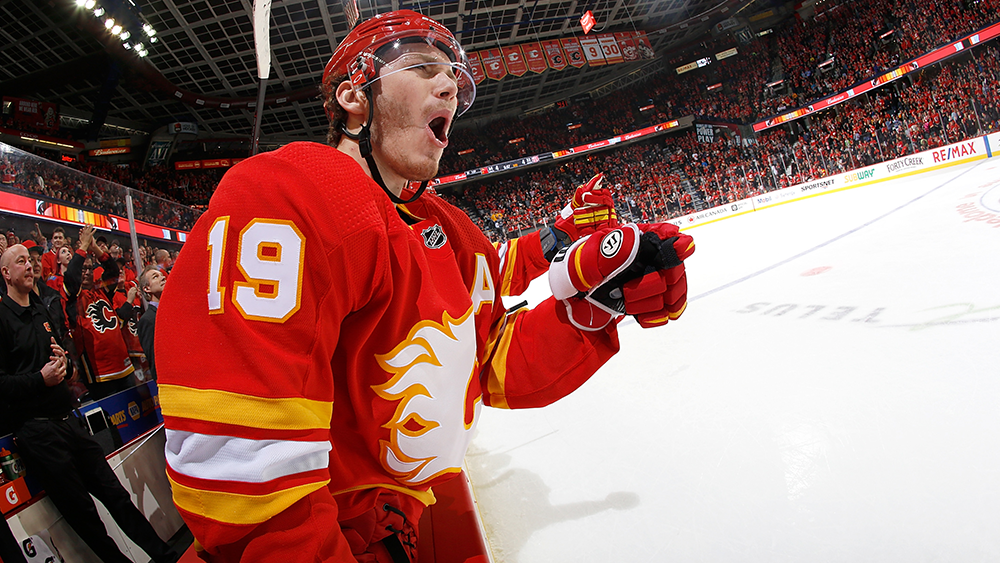 * Phil Kessel scored in final minute of overtime as the Penguins (26-15-6, 58 points) won in Arizona to gain ground in the Metropolitan Division, where the top four teams are separated by only two points. Kessel (7-9—16) is one of six players with at least 16 overtime points since the three-on-three overtime format was introduced in 2015-16, trailing only Johnny Gaudreau (7-11—18), Artemi Panarin (7-10—17) and Patrick Kane (6-11—17). Kessel now has 10 career overtime goals, including seven under the three-on-three format - two back of Brad Marchand (9) for the League lead in that span.
* Brock Boeser (1-1—2) and Bo Horvat (0-2—2) each posted multiple points and 23-year-old Thatcher Demko made 36 saves in his second career NHL game to help the Canucks (22-21-6, 50 points) move into the final Wild Card spot in the Western Conference. Vancouver is one of six teams separated by only one point in the West. Demko is the first goalie in franchise history to win each of his first two NHL appearances and the second to win his first two career starts - Frank Caprice won each of his first three NHL starts in 1983-84 after making his League debut in relief in 1982-83.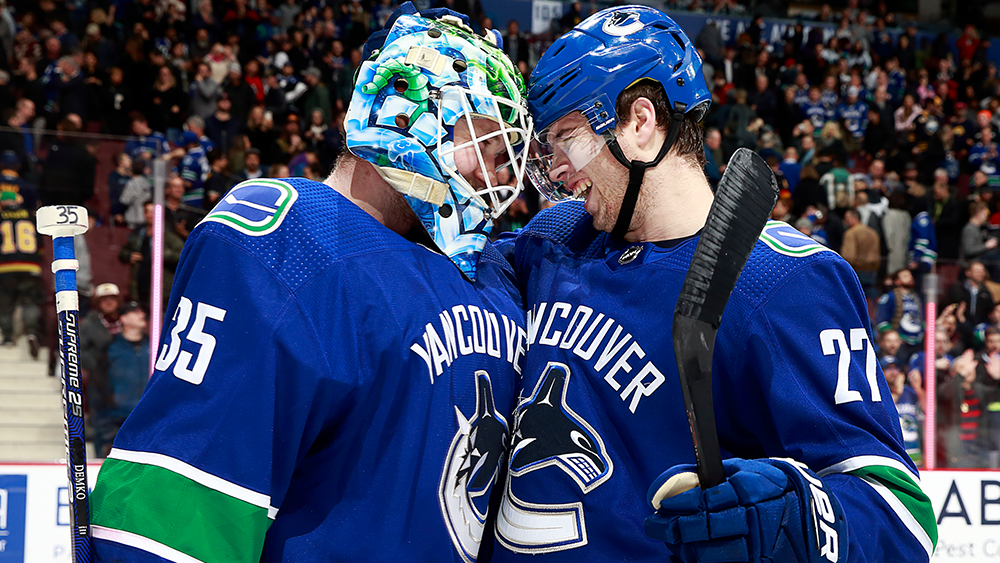 KELLER BECOMES FASTEST COYOTE TO 100 CAREER POINTS
Twenty-year-old Clayton Keller (33-67—100 in 132 GP) opened the scoring against the Penguins with the 100th point of his NHL career. Keller required the fewest games to reach the milestone for any Coyotes player since the club relocated to Arizona in 1996-97, besting the previous mark set by Max Domi (28-72—100 in 154 GP).
* Only six players in Coyotes/Jets franchise history have accumulated 100 career points in fewer NHL games than Keller - all while the franchise was located in Winnipeg.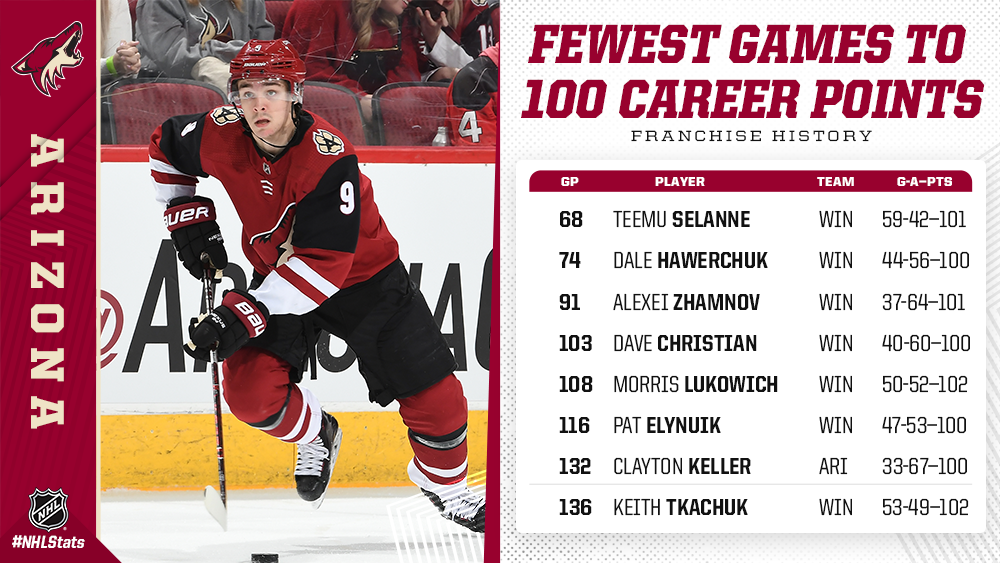 NHL ANNOUNCES DETAILS FOR SKILLS, MASCOT CHALLENGE
The NHL announced the details of the 2019 SAP NHL All-Star Skills and the format of the six events that will showcase hockey's top talent on Friday, Jan. 25 at 6 p.m. PT at SAP Center in San Jose (NBCSN, SN, CBC and TVAS). All six events of the 2019 SAP NHL All-Star Skills will be individual competitions, with the winner of each event earning $25,000:
* Bridgestone NHL Fastest Skater
* Enterprise NHL Premier Passer
* Ticketmaster NHL Save Streak
* Gatorade NHL Puck Control
* SAP NHL Hardest Shot
* Honda NHL Accuracy Shooting
* The League also announced the return of the NHL Mascot Showdown presented by Playmobil, a four-day friendly but fierce competition that will feature rookie sensation Gritty and hometown favorite S.J. Sharkie.
QUICK CLICKS

* Youth movement among goaltenders gaining traction
* Henrik Lundqvist, tied with Terry Sawchuk in NHL wins, appreciates place among greats
* Stats and information regarding each "bye week" since 2016-17
* Panthers defeat Maple Leafs in Vincent Trocheck's return
SNEAK PEEK AT SATURDAY'S ACTION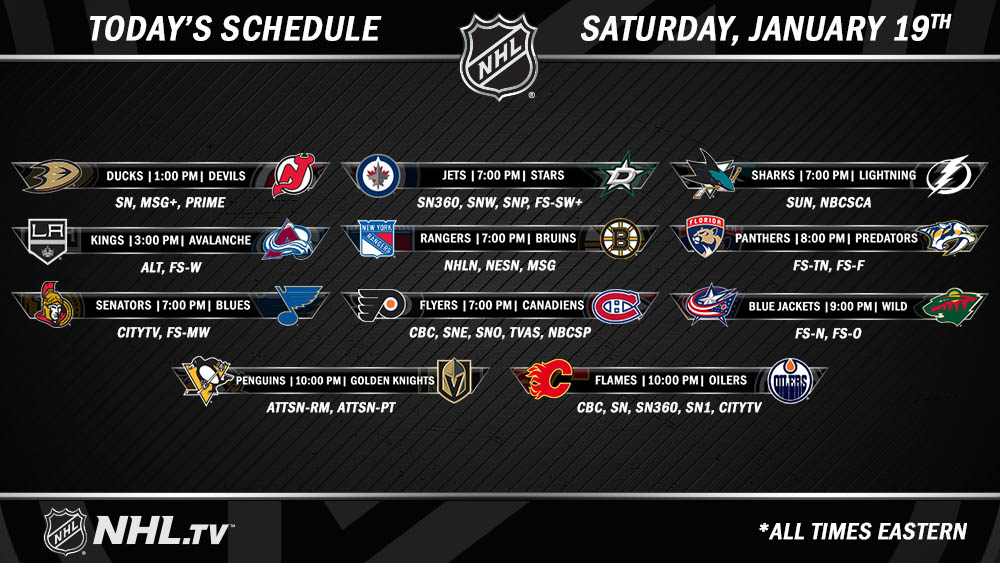 BATTLE OF ALBERTA HIGHLIGHTS HOCKEY NIGHT IN CANADA SLATE
Two of the League's top four scorers are set to face off in the 237th installment of the Battle of Alberta, when Connor McDavid (29-41—70 in 46 GP) and the Oilers welcome Johnny Gaudreau (28-44—72 in 49 GP) and the Western Conference-leading Flames to Rogers Place.
* Gaudreau ranks second in the League in points after extending his point streak to 10 games Friday (9-12—21), matching a career high set last season. Since 1994-95, only two different Flames players have recorded a point streak of at least 11 games: Kristian Huselius in 2006-07 (10-11—21 in 15 GP) and Jarome Iginla in 2001-02 (18-13—31 in 15 GP) and in 1999-00 (12-14—26 in 16 GP).
* McDavid looks to extend his goal streak to five games to match his career high achieved twice before. The 22-year-old sits one tally shy of his third consecutive season with at least 30 goals. Only eight players have recorded at least 30 goals in a season three times for the Oilers, including only five to do so in three or more consecutive campaigns: Jari Kurri (10), Wayne Gretzky (9), Glenn Anderson (8), Mark Messier (5 and 3) and Paul Coffey (3).
Elsewhere on Hockey Night in Canada:
* The Flyers visit the Canadiens at the Bell Centre with Philadelphia aiming to become the 15th team in NHL history to record at least one hat trick in three or more consecutive games. The last NHL team to accomplish the feat was the Capitals in 2009-10.
* David Perron (6-10—16 in 13 GP) can become the Blues to collect a point in at least 14 consecutive team games when St. Louis hosts Ottawa. The last Blues player to achieve the feat was Pierre Turgeon in 1999-00 (7-17—24 in 15 GP).
* Mark Scheifele and Patrik Laine aim to improve their career totals against Dallas when the Central Division-leading Jets (31-14-2, 64 points) visit the Stars. Scheifele (13-15—28 in 23 GP) and Laine (14-5—19 in 11 GP) each have recorded more career goals and points against the Stars than against any other club.
NEWEST EPISODE OF "NHL NETWORK ICE TIME" FEATURES TRIO OF NHL SONS
Today's episode of NHL Network Ice Time will feature three sons of former NHL players: Anaheim's Josh Manson discusses his dad inspiring him to play hockey, Boston's Ryan Donato demos his toe-drag and Montreal's Max Domi answers rapid-fire questions from fans.
* The episode airs today at 9:00 a.m. and noon ET and will re-air tomorrow at 10:00 a.m. ET. NHL Network Ice Time features one-on-one hockey demos and conversations with some of the top players in the game. Other segments include animated features, a rapid-fire Q&A that gathers questions from fans via social media, and montages that highlight players' style and personalities on and off the ice.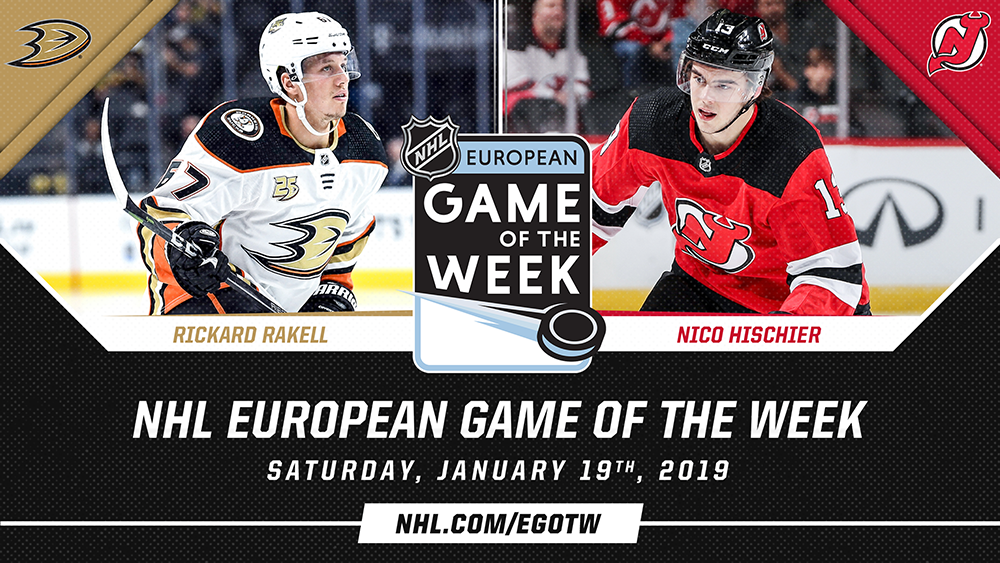 the information above was provided by the NHL PR department
Filed in: NHL Teams, | KK Hockey | Permalink

Comments
Be the first to comment.
Add a Comment
Please limit embedded image or media size to 575 pixels wide.
Add your own avatar by joining Kukla's Korner, or logging in and uploading one in your member control panel.
Captchas bug you? Join KK or log in and you won't have to bother.
Most Recent Blog Posts
About Kukla's Korner Hockey
Paul Kukla founded Kukla's Korner in 2005 and the site has since become the must-read site on the 'net for all the latest happenings around the NHL.
From breaking news to in-depth stories around the league, KK Hockey is updated with fresh stories all day long and will bring you the latest news as quickly as possible.
Email Paul anytime at pk@kuklaskorner.com
Tweets by @kuklaskorner