Kukla's Korner Hockey
by Paul on 05/27/22 at 10:46 PM ET
Comments (1)
The Avalanche defeated the St. Louis Blues 3-2 to win the series 4-2.
Colorado will host the Edmonton Oilers on Tuesday, May 31st, then play every other night. The first four games will start at 8pm ET and if more needed, the start time is TBD.
Give credit to the Blues who battled on every shift and left it all on the ice. St. Louis actually held a 2-1 lead with until the Avs tied it with 9:41 to play in the third period.. An enjoyable series to watch.
Colorado tying goal
GWG
added 10:58pm, longer vesion of Helm goal is below.
added 11:17pm, Handshakes and highlights are below. added 11:22pm, Darren Helm post-game, watch below.
Filed in: NHL Teams, Colorado Avalanche, | KK Hockey | Permalink

by Paul on 05/27/22 at 07:45 PM ET
Comments (10)
The only game tonight features the Colorada Avalanche visiting the St. Louis Blues.
St. Louis needs a win to play game 7 on Sunday.
Expect a battle tonight.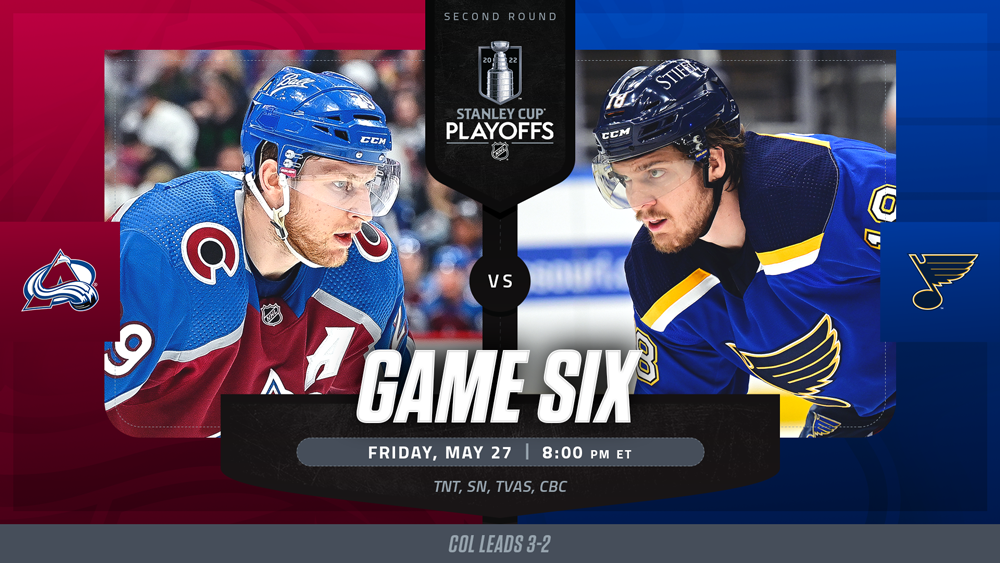 Filed in: | KK Hockey | Permalink

by Paul on 05/27/22 at 04:23 PM ET
Comments (0)
2:30 to watch.
Filed in: NHL Teams, | KK Hockey | Permalink

by Paul on 05/27/22 at 03:33 PM ET
Comments (4)
Filed in: NHL Talk, NHL Officiating, | KK Hockey | Permalink

by Paul on 05/27/22 at 05:16 AM ET
Comments (2)
from Mark Spector of Sportsnet,
This was pure magic.

In a 3-2 league that tends to level out its superstars as the playoffs whittle down to intensely defensive 2-1 games, this five-game Battle of Alberta gave us 45 goals and a stunning finish by the superstar of all superstars.

Connor McDavid crafted his only point of the night on an overtime snipe, rifling the winner in off Jacob Markstrom's left post, a goal that ended the first Calgary-Edmonton series in 31 years in epic fashion on Thursday.

"Just happy to contribute on a night where I maybe didn't have my best," said McDavid, who had seven straight multi-point games before going pointless prior to overtime in Game 5.

"Hard to put into words what that one meant to me," added McDavid, who goes on to Round 3 for the first time in his NHL career. "Special — special to win. It was real fun, and the fans were amazing in both buildings, especially in Edmonton. Just the energy and the vibe around the city has been amazing."
from Wes Gilbertson of the Calgary Sun,
Filed in: NHL Teams, Calgary Flames, Edmonton Oilers, | KK Hockey | Permalink

by Paul on 05/27/22 at 04:33 AM ET
Comments (0)
* The 2022 "Battle of Alberta" concluded with Connor McDavid scoring the first playoff overtime winner of his career to propel Edmonton to the next round and join Esa Tikkanen as the second Oilers skater to score an overtime series-clinching goal against the rival Flames.

* The NHL will feature its Art Ross Trophy winner in the Conference Finals for the first time in over a decade as Edmonton became the first Western Conference team to advance and will await the winner of the Avalanche-Blues series.

* Another home game, another home win for the Hurricanes, who extended their season-opening win streak to seven and earned a 3-2 lead in their Second Round series. The start time for Game 6 on Saturday has been announced for 8 p.m. ET on ESPN, Sportsnet, CBC and TVA Sports.

Filed in: NHL Teams, | KK Hockey | Permalink

by Paul on 05/27/22 at 12:44 AM ET
Comments (7)
The Oilers defeated the Calgary Flames 5-4 in OT to advance to the WCF.
It was a back and forth game topped of with an overtime goal from Connor McDavid.
added 12:52am, Extended video of the OT goal is below. added 12:57am, handshakes are below..
added 1:06am, Sportsnet panel discusses the no goal Calgary late in the 3rd, watch below. added 1:17am, game highlights are below...
Filed in: NHL Teams, Edmonton Oilers, | KK Hockey | Permalink

by Paul on 05/26/22 at 11:59 PM ET
Comments (0)
from Mollie Walker of the New York Post,
After losing 3-1 to the Hurricanes in Game 5 Thursday night at PNC Arena, the Rangers will need to stave off elimination for a fourth time this postseason at Madison Square Garden on Saturday and then be the first team in these playoffs to defeat Carolina at home in a Game 7 Monday in order to keep their season alive.

Carolina now has a chance to clinch this series in New York in Game 6 and advance to play the Lightning in the Eastern Conference final.

The Rangers, on the other hand, will see if they have at least one more comeback in them this season.

"We're down 3-1 last series, we're down 2-0 in this series, and all that matters is that next game," said Ryan Strome, who led the Rangers with four shots on goal and did not receive much help from his fellow top-six players. "I think this group has really bought into that. Everyone was talking about momentum after Games 3 and 4, and tonight they won. It was just single game, we got to get back at it and win one game."...

"I didn't think we played our game at all," head coach Gerard Gallant said. "I thought we were reaching with sticks all night instead of finishing checks with the body like we did the other nights. To me, it was the worst game in the five games so far in this series. They pretty well dominated that game tonight."
Watch the game highlights below.
Filed in: NHL Teams, New York Rangers, | KK Hockey | Permalink

by Paul on 05/26/22 at 06:45 PM ET
Comments (12)
Can the Rangers win on the road, if they do tonight they will be playing on Saturday for a chance to advance to the ECF.
If not, the Hurricanes will be doing the same.
With a road win tonight, the Oilers advance to the WCF.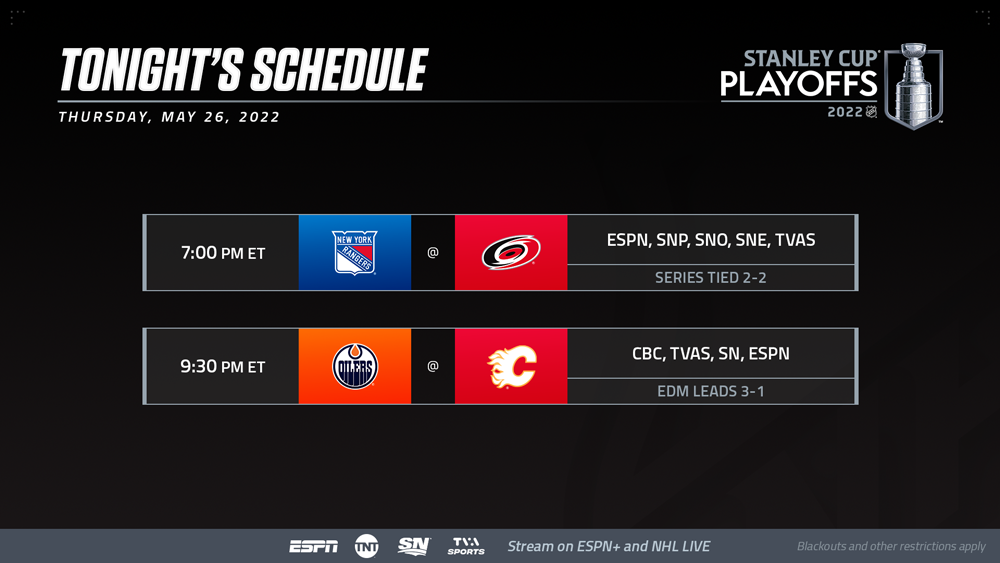 Filed in: NHL Teams, | KK Hockey | Permalink

by Paul on 05/26/22 at 06:08 PM ET
Comments (1)
HELSINKI, Finland – Ben Meyers (Delano, Minn.) netted two goals, including what proved to be the game-winner in the opening stanza, and Jeremy Swayman (Anchorage, Alaska) recorded his second shutout of the tournament with 33 saves as the U.S. Men's National Team defeated Switzerland, 3-0, here tonight to move on to the semifinal round at the 2022 IIHF Men's World Championship.
The U.S. advances to its fifth semifinal appearance in its last seven world championships. Team USA will face Finland Saturday (May 28) in Tampere at 2:20 p.m. (7:20 a.m. ET) and the contest can be seen live on NHL Network.
Filed in: Non-NHL Hockey, International Hockey, | KK Hockey | Permalink

About Kukla's Korner Hockey
Paul Kukla founded Kukla's Korner in 2005 and the site has since become the must-read site on the 'net for all the latest happenings around the NHL.
From breaking news to in-depth stories around the league, KK Hockey is updated with fresh stories all day long and will bring you the latest news as quickly as possible.
Email Paul anytime at pk@kuklaskorner.com
Tweets by @kuklaskorner
Recent Blog Posts (Page 2)