Kukla's Korner Hockey
by Paul on 05/14/21 at 01:29 PM ET
Comments (3)
Filed in: NHL Teams, | KK Hockey | Permalink

by Paul on 05/14/21 at 12:41 PM ET
Comments (2)
from Marty Klinkenberg of the Globe and Mail,
Ten years ago, Ron MacLean and Elliotte Friedman gathered in a hotel room in Raleigh, N.C., to swap stories about the broadcast business and the NHL all-star game they had covered together that day for CBC.

Over a beer or three, MacLean told Friedman he didn't know how much longer he was going to stay on as the host of the iconic television program Hockey Night in Canada.

"I told Elliotte I would keep the chair warm for him until he was ready," MacLean recalls.

Friedman, who had dreamed of such an opportunity earlier in his career, dismissed the idea.

"They're not looking for someone like me," he said modestly.

He was self-deprecating then and remains unpresuming today. That is the part of the charm that has won him legions of followers. There is a folksiness – similar to the enduring MacLean – that draws viewers in. The difference between then and now is that he has fine-tuned his approach.
Filed in: NHL Media, Hockey Broadcasting, d, | KK Hockey | Permalink

by Paul on 05/14/21 at 01:12 AM ET
Comments (0)
THREE HARD LAPS

* Colorado scored five unanswered goals to rally past Los Angeles and clinch the 2020-21 Presidents' Trophy, becoming the first team to claim the award in its final game of the season since Vancouver in 2011-12.

* The Avalanche's win also finalized the 2021 Stanley Cup Playoffs bracket, confirming that Colorado will meet St. Louis in a series for the first time since 2001 when current general manager Joe Sakic scored one of his NHL-record eight postseason overtime goals.

* The Maple Leafs and Jets conclude their regular season tonight at Bell MTS Place before opening First Round series versus the Canadiens and Oilers, respectively, next week.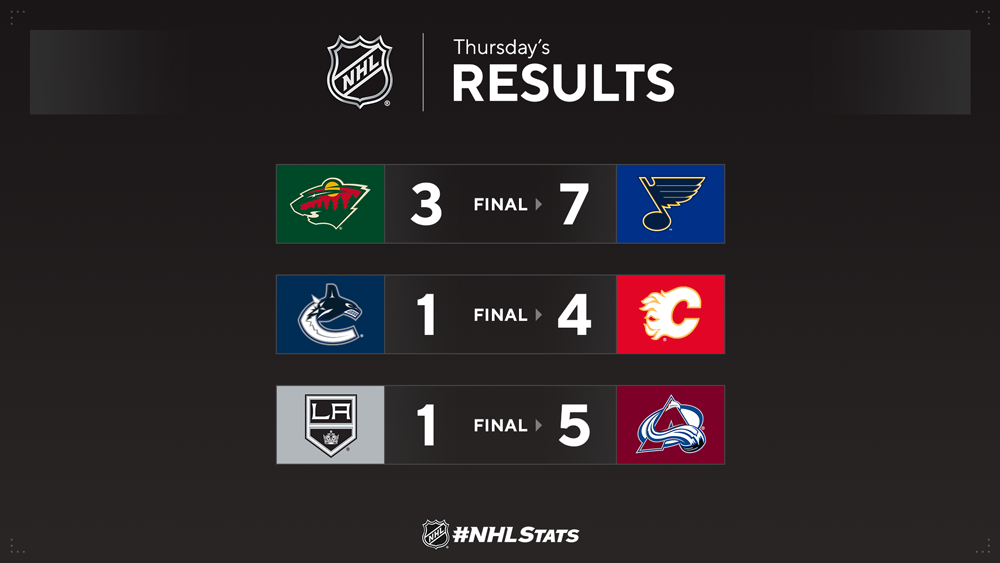 Filed in: NHL Teams, | KK Hockey | Permalink

by Paul on 05/13/21 at 11:43 PM ET
Comments (0)
NEW YORK (May 13, 2021) – The Colorado Avalanche have claimed the Presidents' Trophy as the team with the best overall record, winning their final game of the 2020-21 regular-season to overtake the Honda West Division rival Vegas Golden Knights.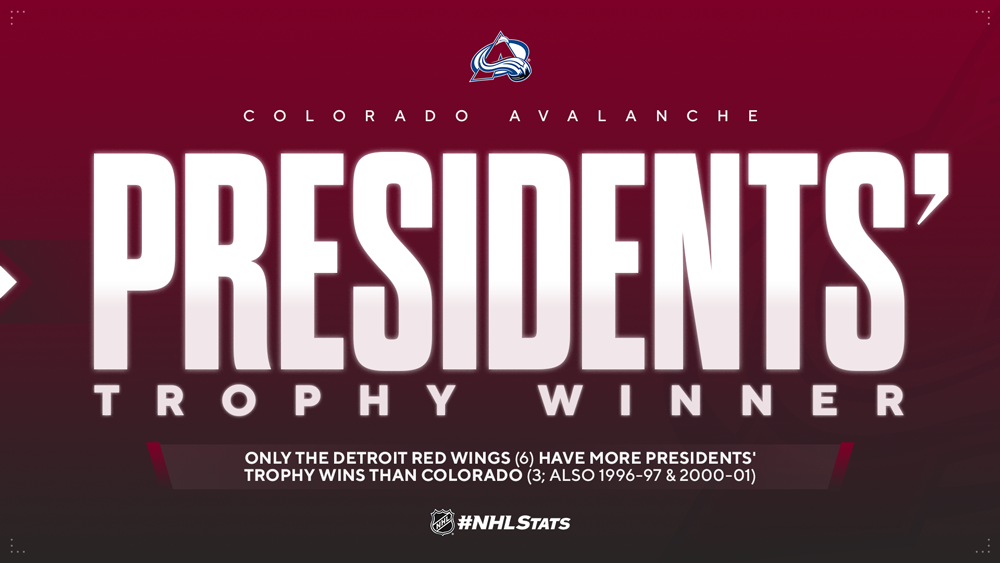 Filed in: NHL Teams, Colorado Avalanche, | KK Hockey | Permalink

by Paul on 05/13/21 at 07:55 PM ET
Comments (2)
The Avs can win the Presidents' Trophy tonight with a win over the LA Kings.
Scenario is below and Nathan MacKinnon will not play again tonight.
Filed in: NHL Teams, | KK Hockey | Permalink

by Paul on 05/13/21 at 07:28 PM ET
Comments (1)
Gerard Gallant is Canada's head coach for the upcoming World Hockey Championships, but could there be an opportunity for him to get back behind an NHL bench? The Oilers have a number of players becoming free-agents this summer, so how close are they to locking up some of their blueliners? TSN Hockey Insiders Darren Dreger and Frank Seravalli discuss this and more.
Watch at TSN and/or read the transcrpt of the show, here is part of it...
Is Gerard Gallant being considered for a full-time coaching position in the NHL?

Embedded ImageDarren Dreger: Yes, he most definitely is with the New York Rangers. The Rangers have been granted permission by the Vegas Golden Knights to interview Gerard Gallant so clearly he is one of the top candidates in the process that has been started by new general manager Chris Drury.

The timing is more to do with the travel plans for Gallant. He is the head coach for Team Canada and he is on his way to Latvia this weekend. The Rangers at least want to spend some time and have at least one conversation with Gallant before he begins taking on the responsibility of running Canada at the World Men's Ice Hockey Championship.
Filed in: NHL Teams, | KK Hockey | Permalink

by Paul on 05/13/21 at 04:16 PM ET
Comments (1)
via Ben Munson of Fierce Video,
Despite securing streaming rights as part of its new deal with the NHL, WarnerMedia doesn't have plans to put live hockey on HBO Max this year.

However, CEO Jason Kilar, speaking today at a MoffettNathanson investor conference, said NHL content on HBO Max is absolutely something that could happen down the road a little further. He added that when his team built the new HBO Max platform, it made a conscious decision to not just design it around on-demand programming.
Filed in: NHL Media, Hockey Broadcasting, | KK Hockey | Permalink

by Paul on 05/13/21 at 03:06 PM ET
Comments (0)
from Wayne Scanlan of Sportsnet,
Players and coaches alike took turns trying to describe this bizarre, unmatching bookends of a 2020-21 campaign by the Ottawa Senators.

"It was the tale of two seasons," said head coach D.J. Smith.

"NIght and day," was how veteran forward Nick Paul, Ottawa's Masterton Trophy nominee, described the horrendous 2-12-1 start for Ottawa before a turnaround that sparked a 10-3-1 finish.

"We just wish we could keep going here," Brady Tkachuk said, the day after completing the season with a 4-3 overtime victory over the Toronto Maple Leafs. Ottawa finished 23-28-5, for 51 points in 56 games, eight points behind the Montreal Canadiens holding down fourth place and the final playoff spot in the North Division.
Filed in: NHL Teams, Ottawa Senators, | KK Hockey | Permalink

by Paul on 05/13/21 at 02:46 PM ET
Comments (0)
What would the plays of the week be without Connor McDavid? Others too.
Filed in: NHL Teams, | KK Hockey | Permalink

by Paul on 05/13/21 at 12:46 PM ET
Comments (2)
Filed in: NHL Teams, Tampa Bay Lightning, | KK Hockey | Permalink

« Previous < 1 2 3 4 5 > Last › Next »
About Kukla's Korner Hockey
Paul Kukla founded Kukla's Korner in 2005 and the site has since become the must-read site on the 'net for all the latest happenings around the NHL.
From breaking news to in-depth stories around the league, KK Hockey is updated with fresh stories all day long and will bring you the latest news as quickly as possible.
Email Paul anytime at pk@kuklaskorner.com
Tweets by @kuklaskorner
Most Recent Blog Posts