Kukla's Korner Hockey
by Paul on 05/15/21 at 03:02 PM ET
Comments (0)
from Chris Johnston of Sportsnet,
Throw the windows open, turn on your television and soak in that sensation: The buzz is back after the long lockdown winter.

There's something special about the arrival of the Stanley Cup Playoffs every spring; about games bubbling over with intensity and emotion and swings of momentum that elevate hockey to its stomach-twisting best.

But it's bound to hit differently this time around, in part because we've waited a little longer and endured a bit more. These playoffs mark the culmination of a challenging 56-game regular season that required the NHL to be nimble in navigating the COVID-19 pandemic -- complete with stops and starts for several teams -- while staging games predominantly in empty arenas.

The reward is a two-month chase for the Stanley Cup that coincides with North America starting to come back to life.

Not only has the league arrived here in a healthier place, able to ease some protocols with many players fully vaccinated, but it's going to be allowed to open its doors for fans to a degree not possible since the pandemic took hold in March 2020.
Filed in: NHL Teams, NHL Talk, | KK Hockey | Permalink

by Paul on 05/15/21 at 02:51 PM ET
Comments (2)
from Matt Porter of the Boston Globe,
Turning talk into trade, when it comes to a potential Eichel-to-Boston deal, is another matter.

Can the Bruins afford the cost of one of the game's premier centers? From a cap-space perspective, sure. The 24-year-old Eichel has been hurt much of this season, but is paid like a player who put up 36 goals and 78 points in 68 games last season on a struggling team. He carries a $10 million hit for the next six years.

One way to afford him: let unrestricted free agents David Krejci ($7.25 million), Jaroslav Halak ($2.25 million), and Sean Kuraly ($1.275 million) walk, which would free up $10.775 million in cap space. That's without considering a Hall extension, and other UFAs (Mike Reilly, due a raise on his $1.5 million AAV). The Bruins will also shed David Backes's $1.5 million retained cap hit this summer. Money doesn't have to be the holdup.

Do they have a need for Eichel? Certainly not at this moment. The Capitals entered Saturday's Game 1 against the Bruins trying to find ways to stop Patrice Bergeron's line and the Hall-Krejci-Craig Smith connection, both firing with equal fury. Imagine if that continues this postseason, Krejci takes a haircut ($5 million on a short-term deal) and Hall falls a bit behind Brad Marchand ($6.125 million) on the salary scale. That's one formidable top six entering 2021-22.

Given the ages of Bergeron (36 in July) and Krejci (35) and their mileage, it wouldn't last forever. Bergeron's contract expires after next season. Krejci, if he returns, could be year to year. Bringing in a 24-year-old, all-world talent from North Chelmsford, and showing him how Bergeron and Marchand operate (see: Hall, Taylor), could be ideal.

Whether they want to ante up for Eichel, the Bruins do need centers.
more plus other topics...
Filed in: NHL Teams, Boston Bruins, Buffalo Sabres, | KK Hockey | Permalink

by Paul on 05/15/21 at 10:20 AM ET
Comments (1)
Questions will be answered.
Filed in: NHL Teams, | KK Hockey | Permalink

by Paul on 05/15/21 at 08:57 AM ET
Comments (0)
from Kevin Paul Dupont of the Boston Globe,
For the first time since dropping Game 7 of the 2019 Stanley Cup Final, the Bruins will be on the ice Saturday night for a playoff game with real live fans in the stands, and that sweet, intoxicating scent of postseason acrimony in the air.

Bubble-free hockey, Stanley Cup play as we used to know it — albeit with the crowd still downsized because of COVID protocols — begins anew with the Bruins and Capitals set to slug out a best-of-seven series.

It will be fast, for sure, and it could be a rough one from the start. Neither side will need to ease into this one. All the "feeling out" died between the Capitals and Bruins over the course of eight regular-season matchups, including March 5 at the Garden when Washington forward Tom Wilson drove Brandon Carlo's noggin hard into the glass and was suspended for seven games.

"I think it will come to a head quicker," Bruins coach Bruce Cassidy predicted, just before his club flying here for Saturday's 7:15 p.m. puck drop. "Bad blood's already there."

"Discipline is what we talk about," added Capitals coach Peter Laviolette, noting the importance of controlled emotions, intelligent play at this time of the year. "But then the games get played and you hope you are on the good side of that."
Filed in: NHL Teams, Boston Bruins, Washington Capitals, | KK Hockey | Permalink

by Paul on 05/15/21 at 08:54 AM ET
Comments (0)
from Don Brennan of the National Post,
"When we're skating and we're physical, I think we give them a lot of issues, whether that's forechecking or defending," said the St. Louis Blues captain, whose team takes on the Avalanche in a West Division first-round matchup that begins Monday. "When we play our heavy game and commit to it, and put pucks in and don't feed their rush, we make it tough on them, and find ways to beat them. That's what we've got to do. That's got to be our focus. We know that they have a lot of talent over there. They work hard, but for us, it's an exciting challenge."

And then, in dropping the hammer, the 2019 Conn Smythe Trophy winner added:

"We're going to have some fun, and we're going to beat them."

Bam!
Filed in: NHL Teams, Colorado Avalanche, St. Louis Blues, | KK Hockey | Permalink

by Paul on 05/15/21 at 08:48 AM ET
Comments (0)
"I didn't come here to lose in the first round and hopefully get a nice contract. I want to have a deep playoff run and when it's time to take care of that other stuff, that's what I'll look to do. But it really hasn't been on my mind and it really shouldn't be.

"I think we're all here to win a Stanley Cup. If we made that happen or we had a great run and some good things happen, I think everyone will be taken care of and we'll figure that out later."
-Taylor Hall of the Boston Bruins. Michael Traikos has more on Hall at the National Post.
Filed in: NHL Teams, Boston Bruins, | KK Hockey | Permalink

by Paul on 05/15/21 at 08:26 AM ET
Comments (19)
note- original post was 11:33pm on 5/13/21
Raise your hand if you thought we would not be seeing the playoffs until April, 2022.
You have until Saturday at 7pm ET to get your picks in.
For the first timers, I make it very easy for you to pick the winner, just copy and paste the teams involved in each series, make your pick and if you'd like, tell us how many games each series will last. Extra credit if you want to name the team who will win the Cup.
My plans, I will be putting up an open post every day a game(s) is scheduled right through the SCF.
Of course, I will be doing what I do on a regular basis to keep all of you informed about our great game.
First round matchups are below.
Filed in: | KK Hockey | Permalink

by Paul on 05/15/21 at 07:01 AM ET
Comments (0)
THREE HARD LAPS
* Opening night of the 2021 Stanley Cup Playoffs is upon us. The Capitals and Bruins are set to take to the ice in Game 1 of their First Round series at Capital One Arena.
* Forty-four-year-old Zdeno Chara can join rare company when he takes to the ice against the franchise he captained for 14 seasons.
* Teams that take a 1-0 lead in a best-of-seven series hold an all-time record of 490-222 (.688), including a 7-1 mark in the 2020 First Round.
2021 STANLEY CUP PLAYOFFS OPEN WITH CAPITALS, BRUINS ON NBC, HNIC AND TVAS
The 2021 Stanley Cup Playoffs begin today with Game 1 between the Capitals and Bruins taking the spotlight on opening night. The primetime showdown begins at 7:15 p.m. ET on NBC in the United States and on Sportsnet, CBC and TVA Sports in Canada.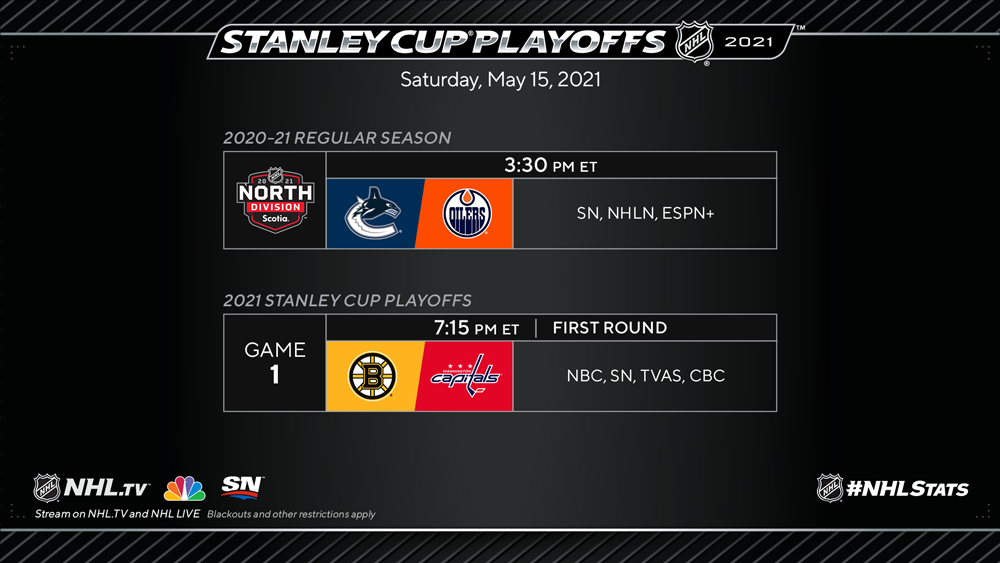 Filed in: NHL Teams, | KK Hockey | Permalink

by Paul on 05/14/21 at 07:35 PM ET
Comments (0)
Stanley Cup Playoffs, 2021.
Filed in: NHL Teams, | KK Hockey | Permalink

by Paul on 05/14/21 at 01:32 PM ET
Comments (0)
3 1/2 minutes long.
Filed in: NHL Teams, | KK Hockey | Permalink

« Previous < 1 2 3 4 > Last › Next »
About Kukla's Korner Hockey
Paul Kukla founded Kukla's Korner in 2005 and the site has since become the must-read site on the 'net for all the latest happenings around the NHL.
From breaking news to in-depth stories around the league, KK Hockey is updated with fresh stories all day long and will bring you the latest news as quickly as possible.
Email Paul anytime at pk@kuklaskorner.com
Tweets by @kuklaskorner
Most Recent Blog Posts