Kukla's Korner Hockey
Entries with the tag: houston aeros
by Paul on 02/14/12 at 11:39 AM ET
Comments (5)
from Michael Russo of Russo's Rants,
The Wild has suspended Houston Aeros forward Justin Fontaine for the next two games after he used a gay slur during a Twitter exchange about the Grammys with a teammate on Sunday night.

Fontaine soon removed the tweet and apologized, saying, "My apologies to everyone, it was wrong. Twitter rookie and it came out totally wrong. It was a roommate battle, nothing more. #sorry."

By that time, however, it was retweeted by another Aeros teammate and spread across the Internet.

"Minnesota Sports and Entertainment (MSE) apologizes for the offensive slur that was posted by Justin Fontaine on Twitter last night," the Wild said in a statement Monday night. "Fontaine has been suspended from playing in the next two games for the Houston Aeros."
Filed in: NHL Teams, Minnesota Wild, | KK Hockey | Permalink
Tags: houston+aeros, justin+fontaine
by Doug Miller on 07/23/11 at 03:23 PM ET
Comments (5)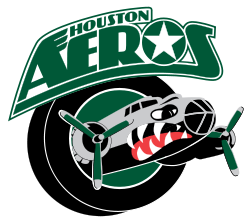 Better known to most NHL fans simply as "Minnesota's Farm Team". The Aeros actually have a rather deep and rich history in the hockey world. They were originally founded in 1994 as an expansion team in the now defunct International Hockey League (IHL). However, some could argue that this franchise has really existed since 1972, when they were one of the World Hockey Association's (WHA) original teams, after the "Dayton Aeros" franchise folded, before they ever played a single game (due to lack of an arena and little interest from the community) and moved to Houston.
Filed in: Non-NHL Hockey, Minor League, Doug Miller, | KK Hockey | Permalink
Tags: houston+aeros
by Paul on 07/13/10 at 02:59 PM ET
Comments (1)
from HoustonAeros.com,
The National Hockey League's (NHL) Minnesota Wild and the American Hockey League's (AHL) Houston Aeros today named Darryl Sydor and Brian Wiseman as the Aeros' Assistant Coaches. Sydor and Wiseman join Aeros Head Coach Mike Yeo in coaching the Wild's AHL prospects. Sydor spent 10 of his 18 NHL seasons playing for the Dallas Stars and has won a pair of Stanley Cups. Wiseman teamed with Yeo to help the Aeros win the International Hockey League's Turner Cup in the 1998-99 season.

Sydor, 38 (5/13/72), retires after 18 NHL seasons and 1,291 games to join the Aeros coaching staff. Sydor spent the 2009-10 season playing with the St. Louis Blues.
Filed in: NHL Teams, Non-NHL Hockey, Minor League, | KK Hockey | Permalink
Tags: darryl+sydor, houston+aeros