Kukla's Korner Hockey
by Doug Miller on 07/26/11 at 03:29 PM ET
Comments (2)

As you'll likely figure out over time from reading "Cluster Pucks" - I tend to be a bit partial to goaltenders. This undoubtedly stems from the fact that I myself spend the majority of my young hockey career in between the pipes. It would be the same position I would continue to play up to this very day, if you consider the EA Sports NHL series of video games as "playing" and their online player league, the EA Sports Hockey League, an actual "league". Both of which I do, having had plenty of firsthand experience at very high levels of play that exist in this "game". I think many of you would be surprised at the level of seriousness that many players (such as myself) take with a mere video game.
However, that is in large part due to EA's continued commitment to making their NHL series the best, and most realistic hockey simulation available. The game isn't perfect, and it never will be, as I consider hockey to be the most complex sport in existence, and being able to accurately recreate that in a virtual world is a monumentis, almost impossible task, but EA continues to impress me year after year with their overall improvements to the series, which continue to bring it closer and closer to having a very "real" feel.
Like my pads? Ahem… anyway , I'm not here to talk about hockey video games, so sorry for the tangent. Let me get back on the topic at hand… the position of hockey goalie.
Goaltending has long been considered by many people to be "the hardest position to play in any sport". Which is a statement I happen to agree with, and one of the many reasons I'm still proud to be able to call myself a "goalie", despite whatever your personal feelings regarding previously mentioned "virtual league" might be. Goaltending in hockey requires a tremendous amount of athletic ability, how much so varies, depending on individual style. Thankfully in my current position of "virtual goalie" this requires no athletic ability, which is good, considering it's near impossible to play goalie with a herniated disc in your spine. That which in itself is probably the result of too much playing and not enough conditioning, which took its toll over the years, and eventually was likely the cause of said back injury.
That aside, there is one other requirement among every goaltender in hockey, be it real or fake; and that is an extreme amount of "mental toughness". I'd even go as far to say that goaltending is more of a mental position than a physical one. The same argument could probably be made of defensemen too, citing Nicklas Lidstrom as "Exhibit A". Personally, I feel that hockey as a sport is more of mental game than a physical game, because of its complexity. However, I could make the argument that mental conditioning and preparation is more important to any athlete in any sport, than their physical attributes are. Being able to stay calm, composed, and focused in the highest of pressure situations is, I believe, the most key attribute of any athlete, regardless of sport. I find this statement to be at its most accurate though, when applied to the position of goaltender in the great sport that is hockey.
For when us goalies are "doing our job" very few people tend to notice. It's only when we screw up, and have that lapse of intense mental focus required, that the average fan then takes notice of. As is the life of most goaltenders; very little praise for doing what we are asked, and yet all of the criticism when we make a mistake. Sure, goalies do get credit for their "spectacular saves" but, you'll often find that a good amount of those amazing saves, are the byproduct of a small mistake made by the goalie, combined with some (or a lot, in some cases) amount of luck, as we desperately try to make up for our error, and keep the puck out of the net. Goalies are also generally given credit for times when they "bail out" their teammates, usually the end result of some kind of defensive breakdown. Of course there are the occasions when there is simply "nothing a goalie can do" to prevent a goal, i.e. tip-ins, deflections, screened shots, knuckle-pucks, bad bounces, and sometimes even bizarre combinations of the previously mentioned.
A goalie's job description is a rather simple one: "Read the play, and keep the puck out of the back of the net." However, I'd like to stress that "reading the play" is not nearly as easy as it sounds. It's an acquired skilled, that generally takes years and years of playing experience to begin to perfect, and you'll find that some of the best professional goalies, have taken the skill of reading the play, and elevated it into an art form. A big part of reading the play, has to do with "cutting down angles" or in more simplistic terms, knowing where to be at on the ice in order to prevent a shot from going in.
Note that I didn't say, "where to be at on the ice in order to make a save". As I feel there is a big misconception amongst hockey fans that hitting a post or crossbar is usually considered "unlucky" because the shooter had the goalie beat, and simply hit the post and/or crossbar. Now there are plenty of times when this statement is true, but that isn't always the case. I feel that there are many times when goalies have "earned" a shot off the post or crossbar, because they have successfully done their job (all be it just barely) of cutting down the shooter's angle in order to prevent a goal. There has perhaps been no goalie better (at least in recent memory) at "earning" these post hits, than Tim Thomas of the Boston Bruins.
Now I bring up Tim Thomas for a number of reasons, but I'll continue on that first one before I get into the others. As I was saying, he has mastered the art of cutting down the angle, and "earning" post hits, or more often, making the shooter miss the net entirely. This is because of two reasons, the first being that it is simply a part of his "aggressive" style of play, often positioned far outside of his goal crease, and the second, which ties into the first, is this that this aggressive style is born out of necessity, due to his size, or more specifically, lack thereof. As Thomas is a part of a dying breed in professional hockey, and that is the "smaller" (under 6'0") goaltenders. At 5'11" he has to come farther out of his net in order to properly cut down the angle, than a taller goalie would have to, which is just basic math, but still a fact none the less.
I say "dying breed" because it is true, and is a rather disturbing trend I've noticed in professional hockey since the most recent NHL lockout in 2004-2005. With the sport becoming more offensively driven, and "skill-based", this has in turn somehow also lead to this idea that "bigger is better" when it comes to goaltenders. The idea being a rather simple one, that the bigger the goalie, the less open net a shooter has to aim at. Personally, I don't agree with this concept at all, while increased size does give the advantage of a larger range of reach and less work required to properly cut down angles. Generally speaking, an increase in size also results in slightly less speed, agility, and a larger five-hole. In my mind there is no real advantage to a being larger goalie, it's just simply a trade-off of some attributes in favor of others.
The only truth to the "bigger is better" argument is that bigger goalies have a much larger "margin of error" when it comes to judging angles, where as a with a smaller goalie, the opposite is true, and they have to be much more precise in their positioning. Which is why I thought one of the best overall goaltending performances (at any level) of last season, came from the University of Michigan's Shawn Hunwick.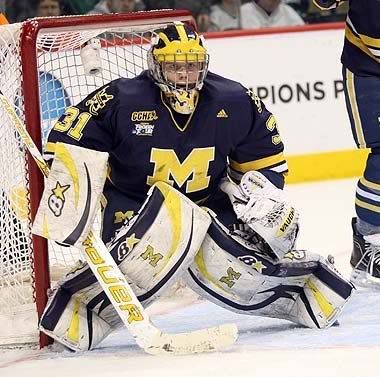 Starting the season as Michigan's back-up, he was quickly thrust into the spotlight when No.1 goalie Bryan Hogan, injured his groin during warm ups before the highly anticipated "Big Chill at the Big House" outdoor game versus rival Michigan State. Hunwick had a break-out game - a 34-save shutout performance in front of a world record crowd for attendance of a hockey game. Hunwick ran with the starting job from then onward, going on to put up an impressive 22-9-4 record, with a 2.21 GAA, .925 SV% (a new school record for a single season) and pitched 4 shutouts, all while leading Michigan to a CCHA regular season championship, and into overtime in the 2011 NCAA Frozen Four National Championship game, before losing out to Minnesota-Duluth. His most impressive stat though… was his height… a mere 5'7".
Sadly, Hunwick and other small goalies like him, were likely never even considered by a single pro scout, who are now all following this unwritten rule of thumb which states that you cannot even consider looking twice at any goalie under 6'0", regardless of whatever kind of potential they might have otherwise.
Now that I'm done ranting about height, let me return to fellow shortie, and Davidson, Michigan native Tim Thomas, who after the end of last season, had perhaps either one of the most prolific (to me) or most controversial (to others) statements ever made about goaltending. As he took the stage at the 2011 NHL Awards in Las Vegas, Nevada, to accept his second Vezina trophy in three seasons, following a season in which he set a new record for single season SV% of .938 (just passing Hasek's old mark of .937) and was a no-brainer for the Conn Smyth after leading the B's to their first Stanley Cup since 1971. During his acceptance speech for the Vezina, he uttered the following:
"I'd like to thank my teammates… who without, I… you can't win the Vezina trophy… goaltending is the most team-dependant position that there is, in hockey."
Thankfully my DVR wasn't recording two things at the time, because immediately following that statement, I had to hit the rewind button, to hear it again, and make sure I wasn't imagining things. Nope, he actually said it… and I wasn't hearing things. My only thought at the time was this: "YES! Finally! One of us actually had the guts to say it! Thank you, Timmy!"
Anyone who has spent any significant amount of time in net, has likely had this same thought go through their head in one form or another, but I'm not quite sure any of us has said it out loud… at least not in the same way that Thomas did. Readers, please do correct me if I am wrong here, as I'd like to know who else to send personal 'thank you' letters to.
Because it's been my impression, that most hockey fans (and even a good majority of players) seem to think that this goalie team-dependency works the other way around, or that a goalie's performance is completely independent from the team in front of them. I can speak from my own personal experience, having played for both good and bad teams, and I have to agree with Thomas on this one (incase that wasn't already obvious). Here's why:
Much in the same way that players often say that they are able to play better when they have confidence in their goaltender, the very same feeling is true of the goalies in regards to how they feel about their team. I know that I always feel more confident and comfortable knowing I have a quality team in front of me, because this takes some of the immense pressure of playing goalie off my back, knowing that I can still make the occasional mistake, and it isn't necessarily going to cost us the game. I know my teammates are going to prevent a good number of quality scoring chances with good defensive play, and for the most part, keep shooters to the outside and force them to take low percentage shots from bad angles, while at the same time being able to generate more than enough offense to score a number of goals.
Where as when playing for a bad team, it only adds more pressure to what is already an insanely hard job to begin with. Going into every game, I know I'm going to have to be nearly perfect and play mistake free for us to have any hope of winning the game. While at the same time knowing I'm going to have to somehow find a way to stop numerous breakaways and deadly cross-crease passes, as well as face a rather large volume of shots from all over the ice, because my team either can't clear the zone to save their life, or find a way to maintain any kind of consistent offensive pressure, and in the worst-case scenario, both.
Sure, a goaltender can easily lose a game for a team, and often times they do, but there is one thing they literally can't do, which is win a game for a team, because they can't score goals (empty netters from future Hall of Famers not withstanding). They can figuratively "win" a game for a team, by standing on their head and constantly bailing out their teammate's bad defensive breakdowns, but still, all they are really doing is giving their team an opportunity to win the game, and that team still has to actually capitalize on that opportunity that has been given to them. So, even if you've been ignoring everything I've been saying, this one paragraph itself should easily show you why goaltending is indeed so very much team-dependant.
Now, one last little point I'd like to make about Tim Thomas, and then I'll get off my goalie soap-box and let you go about your day.
Ironically, as Tim Thomas enters the twilight of his career, as he will turn 38 next April, and likely retire after his current contract with Boston has run out after the 2012-2013 season, he should usher in a new era of goalie mask design, with this rather ingenious variation of the traditional mask: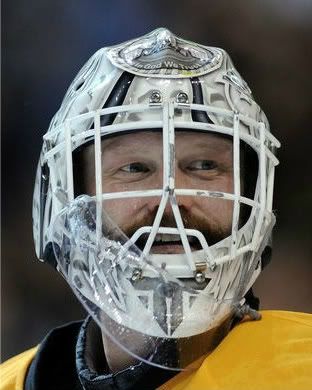 Known throughout his NHL career for having a rather "unique" mask design, Tim Thomas took it up another notch this past season with the final addition of a rather unique "cage" as well. For those of you who are not goalie equipment aficionados such as myself, the model of the mask that Thomas wears is called the "Mage RS" and it is the brain child of the company Sportmask and Tim Thomas himself.
Timmy wanted a mask with a more "open" feel, for a number of reasons, the principal two being increased air flow, so that he could breathe better, avoiding the stale air that is a common problem among the current "traditional" mask design, and the other being improved downward vision. Both of which were accomplished with the design of the Mage RS mask. Up until this prior season, Thomas has worn this mask with a slightly modified version of the traditional "cat-eye cage". Then in an effort to increase is on-ice vision even more, he came up with the idea for the new cage, modeled after something he had seen used over in Europe, where he spent the majority of his career.
I've yet to get the chance to try one of these on for myself since Sportmask released the design for purchase by the general public several months ago, but I have talked to a few other goalies that have worn this mask, and they have described it to me as "a bit freaky at first". Due in large part to the combination of the mask design with the new cage, "it almost feels like you have nothing on your head at all, and the overall increase in vision is incredible". So it wouldn't surprise me one bit if ten years from now, we see virtually every professional goalie wearing something more like this, as it seems to be a vast improvement over the current design used by most goaltenders.
Alright, I realize this has been a rather long blog, much longer than I intended it to be, so let's review all of what we have learned about goalies:
1. Goaltending is the most difficult position to play in all of sports.
2. Goalies can indeed "earn" shots off the post and/or crossbar.
3. Playing as a shorter goalie requires more skill (up for debate, but that's my opinion).
4. Goaltending is the most team-dependent position in hockey.
5. Tim Thomas's Mask = Epic Winning!
I've thoroughly enjoyed writing this lengthy, rather opinionated blog, and I hope it at least changes the way you look at and think about your team's goaltenders as you watch them play this upcoming season. Now with all of this goalie talk, I've gotten the urge to jump online and go frustrate the crap out of some shooters, so I'll glove ya later.
(ha, get it? - okay, bad goalie joke - I'm done)
Filed in: Hockey Related Stories, Doug Miller, | KK Hockey | Permalink
Tags: shawn+hunwick, tim+thomas
Comments
Add a Comment
Please limit embedded image or media size to 575 pixels wide.
Add your own avatar by joining Kukla's Korner, or logging in and uploading one in your member control panel.
Captchas bug you? Join KK or log in and you won't have to bother.
Most Recent Blog Posts
About Kukla's Korner Hockey
Paul Kukla founded Kukla's Korner in 2005 and the site has since become the must-read site on the 'net for all the latest happenings around the NHL.
From breaking news to in-depth stories around the league, KK Hockey is updated with fresh stories all day long and will bring you the latest news as quickly as possible.
Email Paul anytime at pk@kuklaskorner.com
Tweets by @kuklaskorner