Kukla's Korner Hockey
by Doug Miller on 07/23/11 at 03:23 PM ET
Comments (5)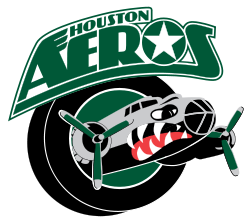 Better known to most NHL fans simply as "Minnesota's Farm Team". The Aeros actually have a rather deep and rich history in the hockey world. They were originally founded in 1994 as an expansion team in the now defunct International Hockey League (IHL). However, some could argue that this franchise has really existed since 1972, when they were one of the World Hockey Association's (WHA) original teams, after the "Dayton Aeros" franchise folded, before they ever played a single game (due to lack of an arena and little interest from the community) and moved to Houston.
IIn the rather short history of the WHA, Houston was considered one of their most successful franchises. They won back to back AVCO World Trophies (WHA Championship) in 1974 and 1975, and lost to the Winnipeg Jets in the finals in 1976. They were one of several teams considered during the initial NHL-merger talks in 1977, but failed to make the cut. When talks came up again in 1978, the WHA insisted that all of their Canadian franchises be included in the merger, which left little room for the Aeros. Houston did everything they could to try and make it into the NHL, as they attempted to negotiate a deal that would allow them to join the league as an expansion team, independent from the pending WHA merger. They even went as far as to offer to purchase an existing NHL team, and then relocate them to Houston, but these bids were rather futile, and were both rejected by the NHL. And so the Houston Aeros closed up shop in 1978, just one year before the WHA would officially be disbanded.
It should also be noted that the WHA version of the Houston Aeros had the distinct honor of having Mr. Hockey himself, Gordie Howe on their roster for four seasons ('73-'74 through '76-'77) where he played 285 games, scored 121 goals, and tallied 248 assists, for a total of 369 points. It is also the team where he played with his sons Mark (recently elected into the Hockey Hall of Fame) and Marty. Where they became professional hockey's first (and will likely remain only one ever) Father-Son tandem to play for the same team at the same time.
But as I said earlier, this franchise as we know them now was founded in 1994, and has no "official" connection to their WHA counterpart, aside from a shared name, but I thought the history should still be included and considered for nostalgia's sake. Although the Aeros were one of only two IHL teams to be named after a former WHA team.
Anyway, after joining the IHL in 1994, The Houston Aeros went on to win the Turner Cup (IHL Championship) in 1999, defeating the Orlando Solar Bears in a seven game series. The Aeros were one of only six IHL teams to join the American Hockey League (AHL) when the IHL went under in 2001. The current incarnation of the Houston Aeros won their first Calder Cup (AHL Championship) in 2003 when they defeated the Hamilton Bulldogs in a seven game series. They competed for another Calder Cup this past season (2011) but lost out to the Binghamton Senators in six games of a best-of-seven series.
But enough with the history lessons, let's take a look at what this team has in store for their upcoming season as defending AHL Western Conference Champions.
The biggest change to the Aeros's roster next season will be behind their bench. On July 5, 2011 they named their new head coach, John Torchetti.

The National Hockey League's (NHL) Minnesota Wild and American Hockey League's (AHL) Houston Aeros today named John Torchetti as the Aeros new Head Coach.

"We are excited to name John Torchetti as Head Coach of the Houston Aeros," said Minnesota Wild Assistant to the General Manager/Houston Aeros General Manager Jim Mill. "He brings a wealth of coaching experience, is a proven winner at every level and will be a great asset to the Wild organization."

Torchetti, 46 (7/9/64), most recently served as the Atlanta Thrashers associate coach after being named to the position on July 8, 2010. The native of Boston, Mass., holds 27 years of professional hockey experience as a player, coach and manager. His NHL coaching resume includes stops in Tampa Bay (1999-2001), Florida (2002-04), Los Angeles (2005-06), Chicago (2007-10) and Atlanta (2010-11).

Prior to joining the Thrashers, Torchetti served as an assistant coach for the Chicago Blackhawks. During his time in Chicago, he helped the team improve in wins and points each season. The Blackhawks advanced to the Western Conference Finals in 2008-09 and won the 2010 Stanley Cup Championship.
- Rich Bocchini/Aeros.com

And I'd love to dive further into who their top players to watch are, but the truth of the matter, is that at this time of year, and with their NHL affiliate Minnesota Wild still very much a team in transition, I've really got no idea who will or won't be on the Aeros roster next season… so we'll have to wait until training camp to see where all the pieces fall into place, and then I'll revisit the subject.
If you'd like to learn more about the Houston Aeros, feel free to visit their website: http://www.aeros.com
Or you can always follow them on Twitter at @Houston_Aeros
Filed in: Non-NHL Hockey, Minor League, Doug Miller, | KK Hockey | Permalink
Tags: houston+aeros
Comments
Add a Comment
Please limit embedded image or media size to 575 pixels wide.
Add your own avatar by joining Kukla's Korner, or logging in and uploading one in your member control panel.
Captchas bug you? Join KK or log in and you won't have to bother.
Most Recent Blog Posts
About Kukla's Korner Hockey
Paul Kukla founded Kukla's Korner in 2005 and the site has since become the must-read site on the 'net for all the latest happenings around the NHL.
From breaking news to in-depth stories around the league, KK Hockey is updated with fresh stories all day long and will bring you the latest news as quickly as possible.
Email Paul anytime at pk@kuklaskorner.com
Tweets by @kuklaskorner