Kukla's Korner Hockey
Category: Doug-Miller
by Doug Miller on 08/01/11 at 12:15 AM ET
Comments (2)

In what will likely become a regular staple here at Cluster Pucks… I go around the hockey leagues with news tidbits from the last week, and once the season gets underway, this will turn into more of a "recap" of various things, including scores and current standings from all the leagues which this blog covers.
Anyway, let the first installment of the chaos begin.
The biggest story this week, at least when it comes to my realm of coverage, was the announcement that the 2012 World Under-17 Hockey Challenge will be played in Windsor, Ontario, as was reported by Paul on Wednesday. This is especially exciting news for me, as if I can afford to swing the budget, and land the proper press credentials, it will likely represent the first chance I'll have as a new member of the hockey media to go and cover an event in person!
Filed in: Non-NHL Hockey, College Hockey, Doug Miller, | KK Hockey | Permalink
Tags: college+hockey, ontario+hockey+league, quebec+major+junior+hockey+league, western+hockey+league
by Doug Miller on 07/30/11 at 09:45 PM ET
Comments (26)

Late Friday night, as I awoke from my flu-induced coma, I quickly jumped online to check out what I (and many others) expected to be a major update from EA Sports regarding the new "Anticipation A.I." in NHL 12. They had previously released a nice video-comparison showing the differences between the "old A.I." of NHL 11 and the "new Anticipation A.I." to be featured in NHL 12. So naturally, everyone had assumed that Friday's update would be a new developer/producer blog that would further go into detail about this new feature, as had been the previous status quo set by EA. Further intimated by EA's NHL 12 "features whiteboard" which under the "Anticipation A.I." section stated: "More information coming July 29th!"
Filed in: Fantasy Hockey and Gaming, Doug Miller, | KK Hockey | Permalink
Tags: ea+sports+nhl+12
by Doug Miller on 07/30/11 at 10:30 AM ET
Comments (8)
From theahl.com:
Danny Williams, president and chief executive officer, today (Friday) announced that the new AHL franchise in Newfoundland and Labrador will be called the St. John's IceCaps.

Williams was joined by Glenn Stanford, AHL governor and chief operating officer of the team, at Mile One Centre, where they also unveiled the team logo.
Read the full press release for more info.
Filed in: Non-NHL Hockey, Doug Miller, | KK Hockey | Permalink
Tags: st.+john's+icecaps
by Doug Miller on 07/28/11 at 04:05 PM ET
Comments (11)

Alright, now that my involuntary exile from the internet is finally over, and my modem again blinks green with delight, I bring you the latest NHL 12 update. Yesterday, EA released a new video showing off some of the new features of the "Full Balance Control" system, new for the upcoming NHL 12.
As a major part of EA's plan for a "three year physics overhaul", with NHL 12 representing the second year of the process, this new FBC system was designed to bring a much more realistic feel to checks, as well as any kind of contact a player might have with another player (or the boards). Gone now are the "awkward" checks that would send players flying off their skates for seemingly no reason, at least no reason to those of us with a rudimentary understanding of basic physics.
EA sites these three major points on their "Features Whiteboard" for NHL 12's FBC system:
Filed in: Fantasy Hockey and Gaming, Doug Miller, | KK Hockey | Permalink
Tags: ea+sports+nhl+12
by Doug Miller on 07/27/11 at 02:34 PM ET
Comments (4)

Without a doubt, one of my greatest challenges with this blog, aside from the sure volume of minor-league news I have to filter through, and then pick what to write about, is the fact that covering the Quebec Major Junior Hockey League (QMJHL or simply "the Q") will be a unique task in and of itself. This comes from the fact that the majority of the news on the Q, is written and reported on in French, due to fact that the majority of their market is French-Canadian.
I don't understand French, and nor will I expect you, the English speaking readers to do so either. Thankfully wonderful websites such as Babel Fish have existed, and continue to do so, all around the internets, and allow me to translate entire web pages, and thus, entire news reports, back into English, so I can then make some attempt to make sense of it all, and report back to you.
Filed in: Non-NHL Hockey, Doug Miller, | KK Hockey | Permalink
Tags: quebec+major+junior+hockey+league
by Doug Miller on 07/26/11 at 03:29 PM ET
Comments (2)

As you'll likely figure out over time from reading "Cluster Pucks" - I tend to be a bit partial to goaltenders. This undoubtedly stems from the fact that I myself spend the majority of my young hockey career in between the pipes. It would be the same position I would continue to play up to this very day, if you consider the EA Sports NHL series of video games as "playing" and their online player league, the EA Sports Hockey League, an actual "league". Both of which I do, having had plenty of firsthand experience at very high levels of play that exist in this "game". I think many of you would be surprised at the level of seriousness that many players (such as myself) take with a mere video game.
Filed in: Hockey Related Stories, Doug Miller, | KK Hockey | Permalink
Tags: shawn+hunwick, tim+thomas
by Doug Miller on 07/25/11 at 03:06 PM ET
Comments (9)

Position: RW
Height: 6' 2"
Weight: 191 lbs
Shoots: Left
Age: 18
Country: Slovakia
Drafted: 2011 DET - 2nd Round - 35th overall
It seemed to be the general consensus of the hockey media going into the 2011 NHL Entry Draft in St. Paul, Minnesota, that this was potentially the deepest draft class since 2003. With top notch prospects at spots 1-8 (and even potentially picks 9 and 10 depending on who you asked), and then the next tier of talent was considered to be a bit of a free for all when it came to the next 30-40 picks, and the general vibe I got from teams in the first round, and early into the second round, was that there was indeed a tremendous value on early picks (mid to late first round), as well as almost any pick in the second round, and even leading up to and into the early third round picks, until the next major level of drop off in pure potential. As such, this resulted in quite a few teams being very active when it came to making trades involving any potential pick(s) from this vastly large pool of "second tier" prospects.
Filed in: NHL Talk, NHL Prospects, Doug Miller, | KK Hockey | Permalink
Tags: tomas+jurco
by Doug Miller on 07/23/11 at 03:23 PM ET
Comments (5)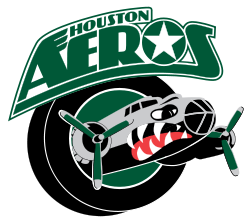 Better known to most NHL fans simply as "Minnesota's Farm Team". The Aeros actually have a rather deep and rich history in the hockey world. They were originally founded in 1994 as an expansion team in the now defunct International Hockey League (IHL). However, some could argue that this franchise has really existed since 1972, when they were one of the World Hockey Association's (WHA) original teams, after the "Dayton Aeros" franchise folded, before they ever played a single game (due to lack of an arena and little interest from the community) and moved to Houston.
Filed in: Non-NHL Hockey, Minor League, Doug Miller, | KK Hockey | Permalink
Tags: houston+aeros
by Doug Miller on 07/22/11 at 05:37 PM ET
Comments (6)

EA dropped a bit of a bombshell in people laps when they released a new video for "Be a Pro" for NHL 12 on Wednesday. There wasn't a bunch of new information revealed, but one very significant piece of news did come from this, as they announced that there will now be a staggering 18 levels of player development. As opposed to the usual six levels (Amateur, Rookie, Professional, Veteran, Superstar, and Legend) that players have become accustomed to since the feature was first introduced in NHL '09.
At this point, it has been assumed by the community, that these same levels will also be used for your online BAP, just as they have been mirrored in previous years, all be it with different requirements needed to level up your pro online in the EASHL as opposed to offline. But nothing has been officially confirmed by EA regarding "online communities" as they have remained rather mum on details for the upcoming changes to the EASHL. And as it stands now, information about this has been given an ominous "TBD" date in terms of release info on EA's official "white board" of NHL 12 features.
Although, last week EA at least shredded the shroud of mystery about when new information about NHL 12 would be released, as they appear to be following a regular pattern of announcements planned for every Wednesday and Friday of each week. And following this same pattern, we can expect to finally have the egg of "online info" cracked sometime in the first few two weeks of August, at least, presumably. Considering the demo for NHL 12 is expected to be released sometime in mid to late August, as per usual.
Filed in: Fantasy Hockey and Gaming, Doug Miller, | KK Hockey | Permalink
Tags: ea+sports+nhl+12
by Doug Miller on 07/21/11 at 09:18 PM ET
Comments (21)
A little bit of this, a little bit of that.
A pretty good way to describe the blog Doug will be running at Kukla's Korner.
You the readers probably will be able to influence the topics Doug will cover, so make sure you let him know what you want to read about.
Welcome to KK Doug and good luck. Just don't spend too much time at the "Yack".
-Paul
---

I'm Doug Miller. I saw that KK was looking for some new bloggers, on one of my endless hockey news feeds, and I figured… "hey, I might as well give it a shot, I do have a good background in both writing and in hockey". Although my credentials aren't much compared to the majority of the other excellent bloggers here at KK.
I'm a ten year veteran of the independent film scene in the "Downriver" area of southeastern Michigan. I currently work as a writer and director on a freelance basis. I've grown up and still reside in the suburban town of Wyandotte, MI. Which I'm quite proud of, as they took home the Division II State Championship in 2011. I've lived here my entire life and began following hockey in 1991, and starting playing shortly thereafter. I've played hockey at a competitive level at every position on every major surface (ice, inline, street) up until the age of 14, when I started working in independent film, but continued to play Goalie on a recreational level up until I was 22 and herniated a disc in my lumbar spine.
Filed in: Non-NHL Hockey, Doug Miller, | KK Hockey | Permalink

« Previous ‹ First < 2 3 4
About Kukla's Korner Hockey
Paul Kukla founded Kukla's Korner in 2005 and the site has since become the must-read site on the 'net for all the latest happenings around the NHL.
From breaking news to in-depth stories around the league, KK Hockey is updated with fresh stories all day long and will bring you the latest news as quickly as possible.
Email Paul anytime at pk@kuklaskorner.com
Tweets by @kuklaskorner
Most Recent Blog Posts