Kukla's Korner Hockey
Category: NHL-Teams
by Paul on 05/17/22 at 06:45 PM ET
Comments (5)
The Tampa Bay Lightning is the only team playing tonight who could use the word tired while playing the Florida Panthers.
The other 3 teams are well rested.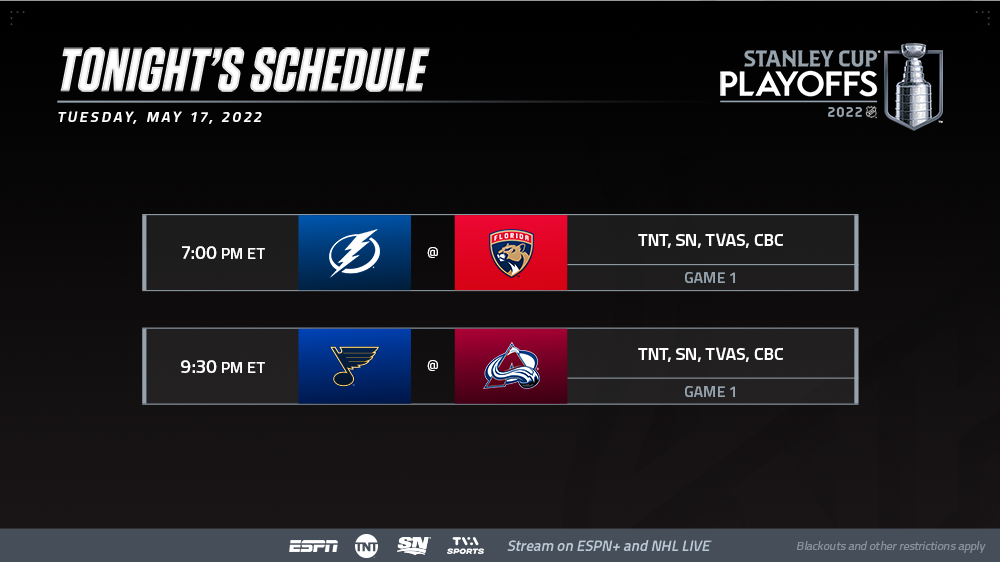 Filed in: NHL Teams, | KK Hockey | Permalink

by Paul on 05/17/22 at 12:45 PM ET
Comments (3)
added 1:08pm,
Filed in: NHL Teams, Pittsburgh Penguins, | KK Hockey | Permalink

by Paul on 05/17/22 at 11:22 AM ET
Comments (0)
5:19 to watch.
Filed in: NHL Teams, | KK Hockey | Permalink

by Paul on 05/17/22 at 11:14 AM ET
Comments (0)
from Steve Ellis of The Hockey News,
Is this the REAL top series to watch?

The Battle of Alberta is the one that everyone is talking about, and rightfully so. It's going to be a bloodbath and one that fans of any team can get themselves excited about.

But look at Florida and Tampa, two of the best teams all season long. Florida is fresh off of a Presidents' Trophy win, while the Lightning have won back-to-back Stanley Cups. From a pure depth and skill perspective, these are two of the deepest teams remaining, and probably the closest on paper in terms of overall talent.

This is the time for the Panthers to beat the Lightning twice in a row, something no team has done in the playoffs the past three seasons...

Will Colorado's rest hurt them?

The Colorado Avalanche had a seven-day layoff from its Game 4 sweep of the Nashville Predators. The St. Louis Blues? They played four days ago.

That's not a huge difference, but a week away from competitive hockey can be a challenge for a team to stay mentally and physically ready for a new round. We know the Blues are no tough opponent, and the Avalanche are definitely the favorite here..
more on the two series debuting tonight...
Filed in: NHL Teams, | KK Hockey | Permalink

by Paul on 05/17/22 at 11:07 AM ET
Comments (4)
from Sportsnet,
The Maple Leafs confirmed the news in a statement Tuesday morning.

"We can confirm Mitch Marner was the unfortunate victim of a carjacking in Etobicoke on Monday evening. He was unharmed in the incident and the Club & Mitch are thankful for Toronto Police Services' support. Anyone with information is asked to reach out to Toronto Police Services," the statement reads. "TPS has asked that neither Mitch or the Club comment any further on the details of the incident as this is an ongoing investigation."

Toronto Police tweeted about a man being robbed of his Range Rover on Monday at 7:46 p.m. ET in the southwest portion of the city.
more, 2 guns and a knife were involved...
Marner was not made available to the media today, but Auston Matthews was.
Filed in: NHL Teams, Toronto Maple Leafs, | KK Hockey | Permalink

by Paul on 05/17/22 at 10:44 AM ET
Comments (9)
from Ron Cook of the Pittsburgh Post-Gazette,
It's time the team moves on from Malkin and Letang after 16 tremendous seasons, including three Stanley Cups. No other three teammates have been together that long in NHL history. But it's time to end the streak.

I believed that going into these playoffs. The Penguins' fourth consecutive first-round exit eliminated the last of any lingering doubts I might have had. It seems crazy to bring the same core back for another season. What do they say about those who don't learn from history? Beyond the postseason failures, Malkin and Letang aren't getting younger. Malkin will be 36 on July 31. Letang is 35. Each becomes a free agent on July 13.

I'm not sure the Penguins can bring Letang back even if they make re-signing him a priority. He should be coveted on the open market. He made $7.25 million this season and should get a big raise. His long-time agent, Kent Hughes, is the new general manager of the Montreal Canadiens. Letang is French-Canadian. Montreal just seems like the perfect fit for him.

Malkin's age and injury history bother me. I'm not really interested in bringing him back even if he takes a pay cut from the $9.5 million he made this season.
Filed in: NHL Teams, Pittsburgh Penguins, | KK Hockey | Permalink

by Paul on 05/17/22 at 10:33 AM ET
Comments (0)
NEW YORK (May 17, 2022) – Centers Aleksander Barkov of the Florida Panthers, Patrice Bergeron of the Boston Bruins and Elias Lindholm of the Calgary Flames are the three finalists for the 2021-22 Frank J. Selke Trophy, awarded "to the forward who best excels in the defensive aspects of the game," the National Hockey League announced today.
Members of the Professional Hockey Writers Association submitted ballots for the Selke Trophy after the conclusion of the regular season, with the top three vote-getters designated as finalists. The winners of the 2022 NHL Awards will be revealed during the Conference Finals and Stanley Cup Final, with exact dates, format and times to be announced.
Following are the finalists for the Selke Trophy, in alphabetical order:
Filed in: NHL Teams, | KK Hockey | Permalink

by Paul on 05/17/22 at 10:23 AM ET
Comments (3)
from Damien Cox at the Toronto Star,
So, has the disgrace associated with Babcock and Quenneville worn off? Can two men who at one time were considered the best coaches in hockey come in from the cold? If they can — with 24 teams that either missed the playoffs entirely or were beaten in the first round examining their options moving forward — the veterans would join what could be the deepest and most talented coaching free-agent class in league history.

Remember, Barry Trotz is also out there. Peter DeBoer was fired by Las Vegas on Monday. Paul Maurice seems almost a certainly to get another head-coaching position after stepping down from that role with the Winnipeg Jets last season.

Three or four years ago, that group — Babcock, Quenneville, Trotz, DeBoer and Maurice — would have been considered the cream of the crop. Today? Well, Lou Lamoriello made his thoughts known on the available choices by promoting Lane Lambert to replace Trotz on Long Island next season.
Filed in: NHL Teams, NHL Talk, | KK Hockey | Permalink

by Paul on 05/17/22 at 07:58 AM ET
Comments (7)
from Joe Warmngton o the Toronto Sun,
Grapes on a comeback to Hockey Night in Canada?

While "I do miss Coach's Corner and going down there on Saturday nights," it's unlikely because "the truth is people are afraid of me." He said with today's TV, "you have to get along with people, and you say the right thing," and "I don't."

That's why so many people watched. What Cherry brought has not been replaced. People in sports bars don't turn up the volume anymore during the first intermission.

Grapes on possibility of he and Ron MacLean patching things up?

Cherry said while he doesn't harbour any animosity, "I don't think I could ever forget, though. I don't think we will ever be friends again."
more, including the state of the Leafs...
Filed in: NHL Teams, Toronto Maple Leafs, NHL Media, Hockey Broadcasting, CBC HNIC, | KK Hockey | Permalink

by Paul on 05/17/22 at 01:40 AM ET
Comments (0)
* The Second Round of the 2022 Stanley Cup Playoffs starts Tuesday as the Lightning-Panthers and Blues-Avalanche open their second head-to-head series in as many years.

* Jonathan Huberdeau and Nikita Kucherov combined for 21 points in the last "Sunshine State" series, while standout performers from the 2022 First Round Carter Verhaeghe and Nicholas Paul will meet again in the playoffs after squaring off at the junior level nearly a decade ago.

* Nathan MacKinnon and Cale Makar look to lead Colorado to its eighth straight postseason win against St. Louis, while former Avalanche forward Ryan O'Reilly can match the Blues franchise record for longest playoff goal streak.

* Wednesday will feature the Rangers-Hurricanes opening the first best-of-seven series between the franchises as well as the Oilers-Flames contesting the first "Battle of Alberta" playoff game in over 31 years.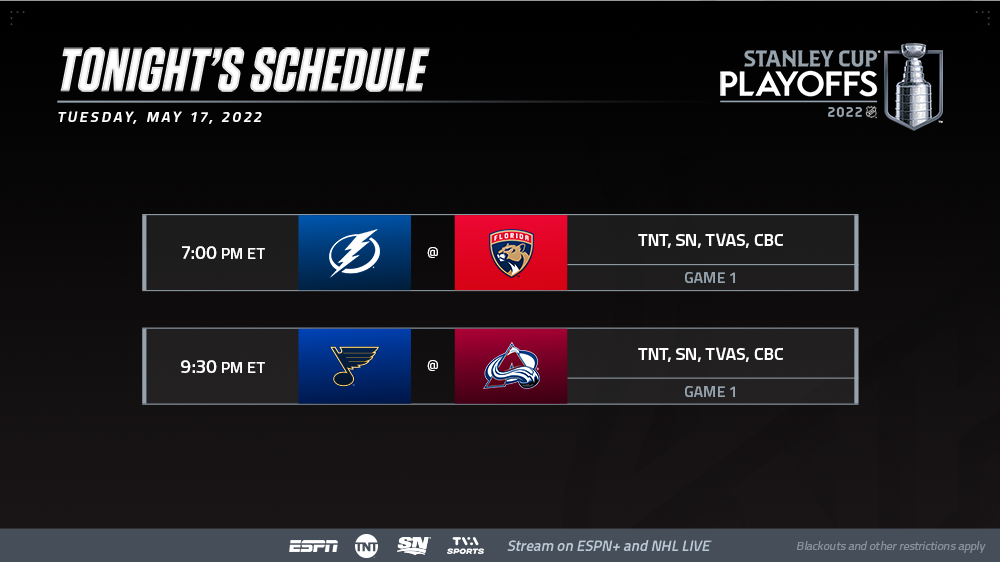 Filed in: NHL Teams, | KK Hockey | Permalink

« Previous < 1 2 3 4 5 > Last › Next »
About Kukla's Korner Hockey
Paul Kukla founded Kukla's Korner in 2005 and the site has since become the must-read site on the 'net for all the latest happenings around the NHL.
From breaking news to in-depth stories around the league, KK Hockey is updated with fresh stories all day long and will bring you the latest news as quickly as possible.
Email Paul anytime at pk@kuklaskorner.com
Tweets by @kuklaskorner
Most Recent Blog Posts