Kukla's Korner Hockey
by Paul on 06/26/22 at 12:03 PM ET
Comments (0)
from Mike Johnston of Sportsnet,
Hockey Hall of Famers Lanny McDonald and Mike Gartner, the HHOF's chair of the board and chair of the selection committee, respectively, are scheduled to host a live announcement Monday afternoon with this year's inductees.

The HHOF player category can feature a maximum of four men and two women each year. With that in mind, here's a tiered look at the players eligible to be included as part of the HHOF Class of 2022....

f there were ever two players meant to stride side by side together into the Hockey Hall of Fame, it would be brothers Daniel and Henrik Sedin.

Daniel was drafted second- and Henrik third-overall in 1999 to the Vancouver Canucks with whom they spent their entire NHL careers.
more names...
Filed in: NHL Teams, Non-NHL Hockey, | KK Hockey | Permalink

by Paul on 06/26/22 at 08:28 AM ET
Comments (1)
from Steve Simmons of the Toronto Sun,
- They are set up to succeed — now and into the future. And more when the NHL salary cap jumps in the years to come.

Nikita Kucherov, with 93 playoff points the past three seasons, the most subtle player in hockey, isn't going anywhere.

He is signed for five more seasons at $9.5 million. That's $1.4 million a year less than the Leafs pay Mitch Marner now and he'll be a free agent at the age of 27.

It isn't just Vasilevskiy and Kucherov. Brayden Point is signed for eight more years at $9.5 million. Victor Hedman is signed at a bargain-basement price of $7.87 million for three more years while the Leafs have four more years of his draft counterpart, John Tavares, at $11 million a season....

- The knock on Paul Maurice, after all these years, is not enough playoff wins. So where does he get hired? In Florida, where the Panthers are looking for, you guessed it, playoff wins.

- Language issues? Twelve writers cover the Montreal Canadiens regularly: Only one gave a first-place vote to Matthews for the Hart. Eighteen writers cover the Maple Leafs regularly: Seventeen voted for Matthews as first choice to win the Hart. One voted for McDavid.

- Little things make me laugh, like seeing the historically hated Claude Lemieux sitting at the Red Wings table at the NHL Awards. Turns out Lemieux is the agent for rookie of the year Moritz Seider.

- I don't have a vote, but my personal Hockey Hall of Fame Class for 2022 would have a Vancouver slant, starting with the Sedin twins, goaltender Roberto Luongo and former Leaf Alexander Mogilny. And that doesn't include builders or women. The class is announced on Monday afternoon.

- Hall of Fame hockey writer Larry Brooks refused to vote for NHL awards this year, his personal protest against lack of access to players on a daily basis (which I completely agree with) and NHL masking policies
Filed in: NHL Teams, | KK Hockey | Permalink

by Paul on 06/26/22 at 12:17 AM ET
Comments (0)
* Andrei Vasilevskiy has been a force for the Lightning when the series is at stake, holding opponents to two goals or fewer in three of four contests in which the club has faced elimination since 2020.

* Cale Makar is having one of best Final performances by a defenseman in decades with a point in each of the past four games, three multi-point outings and seven points over the first five contests.

* What happens when the top team at home meets the top team on the road, with the Stanley Cup in the building? We'll find out Sunday as the Lightning (8-2 at home) will look to force Game 7 against the Avalanche (8-1 on the road).

* Sunday will be the 89th game of the 2022 Stanley Cup Playoffs, the most in a four-round postseason since 2016 (91). Five playoff years in League history have had 90 or more games, excluding 2020 when 130 postseason games were played but only 86 in rounds 1-4.
Filed in: NHL Teams, | KK Hockey | Permalink

by Paul on 06/26/22 at 12:09 AM ET
Comments (0)
from Larry Brooks of the New York Post,
- ... The past couple of years, the back-to-back Cups, it has been easy to overlook Stamkos. The spotlights were on Vasilevskiy or Kucherov or Hedman or Brayden Point. But now it is impossible to look away from No. 91, who has turned in one compelling performance after another and who has simply refused to allow his team to lose.

This all started when Stamkos was selected first overall in the 2008 draft, a year before the Lightning grabbed Hedman at second overall after the Islanders had chosen John Tavares.

But you could make a more salient point by suggesting this all was actually enabled when Stamkos eschewed unrestricted free agency in 2016 and instead signed an eight-year extension with the Lightning for an annual cap hit of $8.5 million.

- There is a fair amount of chatter from multiple industry sources that the Devils will be in on impending Toronto free agent goaltender Jack Campbell if he hits the open market on July 13....

- So we're hearing this new Pittsburgh ownership group may not be so enamored with Brian Burke keeping his post as president of hockey ops after a second straight first-round flameout....
more on each of the above topics...
Filed in: NHL Teams, | KK Hockey | Permalink

by Paul on 06/25/22 at 01:07 PM ET
Comments (0)
Filed in: NHL Teams, NHL Talk, | KK Hockey | Permalink

by Paul on 06/25/22 at 03:02 AM ET
Comments (0)
from Luke Fox of Sportsnet,
They were silent in Denver but whooping it up in Frydek-Mistek.

A Game 5 watch party in support of the Tampa Bay Lightning and their life-support threepeat bid had been planned in the thick of the night at Ondrej Palat's supportive home city in Czechia.

"My parents just texted me," said Palat, all smiles after scoring the difference-maker in Tampa's 3-2 win Friday night. "There was like 80 people there. It was two o'clock in the morning. So, it's nice to feel all the support from back home even when the game is pretty late. So, it just feels great."

Also feels familiar.

Palat, the seventh-round gamble with first-line impact, has now sniped three game-winners this post-season and 12 career winners in playoffs, third-most among all active NHLers.
Filed in: NHL Teams, Tampa Bay Lightning, | KK Hockey | Permalink

by Paul on 06/25/22 at 02:57 AM ET
Comments (1)
from Mark Kiszla of the Denver Post,
Welp! The Avalanche victory parade just took an unwelcome 1,858-mile detour.

Now ain't that a disgusting development?

"It's not supposed to be easy," Avalanche captain Gabe Landeskog said Friday night. "And it's not going to be easy."

Instead of hoisting the Stanley Cup, the Avs were forced to pack their bags for a trip back to that slush bowl of an ice rink in steamy Florida, after the Lightning staved off elimination from the championship series with a 3-2 victory.

"We didn't have a choice," Lightning captain Steven Stamkos said. "It's do-or-die for us."

The only way Tampa Bay can win this championship series is if goaltender Andrei Vasilevskiy and coach Jon Cooper steal it.

The Avs are clearly superior in every facet of hockey except perhaps where it counts the most: between the pipes and on the bench.
Filed in: NHL Teams, Colorado Avalanche, | KK Hockey | Permalink

by Paul on 06/25/22 at 02:43 AM ET
Comments (0)
* The Stanley Cup was in the building for the first time during the 2022 Final, but Ondrej Palat potted the go-ahead goal with less than seven minutes remaining in regulation as the Lightning earned a crucial road win to force Game 6 in the championship series.
* Andrei Vasilevskiy vaulted Tampa Bay to another victory following a playoff loss, while Corey Perry picked up two assists to boost his career point total when facing elimination. Perry has helped his team evade elimination during the Final in each of the last three years (also Game 5 in 2020 w/ DAL & Game 4 in 2021 w/ MTL).
* The series shifts back to AMALIE Arena, with the hosts hoping to force the second Stanley Cup Final Game 7 in the last four years.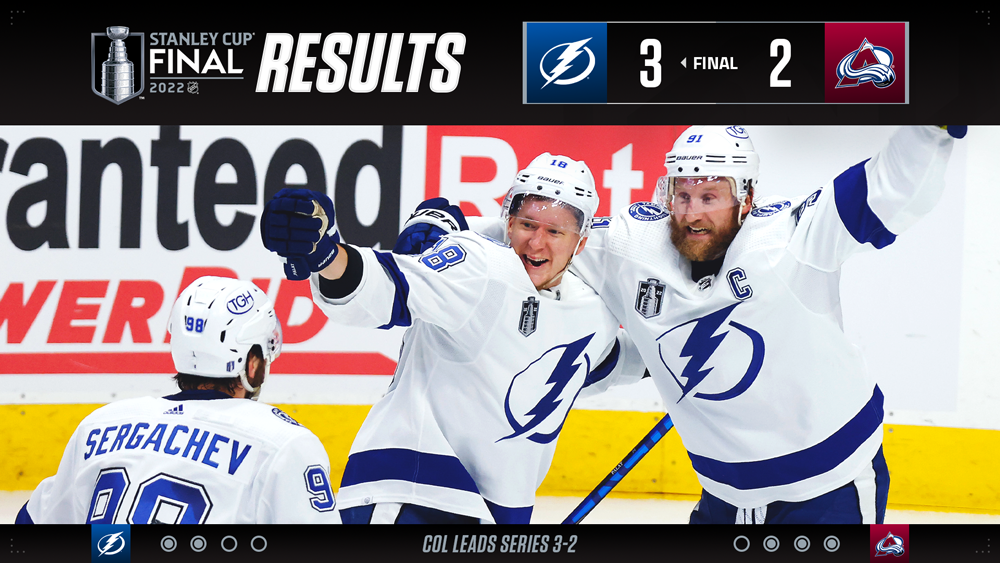 Filed in: NHL Teams, | KK Hockey | Permalink

by Paul on 06/24/22 at 10:00 PM ET
Comments (0)
Ondrej Palat scored with just over 6 minutes left in the third period to break a 2-2 tie game.
Game 6 is Sunday at 8:00pm ET in Tampa.
This was a great game to watch.
Watch the game winning goal below.
added 11:18pm, game highlights are below...
added 11:26pm, HNIC highlights below too.
Filed in: NHL Teams, Colorado Avalanche, Tampa Bay Lightning, | KK Hockey | Permalink

by Paul on 06/24/22 at 07:30 PM ET
Comments (4)
It's is simple tonight. A win by the Colorado Avalanche and the on-ice celebration begins.
A win from the Tampa Bay Lightning and we have a game 6 in Tampa on Sunday at 8:00pm ET.
Filed in: NHL Teams, Colorado Avalanche, Tampa Bay Lightning, | KK Hockey | Permalink

« Previous < 1 2 3 4 5 > Last › Next »
About Kukla's Korner Hockey
Paul Kukla founded Kukla's Korner in 2005 and the site has since become the must-read site on the 'net for all the latest happenings around the NHL.
From breaking news to in-depth stories around the league, KK Hockey is updated with fresh stories all day long and will bring you the latest news as quickly as possible.
Email Paul anytime at pk@kuklaskorner.com
Tweets by @kuklaskorner
Most Recent Blog Posts