Kukla's Korner Hockey
by Paul on 05/05/21 at 02:10 PM ET
Comments (0)
With the clock ticking down to only a month away from the 2021 National Hockey League (NHL) season, the teams have already begun their training regimens to see who will take the top spots as one of the Stanley Cup contenders.
Filed in: | KK Hockey | Permalink

by Paul on 05/05/21 at 09:22 AM ET
Comments (7)
Watch the incident below.
Filed in: NHL Teams, Philadelphia Flyers, | KK Hockey | Permalink

by Paul on 05/05/21 at 03:34 AM ET
Comments (0)
THREE HARD LAPS

* Sebastian Aho found the score sheet yet again to help the NHL-leading Hurricanes pad their lead in the standings and extend their point streak to 12 games.

* Sidney Crosby leads the NHL with 151 three-point games since debuting in 2005-06 and helped Pittsburgh overtake Washington for first place in the MassMutual East Division.

* Connor McDavid inched closer to 100 points in 2020-21 and Leon Draisaitl scored twice as the duo collected multiple points in the same game for the 18th time this season.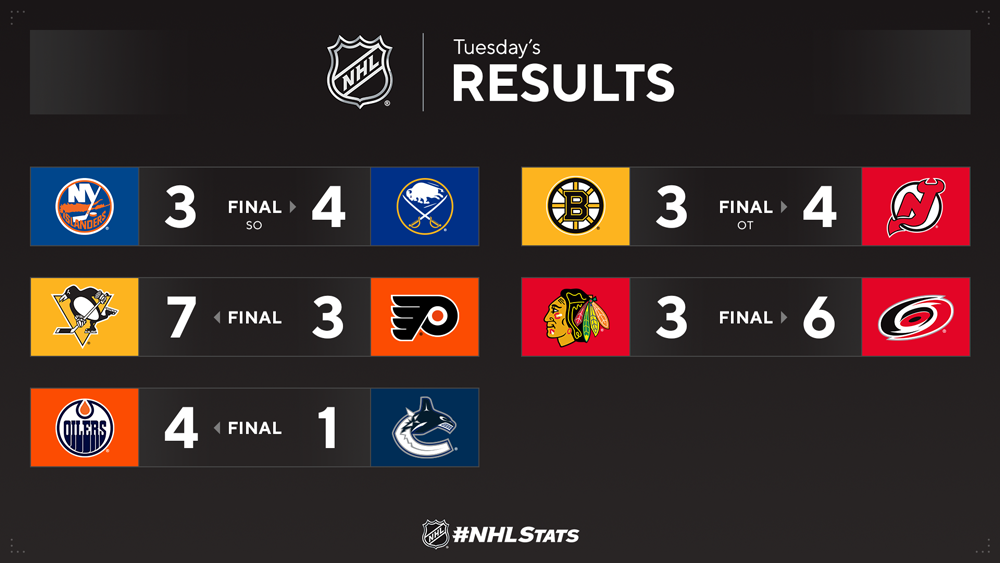 Filed in: | KK Hockey | Permalink

by Paul on 05/04/21 at 07:33 PM ET
Comments (0)
Tom Wilson's antics on the ice overshadowed another big story in Washington: That Evgeny Kuznetsov and Ilya Samsonov were benched for disciplinary reasons and as Pierre LeBrun explains, the Capitals may explore their options with Kuznetsov in the summer.
Plus some Norris talk.
Filed in: NHL Teams, | KK Hockey | Permalink

by Paul on 05/04/21 at 06:14 PM ET
Comments (23)
NEW YORK, May 4, 2021 – The New York Rangers are extremely disappointed that Capitals forward Tom Wilson was not suspended for his horrifying act of violence last night at Madison Square Garden. Wilson is a repeat offender with a long history of these type of acts and we find it shocking that the NHL and their Department of Player Safety failed to take the appropriate action and suspend him indefinitely. Wilson's dangerous and reckless actions caused an injury to Artemi Panarin that will prevent him from playing again this season. We view this as a dereliction of duty by NHL Head of Player Safety, George Parros, and believe he is unfit to continue in his current role.
Filed in: NHL Teams, New York Rangers, | KK Hockey | Permalink

by Paul on 05/04/21 at 01:04 PM ET
Comments (4)
from Michael Russo of The Athletic,
The playoffs are obviously a different animal than the regular season, and the path to where the Wild want to ultimately get to this postseason will have to go through Vegas or Colorado, and, quite frankly, probably both.

But doesn't it feel like there's something different about this team and that something possibly special could be brewing with the Wild?

They've got threats on every line, including two bonafide game breakers in Kevin Fiala and Kirill Kaprizov. They've got a goalie in Cam Talbot that makes the clutch stops when it most matters. They've got one of the best shutdown centers in the league in Joel Eriksson Ek who also happens to be on a near 30-goal pace over an 82-game season. They've got guys with Stanley Cup pedigree such as super-handy Nick Bonino, who's consistently scoring, winning big draws and sacrificing his body to block shots. They've got defensive stalwarts such as Jonas Brodin, who in his ninth season is finally becoming an offensive threat.

Heck, even Victor Rask (yes, that Victor Rask) is making big plays of late.

Every time one counts this deep Wild team out, every time one questions their goaltending or the number of turnovers they commit or their thinness up the middle or confusing line combinations, the Wild find a new way to make the naysayers feel foolish.
Filed in: NHL Teams, Minnesota Wild, | KK Hockey | Permalink

by Paul on 05/04/21 at 12:29 PM ET
Comments (0)
A little over 3 minutes long.
Filed in: | KK Hockey | Permalink

by Paul on 05/04/21 at 11:05 AM ET
Comments (23)
NEW YORK (May 4, 2021) – Washington Capitals forward Tom Wilson has been fined $5,000, the maximum allowable under the Collective Bargaining Agreement, for roughing New York Rangers forward Pavel Buchnevich during NHL Game No. 814 in New York on Monday, May 3, the National Hockey League's Department of Player Safety announced today.
The incident occurred at 7:40 of the second period. Wilson was assessed two minor penalties for roughing and a 10-minute misconduct.
The money goes to the Players' Emergency Assistance Fund.
---
Filed in: NHL Teams, Washington Capitals, | KK Hockey | Permalink

by Paul on 05/04/21 at 09:54 AM ET
Comments (0)
from Paul Friesen of the Winnipeg Sun,
Now this is a losing streak with teeth.

The Winnipeg Jets' skid has taken on a life of its own, baring its fangs in Ottawa on Monday.

Make it seven: Jets find another way to lose

These things don't become living, breathing beasts until a team begins finding multiple ways to lose.

The Jets found a whole new way against the Senators: anemic on the power play, dominant at even strength but with just enough mistakes to ultimately wind up on the short end of a 2-1 score against a team out of playoff contention and playing its fifth goalie of the season.

Oh, and the dagger coming with just 1:13 to play.

You can almost hear the streak laughing as it grows, now seven games long – the ugliest run since this franchise relocated from Atlanta to Winnipeg.
Filed in: NHL Teams, Winnipeg Jets, | KK Hockey | Permalink

by Paul on 05/04/21 at 08:56 AM ET
Comments (0)
from Mark Spector of Sportsnet,
It has been inevitable for some time now, so it's easy for hockey fans in other markets to see the Edmonton Oilers clinch a playoff spot and simply shrug their shoulders.

But for long suffering Oilers fans, whose team has made the playoffs exactly five times now in this 21st century — and just twice in the past 14 seasons — it is time to stop, maybe crack a beer, and enjoy a long slow pull.

With a 5-3 win against the Vancouver Canucks Monday night, the Oilers clinched only their second playoff appearance since Connor McDavid joined the team six seasons ago. Even though they were a playoff lock when the pause hit last March, a loss in the Qualifying Round does not qualify as a playoff appearance.

That loss to Chicago counted for only one thing: a hard, embarrassing lesson that this Oilers team took to heart.

"Everyone left the bubble in a bad mood. No one felt great about where we were at, or how that series went," said McDavid, fresh off of lighting the Canucks up with two goals and four points. "It was a good moment to step back and learn from it. Learn what it takes to win."
Filed in: NHL Teams, Edmonton Oilers, | KK Hockey | Permalink

« Previous < 1 2 3 4 5 > Last › Next »
About Kukla's Korner Hockey
Paul Kukla founded Kukla's Korner in 2005 and the site has since become the must-read site on the 'net for all the latest happenings around the NHL.
From breaking news to in-depth stories around the league, KK Hockey is updated with fresh stories all day long and will bring you the latest news as quickly as possible.
Email Paul anytime at pk@kuklaskorner.com
Tweets by @kuklaskorner
Most Recent Blog Posts