Kukla's Korner Hockey
by Paul on 05/07/21 at 03:00 PM ET
Comments (0)
And speaking of three-on-three overtime, is anyone else enjoying it less this year? Or is it just me? Back before the coaches turned it into a tactical exercise, of constant regrouping — when it was a straight-out-exercise in trading chances — it was the best five minutes of any game. Now, it's been dulled down to the point, where it's marginally more interesting than the regulation 60 minutes, but nothing at all like the whirlwind it used to be.
-Eric Duhatschek of The Athletic where you can read ($$$) numerous topics including now what Rangers?
Filed in: NHL Teams, | KK Hockey | Permalink

by Paul on 05/07/21 at 01:10 PM ET
Comments (2)
Watch the incident below.
added 5:36pm, One game suspension for kneeing, watch the explanation below.
Filed in: NHL Teams, Vancouver Canucks, | KK Hockey | Permalink

by Paul on 05/07/21 at 11:48 AM ET
Comments (0)
13 minutes of your time.
Filed in: NHL Teams, | KK Hockey | Permalink

by Paul on 05/07/21 at 10:56 AM ET
Comments (4)
from the CP at TSN,
Canada is golden at the under-18 men's hockey championship after another strong performance from two of the youngest players at the tournament.

Led by 17-year-old captain Shane Wright and 15-year-old Connor Bedard, the Canadians beat Russia 5-3 on Thursday in the championship game, going undefeated along the way.

Wright had two goals and an assist while Bedard added a goal and a helper.

Brennan Othmann scored a highlight-reel between-the-legs goal for Canada, which got another from Logan Stankoven.

Benjamin Gaudreau made 31 saves and was named top goaltender at the 10-nation event.

Wright and Bedard — two of only seven players in Canadian Hockey League history to be granted exceptional player status to join major junior a year early — finished 2-3 in tournament scoring behind Russia's Matvei Michkov.
Below, watch the goals from Connor Bedard during the tournament, note the video may be taken down due to IIHF restrictions.
Bedard is 15 years old, eligible for the 2023 NHL Draft and is 5' 9", 185 lbs.
Filed in: Non-NHL Hockey, International Hockey, | KK Hockey | Permalink

by Paul on 05/07/21 at 10:30 AM ET
Comments (3)
from Ben Pope of the Chicago Sun-Times,
"It's the right decision because ESPN is the biggest sports platform in the United States, probably the world," Zadorov said. "It's definitely a step forward for us to sell the game. We're going to bring more people, more population to watch [us]. And it's a big step up with the money as well for us, which is going to help us in the future with the next [collective-bargaining agreement]."

The money is undoubtedly the biggest positive from a league-business standpoint. The NHL will net $645 million annually from ESPN and Turner, plus another roughly $400 million annually from its ongoing Rogers/Sportsnet contract in Canada. It previously received less than $300 million annually from its contracts with NBC and Disney (for online streaming).

The increased TV revenue will balance the books after a devastating financial year and help the salary cap rise again — although that isn't expected for another year or two.

"It'll be good to get some freshness after the year we all had with COVID and everything," Hawks forward Brett Connolly said. "It'll be different, but hopefully it's an advantage, which I think it will be."
Filed in: NHL Teams, Chicago Blackhawks, NHL Media, Hockey Broadcasting, | KK Hockey | Permalink

by Paul on 05/07/21 at 10:14 AM ET
Comments (0)
via the NHL's YouTube page,
A celebration of the weird moments across the NHL including a stubborn stick, mysterious goalie blunders, Brady Tkachuk's 'Frank the Tank' celly and more!
Filed in: | KK Hockey | Permalink

by Paul on 05/07/21 at 08:56 AM ET
Comments (0)
from Larry Brooks of the New York Post,
This wasn't about the state of the rebuild. This was about the state of the Rangers union. And Jim Dolan, the Executive Chairman of Madison Square Garden Sports Corp., was not comfortable with it. So he acted. Decisively.

"I saw a weakness in the team that was not being addressed and I knew it needed to be," Dolan told The Post during a telephone interview on Thursday in explaining why he dismissed president John Davidson and general manager Jeff Gorton. "I knew that we were missing a key component to us being a Stanley Cup contender.

"And that is the overall spirit and culture that goes with being a team. I believe that as good of a job as JD and Jeff have done, in speaking with them, it is clear to me that Chris Drury was going to be the right guy to lead the team forward."
from Neil Best of Newsday,
Filed in: NHL Teams, New York Rangers, | KK Hockey | Permalink

by Paul on 05/07/21 at 08:43 AM ET
Comments (11)
from Michael Traikos,
Now that the blood has dried and we're done shaking our collective fists at Tom Wilson, George Parros and the old-school culture of settling scores, can we please go back to marvelling at what Connor McDavid and Auston Matthews have done so far this season?

Can we talk about the emergence of Adam Fox as a Norris Trophy contender and the endurance of Sidney Crosby as one of the game's best players? Can we go back to debating whether Russian veteran Kirill Kaprizov should be considered a rookie and whether Patrick Marleau should have broken Gordie Howe's games-played record? Can we laugh about how badly run the Sabres are and how no one is safe from John Tortorella?

Can we return to our regular scheduled programming and highlight the amazing years that Joel Quenneville, Aleksander Barkov and Marc-Andre Fleury are having, as well as Buffalo goaltender Michael Houser's unbelievable journey from being left for dead in the ECHL to winning a couple of games in the NHL?

Can we focus on the hug that Nicklas Backstrom gave T.J. Oshie following a 4-2 win on Wednesday, rather than the cross-check that Pavel Buchnevich gave to Anthony Mantha in a fight-filled game?

Can we try to remember that the NHL isn't broken? That it's not a gong show or a sideshow or a poop-emoji show. That it's been entertaining and fun and exactly the kind of distraction we all needed in a difficult year of virus variants and slow-rolling vaccinations, and where the local lockdowns keep being extended to golf courses and pickleball courts.
Filed in: NHL Talk, | KK Hockey | Permalink

by Paul on 05/07/21 at 02:17 AM ET
Comments (0)
THREE HARD LAPS

* Auston Matthews reached 40 goals on the season, while Connor McDavid moved within four of the 100-point mark.

* Jeff Carter scored four times as the Penguins followed up a 7-3 win on Tuesday with an eight-goal outburst to move back into first place in the MassMutual East Division.

* Friday's slate is highlighted by Wild rookie Kirill Kaprizov looking to inch closer to the 30-goal mark, the 2020 Stanley Cup Finalists concluding their season series as well as the Honda West Division-leading Golden Knights and fourth-place Blues opening a back-to-back set in Las Vegas.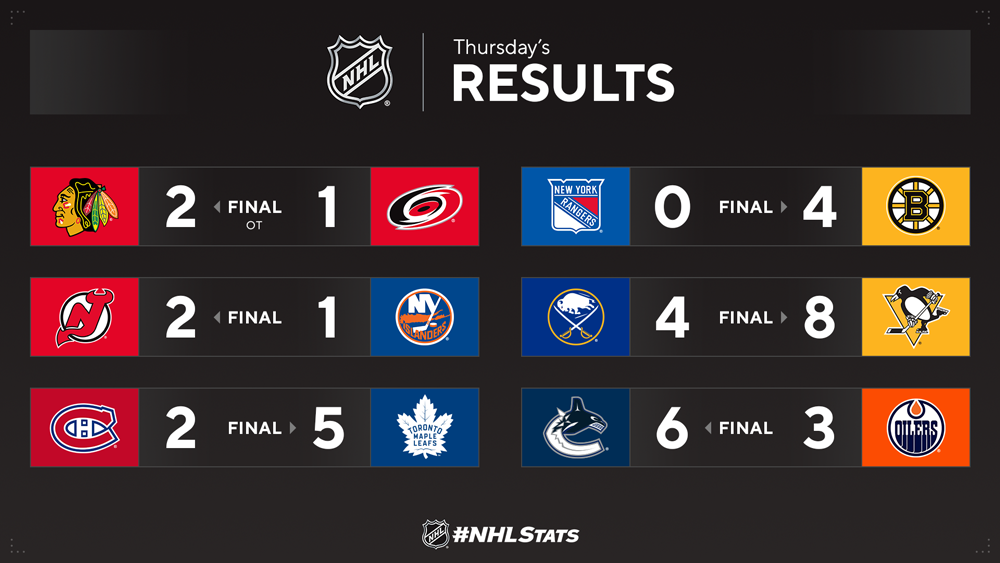 Filed in: NHL Teams, | KK Hockey | Permalink

by Paul on 05/06/21 at 06:30 PM ET
Comments (0)
How close are the Canucks and head coach Travis Green to signing a contract extension? Is there reason for optimism for NHL participation in the Olympics? TSN Hockey Insiders Darren Dreger and Pierre LeBrun discuss this and more.
Filed in: NHL Teams, NHL Talk, | KK Hockey | Permalink

« Previous < 1 2 3 4 > Last › Next »
About Kukla's Korner Hockey
Paul Kukla founded Kukla's Korner in 2005 and the site has since become the must-read site on the 'net for all the latest happenings around the NHL.
From breaking news to in-depth stories around the league, KK Hockey is updated with fresh stories all day long and will bring you the latest news as quickly as possible.
Email Paul anytime at pk@kuklaskorner.com
Tweets by @kuklaskorner
Most Recent Blog Posts