Kukla's Korner Hockey
by Paul on 05/23/22 at 09:45 PM ET
Comments (0)
The HNIC panel breakdown the two no-goals in the seond period of the Tampa/Florida game.
Filed in: NHL Teams, Florida Panthers, Tampa Bay Lightning, | KK Hockey | Permalink

by Paul on 05/23/22 at 06:45 PM ET
Comments (13)
Have the Florida Panther recovered from their 5-1 loss yesterday? To me, the look confused and unmotivated. A loss will mean a 4 game sweep by the Lightning.
With a win tonight, the Colorado Avalanche will have a chance to wrap up the series in Colorodo on Wednesday.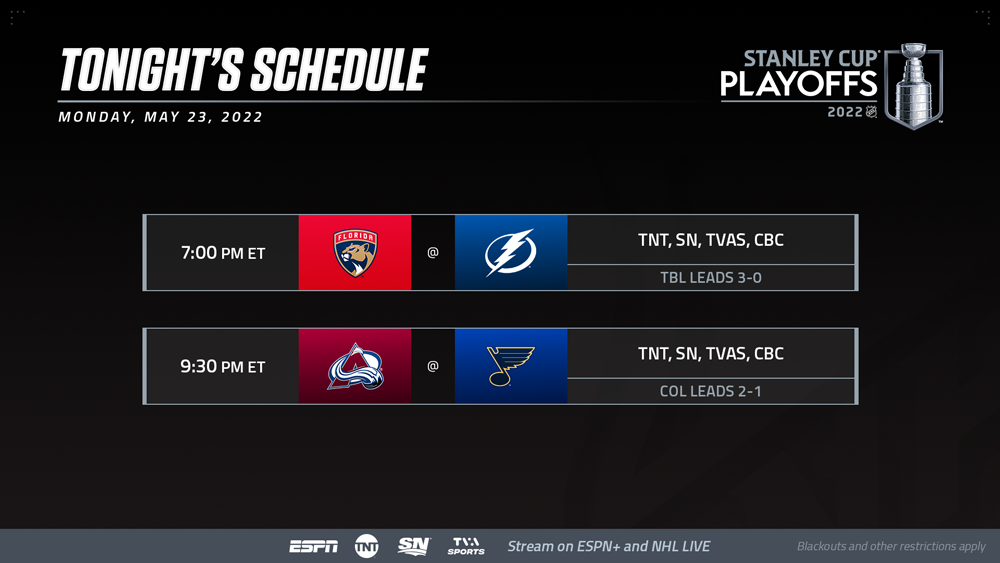 Filed in: NHL Teams, | KK Hockey | Permalink

by Paul on 05/23/22 at 06:07 PM ET
Comments (2)
from Luke Fox of Sportsnet,
During those heady days following the trade deadline, when the Toronto Maple Leafs' defence corps was in the throes of an instant boost from its newest and oldest recruit, coach Sheldon Keefe considered the best aspect of Mark Giordano's game.

"He puts out fires," Keefe concluded of the wily, steady veteran and seamless fit.

Well, another long, handwringing, cap-crunching summer in Leafland hadn't yet reached a week old, and there was Giordano wielding a fire extinguisher, hosing down a balance sheet that has glowing embers everywhere you look.

By taking a severe hometown discount Sunday and signing a two-year, $1.6-million extension, Giordano left general manager Kyle Dubas "thrilled."
Filed in: NHL Teams, Toronto Maple Leafs, | KK Hockey | Permalink

by Paul on 05/23/22 at 01:26 PM ET
Comments (0)
Five minutes to watch.
Filed in: NHL Teams, | KK Hockey | Permalink

by Paul on 05/23/22 at 10:55 AM ET
Comments (0)
NEW YORK (May 23, 2022) – Tampa Bay Lightning forward Brandon Hagel has been fined $3,750, the maximum allowable under the Collective Bargaining Agreement, for boarding Florida Panthers forward Eetu Luostarinen during Game 3 of the teams' Second Round series in Tampa on Sunday, May 22, the National Hockey League's Department of Player Safety announced today.
The incident occurred at 15:27 of the first period. Hagel was assessed a minor penalty for cross-checking.
---
Watch below.
Filed in: NHL Teams, Tampa Bay Lightning, | KK Hockey | Permalink

by Paul on 05/23/22 at 03:06 AM ET
Comments (2)
from Dave Hyde of the Sun-Sentinel,
One goal. That's it. That's all the Florida Panthers scored again. Just one. There's no need to belabor the point by now, especially since it's just one lonely point.

The record-setting Panthers scored one goal in only three of 82 regular-season games.

They've now scored one in all three losses to Tampa Bay this playoff series after Sunday's 5-1 loss in Game 3.

Frustrated? Sure, that was evident by their play, as well as their words afterward. But maybe they're exposed, too, as a pretty team that lacks enough blue-collar grit in the playoffs.

"They have more will and more desire than we do,'' Panthers coach Andrew Brunette said after the loss. "It shows if you watch the game, shift after shift right now. We need to dial it in deeper and harder and want it more."

That's the kind of thing you don't expect to hear from the team that had just lost the opening two games of this series at home. You expected frenzied desperation, unbridled passion.
Below are the game highlights.
Filed in: NHL Teams, Florida Panthers, | KK Hockey | Permalink

by Paul on 05/23/22 at 02:57 AM ET
Comments (0)
from Larry Brooks of the New York Post,
Chants of "Igor! Igor! Igor!" resounded through the Garden midway through the second period of this win-or-else Game 3 of the second round.

Nino Niederreiter had just scored a goal.

Had scored a relatively soft goal for Carolina that fluttered through on the short side that cut the Rangers' lead to 2-1, that is.

Yet the salute to the goaltender — who had been the Rangers' MVP throughout the season and whose work early in this one had allowed his team to gain its equilibrium in the series — filled the round building as if he'd just made a breakaway save on Tony DeAngelo.

"I'd like to thank the fans for the energy they provided," Igor Shesterkin said through a translator. "They supported me even though I kind of let them down in that one spot, but the energy at MSG is always great, they're always charged up and I can't thank them enough for that."

When the mutual admiration society meets at the Garden on Tuesday for Game 4, the Rangers will seek to square this round at 2-all in the wake of Sunday's 3-1 victory in which Shesterkin put his stamp on the series and the Blueshirts' marquee forwards also made an impression after being marked absent for the opening two matches in Carolina.
Highlights are below.
Filed in: NHL Teams, New York Rangers, | KK Hockey | Permalink

by Paul on 05/23/22 at 02:43 AM ET
Comments (4)
from Robert Tychkowski of the Edmont Sun,
Sunday night in Edmonton wasn't so much a playoff game as it was a party, with jubilant fans celebrating the sweetest public beating the Oilers have ever administered in Rogers Place.

They didn't just beat the Calgary Flames in Game 3 of their playoff series, they dismantled them in a lopsided show of force that left the visitors rattled and embarrassed, searching for answers they might not have.

Edmonton's big guns simply ran Calgary's show in a 4-1 victory. Evander Kane had a natural hat-trick, Leon Draisaitl had four assists. Connor McDavid had three assists on the night for nine points in three games.
from Sportsnet,
Calgary Flames forward Milan Lucic was assessed a five-minute major and ejected from Game 3 on Sunday night in Edmonton when he bowled over Oilers goalie Mike Smith in the third period.

After Lucic departed, Smith was temporarily removed from the game due to concussion protocol and went to the dressing room with trainers, prompting the Oilers to place Mikko Koskinen in goal. But Smith returned after four minutes of play had passed. The Oilers were leading 4-0 at the time.

"I don't really know what happened," Smith said after the game. "I was out playing the puck and all of a sudden I'm getting buried into the boards … When you're getting run through the end wall and not expecting it, it's not an ideal situation."...

Flames head coach Darryl Sutter didn't agree with the call.

"They called it charging, correct?" he said after the game. "Could you imagine if (Lucic) did charge? What would happen there? He actually tried to slow down a bit, I think. It is what it is. It's the score and who it was."
Below watch the game highlights and the chargng call against Lucic.
Filed in: NHL Teams, Calgary Flames, Edmonton Oilers, | KK Hockey | Permalink

by Paul on 05/23/22 at 02:10 AM ET
Comments (0)
* The trio of Leon Draisaitl, Evander Kane and Connor McDavid propelled a second-period outburst by the Oilers and have now combined for 55 points through Edmonton's first 10 games of the 2022 Stanley Cup Playoffs.

* Nikita Kucherov posted his fourth career four-point playoff game to guide the Lightning to a 3-0 series lead against the Panthers, with the opportunity to advance to the Conference Finals on Monday.

* Igor Shesterkin improved to 11-1 in his career when making 40-plus saves in a game (regular season and playoffs combined), with his only loss coming in New York's triple overtime loss to Pittsburgh in the First Round.



Filed in: NHL Teams, | KK Hockey | Permalink

by Paul on 05/22/22 at 07:05 PM ET
Comments (1)
from Sportsnet,
The Colorado Avalanche say local law enforcement are working with the NHL team to investigate threats made to forward Nazem Kadri after Game 3 of a Western Conference semifinal against the host St. Louis Blues on Saturday.

"The Avalanche organization is aware of threats made toward Nazem Kadri and is working with local law enforcement to investigate," the team said in a statement on Sunday.

Kadri, while chasing a loose puck, bowled over Blues goalie Jordan Binnington in the first period.

The Blues announced Sunday that Binnington will miss the rest of the series with a lower-body injury.
Filed in: NHL Teams, Colorado Avalanche, St. Louis Blues, | KK Hockey | Permalink

About Kukla's Korner Hockey
Paul Kukla founded Kukla's Korner in 2005 and the site has since become the must-read site on the 'net for all the latest happenings around the NHL.
From breaking news to in-depth stories around the league, KK Hockey is updated with fresh stories all day long and will bring you the latest news as quickly as possible.
Email Paul anytime at pk@kuklaskorner.com
Tweets by @kuklaskorner
Recent Blog Posts (Page 2)