05/14/22 at 04:15 PM ET | Comments (13)
3 game 7's today. That's all you need to know.
Enjoy!
Below find some Game 7 tidbits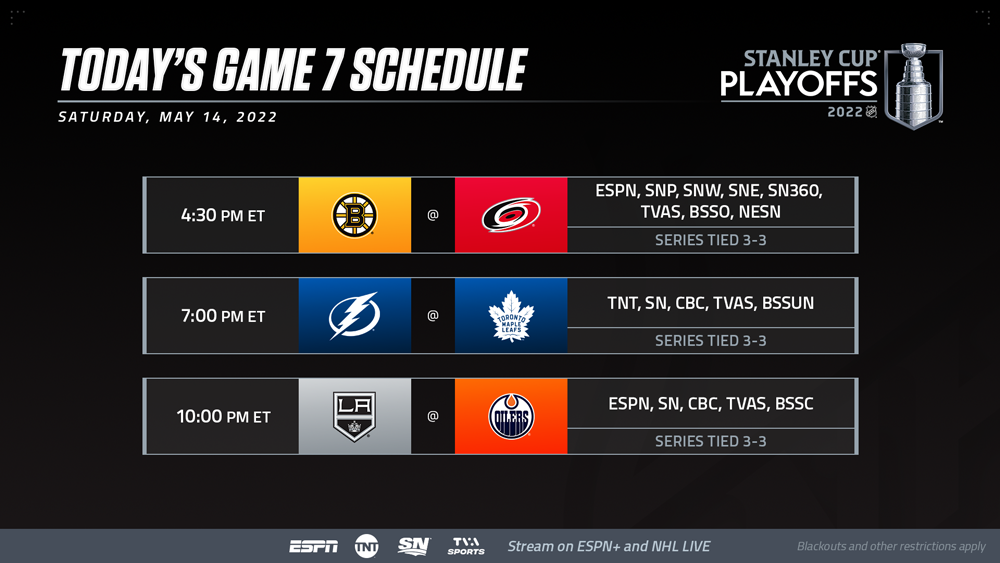 Filed in: | KK Hockey | Permalink

05/14/22 at 01:56 PM ET | Comments (0)
The year 2022 will always be remembered as the year when Finland won its first Olympic gold in history of ice hockey. A goal from Hannes Bjorninen early in the third period lifted Finland to the final Olympic step they were missing. That goal completed the comeback against the Russian Olympic Committee team, who had gone ahead in the first half with a goal from Mikhail Grigorienko, saved by Villa Pokka in the second period. The victory represents a huge success for the Nordic country, which also won the bronze medal in the women's competition.
Source: Pixabay
Filed in: | KK Hockey | Permalink

Blog: Abel to Yzerman By Paul
05/14/22 at 12:35 PM ET | Comments (0)
from Ted Kulfan of the Detroit News,
There's little consensus in six national NHL mock drafts when the Detroit Red Wings make the eighth overall pick in the first round of the draft in Montreal on July 7.

Six players were selected from Finland, Sweden, Russia, Canada and the United States, including Mount Clemens native Frank Nazar of the National Team Development Program based in Plymouth.

The other players are: Winnipeg center Matthew Savoie, Sweden right winger Jonathan Lekkerimaki, Finland right winger Joakim Kemmel, Russia right winger Dani Yorov and USA Hockey right winger Jimmy Snuggerud.
continued ($)
Filed in: | Abel to Yzerman | Permalink

05/14/22 at 12:07 PM ET | Comments (2)
from Steve Simmons of the Toronto Sun,
Overtime goals are rarely acts of beauty.

They are often shots of desperation, pucks banged at, not aimed, with bodies piled up around the net.

That kind of desperate play is why the Tampa Bay Lightning won Game 6 in overtime. It may be the real difference between the Maple Leafs and the Stanley Cup-champion Lightning through six games of a highly competitive back-and-forth first-round playoff series.

The Leafs may have dominated overtime up until the point of Brayden Point's bang-bang winning goal.

Just as they dominated overtime in Game 6 a year ago against a lesser team from Montreal, then turned the puck over once and lost the game and, eventually, the series.

With all of their goal-scoring skill, what the Leafs can lack at big moments is the kind of desperation the Lightning has shown in this series and in the previous two playoff runs as champions of the National Hockey League. It may sound cliche, but it isn't. It's the difference between winning a series and losing it. There is nowhere to mark 'desperation' on the game sheet, but you can see it and coach Jon Cooper demands it from his players — pucks to the net, go to the net.
Filed in: NHL Teams, Toronto Maple Leafs, | KK Hockey | Permalink

05/14/22 at 11:59 AM ET | Comments (0)
from the CP at TSN,
The players dream of it. The fans look forward to it.

Game 7.

And on Saturday, there will be three of them.

The NHL is wrapping up the first round of the playoffs with a rare treat: back-to-back-to-back seventh games that will go a long way toward shaping the conference semifinals.

The Carolina Hurricanes will host Boston in a matinee, followed by the two-time defending champion Lightning at Toronto and the Kings in Edmonton. It's the first Game 7 tripleheader since 2014.

"It's going to be juicy," Oilers forward said after scoring twice in a 4-2 win that forced Game 7 against the Kings.

There could be more Game 7s on Sunday, with three other series at 3-2 heading into Friday night. The most Game 7s ever in a single round was six in 1992.

"It's what's at stake, is the biggest thing. Everything's on the line," Bruins captain said Friday. "It brings back memories of why you play the game."
Filed in: NHL Teams, | KK Hockey | Permalink

05/14/22 at 11:53 AM ET | Comments (1)
from Matt Porter of the Boston Globe,
- Tony Amonte scored 416 goals as a speedy winger, but the Hingham product might have been going a little too hard on the forecheck during an NBC Sports Boston segment after Bruins-Hurricanes Game 6. Noting that Bergeron's former agent, Kent Hughes, is now Montreal's GM and that Bergeron "grew up watching the Canadiens," Amonte claimed Bergeron will finish his career with the Habs. "I've heard a little bit," Amonte said, sounding less than confident in his take. "Rumblings have been going on. People have been talking a little bit." There's a better chance Tom Brady finishes his career with the Expos.

- Could see Winnipeg leaning into the hard-to-play-against style of Barry Trotz (who, yes, hails from Dauphin, Manitoba). No team with a vacancy could use Trotz more than the Flyers, who have lost their way.

- A first-round exit was a stinger for Minnesota, which got seven goals in six games from budding superstar Kirill Kaprizov but couldn't get past the Blues. Roster-wise, the Wild are in decent shape, with a fair amount of good contracts around Kaprizov (47 goals, 108 points in the regular season). No better example than center Ryan Hartman, who delivered 34 goals and 65 points at a $1.7 million price tag. But GM Bill Guerin might be hamstrung by last offseason's buyouts of Ryan Suter and Zach Parise, whose combined cap hit jumps to more than $12 million next season (and $14 million in 2024 and '25).
more notes and other hockey topics too...
Filed in: NHL Teams, | KK Hockey | Permalink

05/14/22 at 10:51 AM ET | Comments (5)
Big hit on Luke Glendening but he did return to the game.
Below watch a scrum near the end of the game.
Filed in: NHL Teams, Calgary Flames, Dallas Stars, | KK Hockey | Permalink

05/14/22 at 10:38 AM ET | Comments (0)
from Mark Spector of Sportsnet,
"You look at any team that's won, and it starts with a disappointment. We'll be back." — Connor McDavid, in 2017

EDMONTON — The irony of that quote is, five years later, the Edmonton Oilers have not yet found their way out of the disappointment business. But at the same time, they ARE back.

Back to another Game 7, like that 2-1, Game 7 second-round loss in Anaheim that left a 20-year-old McDavid so bullish on his team's immediate future, as impossibly rosy as it must have seemed that day.

"Come next season," McDavid promised that night, "we'll find ourselves in a similar spot. And we'll be able to look back on this, feel that disappointment, and know ... how much that sucked."

Well, it's five years later, but here we are. Better late than never, it may be the only time McDavid ever did anything slow on a hockey rink.

Sometimes life gives us a special moment right out of the blue. Other times, like a Game 7 at home on a Saturday night in May, you see the moment coming – you're just not sure what kind of moment it will be. What emotion the lasting memory will evoke, elation or dread?

Will it cut like a knife to the heart, or a blood bond between brothers? Either way, it is never to be forgotten.
Filed in: NHL Teams, Edmonton Oilers, | KK Hockey | Permalink

05/14/22 at 09:14 AM ET | Comments (0)
from George Richards of Florida Hockey Now,
Before the Florida Panthers beat the Capitals in overtime on Friday night, Jonathan Huberdeau had not experienced any sort of playoff success since his days with Gerard Gallant and the Saint John Sea Dogs of the Quebec Major Junior Hockey League.

Sasha Barkov last won in the postseason while in Finland.

Aaron Ekblad?

Well, his Barrie Colts team was pretty good.

But when it came to the Panthers, these three — the core of the Panthers' youth movement of the 2010s — had never been on a Florida team which got out of the first round.

So, when those guys lined up for the postgame handshake moments after Carter Verhaeghe won Game 6 in overtime, you can bet they enjoyed it.

For the first time, we might add.

"It was, obviously, different being on the other side," Huberdeau said. "It's the best way."
Game highlights and handshakes are here.
Filed in: NHL Teams, Florida Panthers, | KK Hockey | Permalink

05/14/22 at 08:57 AM ET | Comments (0)
from Larry Brooks of the New York Post,
Sidney Crosby did not play, the Penguins had their third-string goaltender back in net, Rickard Rakell and Brian Dumoulin remained sidelined and then Brian Boyle left the game for good early in the first period.

But do you know what? There will be no asterisk attached to this 5-3 Game 6 victory the Rangers achieved after overcoming a 2-0 first-period deficit. There will be no asterisk attached to Game 7 of this first-round series, which will be contested at the Garden on Sunday.

The Blueshirts earned this one just as they earned the Game 5 victory at home on Wednesday, also after climbing out of a 2-0 hole following Crosby's exit from the match midway through the second period in the wake of Jacob Trouba's endlessly dissected hit.

Of course, the absence of Crosby — who was playing at his highest level in perhaps more than a decade — has had a profound effect on the direction of this series. But it's not as if the Rangers were handed anything.

On the contrary, the Rangers were in the position where they needed to take advantage of this development in the way they had not been able to take advantage of facing Louis Domingue in nets.
Below are the game highlights.
Filed in: NHL Teams, New York Rangers, | KK Hockey | Permalink

« Previous ‹ First < 7 8 9 10 11 > Last › Next »
About Kukla's Korner
Kukla's Korner is updated around the clock with the work of our own talented bloggers, plus links to the best hockey writing around the internet. We strive to bring you all the breaking hockey news as it happens.
The home page allows you to see the latest postings from every blog on the site. Subscribe here. For general inquiries and more, please contact us anytime.
Most Recent Posts
Most Recent Comments