Blog: Abel to Yzerman By Paul
06/24/22 at 01:08 PM ET | Comments (1)
from Nolan Bianchi of the Detroit News,
There will be times when a scene cuts and you realize that your nails are dug into the palm of fist-shaped hands. Assuredly, you will catch yourself smiling at the demise of Claude Lemieux. There's a decent chance you'll cry.

No matter which direction it moves you, "E60: Unrivaled" will move you. It will rock you, roll you and rip your Red Wings heart in two.

The Detroit News received an advanced screening of the ESPN documentary detailing the Detroit Red Wings-Colorado Avalanche rivalry, which will air for the first time at a viewing party at Little Caesars Arena on Saturday and nationwide on Sunday at 1 p.m. on ESPN.

Despite the emotional charge this documentary provides, "Unrivaled," to some degree, feels unfinished. See what we mean in this spoiler-free look, as we give you five things to watch for when it airs this weekend.
added 2:32pm, below watch Mo Seider's day at the NHL Awards Show///
Filed in: | Abel to Yzerman | Permalink

06/24/22 at 11:25 AM ET | Comments (0)
Filed in: NHL Teams, Chicago Blackhawks, | KK Hockey | Permalink

Blog: Above the Glass By Paul
06/24/22 at 11:22 AM ET | Comments (0)
via the YouTube page of the Detroit Red Wings,
Jim Devellano, Red Wings senior vice president & alternate governor, talks about building the Red Wings Stanley Cup teams in the 90's, including drafting Steve Yzerman, Nicklas Lidstrom, Sergei Fedorov, and more.
Filed in: | Above the Glass | Permalink

Blog: Abel to Yzerman By Paul
06/24/22 at 09:34 AM ET | Comments (4)
DETROIT – The Detroit Red Wings today signed goaltender Victor Brattstrom to a one-year contract extension.
Filed in: | Abel to Yzerman | Permalink

06/24/22 at 09:01 AM ET | Comments (0)
from Steve Conroy of the Boston Herald,
The Bruins have not faced this much uncertainty since the organization dumped GM Mike O'Connell at the end of 2005-06, just a few months after he traded perceived cornerstone player Joe Thornton.

As we await the puffs of white smoke to appear over Causeway Street announcing the B's new coach – whether it be Jay Leach, David Quinn, Jim Montgomery or some other unforeseen candidate — a new bench boss is just one of a few mammoth issues facing this organization. There's the fact that the B's will be without two of their best players — Brad Marchand and Charlie McAvoy — until possibly Thanksgiving. There's the uncertain future of David Pastrnak, set to become a UFA after this upcoming season.

And then there's the issue that could most immediately affect how the club approaches its presumed reset/retool/rebuild, whatever you want to call it. That's the looming decision for Patrice Bergeron on whether he wants to continue playing or not.

Which way is he going to go? Well, we're still in the clue-sifting stage. But it's worth noting that over this past week, a couple of well-placed league sources believe that Bergeron does indeed want to return for one more season.
Filed in: NHL Teams, Boston Bruins, | KK Hockey | Permalink

Blog: Abel to Yzerman By Paul
06/24/22 at 04:43 AM ET | Comments (0)
from Bob Duff of Detroit Hockey Now,
Detroit Red Wings forward Lucas Raymond was wanting to play for Sweden at the August IIHF World Junior Championship. Swedish coach Tomas Monten was wanting to include Raymond as part of his squad.

According to Monten, it was the Red Wings who were ultimately making the decision to keep Raymond from participating in the event. The New Jersey Devils are also declining to make forward Alexander Holtz available.

"I have had an ongoing dialogue with them but unfortunately Lucas and Alex will not play," Monten told Swedish wesbite Expressen.se. "Detroit and New Jersey think the tournament is wrong in time to be optimal in their recharge."
Filed in: | Abel to Yzerman | Permalink

06/24/22 at 04:35 AM ET | Comments (0)
* With just three losses to date, the Avalanche can join elite company should they defeat the Lightning in Game 5 and capture the third Stanley Cup in franchise history.
* Nathan MacKinnon leads his teammates with 15 career points in potential series-clinching games. Only four players have recorded more points in that scenario since the Avalanche forward made his postseason debut in 2014.
* The Lightning are facing elimination for the third time in the 2022 Stanley Cup Playoffs, following 4-3 (OT) and 2-1 victories in the First Round against Toronto, and just the fourth time since 2020 (also Game 4 of 2021 SCSF vs. NYI: 1-0 W).
* ABC's broadcast of Game 4 between the Lightning and Avalanche was the most-viewed telecast of the day on Wednesday, with 4.6 million average viewers and 5.8 million peak viewers. Overall, the 2022 Stanley Cup Final is averaging 4.2 million viewers, up 67% from last year.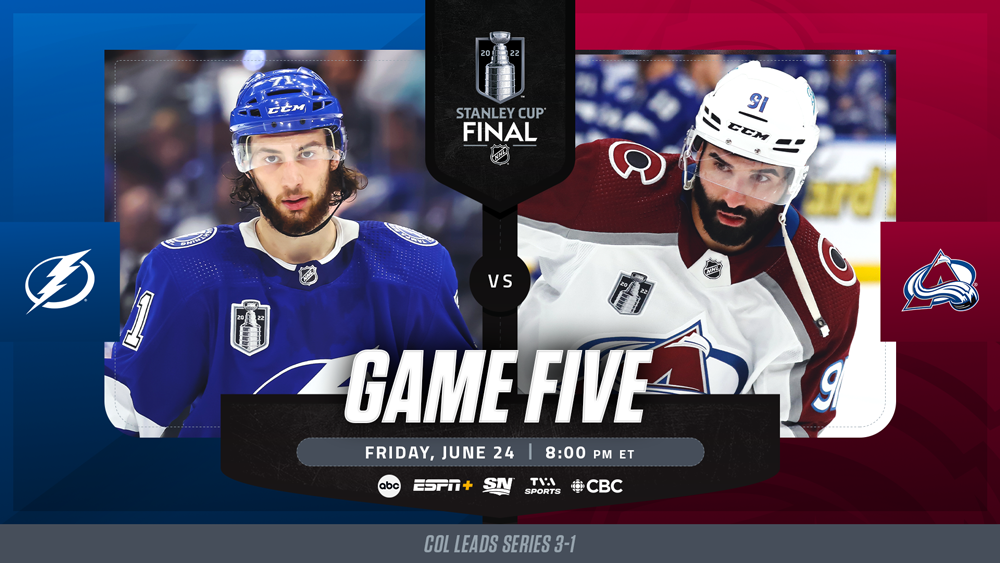 Filed in: NHL Teams, | KK Hockey | Permalink

06/23/22 at 12:50 PM ET | Comments (2)
Filed in: NHL Teams, Tampa Bay Lightning, | KK Hockey | Permalink

06/23/22 at 08:57 AM ET | Comments (7)
NEW YORK, N.Y./TORONTO, ONT. (June 23, 2022) – The National Hockey League Players' Association (NHLPA), the National Hockey League (NHL®), the NHL Alumni Association (NHLAA) and non-fungible token (NFT) distribution platform Sweet today announced a new multiyear partnership naming Sweet the Official NFT Digital Collectibles Marketplace and an Official NFT partner of the NHL, NHLPA and NHLAA.
The Sweet-operated NHL marketplace will focus on providing the entire community of NHL fans and collectors with a unique and valuable engagement experience through the opportunity to buy, sell, collect and trade never-before-offered pieces of NHL history.
Filed in: | KK Hockey | Permalink

Blog: Abel to Yzerman By Paul
06/23/22 at 08:09 AM ET | Comments (14)
from Helene St. James of the Detroit Free Press,
Given how much time he has had to interview available candidates, Yzerman may be waiting for the Stanley Cup Final to end so he can talk to Derek Lalonde, who has been an assistant coach with the Tampa Bay Lightning since Yzerman's last year with the team. Lalonde, mentioned early on as a candidate by the Free Press, was an assistant at Ferris State early in his coaching career, and has been a head coach at the USHL and ECHL level. He coached in the latter with the Toledo Walleye from 2014-16, before Yzerman's return to Detroit but during Toledo's affiliation with the Wings. During his first season, Lalonde led the Walleye to a 50-15-5-2 record, claiming the Brabham Cup as the ECHL's regular-season champion. Before being hired in Tampa in 2018, Lalonde was head coach for two seasons in the AHL with the Iowa Wild. During his tenure (69-58-17-8), the Wild posted team records for wins, home wins, road wins, fewest losses and total points in a season.

Yzerman plucked coaches from the AHL the two times he hired head coaches in Tampa: Guy Boucher in 2010, and, after firing him in 2013, Jon Cooper, the former Lansing Catholic coach who has the Lightning competing for a third straight Stanley Cup. Yzerman may see a situation in Detroit ideal for doing so again: The Wings are in a transitional stage, ready to take the next step in the rebuild but not yet at contender status. Lalonde, 49, doesn't have the leverage or salary demands of high-profile coaches such as Quenneville or Barry Trotz. Lalonde could be hired on a two- or three-year deal, giving Yzerman an opportunity to see if he can improve the Wings defensively, which was one of the chief criticisms Yzerman leveled at Blashill in announcing the coaching change.
Filed in: | Abel to Yzerman | Permalink

« Previous ‹ First < 5 6 7 8 9 > Last › Next »
About Kukla's Korner
Kukla's Korner is updated around the clock with the work of our own talented bloggers, plus links to the best hockey writing around the internet. We strive to bring you all the breaking hockey news as it happens.
The home page allows you to see the latest postings from every blog on the site. Subscribe here. For general inquiries and more, please contact us anytime.
Most Recent Posts
Most Recent Comments