05/21/22 at 03:40 AM ET | Comments (0)
The St. Louis Blues return home on Saturday night to face the Colorado Avalanche with the series tied 1-1.
Betway has the odds on the game and to me this is pick em game.
The Blues now know they can beat the Avs after winning their first five postseason games.
Ben Frederickson of the St. Louis Post-Dispatch on game 2...
Colorado can be beaten.

Can you believe it?

One loss, one win and what seemed like an avalanche of change in between.

After the Blues played passenger in their Game 1 loss of this second-round playoff series and before they grabbed the wheel in Thursday's Game 2 win, coach Craig Berube sat his players down for a video review of Game 1 moments that just looked wrong. Preparation for Saturday's Game 3 should be more fun. Berube can point to three periods full of Game 2 moments that just looked right.

When one says the Blues found their game in Game 2, this is what it looks like.

It looks like Vladimir Tarasenko sacrificing his body to block a Samuel Girard shot with a minute left in a game the Blues led by three goals. The Blues played this one through the final horn. Tarasenko's sacrifice was symbolic. No letting up. That's Berube hockey in a nutshell. If Brayden Schenn's first-period wallop of Colorado star Nathan MacKinnon set the tone from the start, Tarasenko's selflessness toward the end set the tone for Game 3. The Blues refused to hit cruise control before heading home.
Filed in: | KK Hockey | Permalink

05/20/22 at 07:45 PM ET | Comments (7)
Both home teams are 1-0 going into game 2 and would like to go on the road up 2-0.
Will they?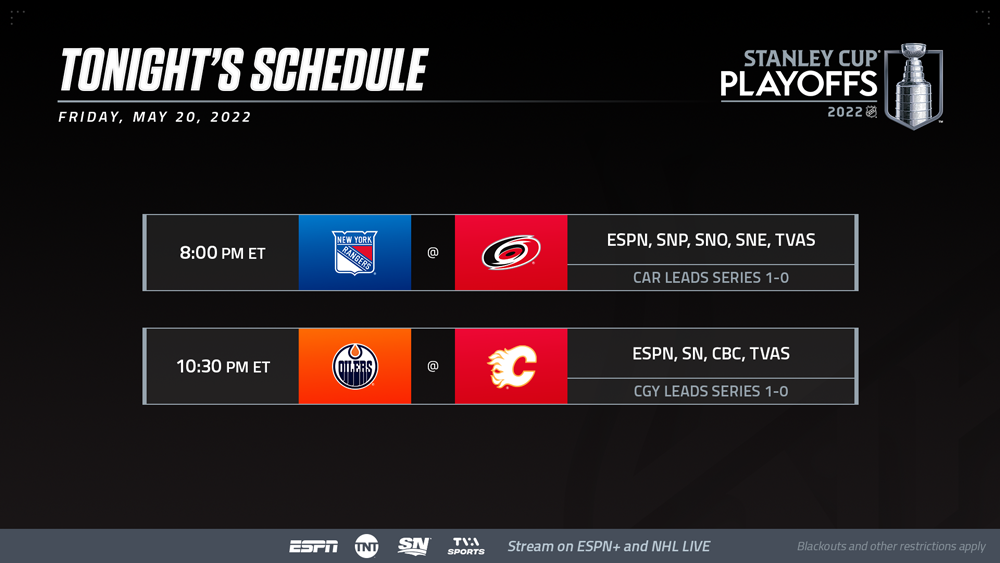 Filed in: NHL Teams, | KK Hockey | Permalink

Blog: Abel to Yzerman By Paul
05/20/22 at 06:44 PM ET | Comments (4)
from Kevin Allen of Detroit Hockey Now,
What Does His Detroit Future Hold?
Rasmussen is among the Detroit players who made the most progress this season. After his slow start, he started to grown more comfortable in his role as third line center. Over the course of the season, he became more physical. a better defensive forward and ultimately an improved scorer.

"I think (the season) was positive overall," Rasmussen said. "I took a lot of strides in the right direction, got better at some stuff I needed to get better at. Just gained more experience. Individually it was good for me."

The Red Wings would like to keep him at center, but haven't ruled out playing him on wing. Rasmussen said he has no preference for wing or center. The expectation is still that he could become a valuable net-front presence on the power play.

But if he stays at No. 3 center and contributes 16-20 goals and is difficult to play against the Red Wings would be satisfied. By the end of the year, Rasmussen was playing a Jordan Staal-style game. In the last month of his season, when he was playing his best hockey, it was fair to wonder whether he might be able to be a second line winger or even a middle six forward who slides between lines depending upon the competition or situation.

With a new coach coming aboard, Rasmussen has a blank slate to expand his opportunity.
Filed in: | Abel to Yzerman | Permalink

05/20/22 at 02:16 PM ET | Comments (3)
FRISCO, Texas – Dallas Stars Head Coach Rick Bowness announced that he will be stepping away as Head Coach of the Dallas Stars effective immediately. Additionally, General Manager Jim Nill announced that assistant coaches John Stevens, Derek Laxdal and Todd Nelson will not return next season.
"After careful consideration with my wife Judy, we feel it's best to step away and allow the organization the opportunity to pursue a different direction at the head coaching position," said Bowness. "I'd like to thank all the passionate fans and the dedicated staff for their support and hard work in my time here. It has been an honor for me, and my family, to represent the Stars and the city of Dallas."
Filed in: NHL Teams, Dallas Stars, | KK Hockey | Permalink

05/20/22 at 12:07 PM ET | Comments (0)
Filed in: NHL Teams, New York Rangers, | KK Hockey | Permalink

05/20/22 at 11:52 AM ET | Comments (0)
NEW YORK (May 20, 2022) – Anaheim Ducks center Ryan Getzlaf, Edmonton Oilers defenseman Darnell Nurse and New Jersey Devils defenseman P.K. Subban are the three finalists for the 2021‑22 King Clancy Memorial Trophy, which is presented "to the player who best exemplifies leadership qualities on and off the ice and has made a noteworthy humanitarian contribution in his community," the National Hockey League announced today.
Each NHL team nominated a player for the King Clancy Trophy, with the three finalists and winner chosen by a committee of senior NHL executives led by Commissioner Gary Bettman and Deputy Commissioner Bill Daly.
The selection committee applies the following criteria in determining the finalists and winner:
Filed in: NHL Teams, | KK Hockey | Permalink

05/20/22 at 09:54 AM ET | Comments (2)
from Mark Kiszla of the Denver Post,
Is this series over? Far from it.

But am I calling out Bednar for not having his team ready to play, allowing the Avs to whiff at the chance to grab this series by the throat?

Abso-freakin-lutely.

Bednar is blessed with by far the most talented roster of any professional team in Denver. But the Avs couldn't have played with less passion or less sense of purpose if they were coached by Uncle Vic Fangio. If the Broncos came out flat for a big game, the uproar in this town might cause Mt. Evans to crumble.

Is Bednar, who has never found a way to win more than one playoff series in any of his previous five seasons on the Colorado bench, coated in Teflon?

From the jump of Game 2, Colorado had none. When the most star-studded team in the NHL is so uninspired that center Nathan MacKinnon and the fellas looked as if they were skating in a Slurpee, whose fault is that?
Filed in: NHL Teams, Colorado Avalanche, | KK Hockey | Permalink

05/20/22 at 09:40 AM ET | Comments (3)
from George Richards of Florida Hockey Now,
History is repeating itself for the Florida Panthers.

And we're not going back to the 90s, either.

Just 2021.

For the second straight playoff, the Panthers find themselves down 2-0 to the defending Stanley Cup champion Tampa Bay Lightning after playing two games at home.

The reasons why they are down in the series differ.

At least a little bit.

In 2021, the Panthers let a 4-3 lead slip away in the third period of Game 1. That lead to the benching of Sergei Bobrovsky in Game 2 where Chris Driedger allowed three goals on 29 shots in a 3-1 loss.

This time around, it appears the Panthers are having an identity crisis.
Filed in: NHL Teams, Florida Panthers, | KK Hockey | Permalink

05/20/22 at 08:54 AM ET | Comments (4)
KK 2.0 Update: This project has taken way too long but I understand this was not a normal upgrade due to how KK was basically held together with patches and band aids.
This from our developer-
We've finalized the updates so we can get all the content over correctly. We're going to go through it now and finish importing content.
I should be in touch with a few of the KK members who emailed to be beta testers soon.
---
I know some of you don't enjoy the gambling ads which have boomed throughout the hockey world in the past year and I have turned down many of these types of ads.
I recently received an offer that was just too hard to pass up. These ads will appear in normal looking posts with one link to the advertisers sit. Some days you will see one or two posts, some days there will be none. This is a quick campaign and will be completed within two weeks.
---
I will be away from my computer today from 10:45am until noon today for a scheduled appointment with my doctor.
Filed in: KK Website Business, | KK Hockey | Permalink

05/20/22 at 08:20 AM ET | Comments (0)
When deciding what team to place a bet at Betway between Edmonton and Calgary, you have to think the best goaltending will win, especially after a 9-6 win by Calgary in their first game of the second round matchup.
Woodcroft might be facing a goaltending crisis. So, like any National Hockey League coach, he did what he could to shine the spotlight as far from his own crease as possible. Two hundred feet away, where Markstrom was well below average in Game 1.

But at least Markstrom lasted 60 minutes. And is anybody doubting that the Vezina candidate will regain his form in Game 2?

Then there's Mike Smith, the modern-day Gump Worsley at 40 years old.

Smith whiffed on the first shot in Game 1, allowed a second goal at the 51-second mark, and by 6:05 of the first period he was pulling on a ball cap, yanked after allowing three goals on the Flames' first 10 shots.

"It wasn't an ideal start for our group," said Smith. "We let each other down."
-Mark Spector of Sportnset
I am rooting for the Oilers to win this series for one reason, the unbelievable post-season by Connor McDavid who has 18 points in 8 games and is +9.
Filed in: | KK Hockey | Permalink

« Previous ‹ First < 3 4 5 6 7 > Last › Next »
About Kukla's Korner
Kukla's Korner is updated around the clock with the work of our own talented bloggers, plus links to the best hockey writing around the internet. We strive to bring you all the breaking hockey news as it happens.
The home page allows you to see the latest postings from every blog on the site. Subscribe here. For general inquiries and more, please contact us anytime.
Most Recent Posts
Most Recent Comments