05/14/21 at 01:32 PM ET | Comments (0)
3 1/2 minutes long.
Filed in: NHL Teams, | KK Hockey | Permalink

05/14/21 at 01:29 PM ET | Comments (3)
Filed in: NHL Teams, | KK Hockey | Permalink

05/14/21 at 12:41 PM ET | Comments (2)
from Marty Klinkenberg of the Globe and Mail,
Ten years ago, Ron MacLean and Elliotte Friedman gathered in a hotel room in Raleigh, N.C., to swap stories about the broadcast business and the NHL all-star game they had covered together that day for CBC.

Over a beer or three, MacLean told Friedman he didn't know how much longer he was going to stay on as the host of the iconic television program Hockey Night in Canada.

"I told Elliotte I would keep the chair warm for him until he was ready," MacLean recalls.

Friedman, who had dreamed of such an opportunity earlier in his career, dismissed the idea.

"They're not looking for someone like me," he said modestly.

He was self-deprecating then and remains unpresuming today. That is the part of the charm that has won him legions of followers. There is a folksiness – similar to the enduring MacLean – that draws viewers in. The difference between then and now is that he has fine-tuned his approach.
Filed in: NHL Media, Hockey Broadcasting, d, | KK Hockey | Permalink

Blog: Abel to Yzerman By Paul
05/14/21 at 09:25 AM ET | Comments (77)
What I am hearing from an insider, one of my few, is Jeff Blashill will be returning as the coach of the Detroit Red Wings.
It will be a two-year contract.
Filed in: | Abel to Yzerman | Permalink

Blog: Abel to Yzerman By Paul
05/14/21 at 09:05 AM ET | Comments (7)
Many people are saying you have to assume Blashill will be returning. My question is then why not announce it?
Same can be said his contract won't be renewed, but then again why not announce it.
The GM has us wondering and confused.
I am still sticking with my prediction that Jeff Blashill will take on another role in the organization.
Filed in: | Abel to Yzerman | Permalink

Blog: Abel to Yzerman By Paul
05/14/21 at 09:02 AM ET | Comments (3)
from Helene St. James of the Detroit Free Press,
"I got some play some pretty good minutes and was trusted in all areas of the ice," Veleno said. "It definitely boosted my confidence. Now I've got a little bit of a taste of it, how those NHL games are, and what to bring to the table. It was just good to have that experience."

Veleno, 21, was assigned to the Grand Rapids Griffins when the Wings' season ended May 8; the Griffins are scheduled to wrap up Saturday, after which Veleno plans to return to the Montreal area for the offseason. That's where he spent much of 2020, after COVID-19 shuttered sports in mid-March. The extra time Veleno (6 feet 2, 220 pounds) was able to spend working out and training paid off when he was loaned to the Swedish Hockey League in October. Veleno tallied 11 goals and nine assists in 46 games for Malmö, averaging around 16 minutes per game....

"He is bigger, he's stronger," Griffins coach Ben Simon said. "He's playing with confidence. His experience in Europe, it's helped him mature not only as a hockey player but as a person. He's got a little bit more of a presence about him. That confidence is translating and correlating on the ice.

"He's a high-end player who can make plays and he's got the confidence to make plays. But his play away from the puck — he's a pretty smart hockey player. He puts himself in good spots. He competes hard. He has a tremendous future ahead of him."
more (paid sub.)
I ppsted this in the wrong place earlier today, now it is in its proper place.
Filed in: | Abel to Yzerman | Permalink

05/14/21 at 01:12 AM ET | Comments (0)
THREE HARD LAPS

* Colorado scored five unanswered goals to rally past Los Angeles and clinch the 2020-21 Presidents' Trophy, becoming the first team to claim the award in its final game of the season since Vancouver in 2011-12.

* The Avalanche's win also finalized the 2021 Stanley Cup Playoffs bracket, confirming that Colorado will meet St. Louis in a series for the first time since 2001 when current general manager Joe Sakic scored one of his NHL-record eight postseason overtime goals.

* The Maple Leafs and Jets conclude their regular season tonight at Bell MTS Place before opening First Round series versus the Canadiens and Oilers, respectively, next week.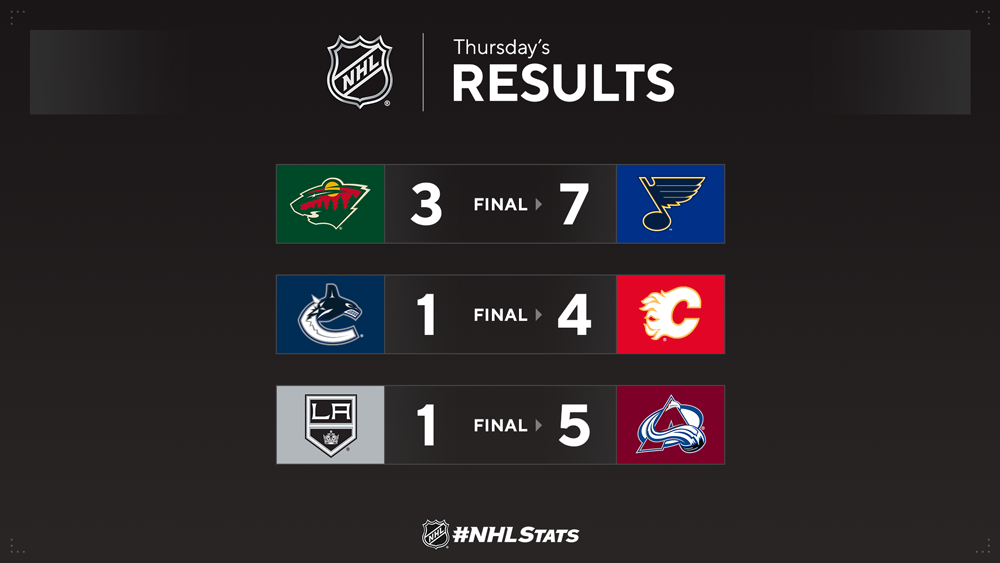 Filed in: NHL Teams, | KK Hockey | Permalink

05/13/21 at 11:43 PM ET | Comments (0)
NEW YORK (May 13, 2021) – The Colorado Avalanche have claimed the Presidents' Trophy as the team with the best overall record, winning their final game of the 2020-21 regular-season to overtake the Honda West Division rival Vegas Golden Knights.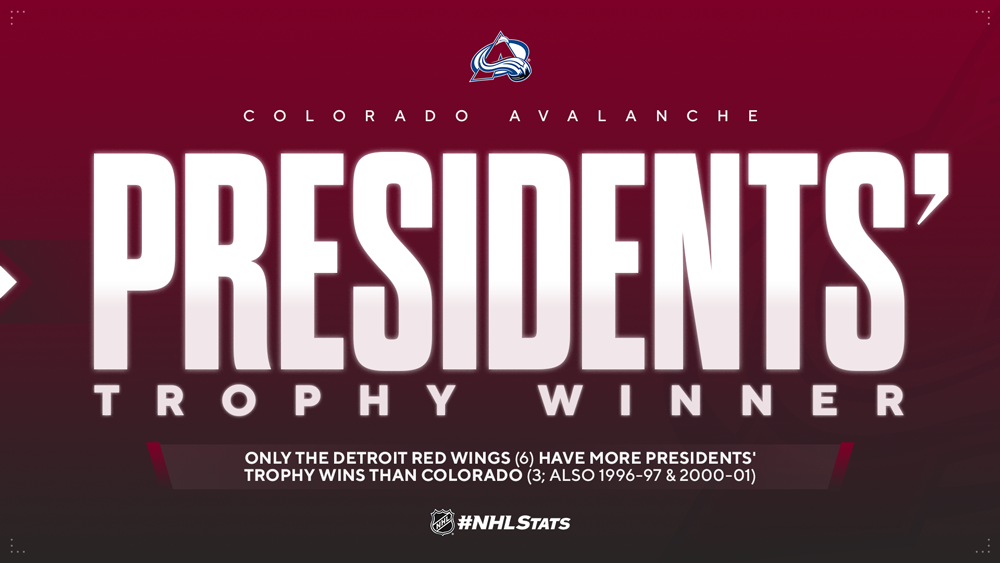 Filed in: NHL Teams, Colorado Avalanche, | KK Hockey | Permalink

05/13/21 at 07:55 PM ET | Comments (2)
The Avs can win the Presidents' Trophy tonight with a win over the LA Kings.
Scenario is below and Nathan MacKinnon will not play again tonight.
Filed in: NHL Teams, | KK Hockey | Permalink

05/13/21 at 07:28 PM ET | Comments (1)
Gerard Gallant is Canada's head coach for the upcoming World Hockey Championships, but could there be an opportunity for him to get back behind an NHL bench? The Oilers have a number of players becoming free-agents this summer, so how close are they to locking up some of their blueliners? TSN Hockey Insiders Darren Dreger and Frank Seravalli discuss this and more.
Watch at TSN and/or read the transcrpt of the show, here is part of it...
Is Gerard Gallant being considered for a full-time coaching position in the NHL?

Embedded ImageDarren Dreger: Yes, he most definitely is with the New York Rangers. The Rangers have been granted permission by the Vegas Golden Knights to interview Gerard Gallant so clearly he is one of the top candidates in the process that has been started by new general manager Chris Drury.

The timing is more to do with the travel plans for Gallant. He is the head coach for Team Canada and he is on his way to Latvia this weekend. The Rangers at least want to spend some time and have at least one conversation with Gallant before he begins taking on the responsibility of running Canada at the World Men's Ice Hockey Championship.
Filed in: NHL Teams, | KK Hockey | Permalink

« Previous < 1 2 3 4 5 > Last › Next »
About Kukla's Korner
Kukla's Korner is updated around the clock with the work of our own talented bloggers, plus links to the best hockey writing around the internet. We strive to bring you all the breaking hockey news as it happens.
The home page allows you to see the latest postings from every blog on the site. Subscribe here. For general inquiries and more, please contact us anytime.
Most Recent Posts
Most Recent Comments