05/20/18 at 04:36 PM ET | Comments (0)
Don't question Don Cherry's hockey knowledge plus other topics including both conference finals.
via Sportsnet,
added 6:53pm, YouTube version is below.
Filed in: NHL Teams, NHL Media, Hockey Broadcasting, CBC HNIC, | KK Hockey | Permalink
Tags: don+cherry, ron+maclean
05/20/18 at 02:38 PM ET | Comments (0)
With a win today, the Vegas Golden Knights will move on to the Stanley Cup Final (who would have thought that?).
Will the Winnipeg Jets extend the series to force a game 6 on Tuesday?
We are about to find out.
Watch the game on NBC, CBC, SN or TFAS.
The comment section is for you, use it if so inclined.
Filed in: NHL Teams, Winnipeg Jets, | KK Hockey | Permalink
Tags: vegas+golden+knights
05/20/18 at 12:34 PM ET | Comments (4)
HERNING, Denmark – Chris Kreider (Boxford, Mass.) scored twice as the 2018 U.S. Men's National Team defeated Canada, 4-1, to win bronze at the 2018 International Ice Hockey Federation Men's World Championship.
With the bronze medal, the U.S. has now won a total of 12 medals in the event; winning gold once, silver four times and bronze seven times.
Nick Bonino (Hartford, Conn.) and Anders Lee (Medina, Minn.) also scored for Team USA.
Keith Kinkaid (Farmingville, N.Y.) made 21 saves in the win.
added 1:22pm, Game highlights are below.
Filed in: Non-NHL Hockey, International Hockey, | KK Hockey | Permalink
Tags: team+canada, team+usa
05/20/18 at 08:54 AM ET | Comments (0)
from David Schoen of the Las Vegas Review-Journal,
Through the first four games of the conference final, Hellebuyck has a 2.81 goals-against average and a pedestrian .897 save percentage.

Fleury's stats: 2.28 GAA, .930 SP.

"He's certainly been really good, and he's made three saves each game that gives their crowd a reason to get on their feet, and rightfully so," Jets coach Paul Maurice said of Fleury. "He's made three or four in both of these games (in Vegas). It's an empty netter in (Game 3) or they're one-goal games, so that feels like it's the difference.

"You've got to assume that he's going to get three or four of those a night and find a way to get the knucklers in that we need to have going for us."

Fleury has come up with timely saves throughout the series, such as his diving stop on Winnipeg's Mark Scheifele midway through the third period of Game 3 to keep the Knights up by one goal.

In contrast, Hellebuyck was unable to bail out his teammates Friday, as Reilly Smith beat the Jets' netminder short side for the winning goal with 6:58 remaining.
Filed in: NHL Teams, Winnipeg Jets, | KK Hockey | Permalink
Tags: connor+hellebuyck, marc-andre+fleury, vegas+golden+knights
05/20/18 at 08:48 AM ET | Comments (2)
With each passing day, the anxiety level rises just a little bit. Come another month, especially after the NHL draft on June 22 in Dallas, if John Tavares remains unsigned with the Islanders, the fans will be in an all-out tizzy.

But it sure seems that is where the signs are pointing for the captain, who will turn 28 during this next training camp and has dutifully played out his first nine seasons with the organization that took him with the No. 1-overall selection in 2009. If he has gone this far without making decision — and the Islanders have continued to allow him the biggest breadth imaginable to consider about other options — then why not at least go through the free-agent courting process from June 25-30 and see just exactly what is available?from Brett Cyrgalis of the New York Post,...

With logical speculation that the legendary Lou Lamoriello is going to be brought in either as the new GM or as president in charge of all hockey operations — the latter likely ending Snow's tumultuous run — the structure of the front office is a question Tavares has to consider. And why would he make a decision before that is set?
Filed in: NHL Teams, New York Islanders, | KK Hockey | Permalink
Tags: john+tavares
05/20/18 at 07:10 AM ET | Comments (0)
from Ken Wiebe of the Winnipeg Sun,
The moment of truth has arrived for the Winnipeg Jets.

After dropping three consecutive games to the Vegas Golden Knights, the Jets find themselves in a position that seemed inconceivable given the way the series opener of the Western Conference final went.

Those three goals in fewer than eight minutes in the first period seem like a distant memory right now.

Since roaring out of the gate with an offensive explosion, the Jets are having great difficulty getting pucks past Golden Knights goalie Marc-Andre Fleury, who has been downright brilliant between the pipes.

Creating high-quality scoring chances has not been an issue for the Jets, but finding a way to finish them is another story entirely.
Remember, today's game is an afternoon affair, with puck drop just after 3:00pm ET today.
Filed in: NHL Teams, Winnipeg Jets, | KK Hockey | Permalink
Tags: vegas+golden+knights
05/20/18 at 06:33 AM ET | Comments (0)
from Barry Svrluga of the Washington Post,
The shape of this series against the Tampa Bay Lightning is such that the Capitals frittered away their breakthrough against Pittsburgh and are now in position to do something that seemed impossible after vanquishing the Penguins: add to their ignominy. The Capitals' 3-2 loss to the Lightning on Saturday night at Amalie Arena was their third straight. That comfortable advantage? Poof. One more loss, and that's it. No more hockey.

Before you start bemoaning that the past is the past and it's trite and lazy to associate these Caps with those Caps, a reminder: In the past 50 years, 21 teams won the first two games on the road in either the conference or Stanley Cup finals. All 21 of those teams won the series. None needed a seventh game.

The Capitals won the first two games in Tampa. Now those same Capitals need to win Monday night at home to force a seventh game.

Such a stat would fit right in with all those old Capitals. And then these Capitals said things all those old Capitals might have said.

"Obviously, two mistakes and they score a goal," captain Alex Ovechkin said. "But give us credit. We don't stop playing."
Below, watch the game highlights.
Filed in: NHL Teams, Tampa Bay Lightning, Washington Capitals, | KK Hockey | Permalink

05/20/18 at 06:22 AM ET | Comments (0)
SATURDAY'S RESULT
The Lightning defeated the Capitals to win Game 5 and take a 3-2 series lead in the Eastern Conference Final. When the Conference Finals/Semifinals is tied 2-2 (since 1974-75), the winner of Game 5 owns an all-time series record of 22-7 (75.9%).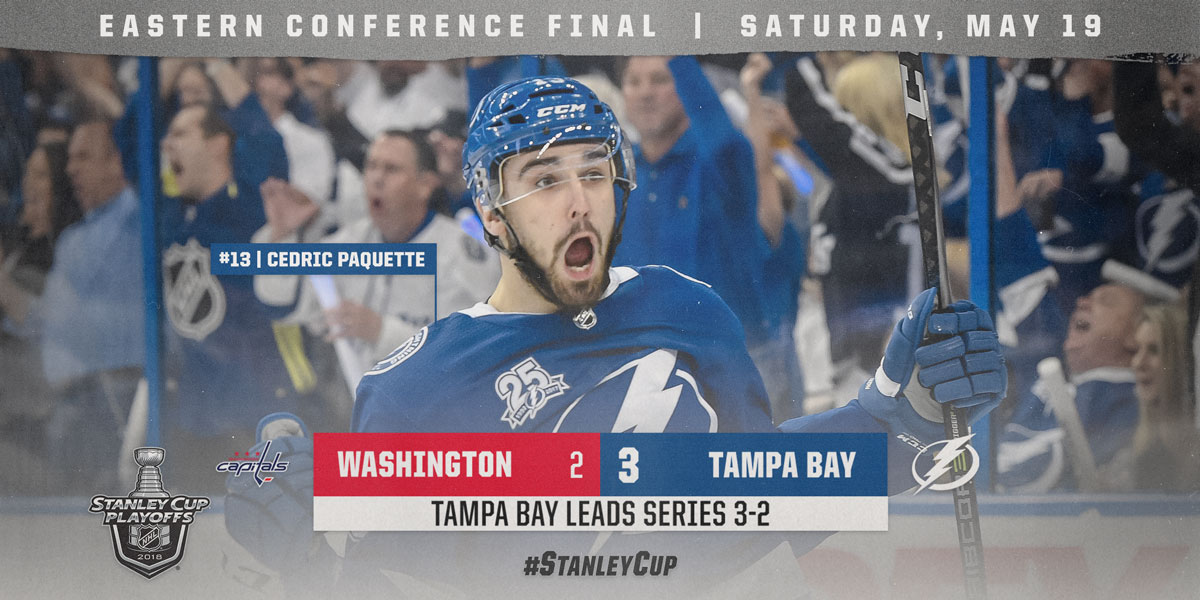 Filed in: NHL Teams, | KK Hockey | Permalink

05/19/18 at 08:35 PM ET | Comments (0)
via Sportsnet's YouTube channel,
Ron and Don discuss the play of Andrei Vasilevskiy, Marc-Andre Fleury, and how important these goaltending performances are to a playoff run.
Plus Don Cherry brought up the big event across the pond today.
Filed in: NHL Teams, NHL Media, Hockey Broadcasting, CBC HNIC, | KK Hockey | Permalink
Tags: don+cherry, ron+maclean
05/19/18 at 08:28 PM ET | Comments (0)
from Iain McIntyre of Sportsnet,
Sportsnet: Of the Knights' accomplishment, what makes you most proud?

McPhee: There's two things. We really like the people we're working with. That means more than anything – to work with the high-quality people we've hired throughout the organization and the high-quality people we have playing the game for us. The other accomplishment would be how well the sport has been received in Las Vegas. We really needed this to work. The league needed it to work. Having a successful team in Las Vegas really increased the visibility of the NHL. We needed this to work, and it has worked well. And the roots can now grow deep.

Sportsnet: You told us that the Oct. 1 shooting accelerated the bond between the team and community like nothing else could have. Can you try to explain that for people who haven't been to Las Vegas and felt that connection?
Filed in: KK Website Business, KK Interviews, NHL Teams, | KK Hockey | Permalink
Tags: vegas+golden+knights
« Previous ‹ First < 2 3 4 5 6 > Last › Next »
About Kukla's Korner
Kukla's Korner is updated around the clock with the work of our own talented bloggers, plus links to the best hockey writing around the internet. We strive to bring you all the breaking hockey news as it happens.
The home page allows you to see the latest postings from every blog on the site. Subscribe here. For general inquiries and more, please contact us anytime.
Most Recent Posts
Most Recent Comments