05/24/18 at 08:34 AM ET | Comments (3)
from Paul Gackle of the Mercury News,
According to multiple reports, the team is close to finalizing a contract with free-agent-to-be Evander Kane. The deal, expected to pay $49 million over seven years, is another step in the passing of the torch from Joe Thornton and Patrick Marleau to a new generation of players.

While the longterm commitment to Kane is raising eyebrows because of the forward's checkered past, it's a deal the Sharks absolutely need to make.

The Sharks are attempting to pull off an extaordinarily difficult trick in the NHL's salary-cap era: transition from one core to another while maintaining status as perennial Stanley Cup contender. It's difficult to replace all-star players such as Thornton and Marleau without falling down.

But the Sharks managed to capitalize on a market inefficiency related to Kane. His questionable reputation enabled them to get him for a bargain price at the trade deadline — a first round pick, a fourth-round pick, and Danny O'Regan. With this contract, they've essentially replaced Marleau with a player 12 years younger and not much more expensive (less than $350,000) than Marleau was in the final year of his contract with the Sharks.
Filed in: NHL Teams, San Jose Sharks, | KK Hockey | Permalink
Tags: evander+kane
05/24/18 at 08:31 AM ET | Comments (0)
from Tom Jones of the Tampa Bay Times,
This one stings. And it will ache for a long time. Maybe forever in these parts.

Another chance for a Stanley Cup. Another disappointment. As the Lightning skated off the ice after losing Wednesday night's Game 7 of the Eastern Conference final, it was hard to recall a more somber ending in Lightning history.

The ending was so gloomy only because everything that happened before it looked so promising.

This felt like a season of destiny, a season that would end with captain Steven Stamkos lifting the Stanley Cup over his head. Almost as soon as it began, back in October, the Lightning quickly showed all the signs of a team that could win it all. Scoring and defense. Veteran leadership and energetic youth. An elite goalie, a smart head coach and a thrifty general manager.

The Lightning had it all.
Filed in: NHL Teams, Tampa Bay Lightning, | KK Hockey | Permalink

05/24/18 at 08:17 AM ET | Comments (0)
Braden Holtby and Alex Ovechkin post-game media session.
Below, watch head coach Barry Trotz with the media Q & A and Nicklas Backstrom and Andre Burakovsky too.
Filed in: NHL Teams, Washington Capitals, | KK Hockey | Permalink

05/24/18 at 07:50 AM ET | Comments (0)
from Roger Mooney of the Tampa Bay Times,
Here are some postgame reactions:

Lightning captain Steven Stamkos on the season-ending loss:

"It really sinks in (Thursday), that feeling when you wake up and you think you are just going to keep playing. We've been in that mentality, working extremely hard here for these three rounds and now it's over. It's just a very disappointing, gut-wrenching feeling knowing how special this group was and not ending the way we wanted it to."

Stamkos on the back-to-back shutouts:

"You can't expect to win at this time of the year if you can't score. We have to give them some credit. That's a very good team over there. Their goaltender (Braden Holtby) played extremely well the last two games, and we probably felt how they felt for a couple of those games when (Andrei Vasilevskiy) stole some from them. We have to find a way, our line included, to score 5-on-5. This whole series, the team that won the series probably had the more consistent play 5-on-5 and they played well."

Defenseman Victor Hedman on if he thought this was the Lightning's year to win it all:

"You hope every year it's going to be the year, but we have a special group in here, there's no question about that. We've battled through adversity and tough losses, down in big holes, especially in this series, and we were able to come back and win three straight with two chances to win the series. It's tough when you don't score goals. I think today was the game we generated more scoring chances and it's just tough not to see any of those go in."
added 7:58am, Watch postgame reaction from the Tampa side below.
Filed in: NHL Teams, Tampa Bay Lightning, Washington Capitals, | KK Hockey | Permalink

05/24/18 at 07:29 AM ET | Comments (0)
from Kristina Rutherford of Sportsnet,
Alex Ovechkin is talking, but he's basically speechless, sitting here with an Eastern Conference champions t-shirt on his back and an Eastern Conference champions hat on his head, a gap-toothed smile plastered on his bearded face.

"Just ask Holts," Ovechkin says, calling on the guy who just recorded a shutout in the biggest game of either of their lives to try to capture this moment, because he really can't.

"This kind of emotion," Ovechkin says, still trying, "it's hard to explain what I'm feeling."

Well, no kidding. Ovechkin, Braden Holtby and the Washington Capitals have finally done it. They have earned a berth in the Stanley Cup Final, accomplished Wednesday on a quiet night in Tampa, a 4-0 resounding Game 7 victory that saw them lead for all but 62 seconds of a 60-minute Eastern Conference Final finale.
Watch the game highlights below.
Filed in: NHL Teams, Tampa Bay Lightning, Washington Capitals, | KK Hockey | Permalink

05/24/18 at 07:20 AM ET | Comments (0)
CAPITALS WILL FACE GOLDEN KNIGHTS IN STANLEY CUP FINAL
After 16 teams competed across three rounds, 79 games and three Game 7s – including Washington's win on Wednesday to advance from the Eastern Conference Final – the Metropolitan Division champion Capitals will face the Pacific Division champion Golden Knights in the Stanley Cup Final which begins on Monday, May 28 at T-Mobile Arena in Las Vegas.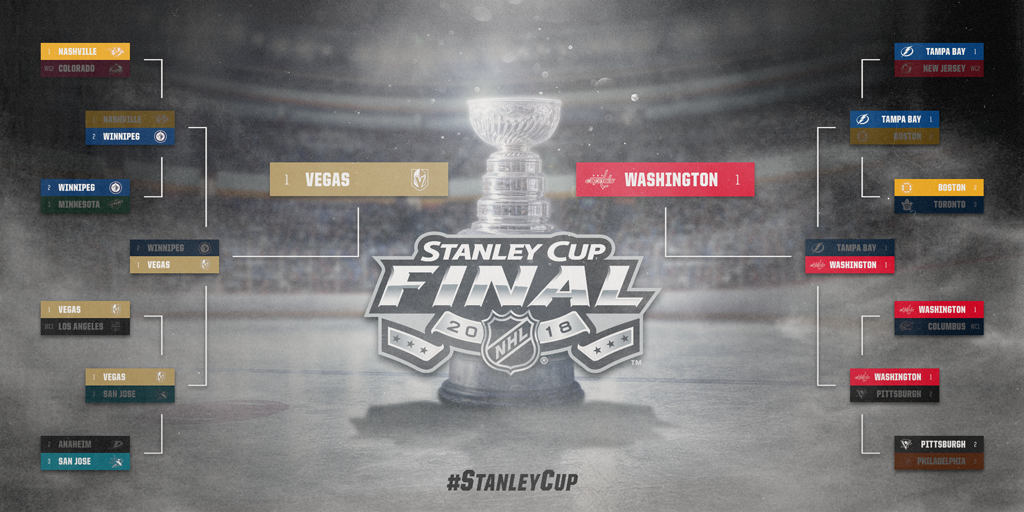 Filed in: NHL Teams, | KK Hockey | Permalink

05/23/18 at 10:49 PM ET | Comments (0)
NEW YORK (May 23, 2018) – The National Hockey League announced today the schedule and broadcast information for the 2018 Stanley Cup Final, which begins Monday, May 28, in Las Vegas.
Based on their higher regular-season point total, the Western Conference champion Vegas Golden Knights will host Games 1 and 2 of the best-of-seven Stanley Cup Final, as well as Games 5 and 7, if necessary.
The Eastern Conference champion Washington Capitals will host Games 3 and 4, as well as Game 6, if necessary.
Filed in: NHL Teams, Washington Capitals, | KK Hockey | Permalink
Tags: vegas+golden+knights
05/23/18 at 10:43 PM ET | Comments (6)
Final score Washington Capitals 4 Tampa Bay Lightning 0
Bottom line, the Lightning lack of scoring cost them and the Captials made their chances count.
Game 1 & 2 of the Stanley Cup Final will be next Monday and Wednesday. All SCF games with an 8:00pm ET start.
Watch the goals and other game action below.
added 11:08pm, Below, handshakes and Prince of Wales Trophy presentation.
Filed in: NHL Teams, Tampa Bay Lightning, Washington Capitals, | KK Hockey | Permalink

05/23/18 at 09:29 PM ET | Comments (0)
via Sportsnet,
Don Cherry and Ron MacLean discuss Game 7 between the Washington Capitals and Tampa Bay Lightning plus all the major news and notes from around the hockey world.
added 10:22pm, YouTube version is below.
Filed in: NHL Teams, NHL Media, Hockey Broadcasting, CBC HNIC, | KK Hockey | Permalink
Tags: don+cherry, ron+maclean
05/23/18 at 08:44 PM ET | Comments (1)
Games are gaining popularity as the days go by. One of the reasons for this is because it is proven that they not only help reduce anxiety or chances of depression but also improve one's intellectual capability through socializing. One of the games widely embraced today is pickleball. It used to be a game that was perceived to be for the aging population, but that is no longer the case. It is now embraced by people of all ages. It is bringing a great deal of competition to sports like badminton and even tennis. If you are just starting out, below are some of the tips that will prove helpful to your sportsmanship:
Filed in: | KK Hockey | Permalink

« Previous < 1 2 3 4 5 > Last › Next »
About Kukla's Korner
Kukla's Korner is updated around the clock with the work of our own talented bloggers, plus links to the best hockey writing around the internet. We strive to bring you all the breaking hockey news as it happens.
The home page allows you to see the latest postings from every blog on the site. Subscribe here. For general inquiries and more, please contact us anytime.
Most Recent Posts
Most Recent Comments