12/13/18 at 08:58 AM ET | Comments (0)
from Jonathan Bombulie of the Pittsburgh Tribune,
The Pittsburgh Penguins have earned themselves an unenviable distinction in the first two months of the season.

They're the team that struggling clubs want to play in order to get back on the right track.

The 13-11-6 record the Penguins have fashioned through 30 games is good enough to keep them in the playoff hunt in the Eastern Conference, but four of the 11 regulation losses they suffered came against teams that probably won't sniff the postseason come April.

Here's a look at those losses.

— Wednesday night: Chicago 6, Penguins 3

The Blackhawks came into the game on an eight-game losing streak. They played the night before in Winnipeg. They had given up the first goal in 11 straight games. The Penguins trailed most of the game anyway. Even a Bryan Rust hat trick couldn't save the day.
Game highlights are below.
Filed in: NHL Teams, Chicago Blackhawks, Pittsburgh Penguins, | KK Hockey | Permalink

12/13/18 at 08:50 AM ET | Comments (0)
from Eric Francis of Sportsnet,
Proper river hockey etiquette suggests the game's outcome should ultimately be determined with the ol' "next goal wins."

Yet, as wide open as Wednesday's shinny affair at the Dome was, it shouldn't even have come to that as the home side trailed by two with 68 seconds left.

Even though the Flames led the league with 45 third-period goals and a goal differential of plus-24 in that final frame, it didn't seem like the momentum of three straight home wins would carry the day.

Four straight power plays in the third saw Flyers goalie Anthony Stolarz threaten a script that had seen the Flames turn a league-leading six third-period comebacks into a seventh.

Um, wrong.

Rasmus Andersson's first NHL goal prompted the Saddledome to explode in celebration with just over a minute to go before Sean Monahan's second of the night threatened the building's stability with seven seconds remaining.
The Flames defeated the Flyers 6-5 in OT, highlights below.
Filed in: NHL Teams, Calgary Flames, Philadelphia Flyers, | KK Hockey | Permalink

12/13/18 at 08:17 AM ET | Comments (0)
NASHVILLE, Tenn. — Five American hockey legends including Gordon "Red" Berenson, Natalie Darwitz, the late Leland "Hago" Harrington, David Poile and Paul Stewart were formally enshrined into the United States Hockey Hall of Fame this evening during a sold-out induction ceremony at the JW Marriott Nashville.
In addition to the induction of the Class of 2018, the late Jim Johannson was awarded the Lester Patrick Trophy, presented for outstanding service to hockey in the U.S.
"Our sport is flourishing thanks to the extraordinary contributions of those we honored tonight," said Jim Smith, president of USA Hockey. "Their impact on the game is immeasurable and will be felt for generations to come."
For full background on the storied careers of each inductee, please click here.
Filed in: NHL Talk, Non-NHL Hockey, | KK Hockey | Permalink

12/13/18 at 08:12 AM ET | Comments (0)
WEDNESDAY'S RESULTS
Home Team in Caps
Vegas 3, NY ISLANDERS 2
CHICAGO 6, Pittsburgh 3
CALGARY 6, Philadelphia 5 (OT)
ANAHEIM 6, Dallas 3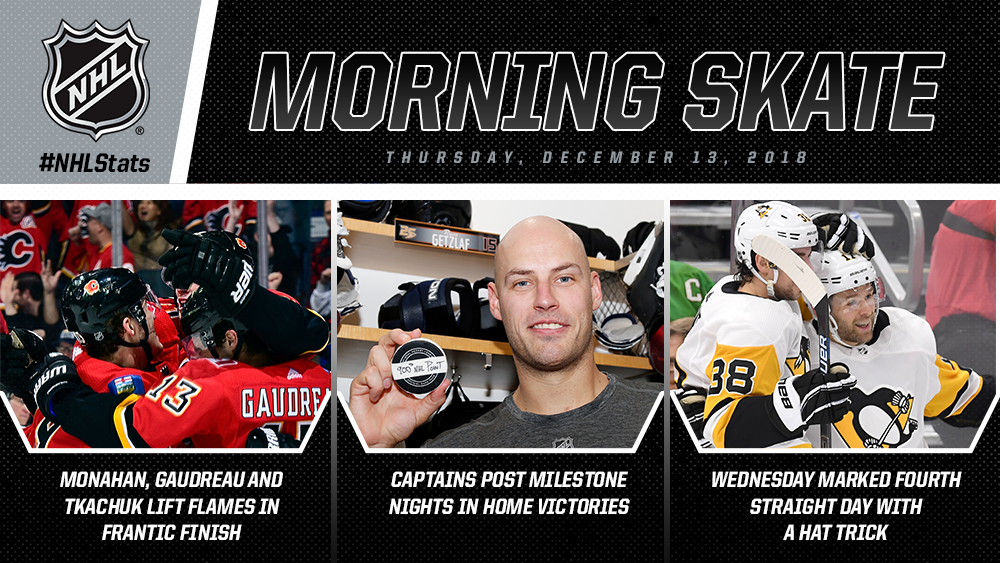 Filed in: NHL Teams, | KK Hockey | Permalink

12/12/18 at 08:20 PM ET | Comments (0)
via NBC Sports,
How active will 'Hawks, Blues be in trade market?

The Chicago Blackhawks and St. Louis Blues are off to disappointing starts, and could be sellers in the trade market.
Leafs and Flyers mentioned too.
Filed in: NHL Teams, Chicago Blackhawks, St. Louis Blues, | KK Hockey | Permalink

Blog: Abel to Yzerman By Paul
12/12/18 at 06:02 PM ET | Comments (0)
from Ted Kulfan of the Detroit News,
Los Angeles and Washington had way too many opportunities to score against the Red Wings the past two games.

Los Angeles didn't capitalize. The Capitals did.

Regardless of who did and didn't, it's important to limit those scoring chances, and you can bet coach Jeff Blashill and his staff will focus on that at practice Thursday morning.

"Certainly we've given up way too many chances the last couple of games," Blashill said. "You're not going to survive those chances. You have to make sure to get back to making sure teams earn their offense.

"I didn't think our execution to detail was very good at all (in Tuesday's 6-2 loss in Washington). Changes were bad, just nonsensical stuff, that we have to get better at."
Filed in: | Abel to Yzerman | Permalink

12/12/18 at 05:30 PM ET | Comments (0)
from Joshua Clipperton of the CP at the National Post,
With scoring up across the NHL, a group of elite defenceman are the owners of some impressive stat lines. No blue-liner has averaged a point a game in a season since Erik Karlsson in 2015-16, but Washington's John Carlson, Toronto's Morgan Rielly, Ottawa's Thomas Chabot and Calgary's Mark Giordano all currently sit at or above the threshold. The last time more than one defenceman averaged a point a game or better in a season was in 1995-96 when Brian Leetch, Sergei Zubov and Ray Bourque accomplished the feat. Karlsson, Nicklas Lidstrom (2005-06) and Mike Green (2008-09 and 2009-10) are the only other blue-liners to reach the mark since in a full season.
more topics....
Filed in: NHL Teams, | KK Hockey | Permalink

Blog: Abel to Yzerman By Paul
12/12/18 at 04:08 PM ET | Comments (10)
Tyler Dellow via The Athletic (paid) on first lines around the NHL that are producing; or not.
Dylan Larkin is the proxy for their first line and they're shooting 5.3 per cent when he's on the ice. One of the issues that rebuilding teams run into sometimes is that they have young players, good young players, but they aren't superstars. You sell them as the next big thing when they're really guys who might play down the order a little bit on a real Stanley Cup contender. Through 2017-18, Larkin wasn't an elite 5-on-5 finisher by any means, shooting 8.5 per cent. That's not particularly good for a forward — league average for forwards this year is at 10 per cent. I believe that's up a bit over past seasons but the evidence that Larkin is a high-end goal scorer is awfully light.

Add to that Anthony Mantha enduring a Riley Sheahan-esque season when on the ice with Larkin and Detroit's not getting much from their first line. They almost certainly aren't *this* bad from a true talent perspective but the lows are lower when your top line doesn't have really top end players.
Filed in: | Abel to Yzerman | Permalink

12/12/18 at 03:59 PM ET | Comments (2)
Make sure to read the other tweets regarding this topic.
Filed in: NHL Teams, Carolina Hurricanes, | KK Hockey | Permalink
Tags: tom+dundon
12/12/18 at 02:02 PM ET | Comments (1)
from Craig Button of TSN,
New Year's Eve at the World Juniors is set to feature a clash of the top two prospects on the December edition of Craig's List ahead of the 2019 NHL Draft.

Team USA and Jack Hughes will face Finland and Kaapo Kakko in Victoria that night, with the two talented forwards sure to be in the spotlight.

Hughes has continued his torrid pace for the U.S. National Development U18 Team this season, racking up 48 points (10 goals, 38 assists) in 25 games. He has been firmly entrenched atop these rankings since September and shows no signs of going anywhere but first overall next June in Vancouver.

Kakko, a winger, has impressed playing against men as a 17-year-old for TPS of the Finnish Liiga. Our No. 2 prospect has 17 points (seven goals, 10 assists) in 25 games this season.

Russian right wing Vasili Podkolzin has jumped three spots from our October ranking to land at No. 3 this month. Podkolzin, who is currently playing for his national team at the World Junior A Challenge in Bonnyville, Alta., is a complete player who can excel in all situations. His style of play and approach to the game reminds me of Pavel Datsyuk.

Two Western Hockey League forwards round out the top five. Lethbridge Hurricanes centre Dylan Cozens (16 goals, 25 assists in 30 games) and Saskatoon Blades centre Kirby Dach (14 goals, 28 assists in 33 games) both have the skating and skill necessary to thrive in today's NHL. There isn't a team in the league that doesn't covet their combination of size and talent.
continued with a Top 62 list...
Filed in: Non-NHL Hockey, | KK Hockey | Permalink

About Kukla's Korner
Kukla's Korner is updated around the clock with the work of our own talented bloggers, plus links to the best hockey writing around the internet. We strive to bring you all the breaking hockey news as it happens.
The home page allows you to see the latest postings from every blog on the site. Subscribe here. For general inquiries and more, please contact us anytime.
Most Recent Posts
Most Recent Comments