03/23/19 at 10:13 AM ET | Comments (0)
from Emily Sadler of Sportsnet,
After being left out of the Los Angeles Kings' lineup for the second time in three games, Ilya Kovalchuk has spoken — and he didn't mince words.

The veteran forward, listed as a healthy scratch under interim head coach Willie Desjardins last Saturday against the Florida Panthers and again Thursday versus the San Jose Sharks, openly questioned his coach's strategy and wasn't afraid to voice his displeasure about sitting out.

"It's horrible," Kovalchuk told The Athletic's Lisa Dillman on Friday (subscription required). "That's the worst. But [Desjardins] didn't play young guys. He plays seven D. That's his new strategy."

Desjardins' decision to ice an extra defenceman in place of Kovalchuk was a bit of a head-scratcher, considering the usual motivation for scratching veterans at the end of a lost season typically centres around wanting to get a closer look at some AHL call-ups.

"What you can do? That's his decision and he's the head coach – 10 more games. What else we can do. Just practice hard and show the young kids that that thing can happen to anybody. You just have to keep going," said Kovalchuk.
Filed in: | KK Hockey | Permalink
Tags: ilya+kovalchuk
03/23/19 at 10:05 AM ET | Comments (2)
BOSTON - Boston Bruins General Manager Don Sweeney announced today, March 23, that the team has signed defenseman Zdeno Chara to a one-year contract extension through the 2019-2020 season worth $2 million, plus an additional $1.75 million in performance-based incentives.
Chara, who is in his 21st NHL season and 13th with Boston in 2018-19, has appeared in 55 games this season, recording four goals and seven assists for 11 points with a plus-16 rating.
Filed in: NHL Teams, Boston Bruins, | KK Hockey | Permalink
Tags: zdeno+chara
03/23/19 at 08:57 AM ET | Comments (0)
from Dane Mizutani of the Pioneer Press,
After Friday's impressive win, the Wild are back in a playoff position, one point clear of the Colorado Avalanche and Arizona Coyotes, both of which have a game in hand.

"It means temporarily we're in a playoff spot," Boudreau said. "That's what that means."

He placed tons of emphasis on the word "temporarily" and for good reason. After all, the Wild have made a habit of looking like Stanley Cup contenders from time to time, only to follow it up with a wretched performance akin to that of a Pee Wee game.

"I think we're trying to figure it out, too," Zach Parise said, trying to explain the Jekyll and Hyde charade to no avail. "Just like we've been doing for a little while, we got ourselves right back in the mix, so it was a good win."
Catch the game highlights below.
Filed in: NHL Teams, Minnesota Wild, | KK Hockey | Permalink

03/23/19 at 08:31 AM ET | Comments (0)
FRIDAY'S RESULTS
Home Team in Caps
Minnesota 2, WASHINGTON 1
ANAHEIM 4, San Jose 3 (OT)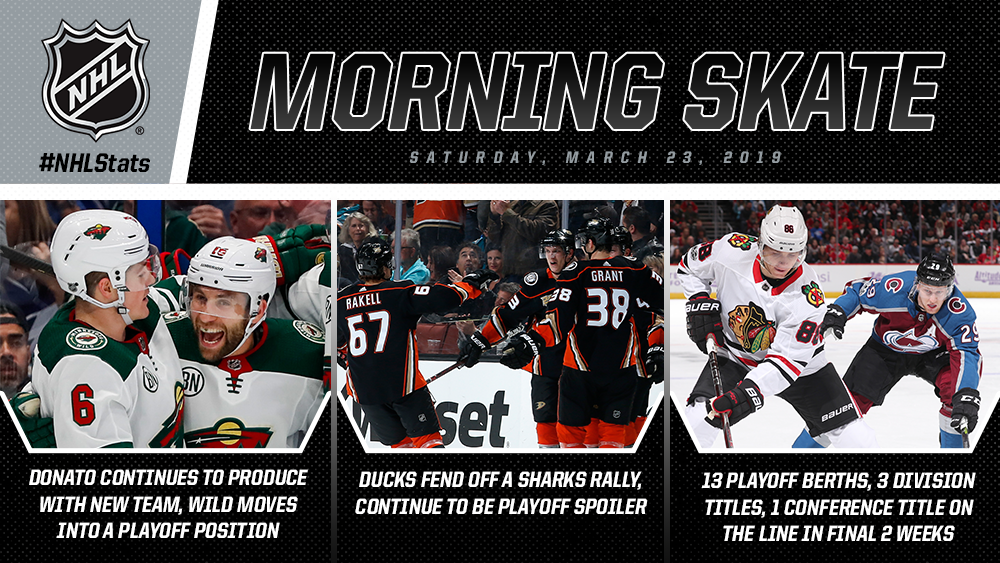 Filed in: NHL Teams, | KK Hockey | Permalink

03/22/19 at 07:24 PM ET | Comments (2)
Follow the link for the video.
Filed in: NHL Teams, Tampa Bay Lightning, | KK Hockey | Permalink
Tags: yanni+gourde
Blog: Abel to Yzerman By Paul
03/22/19 at 04:56 PM ET | Comments (2)
Well, I hit the couch for the night in 5 minutes so one last update.
from Ted Kulfan of the Detroit News,
It's far too early to make any bold predictions about new Red Wings forward Taro Hirose. The undrafted free agent out from Michigan State has played in just two NHL games.

But he has already made a nice impression on teammates and Detroit's coaching staff.

Hirose earned an assist in both games, saw time on the power play, and didn't look out of place on a line with veterans Thomas Vanek and Frans Nielsen.

"Poise, vision, it looks like he wants to make a play every time he has the puck," coach Jeff Blashill told reporters after Thursday's 5-2 loss in St. Louis. "We made a comment to him about spreading the zone and right away the next shift, he goes out and he spreads the zone."
Below, Blashill after today's practice.
Filed in: | Abel to Yzerman | Permalink

03/22/19 at 04:30 PM ET | Comments (1)
Yes, I am mentally drained and with only two NHL games tonight, a good time to become a couch potato.
I will post if anything major happens, otherwise see you in the morning.
Filed in: KK Website Business, | KK Hockey | Permalink

03/22/19 at 03:25 PM ET | Comments (4)
via Kyle Shohara of the Ducks website,
With the season winding down, Ducks Executive Vice President/General Manager and Interim Head Coach Bob Murray today gave injury updates to Ryan Kesler and Patrick Eaves.

Kesler has missed the past seven games with a hip injury and has been limited to 60 games this season. The 34-year-old center appeared in his 1,000th NHL game on March 5 at Arizona. "We're going to meet with the doctors tonight, Kes and I," Murray said to reporters today. "Kes has to get everything in his life in order as to what he has to do in order to play. It's not exactly good for his body, the things he puts himself through. We need to take full inventory of where he is in his life and go forward from there. The agent and I have talked a bunch."

Murray wasn't optimistic when asked if there's a chance the former Selke Trophy winner suits up over the final two weeks of the season. "I doubt strongly you'll see him again this year."

Eaves hasn't played with the Ducks since Feb. 4 vs. Toronto and has been limited to seven games this season. The 34-year-old forward has also appeared in seven games with the AHL's San Diego Gulls, most recently on Feb. 23. Eaves played just two games last season because of post-viral syndrome.

"He's had a setback," said Murray. "Texted with him yesterday. There is no new diagnosis or anything. This is a very troubling situation, and everybody is doing the best they can with it. There is no diagnosis, and he's just struggling again with everything. Like Kes, we hope he gets better so he can have a normal life. I don't want to speak for him, but he's just struggling. It's more like what he had last year.

"He's experiencing some of the same issues as last year. Let's just leave it at that."
Filed in: NHL Teams, Anaheim Ducks, | KK Hockey | Permalink
Tags: patrick+eaves, ryan+kesler
Blog: Abel to Yzerman By Paul
03/22/19 at 03:20 PM ET | Comments (1)
via Dana Wakiji tweet,
Houda gives the instructions to the group taking part in optional practice. The rest are doing off-ice workouts.
In other news, I am going to take it easy for the day/night in about an hour or so.
Burned out a bit, need a little down time until tomorrow morning.
If anything big breaks, I will post it while putting whatever I am watching on pause.
added 3:37pm, If interested, and update from the Vegas side is below.
Filed in: | Abel to Yzerman | Permalink

03/22/19 at 01:30 PM ET | Comments (0)
"Vasilevskiy, to me, is the key. Whoever Tampa plays (in the playoffs), the goaltender at the other end is going to have to really rise to the occasion. You don't win in the playoffs unless your goalie outplays the other guy. That's historic."
-Scotty Bowman. Dave Stubbs of NHL.com has much more from Bowman, including talking about his Montreal and Detroit teams.
Filed in: NHL Teams, Tampa Bay Lightning, | KK Hockey | Permalink
Tags: scotty+bowman
About Kukla's Korner
Kukla's Korner is updated around the clock with the work of our own talented bloggers, plus links to the best hockey writing around the internet. We strive to bring you all the breaking hockey news as it happens.
The home page allows you to see the latest postings from every blog on the site. Subscribe here. For general inquiries and more, please contact us anytime.
Most Recent Posts
Most Recent Comments