11/16/18 at 02:03 PM ET | Comments (0)
NEW YORK (Nov. 16, 2018) – Pittsburgh Penguins forward Matt Cullen has been fined $1,000 for a dangerous trip against Tampa Bay Lightning forward J.T. Miller during NHL Game No. 279 in Pittsburgh on Thursday, Nov. 15, the National Hockey League's Department of Player Safety announced today.
The incident occurred at 19:47 of the first period. Cullen was assessed a minor penalty for tripping.
The money goes to the Players' Emergency Assistance Fund.
Filed in: NHL Teams, Pittsburgh Penguins, | KK Hockey | Permalink
Tags: matt+cullen
Blog: Abel to Yzerman By Paul
11/16/18 at 10:51 AM ET | Comments (6)
Helene St. James tweet,
Red Wings now flying from Ottawa to Albany, then Albany to White Plains, then bus to Newark area. Couldn't depart last night because of inclement weather.
1:00pm start tomorrow in New Jersey.
added 10:54am, Of course, I assumed,
added 10:58am, below, proof the Wings are practicing.
I will never assume again, especially when it comes to weather issues and hockey players.
Filed in: | Abel to Yzerman | Permalink

11/16/18 at 10:46 AM ET | Comments (0)
Best of all time, Sportsnet style.
Filed in: NHL Teams, | KK Hockey | Permalink

11/16/18 at 10:40 AM ET | Comments (2)
Filed in: NHL Teams, d, | KK Hockey | Permalink
Tags: josh+archibald
11/16/18 at 09:11 AM ET | Comments (0)
from Eric Francis of Sportsnet,
Well, at least the Calgary Flames know who their starting goalie will be Saturday.

Not Mike Smith.

At the tail end of a visit from the Montreal Canadiens that the Flames were dominating, the veteran netminder let in yet another goal that rhymes with Smitty.

This time it was a weak Artturi Lehkonen wrister from above the faceoff dot that somehow slid under the pads of Smith for the game-winner with under eight minutes remaining.

The Flames were outshooting the Habs 39-22 at the time and couldn't solve Carey Price for the equalizer, despite a late push.
Watch the goal below in the game highlights package below. The Canadiens won 3-2.
Filed in: NHL Teams, Calgary Flames, | KK Hockey | Permalink
Tags: mike+smith
11/16/18 at 09:04 AM ET | Comments (0)
from Michael Traikos of the National Post,
When the Sharks traded for Karlsson in September and gave up practically nothing off their roster in return, the fantasy experts started drooling. If you thought Karlsson had been dangerous in Ottawa, where the top scorer managed just 23 goals last season, just wait until he was passing the puck up to Joe Thornton and Joe Pavelski — or Logan Couture and Evander Kane, or Tomas Hertl and Timo Meier....

Forget 82 points. The thinking was Karlsson, who is also in the final year of his contract, might be the first defenceman since Brian Leetch to crack the 100-point mark....

Heading into Thursday night's game against the Toronto Maple Leafs, Karlsson had no goals and eight assists (had 2 assists last night) in his first 19 games. At this point last year, he had 17 points....

In nine seasons with the Senators, Karlsson led the team in scoring four times and finished second in three others. There was a reason for that. If he didn't, no one else would.

In San Jose, his job description has changed. On a team that has so many offensive options, Karlsson is no longer the No. 1 offensive weapon. With Brent Burns leading the Sharks with 21 points, he might not even be the team's No. 1 offensive defenceman.
Filed in: NHL Teams, San Jose Sharks, | KK Hockey | Permalink
Tags: erik+karlsson
Blog: Abel to Yzerman By Paul
11/16/18 at 05:07 AM ET | Comments (1)
from Ted Kulfan of the Detroit News,
This time there was no third-period rally, as there has been often during the recent winning streak.

And the Red Wings paid for it, losing 2-1 to the Ottawa Senators.

The loss ended a 4-game winning streak for the Red Wings, who have won seven of their last nine.

"We weren't good enough to win tonight," defenseman Niklas Kronwall said. "We had opportunities we could have done more with, and that's why we lost."...

"We played good hockey overall," Blashill said. "I talked about being relentless and not taking your foot off the gas, we can be better. We had chances to be better. We have to make sure we're better."
Below, the missed penalty shots, post-game interviews and game highlights.
added 8:37am, video of Blashill's press conference below.
Filed in: | Abel to Yzerman | Permalink

11/16/18 at 04:46 AM ET | Comments (3)
Tim Peel and #24 Graham Skilliter worked the game in Ottawa last night. #24 talking to Bylsma/Blashill so a simple deduction puts Peel on the microphone.
We all make mistakes and I am sure Gordie Howe would have had a good laugh.
Update: Reports say it was the rink announcer with the call so you decide. Like I said, we all make mistakes.
Filed in: NHL Talk, NHL Officiating, | KK Hockey | Permalink
Tags: tim+peel
11/16/18 at 04:34 AM ET | Comments (0)
THURSDAY'S RESULTS
Home Team in Caps
NY ISLANDERS 7, NY Rangers 5
New Jersey 3, PHILADELPHIA 0
Tampa Bay 4, PITTSBURGH 3
COLUMBUS 7, Florida 3
OTTAWA 2, Detroit 1
MINNESOTA 6, Vancouver 2
Montreal 3, CALGARY 2
ARIZONA 2, Nashville 1
Toronto 5, SAN JOSE 3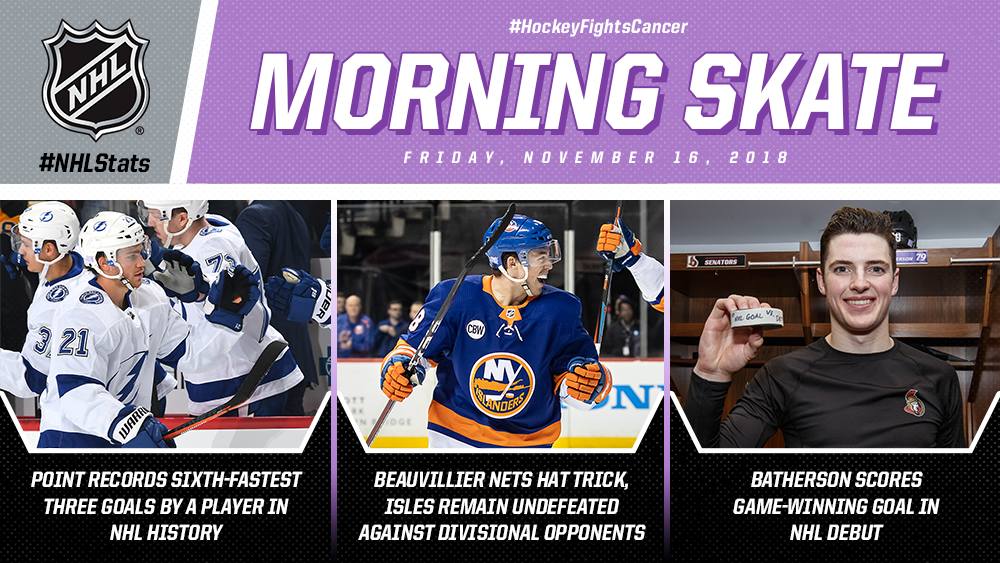 Filed in: NHL Teams, | KK Hockey | Permalink

Blog: Abel to Yzerman By Paul
11/15/18 at 10:20 PM ET | Comments (6)
Final- Ottawa 2 Detroit 1
Wings certainly were not as sharp as their last game but this is expected with a lineup scattered with youngsters.
They didn't quit, they just couldn't click.
They had their chances, especially in the third period (2 stopped penalty shots), but the Sens hung on.
Goals and stats below.
Filed in: | Abel to Yzerman | Permalink

About Kukla's Korner
Kukla's Korner is updated around the clock with the work of our own talented bloggers, plus links to the best hockey writing around the internet. We strive to bring you all the breaking hockey news as it happens.
The home page allows you to see the latest postings from every blog on the site. Subscribe here. For general inquiries and more, please contact us anytime.
Most Recent Posts
Most Recent Comments