Blog: Abel to Yzerman By Paul
03/23/18 at 08:15 AM ET | Comments (30)
from Ansar Khan of Mlive,
For weeks there has been little doubt the Detroit Red Wings would miss the playoffs.

Now that they are out officially, is it time to give some younger players more ice time and expand their roles over the final eight games? Use their last recall on a defenseman? Look to the future and focus more on development?

Yes, no, maybe. We'll see.

"There's a fine line there," coach Jeff Blashill said following his team's 1-0 loss to the Washington Capitals Thursday at Little Caesars Arena. "You have to make sure you compete and work. If you don't compete and work you're not getting ice time.

"Two ... if you want to take one of those guys' job, you got to play better than them. If I start playing guys because of their age, you lose 100 percent credibility and you don't teach lessons of earned ice."...

"What Svech has to do on a shift by shift basis is be better than one of these guys - (Gustav) Nyquist, Bert (Tyler Bertuzzi), (Anthony) Mantha, (Darren) Helm, (Justin) Abdelkader, (Andreas Athanasiou) - those are the guys playing wing right now, so he's got to beat one of those guys out. Other than that, the rest of the young guys play a pretty significant role on the team."
Below, watch the game highlights and post-game interviews.
Filed in: | Abel to Yzerman | Permalink

03/23/18 at 08:08 AM ET | Comments (0)
Highlights galore.
Filed in: NHL Teams, | KK Hockey | Permalink

03/23/18 at 08:06 AM ET | Comments (0)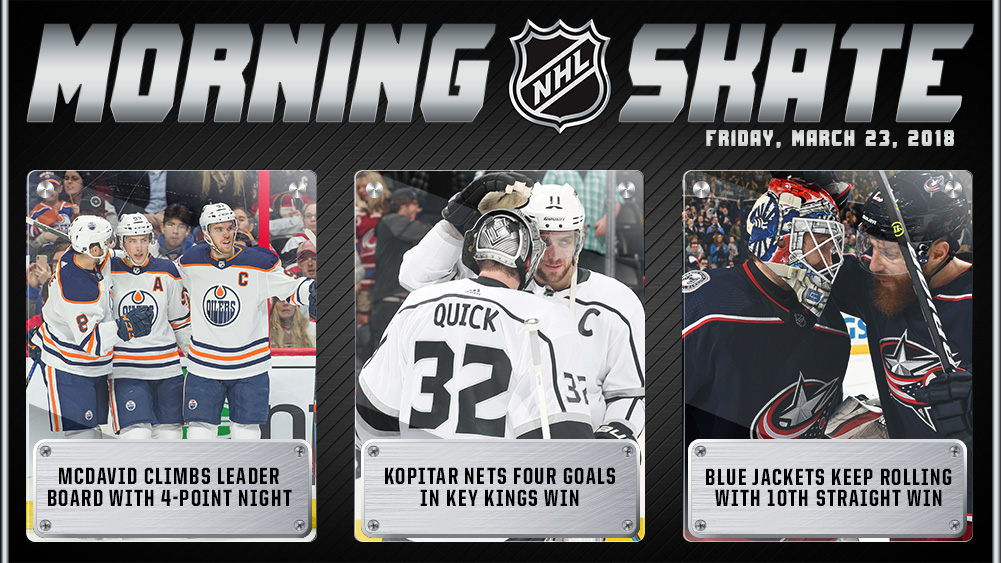 THURSDAY'S RESULTS
Home Team in Caps
Tampa Bay 7, NY ISLANDERS 6
PHILADELPHIA 4, NY Rangers 3
CAROLINA 6, Arizona 5
COLUMBUS 4, Florida 0
Edmonton 6, OTTAWA 2
Washington 1, DETROIT 0
Toronto 5, NASHVILLE 2
Vancouver 5, CHICAGO 2
Los Angeles 7, COLORADO 1
SAN JOSE 2, Vegas 1 (OT)
Filed in: NHL Teams, | KK Hockey | Permalink

Blog: Abel to Yzerman By Paul
03/22/18 at 10:12 PM ET | Comments (14)
Washington Detroit
Wings competed but remain offensive challenged.
And what about the two minute, 5 on 3 the Wings had?
Oh yes, the Wings are eliminated from post-season play.
Below, the Athanasiou no goal and the Washington goal along with Detroit team stats.
Filed in: | Abel to Yzerman | Permalink

03/22/18 at 10:05 PM ET | Comments (2)
from Elliotte Friedman of Sportsnet,
- The NHL has submitted to the NHLPA a revised Draft Lottery odds system for 2018. In 2016-17, the 30th-place team had an 18 per cent chance. If approved, whoever finishes 31st would be at 18.5 per cent. It was 20 prior to 2017.

- There were GMs who thought there would be a change to the offside rule, especially since Colin Campbell favoured it. One reason it didn't happen was worry that camera angles were not clear enough to show if a skate truly was off the ice. That would've been a total gong show. You don't want to walk from one problem to another.

- Carolina's interim GM, Don Waddell, departed the meetings early to go back to home base. That left many of his brethren wondering exactly what is going on with the search. I think the honest answer is: not even Tom Dundon is sure. There are a few issues here. Tops among them, as Nick Kypreos and I mentioned last week, are authority and salary. From what I understand, one of the things that drove a wedge between Dundon and Ron Francis was that if the owner had a question about coaching strategy or something that happened during the game, he'd call Bill Peters directly. Francis didn't like that, and most GMs wouldn't either....
more on Carolina and of course more Thoughts...
Filed in: NHL Teams, NHL Talk, | KK Hockey | Permalink

03/22/18 at 09:58 PM ET | Comments (2)
Filed in: NHL Teams, Chicago Blackhawks, NHL Media, Hockey Broadcasting, | KK Hockey | Permalink
Tags: eddie+olczyk
Blog: Abel to Yzerman By Paul
03/22/18 at 09:24 PM ET | Comments (9)
from Gregg Krupa of the Detroit News,
If the Capitals do not do well in the playoffs in the Eastern Conference in the last year of his four-year contract, Trotz may be available to the Wings, if they decide Blashill's ministrations have not been enough to improve the club through the first three years of his four-year contract.

Throughout their 92-year history, the seven men who have coached the Red Wings for four or more years had a .500 winning percentage or better, in the regular season.

Chronologically: Jack Adams, .512 (1927-1947); Tommy Ivan, .653 (1947-1954); Jimmy Skinner, .591 (1954-1958); Sid Abel, .501 (1958-1968 and 1969-70); Jacques Demers, .502 (1986-1990); Scotty Bowman .655 (1993-2002); and Mike Babcock, .649 (2005-2015).

The Red Wings entered play last night with Blashill, in his third season, right at .500, 101-101-35.

Trotz, a familiar sight behind the visitors' bench in Detroit during his 15 seasons as head coach of the Predators, established a reputation for getting a lot out of players, in part, through a disciplined approach to defensive play.
Filed in: | Abel to Yzerman | Permalink

03/22/18 at 08:01 PM ET | Comments (4)
Can't recall witnessing this before.
Filed in: NHL Teams, d, Carolina Hurricanes, | KK Hockey | Permalink
Tags: cam+ward
Blog: Abel to Yzerman By IwoCPO
03/22/18 at 07:13 PM ET | Comments (77)
At home, at the rocking LCA.
A potential ECF final, two teams steaming toard the...
...peaking at the...
...only worried about health as the...
NEVERMIND.
Filed in: | Abel to Yzerman | Permalink

Blog: Abel to Yzerman By Paul
03/22/18 at 07:07 PM ET | Comments (2)
Detroit, MI…The Detroit Red Wings today announced that defenseman Mike Green will undergo surgery on his cervical spine and will miss the remainder of the 2017-18 season. Green missed seven games from Feb. 17-28 with the injury but returned to the Detroit lineup on March 2 at Winnipeg. He re-aggravated the injury during the team's practice on March 21 at Little Caesars Arena. The procedure is scheduled for April 5 at the Hospital for Special Surgery in New York City and will be performed by Dr. Frank Cammisa. A minimum two months of recovery time is expected.
Green, 32, has appeared in 65 games for the Red Wings this season. He leads all Detroit defensemen in assists (25) and points (33), while ranking second among blueliners with eight goals.
Filed in: | Abel to Yzerman | Permalink

« Previous < 1 2 3 4 5 > Last › Next »
About Kukla's Korner
Kukla's Korner is updated around the clock with the work of our own talented bloggers, plus links to the best hockey writing around the internet. We strive to bring you all the breaking hockey news as it happens.
The home page allows you to see the latest postings from every blog on the site. Subscribe here. For general inquiries and more, please contact us anytime.
Most Recent Posts
Most Recent Comments