Blog: The Malik Report By Paul
01/23/18 at 09:10 AM ET | Comments (5)
from Sam Carchidi of Philly.com,
They will get their first look at Detroit's new digs, Little Caesars Arena, when they face the Red Wings on Tuesday night.

"We've got to be ready; it's a big two points up for grabs," center Sean Couturier said Sunday after the Flyers outlasted Metro-leading Washington, 2-1, in overtime. The previous day, they defeated New Jersey, 3-1. "What we did these last few games, it won't matter if we lose."

The Flyers are soaring, playing with confidence and winning close games.

"Early in the season, that was one of the issues: We just didn't find a way," captain Claude Giroux said. "We were playing good hockey, but we just didn't find ways. Right now we're finding ways, and we can't stop here."

The Flyers have seven victories in their last eight games and have won three straight. They are 15-5-1 since ending their 10-game losing streak and have climbed into the Eastern Conference's top wild-card spot.
Filed in: | The Malik Report | Permalink

01/23/18 at 08:21 AM ET | Comments (5)
from Steve Simmons of the Toronto Sun,
The determinations have gotten more confusing. What's obvious to one person doesn't seem to be obvious to another. What's supposed to be objective has turned out to be subjective. And this was never the intention of replay at any time, in any game.

The illogic of the coach's challenge happened again on Monday night at the Air Canada Centre. Second period. Zach Hyman makes a terrific play for the Maple Leafs, beating Colorado defenceman Patrik Nemeth to a loose puck behind the Avalanche net. The puck then went from Hyman to William Nylander, who made a fine pass to Auston Matthews for the score.

This is the kind of goal hockey should be applauding. A tough play on a loose puck. Mike Babcock getting what he needs from Hyman. Nylander doing what he's supposed to do — making a quick, perfect pass. Matthews finishing the way few others can.

Except, no goal.

It was deemed to be goaltender interference on the history major, Jonathan Bernier. You know it was contentious for the NHL officials to make a determination because they took an inordinate amount of time before making the wrong decision. The fans, already sensing something was wrong, began booing before there was a reason to boo.
Watch the no goal below...
Filed in: NHL Teams, Toronto Maple Leafs, NHL Talk, | KK Hockey | Permalink

01/23/18 at 07:23 AM ET | Comments (0)
from Mark Lazerus of the Chicago Sun-Times,
...the Hawks find themselves at the bottom of the Central Division, unable to make up any ground on division foes who just keep winning. Their 2-0 loss Monday to the East-leading Lightning, their third consecutive defeat, left them seven points behind the Avalanche and Wild, both of whom won to extend their hot streaks. The Hawks played well, but an 0-for-6 effort on the power play and a disastrous short-handed goal against doomed them.

''That hole's getting deeper,'' coach Joel Quenneville said.

The Hawks have scored six goals in their last five games, so they certainly deserve their spot in the standings. Still, Saad's not entirely wrong. The Hawks are on an 87-point pace, nowhere near good enough but hardly putrid. Those 2015-16 Blue Jackets finished with 76 points. The Avalanche finished with 48 last season.

Throw in the occasional standout game against the Jets and the occasional trampling of teams from the Penguins to the Blue Jackets to the Senators, and the Hawks think they're better than the standings suggest. Which only makes their predicament more frustrating.
Catch the game highlights below...
Filed in: NHL Teams, Chicago Blackhawks, Tampa Bay Lightning, | KK Hockey | Permalink

01/23/18 at 06:55 AM ET | Comments (0)
from Kristen Shilton of TSN,
It's been too much of a problematic pattern for the Toronto Maple Leafs lately – they can't hold on to a lead and they can't bury enough of their chances.

Toronto rallied from a first-period deficit – they are 2-12-0 when trailing after one period – to take a 2-1 lead in the second period, a lead that lasted all of 94 seconds, and when they needed a strong final frame it ended up being their weakest of the night.

"That just can't happen down the stretch," surmised Jake Gardiner of giving away another lead after the Maple Leafs' 4-2 loss to the Colorado Avalanche on Monday. "We have to start closing out games."

Head coach Mike Babcock needed all of six words to sum up the previous three hours at the Air Canada Centre:

"We should have won the game."

It was a sentiment his players shared from a sombre dressing room where they grappled with yet another blown lead and another disappointing end on a night that they felt like they were the better team.

Up until Gabriel Landeskog iced Colorado's 10th straight victory with an empty-net goal in the final minute, the Leafs (26-18-5) were battling through yet another one-goal affair.
Game highlights are below...
Filed in: NHL Teams, Colorado Avalanche, Toronto Maple Leafs, | KK Hockey | Permalink

Blog: The Malik Report By Paul
01/23/18 at 06:43 AM ET | Comments (43)
from Gregg Krupa of the Detroit News,
Little in Petr Mrazek's career suggested he would be down and out for long.

His second consecutive shutout, 3-0, over the Devils on Monday at the Prudential Center is more evidence that is the case. Mrazek stopped all 37 shots he faced....

The 21-year-old, diminutive Hicketts debuted and put big smiles on all of his new teammates' faces with a strong performance that may make it difficult for the Wings to put him back on I-96 towards Grand Rapids anytime soon.

"Lots of times for your kill to be good, your goalie's got to be great," said Jeff Blashill. "And he was.

"Certainly, on the penalty kill was where I thought we gave up the most chances. He was excellent on that."

Asked if it might mean more playing time for Mrazek, after a clear decision to ride the hot goalie, Jimmy Howard, most of the first 45 games of the season, Blashill quickly answered, "Oh, without question.
Below, Helene St. James of the Detroit Free Press, game highlights and dressing room interviews...
Filed in: | The Malik Report | Permalink

01/23/18 at 06:31 AM ET | Comments (0)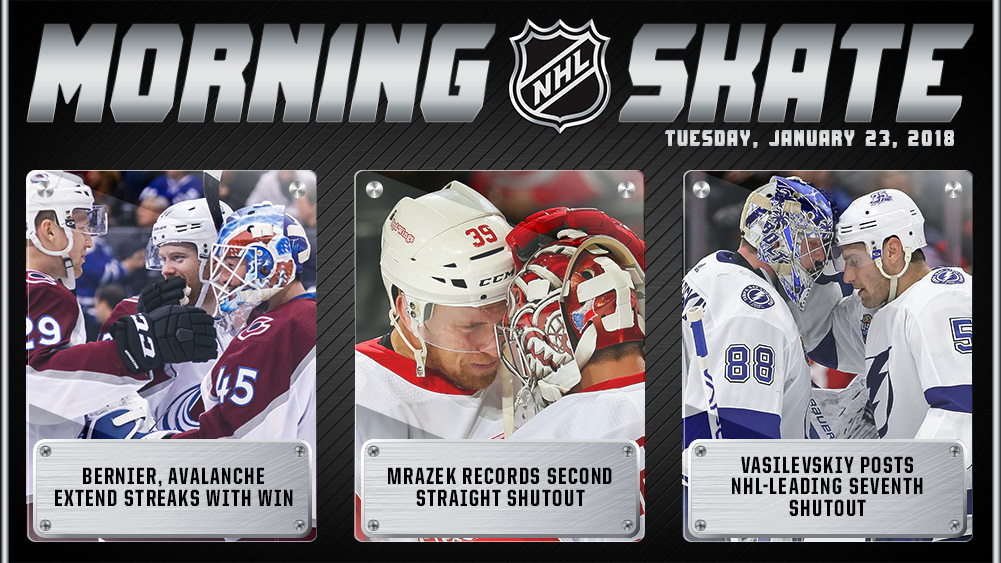 MONDAY'S RESULTS
Home Team in Caps
Colorado 4, TORONTO 2
Detroit 3, NEW JERSEY 0
MINNESOTA 3, Ottawa 1
Tampa Bay 2, CHICAGO 0
Buffalo 2, CALGARY 1 (OT)
ARIZONA 3, NY Islanders 2 (OT)
Filed in: NHL Teams, | KK Hockey | Permalink

Blog: The Malik Report By Paul
01/22/18 at 09:39 PM ET | Comments (27)
George is ill so I am it, which means a quick recap.
The Detroit Red Wing defeated the New Jersey Devils 3-0.
Very good effort by the Wings.
First period good.
Second period- good pk, bad pp.
Third period good.
Petr was great the whole game with his second consecutive shutout.
Goals are below along with a big save by Mrazek...
Filed in: | The Malik Report | Permalink

01/22/18 at 09:27 PM ET | Comments (4)
Maybe I am getting too old, maybe I have watched enough hockey and I look at the All-Star Weekend as a mini-break.
Perhaps if they took odds at BetNow Sportsbook I would be a bit more interested.
Back in my prime, I enjoyed the All-Star game and maybe it was due to not being oversaturated with hockey on a nightly basis.
Back then, not every game was on TV so any chance to watch a game, any NHL game was a special treat.
Filed in: NHL Teams, NHL Talk, | KK Hockey | Permalink

01/22/18 at 08:39 PM ET | Comments (0)
The Situation Room reversed the call.
Matthews did come back and score on his next shift.
added 8:51pm, Matthews reacts to his good goal, watch below...
Filed in: NHL Teams, Colorado Avalanche, Toronto Maple Leafs, | KK Hockey | Permalink
Tags: auston+matthews
Blog: Abel to Yzerman By IwoCPO
01/22/18 at 06:24 PM ET | Comments (110)
We've been kind of waiting for this day.
Most of us understand Joe Hicketts. He's listed as 5'8", an inch shorter than the average American man and 7 inches taller than the average NHL commissioner.
If he was chubby, balding, a little drunk and believes his new GM should be fired? Shit. He'd be one of the 19.
Filed in: | Abel to Yzerman | Permalink

« Previous < 1 2 3 4 > Last › Next »
About Kukla's Korner
Kukla's Korner is updated around the clock with the work of our own talented bloggers, plus links to the best hockey writing around the internet. We strive to bring you all the breaking hockey news as it happens.
The home page allows you to see the latest postings from every blog on the site. Subscribe here. For general inquiries and more, please contact us anytime.
Most Recent Posts
Most Recent Comments