Blog: The Malik Report By Paul
11/19/17 at 03:59 PM ET | Comments (0)
Puck drops just after 6:00pm ET on FoxSports Detroit
from Ron Knabenbauer of the Avs' website,
Filed in: | The Malik Report | Permalink

11/19/17 at 01:59 PM ET | Comments (1)
Watch the hit below...
Filed in: NHL Teams, Colorado Avalanche, Nashville Predators, | KK Hockey | Permalink
Tags: austin+watson
11/19/17 at 11:56 AM ET | Comments (3)
from Mike Harrington of the Buffalo News,
As we, um, sharpen our swords in the wake of Saturday's 3-1 loss to Carolina, an utter snoozefest until the final eight minutes, there's one gnawing issue that keeps growing: What's going on with Jack Eichel?

Forget about an elephant in the room. This is an entire herd. Eichel is not the guy we've seen the last two years. He was invisible again for long stretches Saturday -- not getting a single shot on goal for more than 48 minutes.

Eichel has five goals in 20 games, tallying just once in his last 11. He's got a minus-9 rating for the season. Those are the numbers. Now let's move to things you can't measure.

Eichel's body language has been terrible much of season. It's a dirty little secret fans are finally figuring out that he floats off the ice far too much on the end of his shifts.

Just don't tell Housley that. The coach simply isn't dissing any of his players in public, let alone the face of the franchise. Fair enough. You can respect that. And Housley certainly knows what happened to Byslma seven months ago too.
Filed in: NHL Teams, Buffalo Sabres, | KK Hockey | Permalink
Tags: jack+eichel
Blog: The Malik Report By Paul
11/19/17 at 07:01 AM ET | Comments (0)
from Gregg Krupa of the Detroit News,
He skates and passes well, can be sound positionally and occasionally wields his stick like a rapier to pluck pucks from opponents.

But DeKeyser regressed last season.

The Red Wings handed him a task most difficult. Amid their self-proclaimed rebuild on the fly, and with Niklas Kronwall's knees reducing his effectiveness, the Wings essentially relied on DeKeyser to be their top defenseman.

He may never be a No. 1 in the NHL, and DeKeyser did not play as well as he had in his previous three seasons.

Now, with Trevor Daley logging long minutes and defending so well he is little noticed, Kronwall more effective than last season as he adapts to his more limited mobility, and Mike Green generating significant offense from the back end, DeKeyser's circumstances have improved.

He should no longer feel the need to do quite so much, let alone just about everything.

"I think we have even more depth this year than we did last year, and the guys have been playing really well, back there," said DeKeyser, 27, who is signed at $5 million per season through 2022.
Filed in: | The Malik Report | Permalink

11/19/17 at 06:41 AM ET | Comments (3)
from Mike Boone of the Montreal Gazette,
How bad are your Montreal Canadiens?

Frederik Andersen's 32-save shutout was the fourth time a goose egg has been hung on them this season.

Home cooking?

More like home yakking: Three of the shutouts have occurred at the Bell Centre.

On four other occasions, the Canadiens have been held to one goal.

And there are 61 games to go.

This, folks, is the most impotent scoring team in the NHL.

They are punchless. They are boring.
Game highlights of the 6-0 Toronto win can be watched below...
Filed in: NHL Teams, Montreal Canadiens, Toronto Maple Leafs, | KK Hockey | Permalink

11/19/17 at 06:34 AM ET | Comments (1)
...the numbers don't lie: minus-2 against St. Louis Thursday, and minus-2 again Saturday, despite a goal and two assists. Your best player simply has to be better than that, and McDavid's line — with Pat Maroon and Drake Caggiula — was on the ice for three even strength goals by Dallas, with McDavid also on for a fourth.

Somehow, too many turnovers have mixed into McDavid's game, resulting in odd-man rushes the other way after high-risk zone entry attempts go bad. In his own zone, the puck is getting behind his goalie too often, even if the reasons are ever-changing.

Part of being a superstar is playing as well without the puck, and being smarter with it than McDavid has been this season. Your best player has to be just that — at both ends of the rink — to have success.
-Mark Spector of Sportsnet on Connor McDavid. Read more on the Oilers and their 6-3 loss to the Dallas Stars.
Game highlights are below...
Filed in: NHL Teams, Dallas Stars, Edmonton Oilers, | KK Hockey | Permalink
Tags: connor+mcdavid
11/19/17 at 06:25 AM ET | Comments (0)
Almost five minutes of NHL action from Saturday.
Filed in: NHL Teams, | KK Hockey | Permalink

11/19/17 at 06:16 AM ET | Comments (0)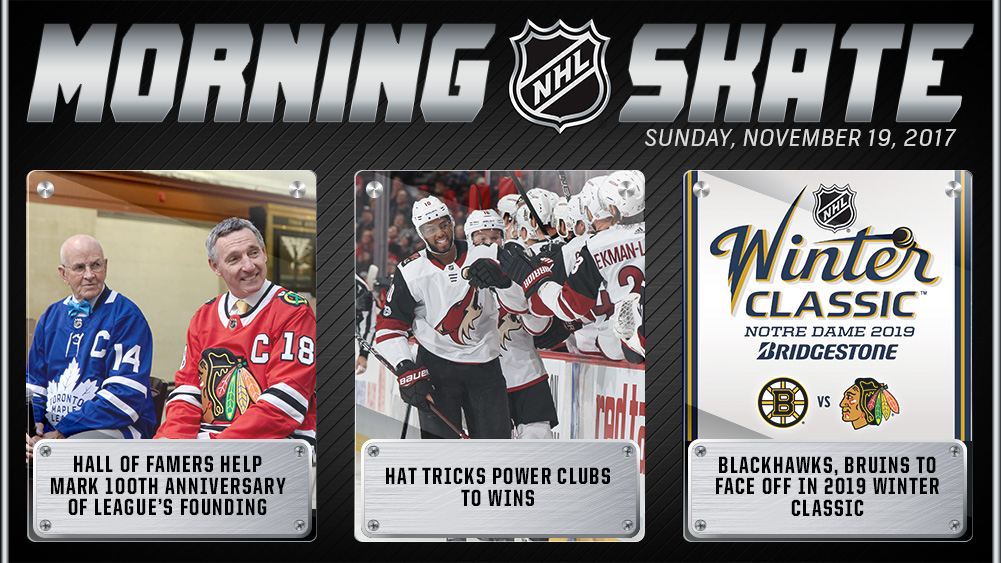 HALL OF FAMERS HELP MARK 100TH ANNIVERSARY OF LEAGUE'S FOUNDING
Hall of Famers Dave Keon, Ray Bourque, Denis Savard, Yvan Cournoyer, Frank Mahovlich and Rod Gilbert participated in a pre-game ceremony in Montreal to commemorate the 100th anniversary of the League's founding.

* MUST SEE: Savard and Mahovlich, who each won at least one Stanley Cup with the Canadiens, changed into Montreal jerseys mid-ceremony, at the urging of Cournoyer, who won 10 championships with the club.
Filed in: NHL Teams, NHL Talk, | KK Hockey | Permalink

11/18/17 at 09:25 PM ET | Comments (0)
The guys at Sportsnet talked about penalties and changes to them as discussed by the GMs at the recent meeting, GMs without contracts for next season, topic became all Lou Lamoriello, the Montreal Canadiens and a few more items.
Filed in: NHL Teams, NHL Talk, | KK Hockey | Permalink

11/18/17 at 08:53 PM ET | Comments (0)
Topics Don Cherry and Ron MacLean discussed:
The play of Frederik Andersen, a couple of hat tricks today, the brawl in Detroit (what was Tkachuk thinking), player benches next to each other and a few more topics...
via Sportsnet,
Filed in: NHL Teams, | KK Hockey | Permalink

« Previous < 1 2 3 4 > Last › Next »
About Kukla's Korner
Kukla's Korner is updated around the clock with the work of our own talented bloggers, plus links to the best hockey writing around the internet. We strive to bring you all the breaking hockey news as it happens.
The home page allows you to see the latest postings from every blog on the site. Subscribe here. For general inquiries and more, please contact us anytime.
Most Recent Posts
Most Recent Comments