03/21/18 at 09:25 AM ET | Comments (0)
from Steve Rosenbloom of the Chicago Tribune,
Getting swept in a playoff series was deemed unacceptable last year. People lost jobs. Big verbal fingers were wagged. So, what does missing the playoffs altogether for the first time in 10 years bring?

The firing of GM Stan Bowman?

The end of Joel Quenneville as coach?

Both?

The argument for firing Bowman starts with Brent Seabrook's inexplicable contract that still has six years and more than $41 million remaining with a no-movement clause that makes it less a playing contract than a prison sentence.

The argument also extends to the no-movement clauses given to former heroes such as Jonathan Toews and Duncan Keith. Toews isn't the No. 1 center on a Cup winner anymore the way Keith isn't a No. 1 defenseman on a future champion.
Filed in: NHL Teams, Chicago Blackhawks, | KK Hockey | Permalink

03/21/18 at 09:18 AM ET | Comments (0)
from Mark Spector of Sportsnet,
So we get two teams in the National Hockey League playoffs. Not five, like last year. But hey — it's better than the zero that qualified in 2016.

So, with (hopefully) a few rounds of Canadian content on tap beginning in a few weeks, let's take a look at what we have. It's an interesting dichotomy: Canada's marquee club, Toronto, a Hockey Night in Canada staple; and the team whose time zone doesn't work for anyone, arguably the least sexy market in the NHL in Winnipeg.

A Canadian hockey fan can't avoid the Maple Leafs even if they tried — but why would you? Toronto is perhaps the most entertaining team we have this season, with a budding superstar in Auston Mathews, enough offence to keep the lamp lit, and just loose enough defensively that Frederik Andersen (when healthy) is one of the three stars whenever Toronto wins.

And the Jets, that club you've been hearing about all winter and have no doubt been meaning to watch, with a sniper in Patrik Laine who is on his way to becoming a generational goal scorer. Now that your club is toast — we're talking to you Calgary, Vancouver, Edmonton, Ottawa and Montreal — do yourself a favour and see what a proper, slow and successful build is supposed to look like.
Filed in: NHL Teams, Toronto Maple Leafs, Winnipeg Jets, | KK Hockey | Permalink

Blog: Abel to Yzerman By Paul
03/21/18 at 08:57 AM ET | Comments (0)
from Ted Kulfan of the Detroit News,
Goaltender Petr Mrazek returned to Little Caesars Arena Tuesday — and the Red Wings ruined it on two fronts.

Mrazek, whom the Red Wings traded to Philadelphia last month, had a forgettable homecoming as the Red Wings drove him out of the net in the second period. The Flyers did rally in the third period to force overtime but the Red Wings ended up winning 5-4 in a shootout.

The Red Wings had a 1-0 edge in the shootout, with Frans Nielsen scoring the goal and Jimmy Howard stopping all three Flyers shooters.

The win ended a 10-game winless streak for the Red Wings, who hadn't won since Feb. 25....

"The third period was exemplary of what happens when you haven't won, you don't have the confidence that you do when you win," Blashill said. "Our gaps got real soft and we just laid back too much.

"But good for the guys to stay with it and find a way. We had a lot of chances in overtime after that power play (for Philadelphia). It was a good win."
Below, watch the extended game highlights and post-game interviews.
Filed in: | Abel to Yzerman | Permalink

03/21/18 at 08:48 AM ET | Comments (0)
Just a little short of 5 minutes long.
Filed in: NHL Teams, | KK Hockey | Permalink

03/21/18 at 08:40 AM ET | Comments (0)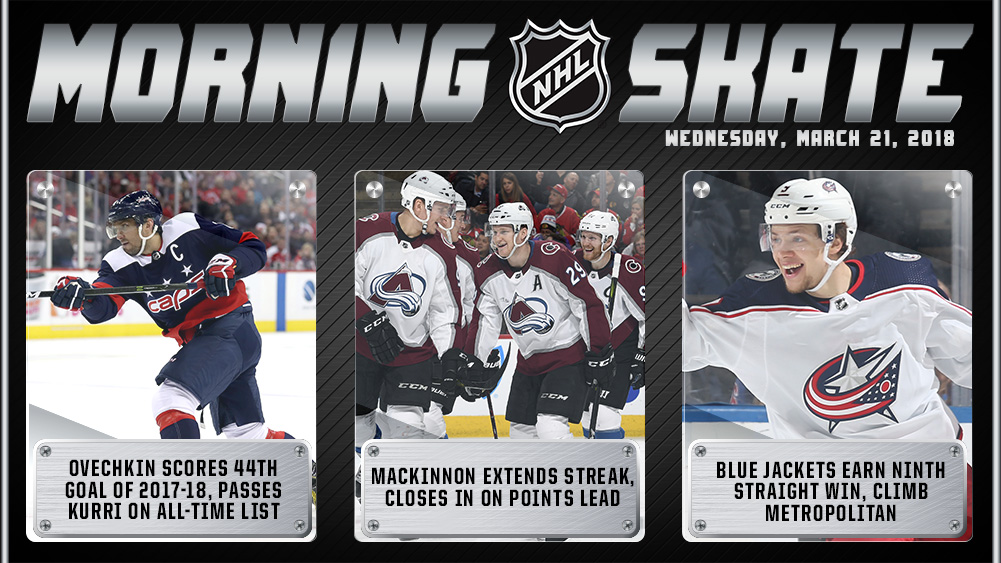 MONDAY'S RESULTS
Home Team in Caps
Pittsburgh 4, NY ISLANDERS 1
Columbus 5, NY RANGERS 3
WASHINGTON 4, Dallas 3
Edmonton 7, CAROLINA 3
Florida 7, OTTAWA 2
DETROIT 5, Philadelphia 4 (SO)
TAMPA BAY 4, Toronto 3
WINNIPEG 2, Los Angeles 1 (OT)
Colorado 5, CHICAGO 1
VEGAS 4, Vancouver 1
SAN JOSE 6, New Jersey 2
Filed in: NHL Teams, | KK Hockey | Permalink

Blog: Abel to Yzerman By Paul
03/20/18 at 10:27 PM ET | Comments (13)
Wings winning streak at 1 game.
Plus they competed the whole game but that 3rd period was a nail-biter.
In a shootout Detroit 5 Philadelphia 4
Goals, Detroit stats are below.
Filed in: | Abel to Yzerman | Permalink

03/20/18 at 06:58 PM ET | Comments (1)
from Dan Rosen of NHL.com,
NHL general managers want to give the final authority on goaltender interference reviews initiated by the coach's challenge to the Situation Room in Toronto.

The on-ice officials have the final authority on these reviews, but they consult with members of the NHL Hockey Operations Department in the Situation Room before deciding to allow or overturn the goal.

The League hopes to an announcement on the potential change in the review process Wednesday, but it is still determining whether it needs approval from other organizations, including the NHL Players' Association, the NHL Officials Association and the Board of Governors, because it involves a change in playing conditions.

The hope is to implement the change immediately.
continued with offside and delay of game talk too...
Filed in: NHL Teams, NHL Talk, | KK Hockey | Permalink

Blog: Abel to Yzerman By IwoCPO
03/20/18 at 05:40 PM ET | Comments (191)
Twenty years ago, this organization was preparing to defend the Cup. 19 years and ten months ago I was in a D.C. subway station about to get karate kicked in the throat by a Caps fan because I may or may not have been taunting him after the Wings won Game 3 of the SCF.
Ten years ago, this organization was about to make a nice little run to 11. 9 years and ten months ago I was at the Joe, in the upper levels, for Game 1 against the Pens. It's there that Osrt and I met Jules. You can read all about that here.
Shorthanded and in barrels Charlie Frigging Buckets. Does anyone need one worse than him? Sprung loose by a pass from Stuart, I believe, and off he goes. Turns the hyphenated French goalie into a pretzel and Game 1 is done like dinner.
Easily one of my favorite blog posts ever. I could have picked any sentence. Read the whole post and remember what we used to be.
Filed in: | Abel to Yzerman | Permalink

Blog: Abel to Yzerman By Paul
03/20/18 at 04:26 PM ET | Comments (1)
from Richard Deitsch of The Athletic,
Chances are you've never heard of Howie Young, even if you are a diehard NHL fan. Young was a hard-checking and harder-partying defenseman whose crunching checks and seat-of-the-pants style helped lead the Detroit Red Wings to the Stanley Cup finals in 1961.Two seasons later he shattered the league mark for penalty minutes, with 273 in just 64 games. Sports Illustrated called him a "one-man riot squad" and put him on the cover of its Jan. 28, 1963 issue.

The smiling visage that graced SI's cover, however, belied a tortured soul.

Young was an alcoholic. He said he drank nearly every day for 12 years until he bottomed out at age 27. Indeed, he was hung over when he posed for SI's photographer after a morning practice. "On the bench I would say, 'Please God, just get me through this game,'" Young once said. "Then it was, 'Hey, God, just get me through this period.' Finally, it was, 'God, just get me through this shift.'"
continued and open to all...
Filed in: | Abel to Yzerman | Permalink

Blog: Abel to Yzerman By Paul
03/20/18 at 03:51 PM ET | Comments (1)
from Art Regner and Dana Wakiji of DetroitRedWings.com,
DeKeyser's season has been somewhat of a roller coaster ride. He injured his ankle in the third game of season at Dallas and it was originally thought to be a sprained ankle.

However, because it the healing process was going slowly, the ankle was reexamined and it turned out DeKeyser suffered a "small fracture in a bone" of his ankle causing him to miss 17 games from October 12 through November 17.

Once he returned it took a while to get back into game shape. Dekeyser was a minus player in nine of his first 10 games after he was back in the lineup. However; in his next 32 games, he was a minus player in only five games.

During this ten-game winless streak, he has been a minus player in six of the ten games, but DeKeyser is encouraged by his season considering how he played after he came back from his fractured ankle.

"I think the past couple of months I felt really good on the ice," DeKeyser said. "I feel like I've gotten my skating legs and had some good jump, some good energy out there. I just try to play as hard as I can, be good defensively, chip in a little bit offensively, stuff like that. I've felt good lately.
more plus other topics like Mrazek and Nielsen's bobblehead.
added 4:16pm, game day preview is below...
Filed in: | Abel to Yzerman | Permalink

About Kukla's Korner
Kukla's Korner is updated around the clock with the work of our own talented bloggers, plus links to the best hockey writing around the internet. We strive to bring you all the breaking hockey news as it happens.
The home page allows you to see the latest postings from every blog on the site. Subscribe here. For general inquiries and more, please contact us anytime.
Most Recent Posts
Most Recent Comments