04/22/18 at 09:42 AM ET | Comments (1)
from Chip Scoggins of the Star Tribune,
The Wild has appeared in the playoffs six consecutive seasons, one of only three NHL teams that can claim that accomplishment. Those six appearances also ended with quick exits.

Wild owner Craig Leipold must decide if he's content with regular-season consistency or fed up with playoff flops. This feels like a crossroads moment for Leipold and his organization.

Frustration is boiling within his fan base. Leipold has two choices: Stay the course and hope things will be different next season, or make major changes in management and/or roster construction, to the extent that salary cap and contract restrictions allow for it.

Certain facts are indisputable. A team needs 16 wins in the postseason to hoist the Stanley Cup. The Wild has 15 playoff wins total since Leipold committed $196 million to sign Zach Parise and Ryan Suter in July 2012.

So 15 wins in eight playoff series combined covering those six postseason appearances.

That's not close to winning a championship.
Filed in: NHL Teams, Minnesota Wild, | KK Hockey | Permalink

04/22/18 at 09:34 AM ET | Comments (0)
from Kevin Paul Dupont of the Boston Globe,
"Even if John Tavares or Erik Karlsson hit the market," noted ex-Calgary GM Craig Button, now a commentator on NHL Network and TSN, "where are they headed, or where are they going?"

Karlsson, perhaps the most offensively skilled blue liner in the NHL, still has one year remaining at $6.5 million with the Senators. Rumors ran rampant at the February trade deadline that he would be dealt, a conversation that no doubt will be rekindled around the amateur entry draft.

Tavares just finished up a six-year deal that paid him $5.5 million a year. The salary cap for next season is expected to approach $80 million.

There could be teams willing to hand Tavares and/or Karlsson max deals, which would be for seven years at about $16 million per — substantially above the $10.5 million that both Jonathan Toews and Patrick Kane will earn with the Blackhawks at the top of the current pay pyramid next season.

At figures that high, noted Button, it makes for a quirky fit on any team's cap structure.

"How do you even clear enough cap space to be able to get a Tavares or a Karlsson?" mused Button. "I'm not saying it can't be done, but all of a sudden you are clearing out three players to get one and I've never figured out where that makes sense."
a bit more and other hockey topics too...
Filed in: NHL Teams, New York Islanders, Ottawa Senators, | KK Hockey | Permalink
Tags: erik+karlsson, john+tavares
04/22/18 at 07:44 AM ET | Comments (0)
from Eric Stephens of the OC Register,
Bob Murray sees where the NHL is going and where the Ducks are at within it – and where his coach fits with their need to adapt.

The Ducks have to get faster and Murray, who just wrapped up his 10th season as their general manager, saw their current level of team speed wasn't nearly good enough in grim fashion in a four-game sweep by San Jose.

"We just played a team that was way faster than us," Murray said Saturday, where the Ducks cleaned out their lockers at Honda Center earlier than they imagined. "And they played the game faster than us."...

The roster is expected to skew more toward youth. They're expected to jettison older free agents such as Kevin Bieksa, Antoine Vermette, Jason Chimera and Chris Kelly. Murray did rave the work of fourth-line center Derek Grant and would like to re-sign him.

Bieksa played with a torn tendon in his finger that was suffered during his fight with Philadelphia's Radko Gudas in October and said he opted to put off surgery until March because the recovery period would have taken months instead of weeks.

But the veteran defenseman also felt the March procedure made it easier for Carlyle to play youngster Andy Welinski in three of the four games against San Jose. His dissatisfaction was thinly veiled.
Filed in: NHL Teams, Anaheim Ducks, | KK Hockey | Permalink

04/22/18 at 07:12 AM ET | Comments (0)
from Chris Ryan of NJ.com,
Their playoff run ended after five games with a first-round defeat at the hands of the Tampa Bay Lightning, who finished off a 4-1 series win with a 3-1 Game 5 victory on Saturday at Amalie Arena.

The Devils made a positive step to get to the playoffs in 2017-18, but the postseason showed there is still work to be done.

Few people outside the Devils' locker room pegged them as a playoff team in 2017-18, yet they rode a red-hot start past several obstacles throughout the season, then used a red-hot finish to snap a playoff drought that dated back to 2012.

Following a last-place finish in the Eastern Conference in 2016-17, earning a playoff spot this season was a big jump for the franchise, which the team needs to use as a step toward more serious contention.
Filed in: NHL Teams, New Jersey Devils, | KK Hockey | Permalink

04/22/18 at 07:07 AM ET | Comments (0)
from Thomas Boswell of the Washington Post,
To those who believe that once the Stanley Cup playoffs start the Washington Capitals have no luck at all except buzzard luck, there are now several big, fat exhibits to the contrary.

It's far too early to declare a change of trend. A few nice breaks, along with some good clutch play, are not enough to reverse a decades-long sense of ill fortune and black clouds.

But in Game 5 of their first-round series against the Blue Jackets at Capital One Arena on Saturday, as in Game 3 in Columbus on Tuesday, the Caps got plain, old, wonderful puck-luck of the kind they have seldom received in the past.

And they have seldom needed it more. Suddenly, with three straight wins, including a 4-3 overtime triumph in Game 5, they have turned a brutal two-games-to-none deficit — after consecutive confidence-eroding overtime losses at home — into a three-games-to-two lead.
Below, watch the highlights from the game.
Filed in: NHL Teams, Columbus Blue Jackets, Washington Capitals, | KK Hockey | Permalink

04/22/18 at 06:58 AM ET | Comments (0)
from Bruce Arthur of the Toronto Star,
On Saturday night, facing the Boston Bruins in an elimination Game 5, the Toronto Maple Leafs were ready. They scored, then again in the first period. When Boston cut the lead in half, Toronto responded right away. The Leafs added a power-play goal, and it was still the second period. It was 4-1.

And then it was 4-2, and 4-3, and there were reams of time left, not like 2013. There was so much time, and the Bruins were coming like the Leafs were food. In the third period, the Bruins attempted 38 shots. For the game, the Leafs attempted 39.

"We just survived," said defenceman Ron Hainsey, who played a team-high 26:06 in Toronto's 4-3 win. "Just happy we won, man. Just got another day tomorrow, Monday, and we go from there. It was not pretty. Way too many penalties, obviously. Way too much time in our end once we got the 4-1 lead. But we held on. Freddie was great."

Frederik Andersen did finally have a game in this series with 42 saves, and he was Toronto's best player. For half the night, the Leafs delivered everything you could ask in an elimination game.
watch the game highlights below...
Filed in: NHL Teams, Boston Bruins, Toronto Maple Leafs, | KK Hockey | Permalink

04/22/18 at 06:48 AM ET | Comments (0)
Four minutes to watch.
Filed in: NHL Teams, | KK Hockey | Permalink

04/22/18 at 06:44 AM ET | Comments (0)
SATURDAY'S RESULTS
The Lightning advanced to the Second Round, the Capitals won in overtime to take a 3-2 series lead and the Maple Leafs staved off elimination.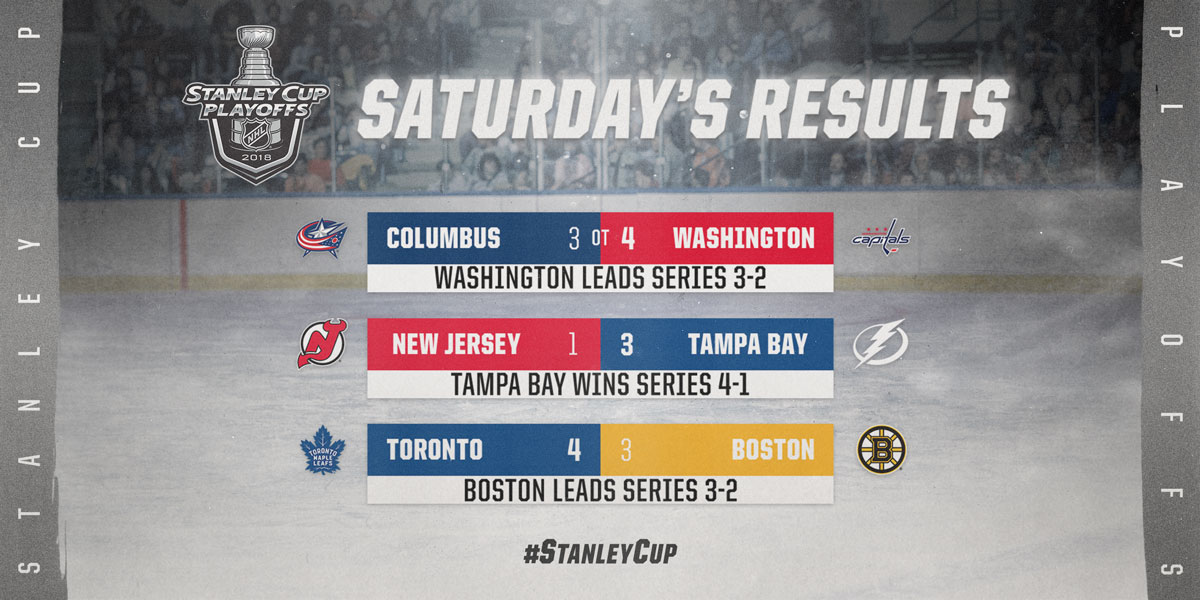 Filed in: NHL Teams, | KK Hockey | Permalink

04/21/18 at 09:34 PM ET | Comments (0)
Topics discussed include (besides Cherry showing a singing hamster) the first period of Leafs/Bruins, the Marlies goalie Garret Sparks getting a stick near the eye, Connor Hellebuyck and Dustin Byfuglien and linesmen in the limelight.
They also discussed the Avs/Preds.
via Sportsnet,
Filed in: NHL Teams, NHL Media, Hockey Broadcasting, CBC HNIC, | KK Hockey | Permalink
Tags: don+cherry, ron+maclean
04/21/18 at 08:46 PM ET | Comments (0)
John Tortorella after today's loss to the Capitals.
Tortorella says they will be back in Washington for game 7.
Filed in: | KK Hockey | Permalink
Tags: john+tortorella
« Previous < 1 2 3 4 5 > Last › Next »
About Kukla's Korner
Kukla's Korner is updated around the clock with the work of our own talented bloggers, plus links to the best hockey writing around the internet. We strive to bring you all the breaking hockey news as it happens.
The home page allows you to see the latest postings from every blog on the site. Subscribe here. For general inquiries and more, please contact us anytime.
Most Recent Posts
Most Recent Comments