Blog: Abel to Yzerman By Paul
03/22/18 at 01:46 PM ET | Comments (10)
from Helene St. James of the Detroit Free Press,
The line has a nice mix of size and skill. Svechnikov (6-foot-3, 212 pounds) plays in dirty areas and is heavy on the puck. Frk (6-1, 205) has an incredibly hard shot, and he makes nice short plays along the wall. Glendening (5-11, 192) is a good face-off guy and all-around responsible defensively.

"They've played well together, and then Glennie gives them a great veteran presence," coach Jeff Blashill said. "He's probably our best defensive player, and so with two younger players, in Svech's case still learning some of the system stuff, I think Glennie can really help them. He gives them a stabilizing force, gives me lots of trust to play the line — any time Glennie is on the ice, there is way more trust."

Adding Svechnikov to the mix could boost Frk's production. He had eight goals of his 11 goals his first 23 games of the season.

"It gives them another guy that we think has offensive talent," Blashill said. "Between that and his time on the power play, hopefully that can help Marty produce at a higher rate."
added 2:12pm, Watch the game day preview below too...
added 5:33pm, Caps game day preview below too, Wings talk starts at the 2:11 mark.
from Ansar Khan of Mlive,
Filed in: | Abel to Yzerman | Permalink

03/22/18 at 12:24 PM ET | Comments (0)
from NHL.com,
Here is a look at the NHL Standings and everything else that could impact the playoff picture.

Eight games on the Thursday schedule will have a direct impact on the races in each conference for the Stanley Cup Playoffs:

Florida Panthers at Columbus Blue Jackets (7 p.m. ET; FS-O, FS-F, NHL.TV) -- Two of the hottest teams in the League meet with plenty at stake. The Blue Jackets have won nine in a row and are in third place in the Metropolitan Division, two points behind the second-place Pittsburgh Penguins, but only one point ahead of the Philadelphia Flyers, who hold the first wild card into the Stanley Cup Playoffs from the Eastern Conference. The Panthers are 11-2-1 in their past 14 games and trail the New Jersey Devils by one point for the second wild card in the East with two games in hand.

Los Angeles Kings at Colorado Avalanche (9 p.m. ET; ALT, FS-W, NHL.TV) -- The Kings and Avalanche each are trying to hold onto a playoff spot; Los Angeles holds the second wild card in the West, one point behind Colorado, which holds the first wild card, and two points ahead of the St. Louis Blues. The Kings are also one point behind the Anaheim Ducks for third place in the Pacific and four points behind the San Jose Sharks for second in the division. The Avalanche can move into third place in the Central Division with a win.
more games...
Filed in: NHL Teams, | KK Hockey | Permalink

Blog: Abel to Yzerman By Paul
03/22/18 at 11:05 AM ET | Comments (3)
via Ansar Khan tweet,
Jimmy Howard in starter's net at #RedWings morning skate. Face @Capitals tonight at 7:30 on NBC Sports Network.
George Malik reports the skate is optional.
Will update post if needed.
Filed in: | Abel to Yzerman | Permalink

03/22/18 at 11:02 AM ET | Comments (0)
Almost 13 minutes of weird stuff.
Filed in: NHL Teams, | KK Hockey | Permalink

03/22/18 at 08:46 AM ET | Comments (1)
via Mike Harrington tweets,
Steam coming out of Housley's ears after this one. As well it should be.

Housley unhappy after strong effort vs. NSH: "We can't handle any success. By the way, we lost that game 4-0 so you'd think you'd come out gangbusters to start. It was a very meaningful game in that you're in last place. That's what's hard to swallow. Just unacceptable."
Below, watch the game highlights from Buffalo's 4-1 loss to the Arizona Coyotes.
Filed in: NHL Teams, d, Buffalo Sabres, | KK Hockey | Permalink
Tags: phil+housley
03/22/18 at 08:33 AM ET | Comments (0)
Craig Custance of The Athletic talked with a few general managers at the GM Meetings, this from Stan Bowman,
Bowman points out that last year's team probably wasn't as good as the record indicated, over-reliant on Crawford and the beneficiary of overtime wins. "This year, we're not even getting to overtime," Bowman said. His sense is that the team is the opposite – better than the record shows, although still frustrating coaching and management with its ability to find ways to lose. "We need our best players to play better. There's no question," Bowman said. "Our top players are all having their worst years all at the same time. That's not a recipe for success. The question is, why? It's not one thing. It's not like there's one thing — 'Aha, I found it, let's go fix that.' Why are these guys not playing like they've always played? That's a fair question."
more (paid subscription) from Bowman and other GMs.
from Jeff Arnold of the New York Times,
Reminders of the past hang chronologically in the United Center rafters, where the Chicago Blackhawks' Indian head logo is displayed on banners bookending the six white flags saluting the team's Stanley Cup championships.

A new banner will not be added this season, which has produced fewer victories and points than any other since the last time the Blackhawks failed to qualify for the N.H.L. playoffs, a decade ago....

The combination of lost talent, injuries and less production from top-line players has taken its toll on the Blackhawks (30-35-9), who sit in last place in the Central Division. Bowman accepts the hand Chicago has been dealt and refuses to consider what could have been had the Blackhawks been able to remain healthy and maintain the level of excellence that has made Chicago a playoff staple for the better part of the past 10 years.

"The league doesn't stop when good players get hurt, and other teams go through it too, and you have to find a way to overcome," Bowman said in a telephone interview.
Filed in: NHL Teams, Chicago Blackhawks, | KK Hockey | Permalink
Tags: stan+bowman
03/22/18 at 07:59 AM ET | Comments (0)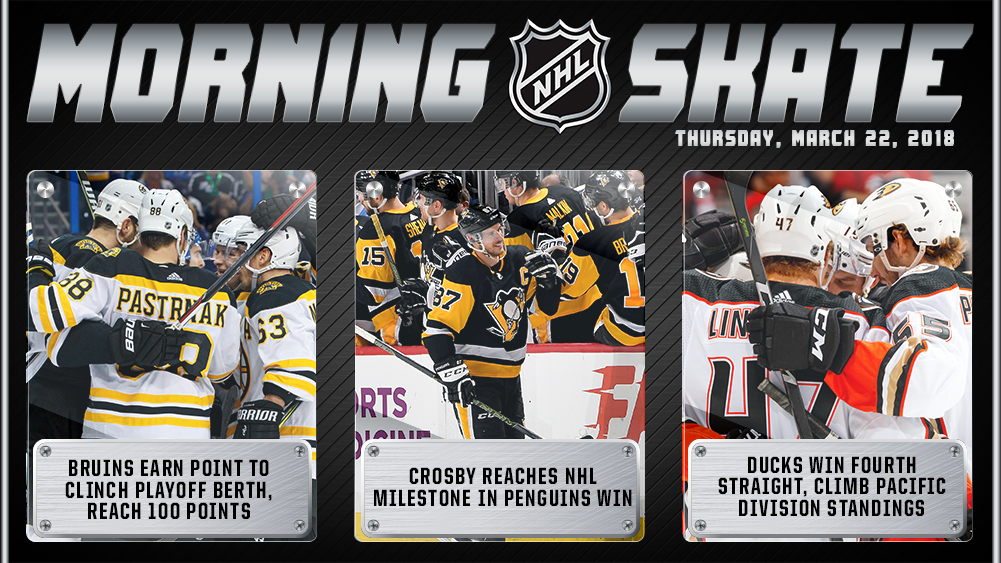 WEDNESDAY'S RESULTS
Home Team in Caps
Arizona 4, BUFFALO 1
PITTSBURGH 5, Montreal 3
ST. LOUIS 2, Boston 1 (OT)
Anaheim 4, CALGARY 0
Filed in: NHL Teams, | KK Hockey | Permalink

03/21/18 at 09:53 PM ET | Comments (6)
added 10:07am 3/22/18, Video is below...
Filed in: NHL Teams, Boston Bruins, St. Louis Blues, | KK Hockey | Permalink
Tags: brayden+schenn, david+krejci
03/21/18 at 09:44 PM ET | Comments (0)
via TSN's YouTube channel,
Marjory Stoneman Douglas High School in Parkland, Florida, was nestled in the state's safest city. But Feb 14th changed everything, after a former student opened fire in the school, killing 17 students & educators. A week later, the school's hockey team sought to help the healing by winning the state championship, in honour of the victims. Rick Westhead has more in this TSN Original, "For The 17"
Filed in: Non-NHL Hockey, | KK Hockey | Permalink

03/21/18 at 08:04 PM ET | Comments (0)
TORONTO (March 21, 2018) – The National Hockey League Players' Association (NHLPA) has reviewed the NHL General Managers Recommended Change to Rule 78.7 (ii) Governing Coach's Challenges for Goaltender Interference with our Competition Committee Members – Michael Cammalleri (Edmonton Oilers), Ron Hainsey (Toronto Maple Leafs), Kevin Shattenkirk (New York Rangers), Cory Schneider (New Jersey Devils), and Daniel Winnik (Minnesota Wild) – along with many other Players in our Membership. Based on those discussions, the NHLPA has decided to approve the proposed change. The rule change will now require further approval by the NHL's Board of Governors.
"First and foremost, the players want consistency in the application of the rule, and therefore support this proposed change in order to help accomplish that goal," said Mathieu Schneider, NHLPA Special Assistant to the Executive Director.
Filed in: NHL Talk, NHLPA, | KK Hockey | Permalink

« Previous < 1 2 3 4 5 > Last › Next »
About Kukla's Korner
Kukla's Korner is updated around the clock with the work of our own talented bloggers, plus links to the best hockey writing around the internet. We strive to bring you all the breaking hockey news as it happens.
The home page allows you to see the latest postings from every blog on the site. Subscribe here. For general inquiries and more, please contact us anytime.
Most Recent Posts
Most Recent Comments