Blog: Abel to Yzerman By Paul
05/21/18 at 03:32 PM ET | Comments (5)
DETROIT - The Detroit Red Wings today signed goaltender Patrik Rybar to a one-year entry-level contract.
Rybar, 24, primarily spent the 2017-18 season with HK Hradec Kralove in the Czech Extraliga, the top professional league in the Czech Republic. In 36 games with the club, Rybar posted a 23-13 record and led the league in both goals-against average (1.73) and shutouts (7), alongside a 0.932 save percentage. He helped his club reach the semifinals in the Extraliga playoffs, sporting a 2.24 goals-against average and 0.918 save percentage in 12 postseason games. The Skalica, Slovakia, native also represented his country internationally on two occasions this season. He was named to the Slovakian Olympic Team at the 2018 Winter Olympics in Pyongchang, South Korea, but did not see game action, and recently competed at the 2018 IIHF World Championship in Copenhagen and Herning, Denmark, appearing in three games with a 1-1 record, 2.49 goals-against average and 0.906 save percentage.
Filed in: | Abel to Yzerman | Permalink

05/21/18 at 10:58 AM ET | Comments (0)
via the YouTube channel of the NHL,
Led by the stellar goaltending of Marc-Andre Fleury and seven points from Jonathan Marchessault, the Vegas Golden Knights defeat the Winnipeg Jets in five games to capture the Western Conference and reach the Stanley Cup Final in their magical inaugural season!
added 11:04am, Below, watch George McPhee after winning the WCF.
Filed in: NHL Teams, Winnipeg Jets, | KK Hockey | Permalink
Tags: vegas+golden+knights
05/21/18 at 08:33 AM ET | Comments (0)
from Michael Traikos of the National Post,
For a team that many have selected as their pre-season favourite for each of the past few years, it seems almost anticlimactic. And yet, after missing the playoffs last year and losing in the conference final in 2016, no one is taking this run for granted.

"I don't know if we've really sat here and said, 'Oh, we're just going to rush to the Stanley Cup final,'" Lightning head coach Jon Cooper said. "If there's anything that's helped this team, we've kind of not done that. It's so hard to win in this league, and the parity is so tight, you just can't look too far ahead. I know when we went in 2015, all of a sudden the regular season didn't seem near as exciting as the playoff run, and we just couldn't wait to get back. You just find out how hard it is to win.

"That's our ultimate goal, to get there. But I think they haven't put the cart before the horse. There's still a lot of work to do in this series. I think that's why we've had some success."...

For the Capitals, it's a much different story. Few picked them to get past the two-time defending champions Pittsburgh Penguins in the second round, much less be two wins away from the Stanley Cup final. At the same time, it's a bit of a shock that they are on the brink of elimination considering how this series began.

Washington appeared to be in the driver's seat after winning the first two games on the road and taking a 2-0 lead. But after losing three straight, the ghosts of the franchise's past playoff troubles have once again come out of the attic.

"This group seems to never do anything really easy," said Washington head coach Barry Trotz, referencing not only the adversity that the Capitals faced in the first round when they came back and won after being down 2-0 to Columbus, but also years and years of playoff disappointment.
Filed in: NHL Teams, Tampa Bay Lightning, Washington Capitals, | KK Hockey | Permalink

05/21/18 at 08:26 AM ET | Comments (0)
from Larry Brooks of the New York Post,
Two observations about the Rangers' search that yielded David Quinn as the club's presumptive next head coach, pending an announcement of a signed-and-sealed contract that should come by Tuesday.

First, it was not extensive. Ownership and management were clear on the traits they were seeking in Alain Vigneault's successor. Primary among them are the ability to communicate with, teach, develop and motivate younger players while taking a more hands-on approach to team building and leadership. As such, general manager Jeff Gorton and Chris Drury zoned in early on BU's Quinn and University of Denver's Jim Montgomery.

The Rangers did not consider veteran NHL coaches Bill Peters, Darryl Sutter, Dave Tippet or Dan Bylsma. They did not wait for AHL Marlies' coach Sheldon Keefe, did not speak to Toronto assistant D.J. Smith and did not wait for Washington coach Barry Trotz's contract to expire.

Second, a search was necessary because the Rangers did not have an internal candidate ready to take over the team.
Filed in: NHL Teams, New York Rangers, | KK Hockey | Permalink
Tags: david+quinn
05/21/18 at 08:21 AM ET | Comments (33)
from Don Brennan of the Ottawa Sun,
The NHL must be very happy about this miraculous Golden Knights season that has put a first-year team into the Stanley Cup final.

The people in and around Las Vegas are now hooked on the game.

Seattle must be licking its chops.

But what about the owners of 30 other teams? How are they feeling? Are they still counting their cut from the expansion fee, or are they starting to get upset with the format that stocked the Vegas team?...

The Vegas success makes owners look greedy and uncaring about what should matter most to them.

Shouldn't you have to pay your dues, or is the going rate for a championship now set at a half billion dollars?
more plus notes from the Jets/Golden Knights series...
Filed in: NHL Teams, NHL Talk, | KK Hockey | Permalink
Tags: vegas+golden+knights
05/21/18 at 07:59 AM ET | Comments (2)
from Chris Johnston of Sportsnet,
A special spring can turn sour in a moment's notice. Six days after leading the Western Conference final 1-0, the Winnipeg Jets are dealing with the reality that they'll be watching an expansion team play for the Stanley Cup.

It could have been them.

"Pretty empty," said Blake Wheeler. "Emotionless."

"It's hard to believe it's all over," said Mathieu Perreault. "We really thought we were going to do it this year."

"[I feel like] [expletive], pretty much," said Patrik Laine....

"It was their time," said Wheeler. "They're playing really well and you have to give them all the credit. Typically in a seven-game series the better teams wins. Coming into it, I thought we had the best team – obviously I'm a little bit biased standing in this room. Felt we had a great opportunity and that team, you know, it was their time.

"They made it really tough for us, we had to work for everything we got and even when we broke them down we couldn't seem to ever gain the type of momentum we needed to get this thing on our terms."
Filed in: NHL Teams, Winnipeg Jets, | KK Hockey | Permalink
Tags: vegas+golden+knights
05/21/18 at 07:39 AM ET | Comments (0)
SUNDAY'S RESULT
The storybook season for the Vegas Golden Knights will end with a chapter dedicated to the Stanley Cup Final as the expansion club earned its fourth consecutive win to become the sixth team in NHL history to reach the Final in their first-ever trip to the postseason and third to do so in their inaugural campaign.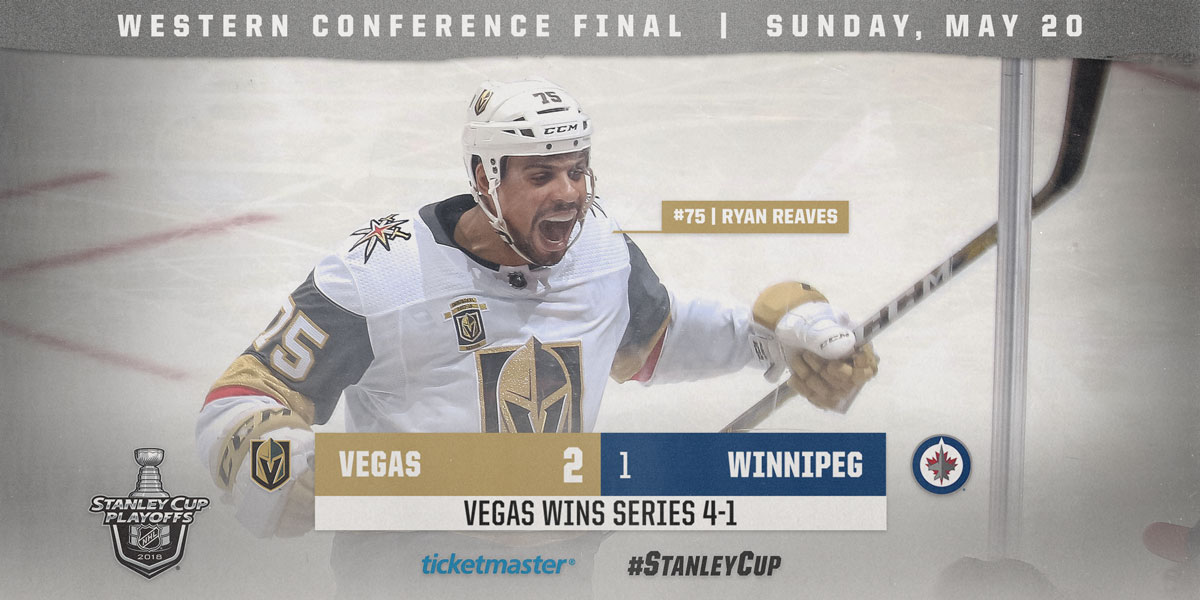 Filed in: NHL Teams, | KK Hockey | Permalink

05/20/18 at 07:35 PM ET | Comments (0)
Filed in: NHL Teams, Winnipeg Jets, | KK Hockey | Permalink
Tags: george+mcphee, vegas+golden+knights
05/20/18 at 06:22 PM ET | Comments (0)
Below, watch the game highlights, handshakes and the VGK accepting the Clarence Campbell Bowl.
Filed in: | KK Hockey | Permalink
Tags: vegas+golden+knights
05/20/18 at 05:45 PM ET | Comments (9)
Final score- Vegas Golden Knights 2 Winnipeg Jets 1
Just an amazing story.
Truly remarkable.
If you are not a fan of the Eastern Conference team going to the Stanley Cup Final, I imagine you will be rooting for the Vegas Golden Knights.
Just think back to the start of the season, did any of you give them any type of chance to make the playoffs, let alone playing for the Stanley Cup?
Goals are below.
Filed in: NHL Teams, Winnipeg Jets, | KK Hockey | Permalink
Tags: vegas+golden+knights
« Previous < 1 2 3 4 5 > Last › Next »
About Kukla's Korner
Kukla's Korner is updated around the clock with the work of our own talented bloggers, plus links to the best hockey writing around the internet. We strive to bring you all the breaking hockey news as it happens.
The home page allows you to see the latest postings from every blog on the site. Subscribe here. For general inquiries and more, please contact us anytime.
Most Recent Posts
Most Recent Comments