01/21/18 at 10:15 AM ET | Comments (2)
Carey Price..
Or Pekka Rinne?
Filed in: NHL Teams, Montreal Canadiens, Nashville Predators, | KK Hockey | Permalink

01/21/18 at 09:55 AM ET | Comments (5)
from Paul Roumeliotis of NBCChicago,
Probably not the way the Blackhawks wanted to start their second half of the season.

After a five-day break, the Blackhawks suffered a brutal 7-3 loss to the New York Islanders on Saturday night at the United Center. This coming after a 4-0 loss to the Detroit Red Wings on home ice last Sunday.

"It was a game we had to win," Quenneville said after Saturday's loss. "Disappointing in a lot of ways."

The Blackhawks needed both goaltenders to get through 60 minutes. Anton Forsberg and Jeff Glass combined for 39 saves on 46 shots.
Game highlights are below...
Filed in: NHL Teams, Chicago Blackhawks, New York Islanders, | KK Hockey | Permalink

01/21/18 at 09:48 AM ET | Comments (0)
via the San Jose Sharks,
15-year-old Make-a-Wish recipient Hayden Bradley joins the Sharks and takes the opening ceremonial faceoff against Sidney Crosby.
Filed in: NHL Teams, San Jose Sharks, | KK Hockey | Permalink
Tags: hayden+bradley
01/21/18 at 09:40 AM ET | Comments (0)
from Joe Smith of the Tampa Bay Times,
It didn't take the sound of a door slamming in the dressing room Saturday night to sense this Lightning team is frustrated.

Tampa Bay felt like it worked hard – at least, harder than Thursday's listless loss to Vegas – yet dropped another game. That makes five losses in the last seven. More telling, the team has lost its swag.

"We're out of sync," coach Jon Cooper put it. "The guys didn't forget how to play hockey in the last week and a half."

But they forgot how to play the right way.

Gone is that "mojo" Nikita Kucherov often talked about the Lightning having in the first half of the season, when it appeared to be running away with the Eastern Conference. Now Tampa Bay's division lead has shrunk to three points thanks to a surging Boston team that just might be the class of the conference right now.

It's not time to hit the panic button, but it's getting closer.

Here are some takeaways from Saturday's 5-2 loss in Minnesota:
Catch the game highlights below...
Filed in: NHL Teams, Minnesota Wild, Tampa Bay Lightning, | KK Hockey | Permalink

01/21/18 at 09:19 AM ET | Comments (1)
If you're looking for sympathy for the Sabres, or their fans, and suggestions of better days ahead, you came to the wrong place. The Sabres are a terrible hockey team in a terrible place, thanks to terrible ownership and a terrible rebuilding plan that was implemented before this long, terrible season.

The Sabres are getting exactly what they deserve after bungling one decision after another since Terry and Kim Pegula purchased the team in 2011. The Sabres will miss the playoff for a seventh full season under the Pegulas, which is hardly a coincidence given the sample size.
-Bucky Gleason of the Buffalo News after the Sabres 7-1 loss to the Dallas Stars. Read on for more from Gleason.
Filed in: NHL Teams, Buffalo Sabres, | KK Hockey | Permalink

01/21/18 at 09:16 AM ET | Comments (0)
from Tom Timmermann of the St. Louis Post-Dispatch,
"This is embarrassing," said forward Vladimir Tarasenko.

"To be perfectly honest, there's no explanation for it," Yeo said.

So if that previous home game was unacceptable, where does that put this one, Yeo was asked.

"It's got to be unacceptable to them, I hate to say it," Yeo said. "That's the reality. I can say it all I want, but we can keep trying to do whatever, and obviously we will. We'll come back to the rink tomorrow and that'll be a practice that obviously ... we'll have practice, but it's in the preparation. For whatever reason, when you're not ready to work, obviously that's the result tonight.
Game highlights are below...
Filed in: NHL Teams, d, St. Louis Blues, | KK Hockey | Permalink

01/21/18 at 08:59 AM ET | Comments (0)
Catch up on the action if you missed yesterday's games.
Filed in: NHL Teams, | KK Hockey | Permalink

Blog: The Malik Report By Paul
01/21/18 at 08:56 AM ET | Comments (12)
from Ansar Khan of Mlive,
After losing for the fourth time in five games Saturday, Detroit Red Wings defenseman Niklas Kronwall said his team can't look at the big picture.

Good, because it's not pretty. The Red Wings, following a 3-1 loss to the Carolina Hurricanes at Little Caesars Arena, have 37 games remaining, but it would take a tremendous run to get back into the playoff picture, the kind of roll this team hasn't shown any inclination to make....

"I don't think about whether things are slipping away," coach Jeff Blashill said. "I think about what you have to do to make sure we're in the playoff hunt and what we have to do is win games and certainly there's an urgency to win now.

"We need a run. We need to win three out four, win three out of four, win three out of four. To do that, our PK has to step up and be better, we got to have the shooting mentality, we got to create more chaos, get teams on their heels."
Filed in: | The Malik Report | Permalink

01/21/18 at 08:52 AM ET | Comments (0)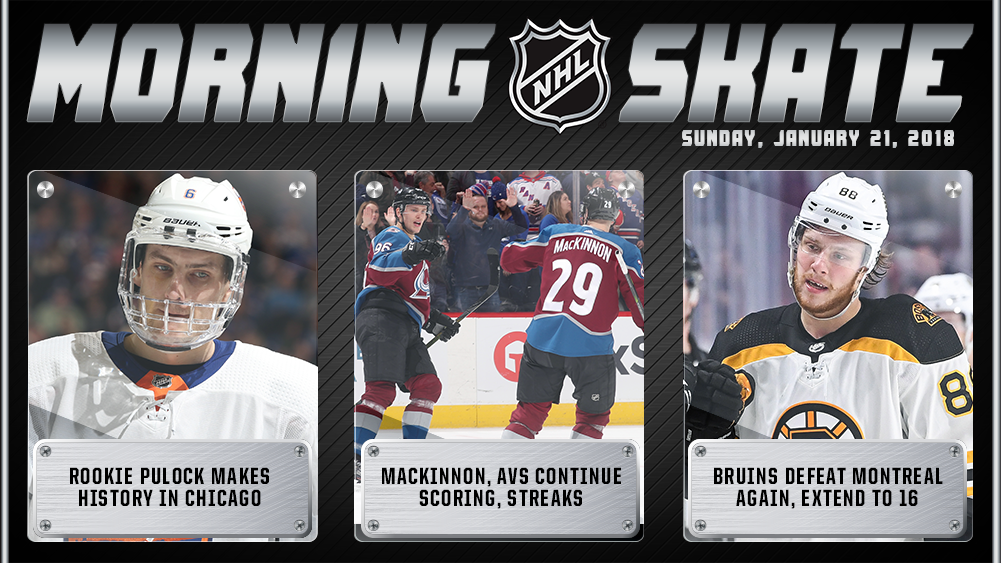 SATURDAY'S RESULTS
Home Team in Caps
Dallas 7, BUFFALO 1
PHILADELPHIA 3, New Jersey 1
COLORADO 3, NY Rangers 1
Winnipeg 2, CALGARY 1 (SO)
Boston 4, MONTREAL 1
Toronto 4, OTTAWA 3
Carolina 3, DETROIT 1
SAN JOSE 2, Pittsburgh 1
Arizona 5, ST. LOUIS 2
NASHVILLE 4, Florida 3
NY Islanders 7, CHICAGO 3
MINNESOTA 5, Tampa Bay 2
EDMONTON 5, Vancouver 2
Filed in: NHL Teams, | KK Hockey | Permalink

Blog: The Malik Report By George Malik
01/21/18 at 12:46 AM ET | Comments (0)
Of prospect-related note:
In the AHL, the Grand Rapids Griffins rallied from a 1-0 deficit and withstood a 2-2 tie as the Griffins ultimately out-gunned the Rockford IceHogs, winning 4-3. Eric Tangradi, Matt Puempel, Dominik Shine and Robbie Russo scored goals, Axel Holmstrom had 2 assists and Jared Coreau stopped 34 of 37 shots in the win.
The Griffins' website posted a recap, and if you don't already know, the Griffins are currently participating in the Great Skate at the Rosa Parks Circle in Grand Rapids:
Filed in: | The Malik Report | Permalink

« Previous < 1 2 3 4 > Last › Next »
About Kukla's Korner
Kukla's Korner is updated around the clock with the work of our own talented bloggers, plus links to the best hockey writing around the internet. We strive to bring you all the breaking hockey news as it happens.
The home page allows you to see the latest postings from every blog on the site. Subscribe here. For general inquiries and more, please contact us anytime.
Most Recent Posts
Most Recent Comments