03/18/18 at 05:39 AM ET | Comments (0)
Just short of 5 minutes long.
Filed in: NHL Teams, | KK Hockey | Permalink

03/18/18 at 05:37 AM ET | Comments (0)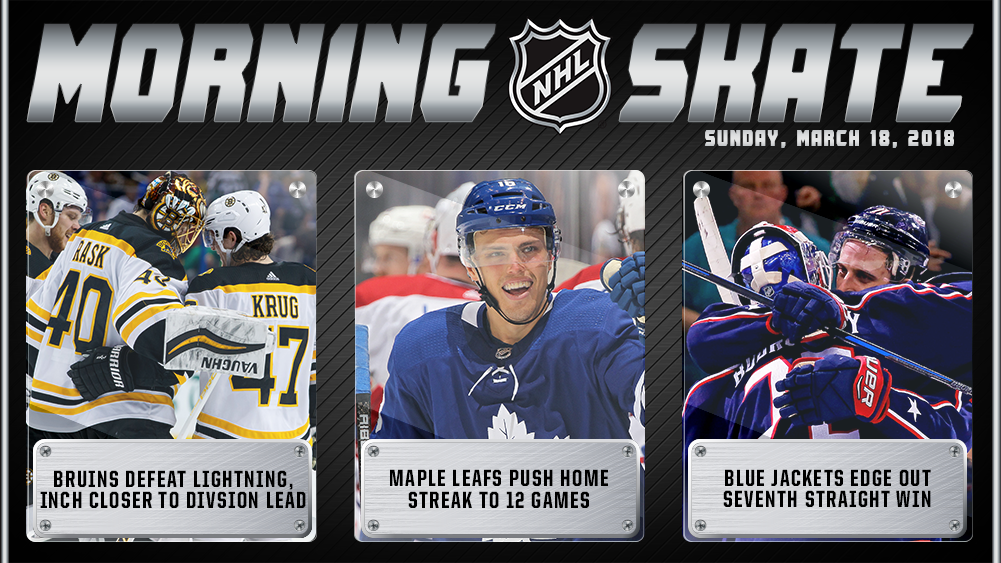 SATURDAY'S RESULTS
Home Team in Caps
BUFFALO 5, Chicago 3
Edmonton 4, FLORIDA 2
New Jersey 3, LOS ANGELES 0
Boston 3, TAMPA BAY 0
TORONTO 4, Montreal 0
Philadelphia 4, CAROLINA 2
COLUMBUS 2, Ottawa 1
ST. LOUIS 4, NY Rangers 3 (OT)
Minnesota 3, ARIZONA 1
San Jose 5, VANCOUVER 3
Filed in: NHL Teams, | KK Hockey | Permalink

03/18/18 at 05:32 AM ET | Comments (3)
GANGNEUNG, South Korea – Declan Farmer (Tampa, Fla.) scored the equalizer with just 37.8 seconds to play in the third period and tallied his second of the game 3:30 into overtime as the 2018 U.S. Paralympic Sled Hockey Team topped Canada, 2-1, here today to win an unprecedented third consecutive gold medal at the PyeongChang 2018 Paralympic Winter Games.
"This was a tremendous game to have been a part of and something this group will remember forever," said Guy Gosselin, head coach of the 2018 U.S. Paralympic Sled Hockey Team. "It was an absolute honor to coach this team and help them finish the mission Coach Sauer started, and that was to ultimately win this Paralympic gold medal."
The victory marks the first time any nation has won three-straight Paralympic gold medals in sled hockey after the United States won gold at both the 2010 and 2014 Paralympic Winter Games. In six Paralympic Winter Games appearances in sled hockey, the United States has now won four gold medals (2002, 2010, 2014, 2018) and one bronze medal (2006).
For the complete game recap, click here.
Watch the OT, game winning goal below...
Filed in: Non-NHL Hockey, International Hockey, | KK Hockey | Permalink

03/17/18 at 06:14 PM ET | Comments (8)
I took a nice tumble down the stairs early this morning and now feeling it from the back of my head to the tip of my toes.
I actually feel lucky, it was on of those slow motion falls and both legs buckled under me at the bottom of the stairs and I thought uh oh, broken leg coming.
But other than some scrapes and soreness, I am ok but feel it is best to take the night off.
Hopefully I will wake up feeling a little less sore than I am now.
Filed in: KK Website Business, | KK Hockey | Permalink

03/17/18 at 04:19 PM ET | Comments (0)
from Larry Brooks of the New York Post,
The NHL does everything it can to create the illusion that any team can win the Stanley Cup. Anything to elevate the mediocre at the expense of excellence. This bracket system takes the objective one step further. Maybe participation trophies are next....

We refer to shooting percentage by calculating the number of goals scored against shots on net. But wouldn't a more accurate picture be rendered by creating a "scoring percentage" by calculating goals against unblocked attempts?

For instance, where Patrik Laine owns a 19.34 shooting percentage (41/212), his scoring percentage would be 13.31 (41/308). Evgeni Malkin, who has a 19.05 shooting percentage (40/210), has a 15.15 scoring percentage (40/264), all stats provided by our friends at naturalstattrick.com.
more on the NHL Playofss seeding and other topics too...
Filed in: NHL Teams, NHL Talk, | KK Hockey | Permalink

03/17/18 at 04:13 PM ET | Comments (0)
from Steve Simmons of the Toronto Sun,
The options for Tavares will be many. San Jose and St. Louis are thought to be at the top of the list of suitors should he make himself available. Teams with cap space and potential need for a No. 1 centre such as Vancouver, Vegas, New Jersey, are almost certain to be all over the first line superstar.

Montreal has forever been in need of a first-line centre and even though the Rangers require a star forward, they say they won't jump into the Tavares fire. And it's hard to imagine Detroit and Carolina not taking a run at Tavares.

And while it probably makes little sense position-wise or salary-cap-wise, the Maple Leafs will juggle numbers to see if this is in any way doable. Tavares is only 27. In nine NHL seasons, he's only played in 24 playoff games, only once in the second round.
more on Tavares plus notes like these...
- So what will be announced at the end of the season? Joel Quenneville has been fired as coach of the Blackhawks or Quenneville has chosen to resign?

- Department of dumb team rules: Not letting assistant coaches in the NHL talk to the media. Especially goalie coaches. Most head coaches know next to nothing about goaltending
Filed in: NHL Teams, NHL Talk, | KK Hockey | Permalink

03/17/18 at 03:18 PM ET | Comments (0)
from USA Hockey,
The 2018 U.S. Paralympic Sled Hockey Team meets Canada today in the gold-medal game of the PyeongChang 2018 Paralympic Winter Games. The two teams enter today's game undefeated with matching 4-0 records. Puck drop is set for 12 p.m. local time (11 p.m. ET, March 17) at Gangneung Hockey Center and will be broadcast live on NBCSN as well as live streamed on NBCOlympics.com.

THE RIVALRY GOES FOR GOLD

When the puck drops today, it will mark the first time since sled hockey was introduced in the 1994 Paralympic Winter Games that the United States and Canada will face-off in a Paralympic gold-medal game. Combined, the two teams have won the last four gold medals in Paralympic play, with the U.S. capturing three gold medals (2002, 2010, 2014) while Canada has won gold once (2006).

Puck drop at Gangneung Hockey Center is slated for 12 p.m. local time, making it an 11 p.m. ET puck drop on March 17 back in the United States. The contest will be televised live on NBCSN and also streamed live on NBCOlympics.com.
continued and in Canada, CBC will be streaming the game.
Filed in: | KK Hockey | Permalink
Tags: team+canada, team+usa
03/17/18 at 02:53 PM ET | Comments (0)
from Fluto Shinzawa of the Boston Globe,
Before the season, NBC rightly claimed Bruins-Blackhawks on March 11. The network deployed its varsity team of Mike Emrick, Ed Olczyk, and Pierre McGuire to call the game because of its projected significance. The Blackhawks are rolling on a nine-year run of postseason appearances, with three of their dashes stretching into Stanley Cup-winning marathons. They are a ratings behemoth, the perpetual well the league and NBC seemingly tap as often for Winter Classics (Bruins-Blackhawks at Notre Dame on Jan. 1, 2019) as regular-season matinees.

The nine-year streak will end soon. Only the Oilers, Canucks, and Coyotes are worse than the Blackhawks in the West. It is unfortunate when Chicago fans scream the loudest for anthem singer Jim Cornelison. They are more used to cheering wins and Cups. Instead, they are left to wonder whether GM Stan Bowman can pull enough bunnies out of his bowler to complement stars who are aging.
more plus other hockey topics...
Filed in: NHL Teams, Chicago Blackhawks, | KK Hockey | Permalink

03/17/18 at 09:52 AM ET | Comments (3)
Two or three of the names mentioned recently politely declined for one reason or another.
Filed in: NHL Teams, Carolina Hurricanes, | KK Hockey | Permalink

Blog: Abel to Yzerman By Paul
03/17/18 at 07:20 AM ET | Comments (3)
from Ted Kulfan of the Detroit News,
"It was fun to play a little battle hockey," captain Henrik Zetterberg told FSD. "You don't see that very often anymore. That was nice. The guys stood up for teammates and themselves and it was good to see."

The Red Wings stood up physically, not backing down.

But take away the fights, and the Red Wings played a typical, of late, game.

Too many defensive breakdowns, not tough enough in front of goalie Jimmy Howard, and let another Western Conference team grind them most of the evening.

The Ducks outshot the Red Wings 36-30, with Howard coming up with several big saves as Anaheim was able to get close to the net early and often.

"We have to be better in our detail," coach Jeff Blashill told FSD.
from Eric Stephens of the OC Register,
Seven minutes after scoring, Ritchie and Detroit's Luke Witkowski engaged in a fight presumably to stick up for teammate Cam Fowler after the defenseman received a hard, clean check from Witkowski earlier. The fight ended with Witkowski on top of Ritchie, jawing at him while prone on the ice.

But the Ducks' bench erupted, with several smiling players fervently banging their sticks against the boards.

"That's what teammates do," Perry said. "They stick up for each other. That guy hit Cam pretty hard. It's not like we went right after him. We took a number and Ritch did a great job."

Said Kesler: "I think the big guy with the beard – I don't know his name – he hit Cam and that kind of started it. And then it just kind of snowballed."
Watch the game highlights and post-game interviews from the Detroit side below...
Filed in: | Abel to Yzerman | Permalink

« Previous < 1 2 3 4 5 > Last › Next »
About Kukla's Korner
Kukla's Korner is updated around the clock with the work of our own talented bloggers, plus links to the best hockey writing around the internet. We strive to bring you all the breaking hockey news as it happens.
The home page allows you to see the latest postings from every blog on the site. Subscribe here. For general inquiries and more, please contact us anytime.
Most Recent Posts
Most Recent Comments