04/21/18 at 07:41 AM ET | Comments (0)
FRIDAY'S RESULTS
The Jets recorded the first series win in franchise history, while the Avalanche and Flyers each won in dramatic fashion to avoid elimination and force Game 6 in their respective series.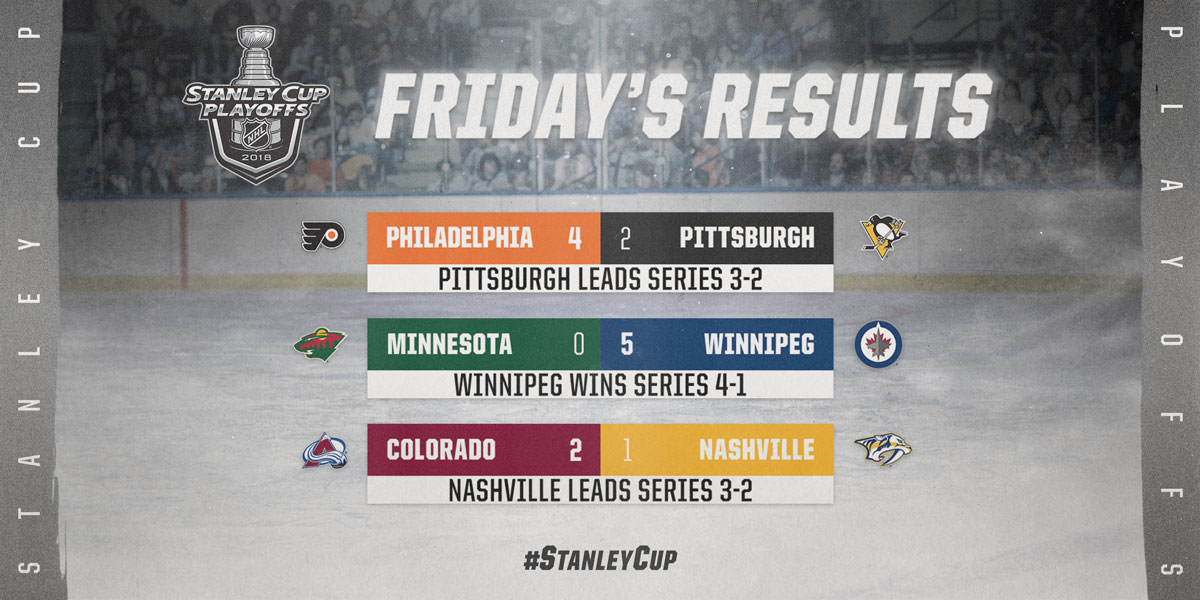 Filed in: NHL Teams, | KK Hockey | Permalink

04/20/18 at 10:47 PM ET | Comments (0)
The Jets will face the winner of Nashville/Colorado.
Tonight's game highlights.
Filed in: NHL Teams, Winnipeg Jets, | KK Hockey | Permalink

04/20/18 at 07:00 PM ET | Comments (0)
NEW YORK (April 20, 2018) – Florida Panthers center Aleksander Barkov, Vegas Golden Knights center William Karlsson and Buffalo Sabres center Ryan O'Reilly are the three finalists for the 2017-18 Lady Byng Memorial Trophy, awarded "to the player adjudged to have exhibited the best type of sportsmanship and gentlemanly conduct combined with a high standard of playing ability," the National Hockey League announced today.
Members of the Professional Hockey Writers Association submitted ballots for the Lady Byng Trophy at the conclusion of the regular season, with the top three vote-getters designated as finalists. The winner will be announced Wednesday, June 20, during the 2018 NHL Awards™ presented by Hulu at the Hard Rock Hotel & Casino in Las Vegas.
Following are the finalists for the Lady Byng Trophy, in alphabetical order
Filed in: | KK Hockey | Permalink

04/20/18 at 06:45 PM ET | Comments (3)
The three road teams, Philadelphia, Minnesota and Colorado are down 3-1. Is it over for all three tonight?
Comment away if you wish to.
Filed in: NHL Teams, | KK Hockey | Permalink

04/20/18 at 05:49 PM ET | Comments (0)
via NHL.com,
The NHL Department of Player Safety explains how they determine the main point of contact of a hit under Rule 48.
Filed in: NHL Talk, | KK Hockey | Permalink

Blog: Above the Glass By Samantha
04/20/18 at 04:44 PM ET | Comments (2)
It's been seven months since I had to face a weekend without Winterhawks hockey. The first weekend without local hockey is always weird, even when the Winterhawks make a deep playoff run. The Everett Silvertips eliminated the Winterhawks last Friday, which wasn't exactly a surprise. The real headline involves the Tri-City Americans, who went undefeated in the first two rounds of playoffs. The Western Conference final begins tonight in Everett. Meanwhile in the East, the Lethbridge Hurricanes and the Swift Current Broncos will vie for the Eastern Conference title. The Silvertips and the Broncos have the edge on paper, but I like the underdogs. I'm all in for the Americans and the Hurricanes to take their respective titles.
Filed in: | Above the Glass | Permalink

04/20/18 at 02:51 PM ET | Comments (0)
He returns Saturday night.
Filed in: NHL Teams, Toronto Maple Leafs, | KK Hockey | Permalink
Tags: nazem+kadri
04/20/18 at 02:42 PM ET | Comments (1)
from Luke DeCock of the News & Observer,
Ah, the great moments of the Bill Peters era. There was … or … uh … yeah.

Really, it comes down to yapping at Eddie Lack from down the hallway last year – "make a (bleeping) save" – or his epic rant in February about how sending the same team out again would be "unacceptable" at which point the Carolina Hurricanes proceeded to send the same team out again for the next game. Never anything on the ice.

Peters spent four years with the Carolina Hurricanes, made some bad commercials for water-purification systems, never made the playoffs and exits with essentially the same record as his predecessor, Kirk Muller. Peters was a terrific tactician who never connected with his players. This season, they had clearly tuned him out by December. He should have been fired then.

Then again, if Scott Darling isn't grossly negligent in net, the Hurricanes are in the playoffs right now (or at least, would have been earlier this week) and Peters is still in charge.
Filed in: NHL Teams, Carolina Hurricanes, | KK Hockey | Permalink
Tags: bill+peters
04/20/18 at 02:36 PM ET | Comments (0)
A second fishing excursion has been added.
Couldn't schedule the first one (which is still open), then how about this one?
Join NHL Legends July 21st - 25th, 2018 for the trip of a lifetime by traveling to the edge of Haida Gwaii, BC Canada to spend four exciting days fishing, sightseeing and hanging with the Legends of the NHL.

Marty McSorley, Owen Nolan, Jamie Huscroft and Wayne McBean are eager to spend the week with fans telling stories from their time in the NHL over delicious meals, while fishing on the open ocean in a very exclusive setting surrounded by untamed wildlife.
This all-inclusive adventure trip guarantees memories that will last a lifetime and dozens of pounds of fish to bring back for your friends and family.
This incredible experience includes:
Welcome cocktail reception in Vancouver penthouse suite
Overnight in Vancouver – private dinner with renowned chef
$500 gift bag and personalized gift (jerseys)
Chartered flight from Vancouver and helicopter ride to resort
$2500 in fish to take home
Whiskey tasting experience
Oyster shucking presentation and lesson with vodka tasting
4-day fully guided fishing experience
4-day jaw-dropping wildlife viewing
Prizes given out everyday
Filed in: | KK Hockey | Permalink

04/20/18 at 12:24 PM ET | Comments (0)
via Jon Rosen tweets,
Doughty (1/2): Rob Blake & Luc Robitaille, they took this job because they want to win. They want to transform this team into its winning ways again. Whether or not they do a lot in the offseason, I don't know, but...we have these young guys coming up that I think...

DD (2/2) ...are going to make a difference, and that shows me how much potential we have in the future, and I'm good with it and I'm happy to hopefully re-sign here."
Filed in: NHL Teams, Los Angeles Kings, | KK Hockey | Permalink
Tags: drew+doughty
« Previous < 1 2 3 4 > Last › Next »
About Kukla's Korner
Kukla's Korner is updated around the clock with the work of our own talented bloggers, plus links to the best hockey writing around the internet. We strive to bring you all the breaking hockey news as it happens.
The home page allows you to see the latest postings from every blog on the site. Subscribe here. For general inquiries and more, please contact us anytime.
Most Recent Posts
Most Recent Comments