Blog: Abel to Yzerman By Paul
02/22/18 at 03:49 PM ET | Comments (1)
Puck drop is just after 7:30pm ET at the LCA with the Buffalo Sabres in town.
The game is on FoxSports Detroit.
Tatar, Nyquist and Blashill are featured in the video.
Detroit's projected lineup is below...
Filed in: | Abel to Yzerman | Permalink

02/22/18 at 03:46 PM ET | Comments (0)
from Nicholas J. Cotsonika of NHL.com,
The Florida Panthers will honor the victims of the Marjory Stoneman Douglas High School shooting when they play the Washington Capitals at BB&T Center on Thursday.

The game (7:30 p.m. ET; TVAS, FS-F, NBCSWA, NHL.TV) -- the Panthers' first at home since 17 people died in Parkland, Florida, on Feb. 14 -- will include a moment of silence, a pregame ceremony, a blood drive and fundraisers.

Stoneman Douglas is 3 1/2 miles from the Panthers' practice facility in Coral Springs, Florida, and 13 1/2 miles from BB&T Center. Some players live in Parkland and had kids in school nearby; goaltender Roberto Luongo's 7-year-old son, Gianni, was in lockdown in a closet for three hours. Some staff members are Stoneman Douglas alumni.

"We all feel the pain and can't imagine what it's like to lose a child," Luongo said after the morning skate, wearing a Stoneman Douglas hat as both teams will during warmup. "It's pretty hard to take."
Filed in: NHL Teams, Florida Panthers, | KK Hockey | Permalink

02/22/18 at 02:47 PM ET | Comments (2)
SUNRISE, Fla. - Florida Panthers President of Hockey Operations & General Manager Dale Tallonannounced today that the club has acquired forward Frank Vatrano from the Boston Bruins in exchange for a third-round pick at the 2018 NHL Draft.
"Frank is a talented, versatile forward who can score goals, contribute offensively and add to the depth of our forward group," Tallon said. "He's a young player who is still improving and has the ability to support our core group right now and for many years to come."
Vatrano, 23, has appeared in 108 career NHL games, producing 31 points (20-11-31). The 5-foot-9, 201-pound native of East Longmeadow, Mass., recorded his first 10-goal campaign in the NHL in 2016-17. This season, Vatrano has posted two goals over 25 games.
Filed in: NHL Teams, Boston Bruins, Florida Panthers, | KK Hockey | Permalink
Tags: frank+vatrano
02/22/18 at 12:50 PM ET | Comments (1)
MONTREAL - Canadiens defenseman Shea Weber will undergo surgery to repair a tear in a tendon in his left foot and will miss the remainder of the 2017-18 season.
˝Following the diagnosis of Shea Weber's injury, it was our belief that after a comprehensive rehabilitation protocol under the guidance of our medical team, Shea would be able to return to play this season. Unfortunately, after extensive efforts to heal Shea's injury, progress has not been made as expected. After further exams, and a consultation on Wednesday in Green Bay, Wisconsin with specialist Dr. Robert Anderson, and with Shea's approval, it has been determined that he should undergo surgery and will be out for the reminder of the season. Our medical group will work with Shea to ensure he is pursuing the best course of treatment moving forward, and we expect him to make a full recovery and be ready for the start of training camp next season. The length of his recovery will be determined following surgery, which will be performed by Dr. Anderson,'' said the Club's orthopedic surgeon, Dr. Paul Martineau.
Filed in: NHL Teams, Montreal Canadiens, | KK Hockey | Permalink
Tags: shea+weber
02/22/18 at 12:40 PM ET | Comments (0)
GLENDALE, ARIZONA - Arizona Coyotes President of Hockey Operations and General Manager John Chayka announced today that the Coyotes have signed goaltender Darcy Kuemper to a two-year contract. As per club policy, terms of the contract were not disclosed.
"We are very pleased to sign Darcy to a two-year contract extension," said Chayka. "You need two goalies to win in this league. Antti is one and now we feel confident that we've got the second one in Darcy. We are very happy with our depth at the position in the NHL and AHL."
The 27-year-old Kuemper has posted a 10-1-3 record with a 2.10 goals against average (GAA), .932 save percentage (SV%) and three shutouts in 19 games for the Kings this season. The 6-foot-5, 215-pound native of Saskatoon, SK has a career record of 51-35-17 with a 2.52 GAA, .913 SV% and 10 shutouts in 104 games with the Kings and Minnesota Wild.
Filed in: NHL Teams, d, | KK Hockey | Permalink
Tags: darcy+kuemper
Blog: Abel to Yzerman By Paul
02/22/18 at 10:35 AM ET | Comments (23)
via Ansar Khan tweets,
Jimmy Howard in starter's net at #RedWings morning skate. Face @BuffaloSabres tonight at @LCArena_Detroit\

Mike Green (upper body injury) not skating today. Has missed three games. Likely to be traded by Monday's deadline, so at this point might be best to just keep him out of lineup.
added 10:43am, Khan...
lines at skate:
Nyquist-Zetterberg-Mantha
Tatar-Larkin-Athanasiou
Abdelkader-Nielsen-Helm
Booth-Glendening-Frk (Bertuzzi working in)
Khan again at 10:46am,
defense pairs:
DeKeyser-Jensen
Ericsson-Daley
Kronwall-Ouellet
Witkowski appears to a scratch tonight.
added 10:52am, Khan...
Bertuzzi working on second power play unit, so it looks like he's in tonight and Frk out, replaced by Booth.
Filed in: | Abel to Yzerman | Permalink

02/22/18 at 08:23 AM ET | Comments (0)
from Eric Stephens of the OC Register,
"Get there faster than him," Getzlaf said" Obviously it was flipped in the air, so he probably reacted to it late. I just noticed that their (defensemen) had been out there for a long time so they were probably going to change, thinking I was going off. Clearly, I was fresh sitting in the box for about 2½ minutes."

Bishop said he saw Stars teammates Tyler Seguin and John Klingberg were exhausted at the end of a long power-play shift. Getzlaf charged past both of them.

"I started going and once I saw it stop I knew I was in trouble," said Bishop, who made 15 saves. "I just tried to get a glove on it when he chipped it over me. I could see them, I knew they were tired. By the way the he flicked it I thought I'd be able to make a play on it. I think it might have stopped there.

"Once I committed, I kind of have to go there. It's just a matter of the guys being out there a long time, obviously two minutes and just the back spin. It's unfortunate."
more on the Duicks 2-0 win over the Stars...
Watch the goal below.
Filed in: NHL Teams, Anaheim Ducks, Dallas Stars, | KK Hockey | Permalink
Tags: ryan+getzlaf
02/22/18 at 04:30 AM ET | Comments (0)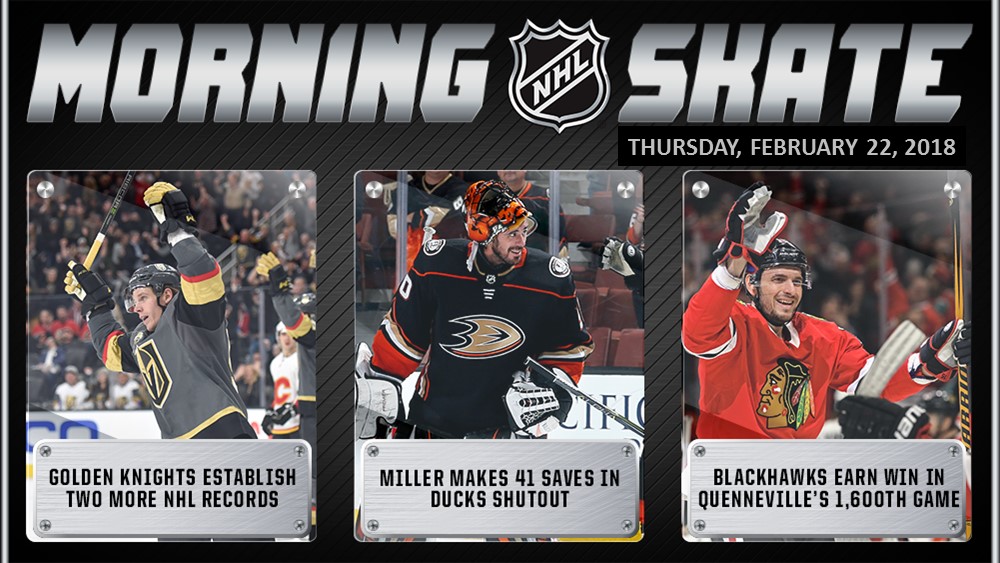 WEDNESDAY'S RESULTS
Home Team in Caps
CHICAGO 3, Ottawa 2 (SO)
ANAHEIM 2, Dallas 0
VEGAS 7, Calgary 3
Filed in: NHL Teams, | KK Hockey | Permalink

02/22/18 at 04:20 AM ET | Comments (18)
from Andrew Podnieks of IIHF.com,
After 80 minutes of end-to-end action, the women's Olympic gold medal was decided by a shootout. And even that went to overtime before the U.S. won, 3-2.

In fact, the shootout mirrored the game exactly. The U.S. led 1-0, trailed 2-1, and fought back to win both, 3-2. The U.S. goalie, 20-year-old Maddie Rooney, outduelled Canada's two-time Olympic gold medallist Shannon Szbados to secure the win.

Lamoureux's winning shootout shot was, as they say, sick. Moving in slwoly, she made a couple of left-to-right dekes that had Szabados on her back.

"I was told after the fourth shooter that I was going to be the sixth one if it came to that," Lamoureux explained. "Coach Stauber asked if I wanted it and I said, 'Absolutely.' I came in on a few inside edges, coming in slow. I knew that was what I was going to do. Szabados is a great goalie. She's an amazing goalie. I knew I had to sell the shot, and I did."

"I can't think about anything except pure pride, excitement, and honour for our team," said winning captain Meghan Duggan. "A lot of us have wanted this since we saw the 1998 team win 20 years ago. To have this experience together, to represent our country is the greatest honour in the world. It's one of the greatest days of all of our lives."
from Bruce Athur of the Toronto Star,
Filed in: | KK Hockey | Permalink

Blog: Abel to Yzerman By Paul
02/22/18 at 03:52 AM ET | Comments (19)
from Bob Wojnowski of the Detroit News,
Now is the time for Holland to be bolder, with less to lose as the Wings slide toward a second straight playoff-less finish. Now would be the time for a risky leap, such as seeing what you can get for a tantalizing young player like Andreas Athanasiou, who has speed and skill, and also vexing defensive and effort lapses.

Now is when you shop other semi-affordable players having solid seasons, such as two of your leading scorers, Tomas Tatar, 27, and Gustav Nyquist, 28, (16 goals each), and perhaps Luke Glendening. Nashville reportedly is interested in Tatar, and although he's owed $5.3 million per season through 2021, that might be palatable to a contender. Nyquist is more affordable, a free-agent after next season. Either might draw more than a pick, perhaps even a prime prospect.

Holland almost never makes value-for-value, equal-for-equal player trades, and for years, it wasn't necessary. At the height of their success, the Wings simply dumped draft picks and prospects for better talent.

Now, instead of playing for Cups, they're holding out a cup, asking for picks. The only certainty before Monday is that Green, 32, a pending unrestricted free-agent, will be dealt. Most rumors are gasps in the wind, but Holland must pursue every avenue.
Filed in: | Abel to Yzerman | Permalink

About Kukla's Korner
Kukla's Korner is updated around the clock with the work of our own talented bloggers, plus links to the best hockey writing around the internet. We strive to bring you all the breaking hockey news as it happens.
The home page allows you to see the latest postings from every blog on the site. Subscribe here. For general inquiries and more, please contact us anytime.
Most Recent Posts
Most Recent Comments