05/22/18 at 01:29 PM ET | Comments (0)
NEW YORK (May 22, 2018) -- The Tampa Bay Lightning and Washington Capitals will decide the Eastern Conference Final in Game 7 Wednesday night at AMALIE Arena in Tampa (8 p.m., ET, NBCSN, CBC, SN, TVAS). This marks the fourth consecutive year that the Eastern Conference Final has required a seventh and deciding game.
The winner will advance to the Stanley Cup Final and face the Western Conference champion Vegas Golden Knights in a best-of-seven series beginning Monday, May 28.
If the Lightning advance, they will host Game 1 against the Golden Knights at AMALIE Arena in Tampa. If the Capitals advance, they will play Game 1 on the road against the Golden Knights at T-Mobile Arena in Las Vegas.
While the Lightning and Capitals never have met in a winner-take-all contest, and have not played one in the 2018 postseason, Game 7 is familiar territory for both.
Filed in: NHL Teams, Tampa Bay Lightning, Washington Capitals, | KK Hockey | Permalink

05/22/18 at 01:10 PM ET | Comments (2)
from Sachin Dave Chandan of ESPN,
For ESPN The Magazine's third annual World Fame 100 issue, we calculated the most famous athletes in sports. For the second year in a row, no hockey players cracked the top 100.

Here's why. First off, to create the list, we started with more than 600 of the biggest names in sports, drawn from 68 countries, then had ESPN's director of analytics, Ben Alamar, rank them based on a formula that took into account three fame factors: endorsement dollars; Google Trend score, which measures how often a name is searched, using Cristiano Ronaldo's score of 100 as a baseline (the higher the better); and social media following. (Since not all athletes are on every platform, we used only the number from their most popular account.)

Remember, this is a global ranking of fame. While hockey is an international sport, other sports have a much larger worldwide footprint. Thus, the most players on the World Fame 100 -- including No. 1, Ronaldo -- come from soccer, the biggest game in the world. Even though the NHL is the most popular league in Canada, that country's population is miniscule compared with, say, India (more than 1.3 billion) -- which helps explain why 10 cricket players from the Indian Premier League, which has a viewership of 316 million, made the top 100, while no NHL or Major League Baseball players did.

The two highest-ranked hockey players on the full list were who most people would suspect, but No. 3 was a bit of a surprise:
continued (Ovechkin at #133, Crosby at #157 and Kovalchuk at #193...
Filed in: | KK Hockey | Permalink

05/22/18 at 10:13 AM ET | Comments (6)
from the New York Isanders,
The New York Islanders announced today the hiring of Lou Lamoriello as President of Hockey Operations. He will have full authority over all hockey matters with the organization.

"We are grateful to Larry Tanenbaum and the Toronto Maple Leafs for their courtesy in allowing this move," Managing Partner of the Islanders, Scott Malkin said. "We are committed to giving Lou every resource and the full support of the entire organization as we pursue our program to compete at the highest level."

"I am excited to join such a storied franchise and look forward to working with Scott Malkin and the entire New York Islanders organization," Lamoriello said.
Filed in: NHL Teams, New York Islanders, | KK Hockey | Permalink
Tags: lou+lamoriello
05/22/18 at 09:51 AM ET | Comments (3)
via Bob McKenzie tweets,
Expectation is that while Mark Hunter is departing TOR, because he has time remaining on his contract, one of the conditions of his departure is that he will not be permitted to work for another team until after 2018 draft and free agency period.

Which is to suggest he won't necessarily be restricted from working for another team for the remaining year of his TOR contract, but it will be later in the summer before he would be permitted to do so.

TOR could have had Hunter run the 2018 draft but didn't want someone who had expressed a desire to leave the organization doing it. So they agreed to part ways now, albeit with a condition on when he could begin working for another NHL team.
Filed in: NHL Teams, Toronto Maple Leafs, | KK Hockey | Permalink
Tags: mark+hunter
05/22/18 at 08:32 AM ET | Comments (0)
from Damien Cox of the Toronto Star,
...McPhee didn't just pick players who could be more significant players in the NHL than they had been given the chance to be. He hit home runs, the most notable one being William Karlsson from the Columbus Blue Jackets. In two of his last three games as a Blue Jacket, Karlsson didn't get 10 minutes of playing time from John Tortorella. Columbus saw more value in Josh Anderson and Alexander Wennberg than Karlsson.

Deryk Engelland was better as a Golden Knight than as a Calgary Flame. Alex Tuch delivered more for Vegas than Minny ever thought he was going to deliver for them.

In retrospect, McPhee did a superb job, but not because he was given a list of all-stars and former first-round picks to choose from. He selected well, and more than a few of his selections turned out better than he could possibly have imagined....

It's a wonderful tale, the hockey story of the year, but also one that detracts from many of the traditional beliefs of the sport. It really shouldn't be this easy.

But Vegas has made it look easy. No fluke. No special treatment. Lots of sweat and hard work and dedication made it happen.

Still, having a successful expansion outfit is one thing. Having one this successful is quite another.
Filed in: NHL Teams, | KK Hockey | Permalink
Tags: vegas+golden+knights
05/22/18 at 08:25 AM ET | Comments (0)
from Larry Brooks of the New York Post,
The title at this point is unclear, but the authority granted to Lou Lamoriello by Islanders ownership is absolute. He and he alone will determine the fate of general manager Garth Snow. He and he alone will determine whether Doug Weight will get another crack at it behind the bench.

Lamoriello, whom we're told on good authority received permission no later than the beginning of last week from the Maple Leafs to leave his do-nothing assignment as senior adviser in order to speak with owners Scott Malkin and Jon Ledecky, is the decider. All hockey department personnel decisions — as well as all player personnel decisions — will run through Lamoriello.

No one will be saved by a poison pill that might have been inserted in his contract by previous majority owner Charles Wang, who always seemed to have some sort of side game going when he was in control. Bet your bottom dollar there will be no side games run out of Lamoriello's office.
Filed in: NHL Teams, New York Islanders, | KK Hockey | Permalink
Tags: lou+lamoriello
05/22/18 at 07:52 AM ET | Comments (0)
from Tom Jones of the Tampa Bay Times,
Get ready, Tampa Bay, because it's coming. Wednesday night at Amalie Arena. One game to decide which team goes to the Stanley Cup final.

The Lightning and the Capitals. If you think you know who is going to win, you're crazy. No one knows what will happen because nothing in this series has made sense.

But there's no question which team has the momentum and it isn't the Lightning. If Tampa Bay doesn't get its act together and soon, you can forget a Stanley Cup. If we learned anything from Washington's season-saving 3-0 victory Monday night, it's that the Lightning had better raise its desperation level.

"We were no good," Lightning coach Jon Cooper said. "We didn't play with the near desperation that they did. Was it a fairly even game? There's no question."
Watch the game highlights below.
Filed in: NHL Teams, Tampa Bay Lightning, Winnipeg Jets, | KK Hockey | Permalink

Blog: Abel to Yzerman By Paul
05/22/18 at 07:32 AM ET | Comments (1)
Ansar Khan answers a few questions frrom the fans...
Q: How on earth does this team get any better outside of winning the draft lottery (make that next year's draft lottery) with all the horrific contracts they currently have? (Justin) Abdelkader, (Darren) Helm, (Frans) Nielsen, (Jonathan) Ericsson: these are all bad contracts. Realistically, the Wings are going to have to ride these contracts out, as it seems unlikely they will be able to trade or will chose to buy out (a bad idea) any of these players. Is there any realistic possibility of improvement with these anchor albatross contracts on the books?

A: They could improve. A better power player and stronger goaltending would help. Continued growth from younger players like Dylan Larkin, Anthony Mantha, Andreas Athanasiou and Tyler Bertuzzi, coupled with contributions from potential incoming prospects Michael Rasmussen, Evgeny Svechnikov and Filip Hronek would be a boost.

But unless they make the playoffs, they're better off not improving, record-wise, to enhance their draft lottery odds in the next couple of seasons as they rebuild. Coaches and players don't want to hear that because they're not focused on the future like the front office is, they're trying to win each game.

I doubt any of the players you mentioned can be traded now, not without the Red Wings retaining a large portion of their contracts or taking a bad contract in return, and I doubt anybody on the roster will be bought out.
read on for more Q & A...
Filed in: | Abel to Yzerman | Permalink

05/22/18 at 07:26 AM ET | Comments (0)
MONDAY'S RESULT
The Capitals shut out the Lightning to snap their three-game win streak and force Game 7, marking the fourth consecutive year that the Eastern Conference Final will require a winner-take-all contest.

* The 2018 Stanley Cup Playoffs are the fifth consecutive year that at least one series in the Conference Finals will require a Game 7. Two of those contests also involved the Lightning – they defeated the Rangers in 2015 and lost to the Penguins in 2016. The others in that span: 2014 (LAK: 5-4 OT W at CHI), 2015 (CHI: 5-3 W at ANA) and 2017 (PIT: 3-2 2OT W vs. OTT).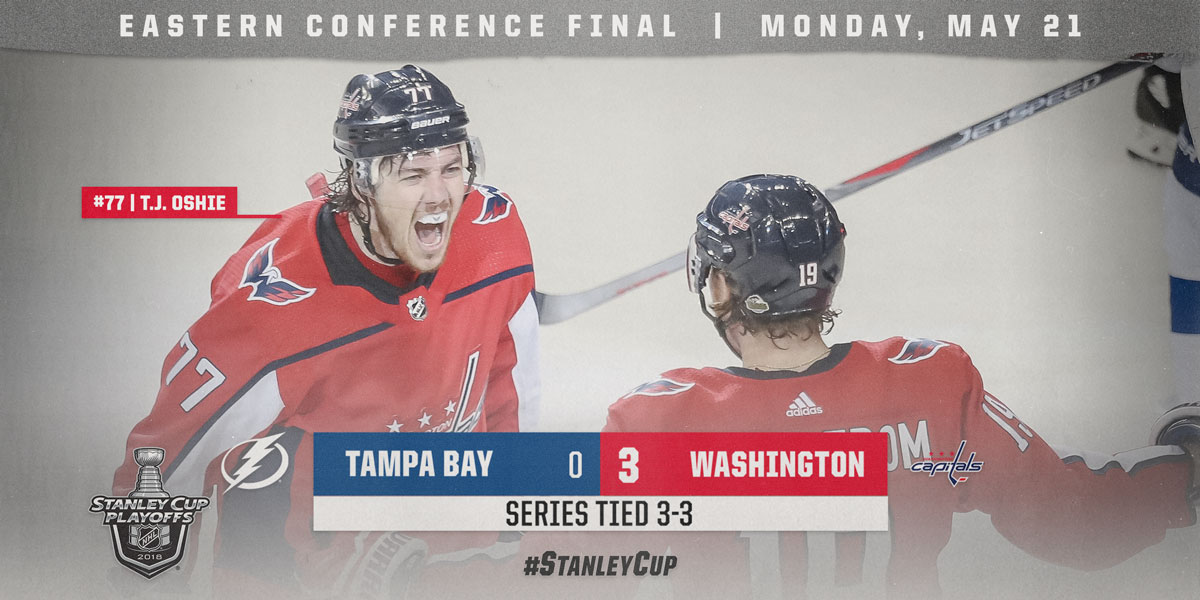 Filed in: NHL Teams, | KK Hockey | Permalink

05/21/18 at 10:56 PM ET | Comments (0)
NEW YORK (May 21, 2018) – The National Hockey League today announced the dates for the 2018 Stanley Cup Final, which will begin on Monday, May 28. Additionally, Stanley Cup Final Media Day will be held on either Saturday, May 26 or Sunday, May 27, in the host city for Game 1.
Filed in: NHL Teams, Tampa Bay Lightning, Washington Capitals, | KK Hockey | Permalink
Tags: vegas+golden+knights
« Previous ‹ First < 4 5 6 7 8 > Last › Next »
About Kukla's Korner
Kukla's Korner is updated around the clock with the work of our own talented bloggers, plus links to the best hockey writing around the internet. We strive to bring you all the breaking hockey news as it happens.
The home page allows you to see the latest postings from every blog on the site. Subscribe here. For general inquiries and more, please contact us anytime.
Most Recent Posts
Most Recent Comments