03/19/18 at 12:02 PM ET | Comments (0)
NEW YORK (March 19, 2018) – St. Louis Blues defenseman Alex Pietrangelo, Colorado Avalanche center Nathan MacKinnon and Toronto Maple Leafs goaltender Curtis McElhinney have been named the NHL's "Three Stars" for the week ending March 18.
Filed in: NHL Teams, | KK Hockey | Permalink

Blog: Abel to Yzerman By Paul
03/19/18 at 11:53 AM ET | Comments (7)
from Dave Isaac of the Courier Post,
Petr Mrazek's eyes lit up and he showed a wide smile each time he was asked about his old team.

He wants the revenge game against the Detroit Red Wings on Tuesday.

What he did Sunday night, getting a win that dramatically changed the Flyers' playoff outlook, probably earned him the opportunity.

"It's gonna be nice to be back but when the game starts, it doesn't matter who is on the other side," Mrazek said. "We are going there to get some good result and we have to go from there. It's gonna be nice to be back in the town where I spent my first five or six NHL years."...

"When you get traded away or that team doesn't want you (any)more, obviously you have something to prove personally but I think it will be pretty exciting for Petr to be back in Detroit," Shayne Gostisbehere said. "It should be fun."
Filed in: | Abel to Yzerman | Permalink

03/19/18 at 11:35 AM ET | Comments (0)
Highlights from the past week in the NHL, all in super slow motion.
Filed in: NHL Teams, | KK Hockey | Permalink

03/19/18 at 09:26 AM ET | Comments (0)
from Ed Willes of the Vancouver Province,
Now, it's hard to know how management is going to attack this off-season but, as this campaign approaches its depressing conclusion, one thing is clear. The faithful are ready for whatever comes next as long as it's something different. The Trevor Linden-Jim Benning management team has failed miserably in their stated goal of providing a supporting environment for their younger players, but if they're waiting for the perfect time to start integrating prospects into the lineup, we might not see Thatcher Demko play a game until he's 27.

For the Canucks, the future has arrived and if that's not consistent with, ahem, the larger plan, too bad. The organization can't possibly expect their fan base to sit through another season like this with the same cast of veterans delivering, presumably, the same results. Those fans want to see what tomorrow looks like. They want to see if there's any reason to believe in this management team. Whatever runway the Canucks were hoping to build for their prospects has been torn apart by these last three seasons.

The faithful aren't expecting much. At the very least, they expect to see the kids in the lineup next season.
more hockey notes...
Filed in: NHL Teams, Vancouver Canucks, | KK Hockey | Permalink

03/19/18 at 09:12 AM ET | Comments (11)
In his last two full seasons with Columbus, Karlsson played in 162 game, 15 goals and 45 points combined.
This year with the VGK, 39 goales and 65 points.
added 9:49am,
Filed in: NHL Teams, Columbus Blue Jackets, | KK Hockey | Permalink
Tags: vegas+golden+knights, william+karlsson
Blog: Abel to Yzerman By Paul
03/19/18 at 07:13 AM ET | Comments (15)
from Helene St. James of the Detroit Free Press,
They haven't won a game in three weeks. They can't score, can't keep the puck out of their net, and just as it appears they're building momentum, it's the opponent who grabs it.

After Sunday's 5-1 loss to the Colorado Avalanche at Pepsi Center, Henrik Zetterberg talked about not letting the frustration suffocate them.

"Guys are working hard," he said. "They put the time in non-game days and we prepare ourselves for every game. But, it almost makes it a little tougher that we have lost 10 in a row.

"We're so far back, but every time you put on the Red Wing logo, you go out and play as hard as you can."...

The Wings are fourth from last place in the NHL. The losing will lead to better draft lottery odds, which is a positive. The challenge is to make it a learning experience for the group that's going through it. The Wings return home to play Philadelphia Tuesday. It will be the 10th straight game against an opponent that has something to play for, either shoring up a playoff spot or securing home ice advantage.

What's to learn from that?

"How hard every game is as you get as you get down to the end of the year here," coach Jeff Blashill said.
Filed in: | Abel to Yzerman | Permalink

03/19/18 at 06:55 AM ET | Comments (1)
from Ted Wyman of the Winnipeg Sun,
The celebration over a hard-fought win that brought the Winnipeg Jets a step closer to locking up a playoff spot was muted Sunday night as another key member of the team went down with what looks like a troubling injury.

For all the excitement coming out of a 4-2 win over the Dallas Stars at Bell MTS Place, there was also obvious concern over the health of defenceman Jacob Trouba, who left in the third period after a thunderous collision — with contact to the head — with Stars captain Jamie Benn.

Trouba tried to get to his feet but fell over after taking the hit, had to be helped onto the bench and went straight down the tunnel to the dressing room, presumably for concussion protocol....

Jets coach Paul Maurice said there will be no official diagnosis until Monday but it's obviously concerning because there was head-to-head contact between Benn and Trouba.

"I had a lousy seat there on the other side of the boards, but they both came together and it was helmet on helmet," he said.

"I've seen it happen before to players and they bounce back pretty quick."
read on for more on the game...
Also in the game, Ben Bishop left with a lower-body injury and the Stars say he will be re-evaluated in two weeks.
Watch the Trouba/Benn collision below, Bishop injury along with the game highlights.
Filed in: NHL Teams, Dallas Stars, Winnipeg Jets, | KK Hockey | Permalink
Tags: ben+bishop, jacob+trouba
03/19/18 at 06:41 AM ET | Comments (0)
If you were busy watching March Madness or otherwise preoccupied, time to catch up on the NHL action from Sunday.
Five minutes long.
Filed in: NHL Teams, | KK Hockey | Permalink

03/19/18 at 06:36 AM ET | Comments (0)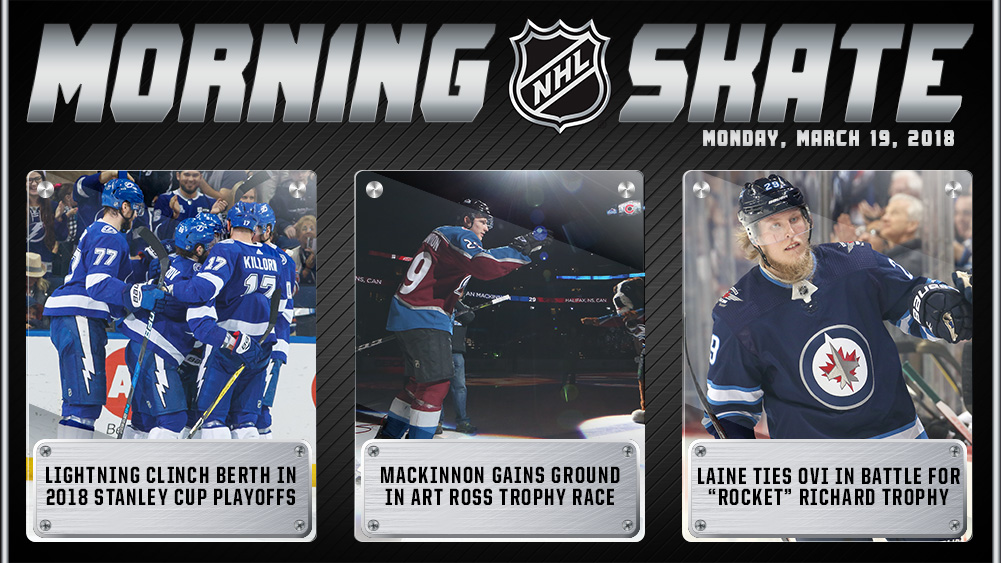 SUNDAY'S RESULTS
Home Team in Caps
COLORADO 5, Detroit 1
VEGAS 4, Calgary 0
TAMPA BAY 3, Edmonton 1
Carolina 4, NY ISLANDERS 3
PHILADELPHIA 6, Washington 3
St. Louis 5, CHICAGO 4 (OT)
WINNIPEG 4, Dallas 2
ANAHEIM 4, New Jersey 2
Filed in: NHL Teams, | KK Hockey | Permalink

Blog: Abel to Yzerman By Paul
03/18/18 at 07:33 PM ET | Comments (1)
via the Wings' YouTube page,
Henrik Zetterberg, Nick Jensen, Jared Coreau, Justin Abdelkader, and Jeff Blashill speak with the media following Sunday's 5-1 loss to the Avalanche in Colorado.
added 8:31pm, Ted Kulfan of the Detroit News,
Filed in: | Abel to Yzerman | Permalink

« Previous ‹ First < 4 5 6 7 8 > Last › Next »
About Kukla's Korner
Kukla's Korner is updated around the clock with the work of our own talented bloggers, plus links to the best hockey writing around the internet. We strive to bring you all the breaking hockey news as it happens.
The home page allows you to see the latest postings from every blog on the site. Subscribe here. For general inquiries and more, please contact us anytime.
Most Recent Posts
Most Recent Comments