02/20/18 at 09:15 AM ET | Comments (1)
By Charles,
The Olympic Games are widely regarded as the pinnacle of sporting achievement. It attracts world-renowned athletes from a wide range of sports and is watched by an audience of up to four billion people.
In April of last year, however, it was revealed that many of ice hockey's biggest stars weren't going to be making the trip to South Korea. We're finding out what's caused the situation to arise and whether it's likely to be resolved in the future, below:
Filed in: Non-NHL Hockey, International Hockey, | KK Hockey | Permalink

02/20/18 at 08:55 AM ET | Comments (0)
A bit over three minutes to watch.
Filed in: NHL Teams, | KK Hockey | Permalink

02/20/18 at 08:50 AM ET | Comments (0)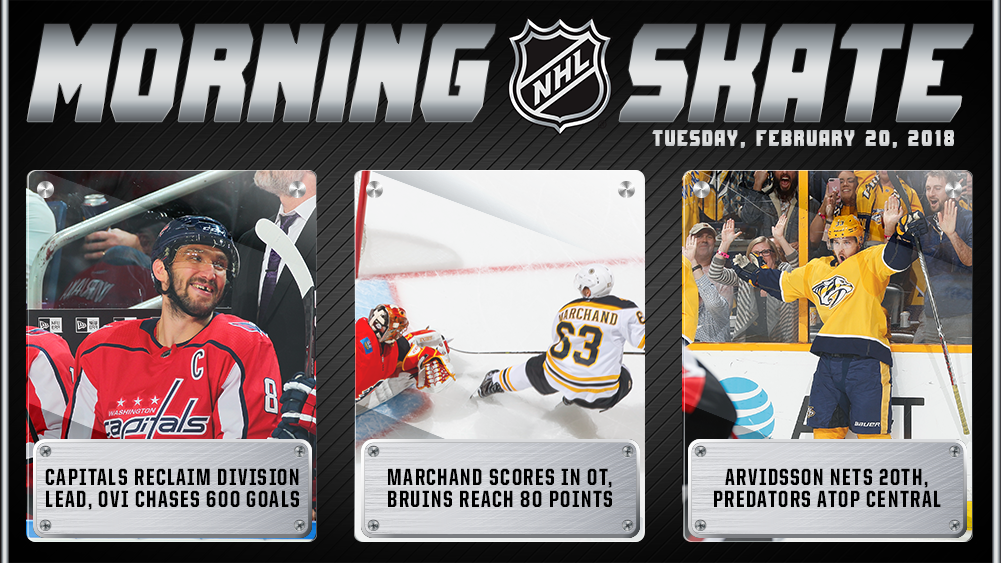 MONDAY'S RESULTS
Home Team in Caps
Minnesota 5, NY ISLANDERS 3
Washington 3, BUFFALO 2
Boston 2, CALGARY 1 (OT)
NASHVILLE 5, Ottawa 2
Los Angeles 3, CHICAGO 1
Anaheim 2, VEGAS 0
Filed in: NHL Teams, | KK Hockey | Permalink

02/20/18 at 12:28 AM ET | Comments (2)
USA 5, Slovaki 1
USA will face the Czech Republic Tuesday night at 10:10pm ET.
Filed in: | KK Hockey | Permalink

02/20/18 at 12:20 AM ET | Comments (0)
from Larry Brooks of the New York Post,
With Henrik Lundqvist, a seventh-round selection in 2000, and Brian Leetch, ninth-overall in 1986, as exceptions over the past four decades, the Blueshirts have had to trade for franchise players, and just about always when it has been too late to matter.

But this season that went irretrievably wrong within days of the calendar flipping to 2018 could be the one to put the Rangers into position to change the cycle.

Because, with lottery luck that was absent in 2004 when the Blueshirts entered the Sidney Crosby Sweepstakes as one of four teams with the best (6.25 percent) chance to claim the grand prize before somehow leaving with the 16th-overall selection, a continued deep dive could set up the franchise with at least a top-three selection for the first time since it was called the amateur draft.
Filed in: NHL Teams, New York Rangers, | KK Hockey | Permalink

Blog: Abel to Yzerman By Paul
02/19/18 at 11:57 PM ET | Comments (40)
from Scott Cullen of TSN,
Considering that Philadelphia was very clearly dealing from a position of weakness, they paid a very reasonable price to fill a suddenly gaping hole in their lineup.

From Detroit's perspective, maybe the goalie trade market isn't offering much, but this would sure seem to indicate that the team just wasn't sold on Mrazek as having any kind of future value. It's not like they have great options in the organization and 33-year-old Howard has a contract that expires after next season.

For those reasons, the trade does seem like a win for the Flyers, who paid a reasonable price to address a position of need.
Filed in: | Abel to Yzerman | Permalink

Blog: Abel to Yzerman By Paul
02/19/18 at 10:04 PM ET | Comments (53)
added 10:10pm,
added 10:44pm, conditions added in the comment section.
Detroit release is below...
Filed in: | Abel to Yzerman | Permalink

02/19/18 at 09:28 PM ET | Comments (1)
from Callie Parmele of ColoradoAvalanche.com,
The Colorado Avalanche finished its contest against the Edmonton Oilers on Sunday without defensemen Erik Johnson and Anton Lindholm as both rear guards suffered upper-body injuries in the contest. There is not a timetable on when they could return to action.

"They are both out indefinitely. I don't have a timeline on it," head coach Jared Bednar said after the team's optional practice at Family Sports Center on Monday.

Johnson and Lindholm join rear guard Mark Barberio on injured reserve. Barberio has been recovering from a lower-body ailment since Jan. 25.
Filed in: NHL Teams, Colorado Avalanche, | KK Hockey | Permalink

02/19/18 at 08:58 PM ET | Comments (0)
from Richard Deitsch of Sports Illustrated,
As he has done with this column at at multiple Olympics around the halfway point, NBC Sports Chairman Mark Lazarus addressed some questions viewers have have had regarding NBC's coverage of the PyeongChang Games....

SI: How much has hockey viewership been hurt by the NHL players not being there?

Lazarus: A bit. It is early in the men's tournament and we have not seen the big games yet but we are off roughly in the high 20s or low 30s. It has been affected. The [broadcast] windows are pretty similar so it is close to an apples to apples comparison. Listen, I think it is bad for hockey everywhere. Our numbers are off and if you look at the RSN numbers for every NHL team over this week-long period, at least when I looked at it, all but two teams were off versus a year ago in this window. So it is not good for anybody's hockey ratings.
more on the Olympics
Filed in: NHL Media, Hockey Broadcasting, | KK Hockey | Permalink

02/19/18 at 07:49 PM ET | Comments (3)
Filed in: NHL Teams, | KK Hockey | Permalink

« Previous ‹ First < 2 3 4 5 6 > Last › Next »
About Kukla's Korner
Kukla's Korner is updated around the clock with the work of our own talented bloggers, plus links to the best hockey writing around the internet. We strive to bring you all the breaking hockey news as it happens.
The home page allows you to see the latest postings from every blog on the site. Subscribe here. For general inquiries and more, please contact us anytime.
Most Recent Posts
Most Recent Comments