01/21/18 at 09:16 AM ET | Comments (0)
from Tom Timmermann of the St. Louis Post-Dispatch,
"This is embarrassing," said forward Vladimir Tarasenko.

"To be perfectly honest, there's no explanation for it," Yeo said.

So if that previous home game was unacceptable, where does that put this one, Yeo was asked.

"It's got to be unacceptable to them, I hate to say it," Yeo said. "That's the reality. I can say it all I want, but we can keep trying to do whatever, and obviously we will. We'll come back to the rink tomorrow and that'll be a practice that obviously ... we'll have practice, but it's in the preparation. For whatever reason, when you're not ready to work, obviously that's the result tonight.
Game highlights are below...
Filed in: NHL Teams, d, St. Louis Blues, | KK Hockey | Permalink

01/21/18 at 08:59 AM ET | Comments (0)
Catch up on the action if you missed yesterday's games.
Filed in: NHL Teams, | KK Hockey | Permalink

Blog: The Malik Report By Paul
01/21/18 at 08:56 AM ET | Comments (13)
from Ansar Khan of Mlive,
After losing for the fourth time in five games Saturday, Detroit Red Wings defenseman Niklas Kronwall said his team can't look at the big picture.

Good, because it's not pretty. The Red Wings, following a 3-1 loss to the Carolina Hurricanes at Little Caesars Arena, have 37 games remaining, but it would take a tremendous run to get back into the playoff picture, the kind of roll this team hasn't shown any inclination to make....

"I don't think about whether things are slipping away," coach Jeff Blashill said. "I think about what you have to do to make sure we're in the playoff hunt and what we have to do is win games and certainly there's an urgency to win now.

"We need a run. We need to win three out four, win three out of four, win three out of four. To do that, our PK has to step up and be better, we got to have the shooting mentality, we got to create more chaos, get teams on their heels."
Filed in: | The Malik Report | Permalink

01/21/18 at 08:52 AM ET | Comments (0)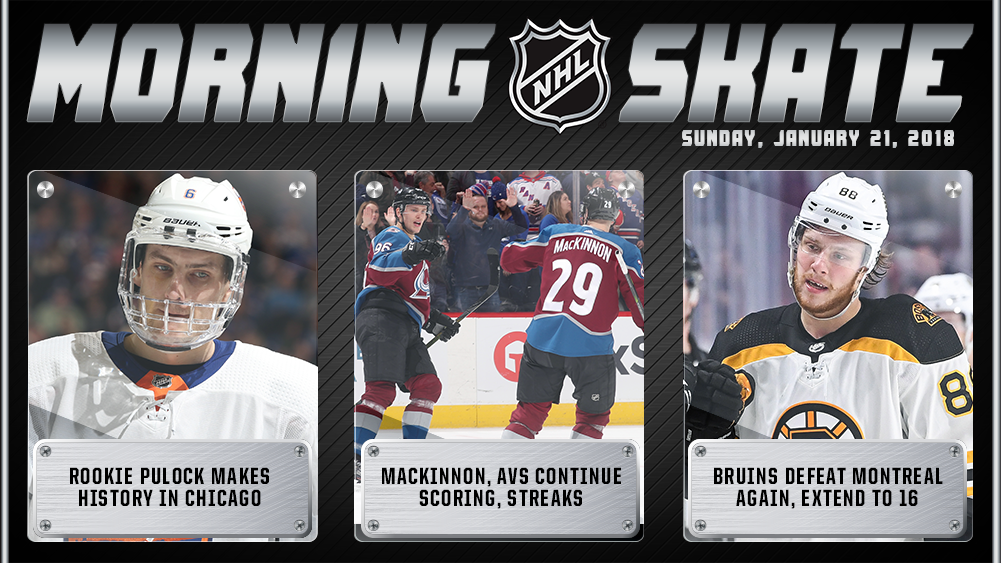 SATURDAY'S RESULTS
Home Team in Caps
Dallas 7, BUFFALO 1
PHILADELPHIA 3, New Jersey 1
COLORADO 3, NY Rangers 1
Winnipeg 2, CALGARY 1 (SO)
Boston 4, MONTREAL 1
Toronto 4, OTTAWA 3
Carolina 3, DETROIT 1
SAN JOSE 2, Pittsburgh 1
Arizona 5, ST. LOUIS 2
NASHVILLE 4, Florida 3
NY Islanders 7, CHICAGO 3
MINNESOTA 5, Tampa Bay 2
EDMONTON 5, Vancouver 2
Filed in: NHL Teams, | KK Hockey | Permalink

Blog: The Malik Report By George Malik
01/21/18 at 12:46 AM ET | Comments (0)
Of prospect-related note:
In the AHL, the Grand Rapids Griffins rallied from a 1-0 deficit and withstood a 2-2 tie as the Griffins ultimately out-gunned the Rockford IceHogs, winning 4-3. Eric Tangradi, Matt Puempel, Dominik Shine and Robbie Russo scored goals, Axel Holmstrom had 2 assists and Jared Coreau stopped 34 of 37 shots in the win.
The Griffins' website posted a recap, and if you don't already know, the Griffins are currently participating in the Great Skate at the Rosa Parks Circle in Grand Rapids:
Filed in: | The Malik Report | Permalink

Blog: The Malik Report By George Malik
01/21/18 at 12:10 AM ET | Comments (2)
The Detroit Red Wings lost an incredibly frustrating 3-1 decision to the Carolina Hurricanes on Saturday night, kicking off a 4-games-in-6-nights stretch with a flat, uninspired effort against a Canes team coming off its Bye Week.
The Wings' penalty-kill continued to struggle, giving up 2 power play goals to Elias Linholm, but the fact that Jimmy Howard wasn't impenetrable on Saturday night couldn't be tagged on the goaltender nor his penalty-killers alone. The fact of the matter is that the Wings got out-skated, out-worked, especially in terms of detailed, and were out-classed in terms of energy and intensity. The Hurricanes played like they wanted to win the game...And the Red Wings played like a team that had a contractual obligation to fulfill.
As I said in the "Quick Take," regardless of where you want the Wings to finish this season, a flat, disinterested effort isn't setting a good example for the team's younger players, and whatever the hell the Red Wings delivered on Saturday at Little Caesars Arena was unacceptable from a "process" standpoint as much as anything else.
The Hurricanes were quite happy with earning a rope-a-dope win in Detroit, as they told CarolinaHurricanes.com's Mike Smith:
Filed in: | The Malik Report | Permalink

Blog: The Malik Report By George Malik
01/20/18 at 09:40 PM ET | Comments (17)
The Red Wings opened up a series of 4 games to be played over the course of 6 nights against the Carolina Hurricanes on Saturday evening, and as the Wings sat 5 points behind the Hurricanes in the NHL's Wild Card standings, the Wings needed to pick up their game.
The Red Wings didn't pick up their game--at all--losing 3-1 to the Carolina Hurricanes despite a superb performance from Jimmy Howard. Detroit looked flat at the times that it needed the most energy, it deferred shots when it generated its best scoring chances, and--forget the playoffs--from a pride standpoint, the Wings' effort, intensity, attention to detail and discipline were all completely unacceptably "off" on what should have been a game in which they pounced upon a rusty opponent.
Detroit was victimized by its mistakes by a passive-aggressive opponent instead, and whether you're rooting for a miraculous recovery or an out-and-out tank, playing this sloppily is not good for "the kids." This isn't the game you want to teach them.
Filed in: | The Malik Report | Permalink

01/20/18 at 09:15 PM ET | Comments (1)
from Steve Simmons of the Toronto Sun,
- There are times when Maple Leafs players must appreciate the faith Mike Babcock has in them.

Because a whole lot of NHL coaches — past and present — would not have been so steadfast in keeping lines together through this latest Leaf malaise....

You can congratulate Babcock for his consistency or criticize him for his unwillingness to change. Either way, something has to give with the Leafs.

- Quick advice for John Tavares, the pending free agent: Talk to Marcel Dionne. Ask him how he felt about never playing for a Stanley Cup contender or never getting close to a ring. And if after that, he wants to remain with the wonky Islanders, shake his hand and wish him well.

- Add Doug Armstrong's name to the list of those having trouble getting over the fact that the NHL is not participating in the Winter Olympics next month. Armstrong is a longtime Team Canada executive. He knows why the NHL isn't going: Still, he hates the fact they are not.
more on the Leafs and Babcock plus additional hockey topics
Filed in: NHL Teams, | KK Hockey | Permalink

01/20/18 at 08:59 PM ET | Comments (0)
from Mike Chambers of the Denver Post,
Suddenly, the NHL's worst team last season has put together the league's longest winning streak this season; center Nathan MacKinnon has become a Hart Trophy candidate, and coach Jared Bednar is being mentioned as a Jack Adams Award nominee.

A year ago at this time, MacKinnon was having the worst season of his career and somewhat embarrassed to represent the Avalanche at the All-Star Game. And fans were calling for Bednar's firing just five months after he was hired. Colorado was 13-30-2 at the time.

The league's Hart (MVP) and Jack Adams (coach of the year) awards are side stories to what has become one of the NHL's biggest stories — the Avalanche and its winning ways. Next to the expansion Vegas Golden Knights being in President's Trophy contention as the regular-season's top point producer, Colorado is eyeing the playoffs and grabbing hockey headlines throughout North America.

Behind MacKinnon and goalie Jonathan Bernier — again — on Saturday, the Avs won their ninth consecutive game, defeating the New York Rangers 3-1 before a sellout crowd of 18,056 at the Pepsi Center.
Below are the game highlights...
Filed in: NHL Teams, Colorado Avalanche, New York Rangers, | KK Hockey | Permalink

01/20/18 at 08:30 PM ET | Comments (0)
Don Cherry and Ron MacLean discussed a few topics tonight including one of the differences between the Boston Bruins and Montreal Canadiens, Freddy Andersen's comments on the Leafs and Al Secord on Don Cherry.
Plus a few more topics including Hockey Day in Canada.
Filed in: NHL Teams, | KK Hockey | Permalink

« Previous ‹ First < 4 5 6 7 8 > Last › Next »
About Kukla's Korner
Kukla's Korner is updated around the clock with the work of our own talented bloggers, plus links to the best hockey writing around the internet. We strive to bring you all the breaking hockey news as it happens.
The home page allows you to see the latest postings from every blog on the site. Subscribe here. For general inquiries and more, please contact us anytime.
Most Recent Posts
Most Recent Comments