01/22/18 at 10:57 AM ET | Comments (5)
from Luke DeCock of the News & Observer,
There's still a chance that Scott Darling could emerge as a legitimate No. 1 goalie for the Carolina Hurricanes. Maybe even later this season, although there's scant evidence so far to believe that will happen. For now, here on the other side of the solstice of the season, Darling isn't the player the Hurricanes thought they traded for in April.

He's not even Eddie Lack.

As has so often been the case for the past decade, the Hurricanes will head down the stretch playing catch-up in the standings with Cam Ward as their first option in net. Maybe this is the year Ward is able to play at the upper limit of his ability for an extended period of time. He wasn't supposed to be asked again.

This was supposed to be Darling's team. But it's time to stick a fork in the Darling experiment, well intentioned as it may have been, after Sunday's 5-1 loss. It's January and his save percentage is .892, which means the Hurricanes gave up a third-round pick and $16.6 million to get worse at the position.
Filed in: NHL Teams, Carolina Hurricanes, | KK Hockey | Permalink
Tags: scott+darling
01/22/18 at 10:03 AM ET | Comments (0)
Just over 4 minutes long all in slow motion.
Filed in: NHL Teams, | KK Hockey | Permalink

01/22/18 at 09:39 AM ET | Comments (1)
NHL teams have played between 45-49 games this season and the playoff races are tight.
Below I have listed the playoff race including wild card teams that have a chance.
What do you think, any changes by the end of the regular season?
Note, some teams are not listed below, to see the full picture, visit the NHL standings at NHL.com.
Filed in: NHL Teams, | KK Hockey | Permalink

Blog: The Malik Report By Paul
01/22/18 at 07:10 AM ET | Comments (45)
from Ansar Khan of Mlive,
It was apparent before they went on their bye week that the Detroit Red Wings were out of serious playoff contention. Losses at home last week to Dallas and Carolina further sealed their fate.

The Red Wings are 10 points behind the New York Rangers for the final wild card spot in the Eastern Conference. And having three games in hand means little when there are five other teams in between....

Defenseman Mike Green is Detroit's biggest trade chip due to his offensive skills, right-handed shot and ability to quarterback the power play. The New York Rangers could be interested, since Kevin Shattenkirk, their right-shooting offensive D-man, is out indefinitely, needing surgery to repair torn meniscus in his knee.

A borderline playoff team like the Rangers is unlikely to relinquish its first-round pick, which could end up being a high selection with some lottery luck. Perhaps Green could fetch a pair of second-round picks or a second and a third. Tampa Bay also had been linked to Green.

The Red Wings will look to trade a goalie, though it's no sure thing they can move either. They had talks with Edmonton earlier in the season regarding Petr Mrazek. They might look to move Jimmy Howard instead, but with another season remaining on his contract ($5.3 million) and few teams in the goalie market (maybe the Islanders), that would be tough.

They likely are willing to move several players, including Darren Helm, but their contracts will make it difficult.
more topics...
Filed in: | The Malik Report | Permalink

01/22/18 at 07:03 AM ET | Comments (0)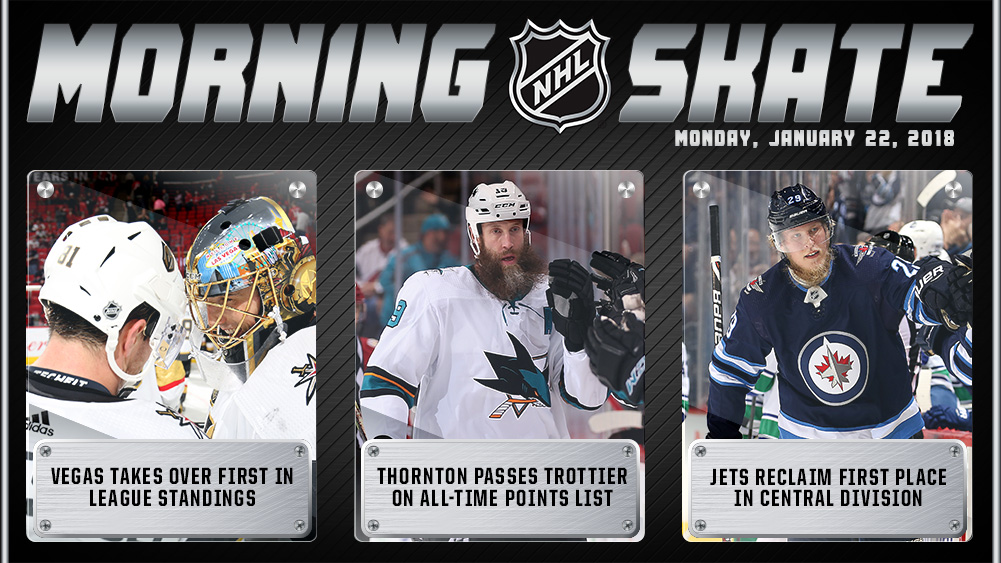 SUNDAY'S RESULTS
Home Team in Caps
Philadelphia 2, WASHINGTON 1 (OT)
Vegas 5, CAROLINA 1
WINNIPEG 1, Vancouver 0
San Jose 6, ANAHEIM 2
LOS ANGELES 4, NY Rangers 2
Filed in: NHL Teams, | KK Hockey | Permalink

Blog: The Malik Report By George Malik
01/22/18 at 01:27 AM ET | Comments (0)
Of prospect-related note:
In the ECHL, the Toledo Walleye had a rough weekend in Kansas City, dropping consecutive games to the Kansas City Mavericks. On Saturday, the Walleye dropped a 3-1 decision to the Mavericks; on Sunday, the Walleye lost 4-2, with Tyler Barnes and Charlie O'Connor scoring the Walleye's goals and Matej Machovsky stopping 22 of 25 shots.
The Walleye's website posted a recap:
Filed in: | The Malik Report | Permalink

Blog: The Malik Report By George Malik
01/22/18 at 01:11 AM ET | Comments (0)
The Detroit Red Wings will kick off a 3-games-in-4-nights stretch against the New Jersey Devils this evening (7:00 PM on FSD/Sportsnet/MSG/97.1 FM), and the 18-20-and-7 Red Wings may be catching the 24-13-and-8 Devils at the right time.
New Jersey has won 2 of its past 3 games, but that stretch broke a 6-game losing streak, and over the course of the Devils' 3-1 loss to Philadelphia on Saturday, the Devils lost back-up goaltender Keith Kincaid, defenseman Brian Gibbons and forward Taylor Hall. Hall is expected to play on Monday, but the other losses are at least somewhat significant, as noted by NewJerseyDevils.com's Amanda Stein:
Filed in: | The Malik Report | Permalink

01/21/18 at 04:45 PM ET | Comments (0)
from Bruce Garrioch of the Ottawa Sun,
Dealing Karlsson at this juncture doesn't make sense and there's a slim-to-none chance it's going to happen in February.

League executives told Postmedia they believe the only untouchables on the club's roster with the deadline looming for Dorion are alternate captain Mark Stone, Karlsson and possibly rookie blueliner Thomas Chabot.

Scheduled to become an unrestricted free agent on July 1, 2019, Dorion can hold talks with Karlsson this summer to see what the defenceman's salary demands are and where he envisions his future.

The Senators can offer him an eight-year extension while any team that signs him as a UFA can offer a seven-year term. Karlsson said Saturday night he wants to stay in Ottawa.

With a cap hit of $6.5 million through 2018-19, the belief is Karlsson's camp will be looking for a long-term deal in the $10-to-$12 million range It will then be up to the organization to decide if it wants to make that kind of commitment.
Filed in: NHL Teams, Ottawa Senators, | KK Hockey | Permalink
Tags: erik+karlsson
Blog: The Malik Report By George Malik
01/21/18 at 01:51 PM ET | Comments (25)
Updated at 4:33 PM: The Detroit Red Wings took to the ice at Little Caesars Arena for an optional practice on Sunday, preparing for a 3-games-in-4-nights stretch which will begin against a similarly-banged-up New Jersey Devils team tomorrow night. After practice wrapped up, Wings coach Jeff Blashill updated the team's injury situation:
The Free Press's Helene St. James also spoke with winger Martin Frk and coach Jeff Blashill regarding Joe Hicketts' recall from Grand Rapids:
Filed in: | The Malik Report | Permalink

01/21/18 at 12:37 PM ET | Comments (0)
via a release from the Edmonton Oilers,
The Edmonton Oilers have hired former Oiler and Hockey Hall of Fame inductee Paul Coffey as a Skills Development Coach.
Coffey, who played over 21 seasons in the National Hockey League, appeared in 1409 regular season games, posting 1531 points (396G, 1135A), winning four Stanley Cups, including three with the Oilers.
The native of Weston, ON, ranks second all-time among NHL defencemen in career goals, assists and points. The 56 year-old won the Norris Trophy as the NHL's best defenceman three times, and was voted to eight All-Star Teams.
Coffey was one of seven Oilers alumni named as one of the 100 Greatest NHL Players in history, as part of the NHL Centennial celebrations in 2016-17.
He also represented Canada internationally five times, winning three Canada Cups (1984, 1987, 1991) while playing in one World Cup (1996) and one World Hockey Championship (1990).
Paul Coffey was inducted into the Hockey Hall of Fame in 2004.
Filed in: NHL Teams, Edmonton Oilers, | KK Hockey | Permalink
Tags: paul+coffey
« Previous ‹ First < 2 3 4 5 6 > Last › Next »
About Kukla's Korner
Kukla's Korner is updated around the clock with the work of our own talented bloggers, plus links to the best hockey writing around the internet. We strive to bring you all the breaking hockey news as it happens.
The home page allows you to see the latest postings from every blog on the site. Subscribe here. For general inquiries and more, please contact us anytime.
Most Recent Posts
Most Recent Comments