12/14/18 at 09:22 AM ET | Comments (1)
from Frank Seravalli of TSN,
The NHL's holiday roster freeze sets in on Dec. 19, prohibiting trades, waiver transactions and minor-league demotions through Dec. 27....

One team clearly open for business is the 28th-place St. Louis Blues, with GM Doug Armstrong reportedly saying he will listen to offers on any of his players with the exception of Jaden Schwartz and his recent top picks.

That's why Blues defenceman Colton Parayko has risen to the top of the latest TSN Trade Bait board.

A lot of the attention has been on the future of sniper Vladimir Tarasenko or (now injured) captain Alex Pietrangelo, but there are teams ready to line up to acquire a player like Parayko, who can bring back a significant return.

Parayko, 25, is no stranger to the Trade Bait board. He spent time on the board last season. He checks a lot of boxes for teams as a still young, right-shooting and minute-eating defenceman with a booming shot and cost certainty for years to come....

Another defenceman in Jake Muzzin follows behind Parayko at No. 2 as the 31st- place Kings try to find a way forward. Either Muzzin or the injured Alec Martinez (No. 16) are prime candidates to be part of the shakeup.

Ditto Kings centre Jeff Carter, who doesn't have a formal no-trade clause, but wields all the power to pick his next destination by way of a retirement hammer.
read on with more names plus 30 players on the trade list...
Filed in: NHL Teams, | KK Hockey | Permalink

Blog: Abel to Yzerman By Paul
12/14/18 at 08:33 AM ET | Comments (0)
from Bruce Garrioch of the Ottawa Sun,
SPECIAL TEAMS

OTT: PP 21.8% (13th); PK 72.8% (30th)

DET: PP 17.6% (20th); PK 78.2% (19th)

THE BIG MATCHUP

Colin White versus Dylan Larkin: With Matt Duchene injured, White has moved into the role of the club's top centre. His line didn't do a whole lot against the Predators on Tuesday in Nashville. Of all the young players, White has shown the most progress and, in many ways, the most consistency. He has been strong at both ends of the ice. Larkin has been a bright spot for a Detroit team that's rebuilding and he has to be shut down.

FIVE KEYS TO THE GAME
Filed in: | Abel to Yzerman | Permalink

12/14/18 at 08:27 AM ET | Comments (0)
from Paul Friesen of the Winnipeg Sun (written before the Winnipeg OT win over Edmonton last night),
The Jets have had the luxury of playing the Blues four times already, the Blackhawks twice – and have scored 30 goals in those six games alone.

Toss in two games against the Devils and one each against the Kings and Flyers, and Winnipeg has enjoyed 10 games against the NHL's bottom-feeding five.

Their record against them: a sparkling 9-1. Combined score, 48-25.

At the other end of the spectrum, the Jets have played just five games against their fellow top-six teams.

They have yet to play No. 1 Tampa Bay, but have squared off with No. 2 Toronto (twice), third-ranked Nashville, Calgary at No. 5 and sixth-ranked Buffalo.

Their record: 0-4-1. Combined score, 8-18.
Filed in: | KK Hockey | Permalink

12/14/18 at 07:04 AM ET | Comments (0)
THURSDAY'S RESULTS
Home Team in Caps
BUFFALO 3, Arizona 1
COLUMBUS 4, Los Angeles 1
MONTREAL 6, Carolina 4
TAMPA BAY 4, Toronto 1
NASHVILLE 4, Vancouver 3 (OT)
MINNESOTA 5, Florida 1
WINNIPEG 5, Edmonton 4 (OT)
SAN JOSE 3, Dallas 2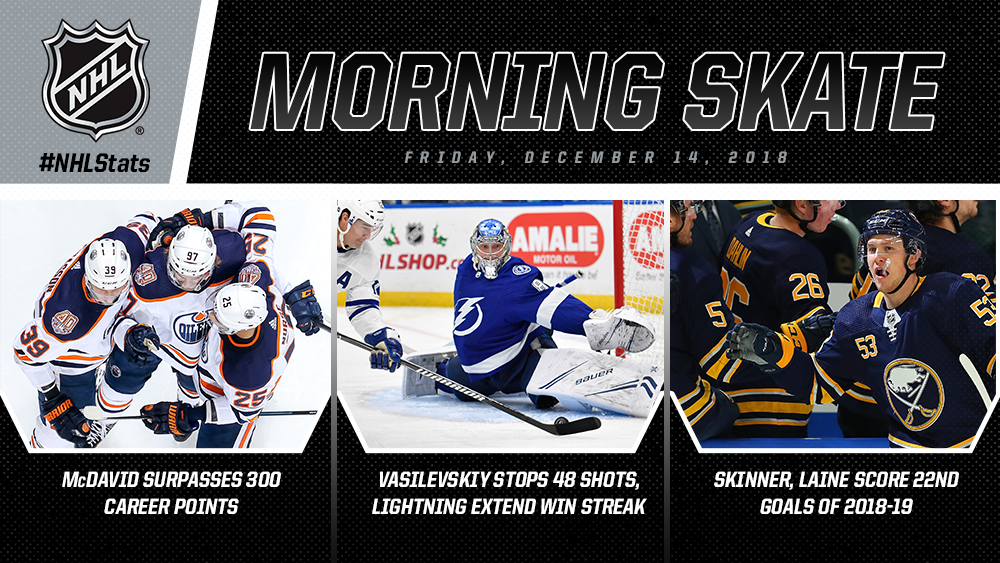 Filed in: NHL Teams, | KK Hockey | Permalink

12/13/18 at 10:03 PM ET | Comments (2)
Smothers the puck with his right leg before it crosses the goal line.
Filed in: NHL Teams, Tampa Bay Lightning, | KK Hockey | Permalink
Tags: andrei+vasilevskiy
12/13/18 at 08:43 PM ET | Comments (0)
Filed in: NHL Media, | KK Hockey | Permalink

Blog: Abel to Yzerman By Paul
12/13/18 at 08:38 PM ET | Comments (0)
A short video lasting 60 seconds.
Filed in: | Abel to Yzerman | Permalink

Blog: Abel to Yzerman By Paul
12/13/18 at 08:04 PM ET | Comments (0)
from Gregg Krupa of the Detroit News,
It is a trend the Red Wings are happy to buck.

While fighting continues long trend of decline in the NHL, the Wings believe occasional fisticuffs unite a roster in transition and makes it tougher to play.

In a previous era, when bigger, slower players were allowed by rules and their enforcement to clutch and grab, brute force established space. Now, comparatively smaller, fleet-of-foot players dash around open ice, deploying their skills.

Increasingly, in recent years, teams seek pace, not muscle.
Filed in: | Abel to Yzerman | Permalink

12/13/18 at 06:39 PM ET | Comments (1)
The NHL December trade freeze is less than a week away and according to general managers, trade talks across the league are ramping up at an unprecedented rate. While the Kings and Blues look like clear sellers, the Hurricanes continue their search for offence and turn their attention to the Leafs' Kasperi Kapanen. Will Toronto make a move to find defensive help? The TSN Hockey Insiders discuss this and more in Insider Trading.
Filed in: NHL Teams, | KK Hockey | Permalink

Blog: Abel to Yzerman By Paul
12/13/18 at 02:09 PM ET | Comments (2)
from Dana Wakiji of DetroitRedWings.com,
"Obviously, we haven't been very good on the power play," Wings coach Jeff Blashill said. "I talked to (general manager) Ken Holland yesterday, the one hard thing about our power play is we don't get very many of them, so then it's hard to get any kind of rhythm. So we're hoping that moving Larks into that bumper spot, moving (Athanasiou) to the half-wall spot, where it's more run through him as opposed to running the other side and being a one-timer and we're hoping to get some chemistry going."

Nielsen said one problem of late is that after the Wings do get a shot on the power play, they don't get to the rebound first.

"It's been a lot of one-and-done," Nielsen said. "We don't win those second pucks back and then we gotta go back and break it in again. Every time that happens it's at least 30 seconds off the clock. I think that's an area we talked that we got to, once we do shoot the puck, we got to be hard on it and (have) more effort to get it back. Then once you get those second pucks back, that's when the PK is out of position sometimes and that's when you can go through the box and it opens up. It's so important that once we shoot the puck that we're on it and it's not going back to our end again."

Of course, without many chances, it is tough to get the power play in a good groove.
more and other topics too including the Wings making their annual visit to Children's Hospital today...
Filed in: | Abel to Yzerman | Permalink

About Kukla's Korner
Kukla's Korner is updated around the clock with the work of our own talented bloggers, plus links to the best hockey writing around the internet. We strive to bring you all the breaking hockey news as it happens.
The home page allows you to see the latest postings from every blog on the site. Subscribe here. For general inquiries and more, please contact us anytime.
Most Recent Posts
Most Recent Comments