04/20/18 at 06:40 AM ET | Comments (13)
John Tortorella post-game after the Columbus Blue Jackets suffered a 4-1 home loss to the Washington Capitals.
Below, watch the game highlights.
Filed in: NHL Teams, Columbus Blue Jackets, Washington Capitals, | KK Hockey | Permalink

04/20/18 at 06:30 AM ET | Comments (0)
2 1/2 minutes of highlights from the 2 Stanley Cup Playoff games.
Filed in: NHL Teams, | KK Hockey | Permalink

04/20/18 at 06:25 AM ET | Comments (0)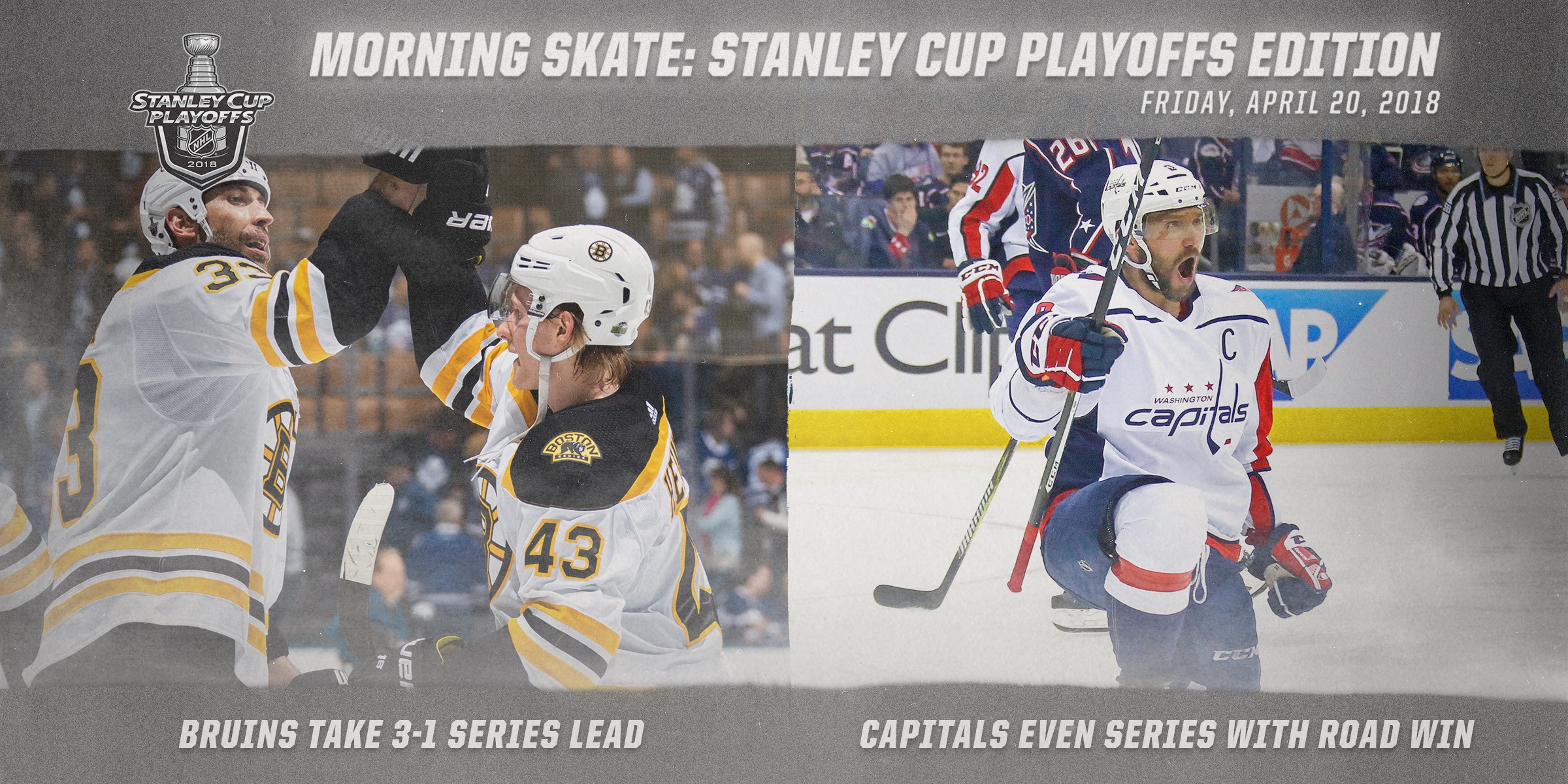 THURSDAY'S RESULTS
The Bruins took a commanding 3-1 lead in their First Round series with the Maple Leafs, while the Capitals evened their First Round matchup with the Blue Jackets
Filed in: NHL Teams, | KK Hockey | Permalink

04/19/18 at 08:40 PM ET | Comments (0)
via Sportsnet,
Ron and Don break down the Maple Leafs and Bruins series, the importance of Frederik Andersen and the consistent play of Austin Watson.
Plus more topics like the Bermuda Triangle spot on the ice.
Filed in: NHL Teams, NHL Media, Hockey Broadcasting, CBC HNIC, | KK Hockey | Permalink
Tags: don+cherry, ron+maclean
04/19/18 at 07:05 PM ET | Comments (0)
Boston leads the series 2-1 and Columbus has the same series lead over Washington.
Alex Ovechkin said after game 2 the series would be tied 2-2 when it comes back to D.C., he has a chance to prove it tonight.
Comment away if so inclined.
Filed in: NHL Teams, | KK Hockey | Permalink

04/19/18 at 07:02 PM ET | Comments (0)
NEW YORK (April 19, 2018) – Drew Doughty of the Los Angeles Kings, Victor Hedman of the Tampa Bay Lightning and P.K. Subban of the Nashville Predators are the three finalists for the 2017-18 James Norris Memorial Trophy, awarded "to the defense player who demonstrates throughout the season the greatest all-round ability in the position," the National Hockey League announced today.
Members of the Professional Hockey Writers Association submitted ballots for the Norris Trophy at the conclusion of the regular season, with the top three vote-getters designated as finalists. The winner will be announced Wednesday, June 20, during the 2018 NHL Awards™ presented by Hulu at the Hard Rock Hotel & Casino in Las Vegas.
Following are the finalists for the Norris Trophy, in alphabetical order:
Filed in: NHL Teams, | KK Hockey | Permalink

04/19/18 at 04:34 PM ET | Comments (0)
The explanation for the one game suspension.
Filed in: NHL Teams, Nashville Predators, | KK Hockey | Permalink
Tags: ryan+hartman
Blog: Abel to Yzerman By Paul
04/19/18 at 03:16 PM ET | Comments (4)
from Ted Kulfan of the Detroit News,
The Red Wings wanted young defenseman Filip Hronek to get stronger and gain weight.

Hronek only weighed about 160 pounds when he was drafted in the second round in 2016. He wasn't going to survive without adding some muscle.

So Hronek attacked the weight room, and the Czech Republic native also began eating.

"Now, I'm 180 (pounds)," said Hronek this week after a Grand Rapids Griffins practice, noticeably stronger through the shoulders and chest. "I tried to work hard (weightlifting), and spend time in the gym....

Griffins coach Todd Nelson was impressed with how Hronek kept elevating his performance throughout the long season.

"I didn't think he'd develop as quickly as he has, which is great," Nelson said. "From Christmas on to now, he's been playing his best hockey. Maybe a month ago I thought, 'Man, he's really developed, he's playing extremely well for us, not just the offensive numbers but you look at his plus-minus, he's playing well defensively'.
Filed in: | Abel to Yzerman | Permalink

04/19/18 at 02:55 PM ET | Comments (0)
"As disappointed as I am in the season, the part of me that's a fan like you is still excited for the future. We have players in our system at all levels of the organization – NHL, AHL, juniors, European leagues and the NCAA – and I am confident they will make us consistently competitive.

"This may not mean much, until we win, it is just words. I just want you to know that I'm in it with you."
-Terry Pegula, owner of the Buffalo Sabres. John Vogl of the Buffalo News has more regarding a letter Pegula sent to season ticket holders.
Filed in: | KK Hockey | Permalink
Tags: terry+pegula
04/19/18 at 02:39 PM ET | Comments (1)
from Brad Marchand at The Players' Tribune,
If you like me, you'll like this story.

If you hate me, you'll love it.

It's kind of a famous story in my family, and it's probably the first thing I can remember. I was like three years old, and my dad had bought me this sick electric four-wheeler truck for my birthday. I'd always ride it around the cul-de-sac outside our house in Halifax like a maniac. It was yellow with blue seats, and it even had a horn and everything. It was unreal.

So one day I was hanging out with one of my little neighbor buddies, and I guess I got distracted or something, because the next thing I know, I turn around, and he's in the truck, honking the horn, just lovin' it.

So, of course, I go nuts.
continued (piece is titled Built for Boston)...
Filed in: NHL Teams, Boston Bruins, | KK Hockey | Permalink
Tags: brad+marchand
« Previous < 1 2 3 4 5 > Last › Next »
About Kukla's Korner
Kukla's Korner is updated around the clock with the work of our own talented bloggers, plus links to the best hockey writing around the internet. We strive to bring you all the breaking hockey news as it happens.
The home page allows you to see the latest postings from every blog on the site. Subscribe here. For general inquiries and more, please contact us anytime.
Most Recent Posts
Most Recent Comments