Blog: Abel to Yzerman By Paul
05/21/22 at 08:36 AM ET | Comments (0)
from Nate Brown of Detroit Hockey Now,
Though he didn't meet expectations, Erne is a solid and dependable forward for a team that needs some muscle up front. The caveat, of course, is that Erne is making just a hair over two million AAV, and with that comes the expectation that he'll find his name on the scoresheet more.

According to Evolving-Hockey, Erne's Individual Expected Goals (ixG) clocked in at 10.27. It lends credence to Blashill's comment that Erne was often on the wrong side of puck luck. His Goals/60 cratered from 1.04 to 0.34, while he saw a 32 second dip in his average time-on-ice.

His lack of scoring certainly played into this, and as late as April 9th, Erne had a season low 10:22 of ice time.

Erne is entering the final year of his contract and will have his chance to show last season was an anomaly following 2020-21. With Yzerman sure to add more talent both on the blueline and amongst his forwards, Erne stands to benefit.

Though it will be crowded up front, Erne doesn't seem like a forward Yzerman would flip to another team–yet.
Filed in: | Abel to Yzerman | Permalink

05/21/22 at 04:53 AM ET | Comments (0)
from Eric Francis of Sportsnet
On any given night, Connor McDavid alone can beat you.

On Friday, the Calgary Flames got a grim reminder there's another way to lose to the Edmonton Oilers – turn it into a skill contest.

As in, reduce the number of skaters on the ice for either side to open things up.

Both points were driven home in a 5-3 loss that saw Edmonton rebound from an early deficit to score four unanswered goals for the second game in a row to open this Western Conference semifinal.
from Jim Matheson of the Edmonton Journal,
Well, after dropping a 9-6 laugher to the Calgary Flames in Game 1 Wednesday, which tied the NHL record for most goals ever in a playoff game, the Oilers got the first part of the equation right Friday, and mostly importantly the second with another out-of-this-world performance from Connor McDavid and two late strikes by Zach Hyman (shorthanded) and Leon Draisaitl for a stirring comeback 5-3 victory to even the series at a game apiece.

The Oilers, who gave up three in the first 6:05 in Game 1, driving Mike Smith to the bench, were down two again in Game 2 after six minutes but Smith hung in after goals by Michael Stone and Brett Ritchie. And the team, refusing to go quietly and madly into the cold Calgary night, overcame two disallowed goals by Hyman (quick whistle in a scrum) and Draisaitl (McDavid interference on Jacob Markstrom) and twice clawed back from two-goal deficits.

Article content
"Not an ideal start obviously but a huge battle back," said Hyman. "We knew that we're capable of it and we did it last game (tying it 6-6) but not the way we wanted to, I'd say. This time from Smitty onwards I think we shored up things defensively. We didn't give them as much. I thought we earned our chances, got a couple called back, but still worked, earned our power plays and got back into the game, then won it."
Game highlights are below.
Filed in: NHL Teams, Calgary Flames, Edmonton Oilers, | KK Hockey | Permalink

05/21/22 at 04:41 AM ET | Comments (0)
from Larry Brooks of the New York Post,
Chris Kreider had a dreadful game. Mika Zibanejad battled, but was unable to generate. Artemi Panarin, who talked before the game about how he had adopted a risk-averse approach to the playoffs, tried to do more with the puck in open spaces than he had in Game 1, but couldn't create. Adam Fox was monitored closely. Ryan Strome was defended well.

The Rangers generated so little that Gallant juggled his combinations late in the second, breaking up the Kid Line so he could flip Alexis Lafreniere with Andrew Copp and get Lafreniere into the top six. Lafreniere battled, but the line changes, under which Frank Vatrano also was replaced by Kaapo Kakko on the right with Kreider and Zibanejad, yielded nothing.

You might say that it is unfair that the Rangers will come out of these first two games with nothing and are just one home loss away from being shoved to the precipice. The Blueshirts defended well enough that Igor Shesterkin was never under undue pressure. On those shifts in which they were pinned in their own end, the Blueshirts defended the middle. They played strong playoff hockey.

But they could not finish the deal because the marquee guys on their marquee power play could not even generate the opportunity to finish.

The Rangers were not necessarily outplayed or outworked by the Hurricanes. You cannot say the same for their power play.
from Dan Rosen of NHL.om
Antti Raanta knew that in order to give the Carolina Hurricanes a chance against the New York Rangers in the Eastern Conference Second Round he would have to play perfect, or at least close to it, because that's what Rangers' goalie Igor Shesterkin was going to do, too.

"You get a little more on your toes when you know the other goalie is the tops in the league," Raanta said regarding Shesterkin, who is a finalist for the Vezina Trophy awarded to the NHL's top goaltender.

Raanta was perfect in Game 2 with 21 saves in a 2-0 win at PNC Arena on Friday. Carolina's goalie has been perfect on 45 shots since allowing a goal early in the first period of Game 1.
Game highlights are below.
Filed in: NHL Teams, Carolina Hurricanes, New York Rangers, | KK Hockey | Permalink

05/21/22 at 03:46 AM ET | Comments (0)
* After 23 goals in Calgary (the highest combined total through two games of a series in 35 years) – with each contest seeing the Flames hold multi-goal leads and the Oilers tie the score – the "Battle of Alberta" will shift to Edmonton tied 1-1 following an Oilers win in Game 2.
* Connor McDavid recorded his NHL-leading 20th point of the 2022 Stanley Cup Playoffs and is producing at a pace last seen 30 years ago.
* Sebastian Aho factored on each of Carolina's goals and climbed multiple franchise lists in the process as the Hurricanes set a franchise record for longest home win streak and skated to a 2-0 series lead.
* The Second Round series between the Avalanche and Blues will shift to St. Louis – the lone contest slated for Saturday. When a best-of-seven series is tied 1-1, the winner of Game 3 goes on to win 67% of the time.

Filed in: NHL Teams, | KK Hockey | Permalink

05/20/22 at 07:45 PM ET | Comments (7)
Both home teams are 1-0 going into game 2 and would like to go on the road up 2-0.
Will they?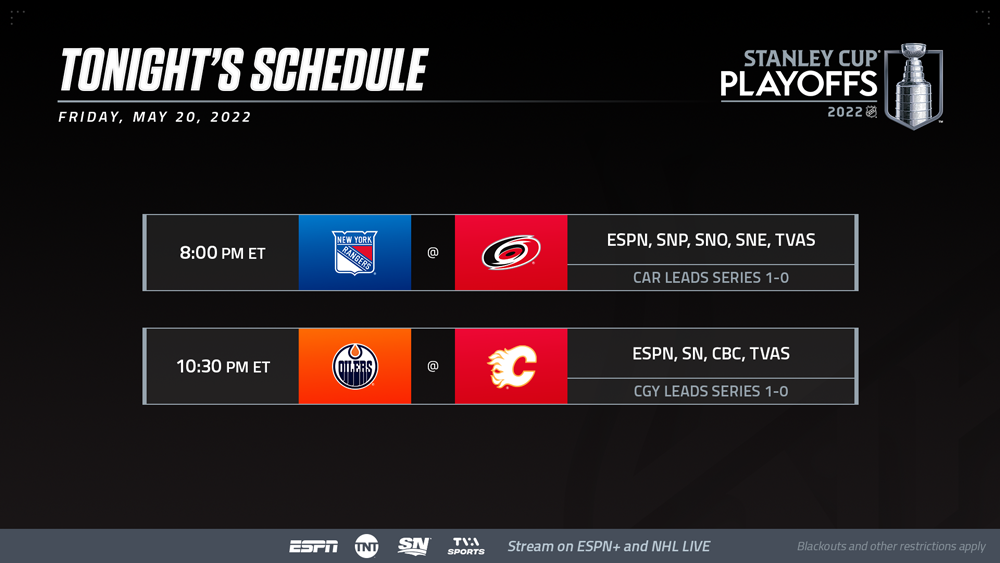 Filed in: NHL Teams, | KK Hockey | Permalink

Blog: Abel to Yzerman By Paul
05/20/22 at 06:44 PM ET | Comments (0)
from Kevin Allen of Detroit Hockey Now,
What Does His Detroit Future Hold?
Rasmussen is among the Detroit players who made the most progress this season. After his slow start, he started to grown more comfortable in his role as third line center. Over the course of the season, he became more physical. a better defensive forward and ultimately an improved scorer.

"I think (the season) was positive overall," Rasmussen said. "I took a lot of strides in the right direction, got better at some stuff I needed to get better at. Just gained more experience. Individually it was good for me."

The Red Wings would like to keep him at center, but haven't ruled out playing him on wing. Rasmussen said he has no preference for wing or center. The expectation is still that he could become a valuable net-front presence on the power play.

But if he stays at No. 3 center and contributes 16-20 goals and is difficult to play against the Red Wings would be satisfied. By the end of the year, Rasmussen was playing a Jordan Staal-style game. In the last month of his season, when he was playing his best hockey, it was fair to wonder whether he might be able to be a second line winger or even a middle six forward who slides between lines depending upon the competition or situation.

With a new coach coming aboard, Rasmussen has a blank slate to expand his opportunity.
Filed in: | Abel to Yzerman | Permalink

05/20/22 at 02:16 PM ET | Comments (2)
FRISCO, Texas – Dallas Stars Head Coach Rick Bowness announced that he will be stepping away as Head Coach of the Dallas Stars effective immediately. Additionally, General Manager Jim Nill announced that assistant coaches John Stevens, Derek Laxdal and Todd Nelson will not return next season.
"After careful consideration with my wife Judy, we feel it's best to step away and allow the organization the opportunity to pursue a different direction at the head coaching position," said Bowness. "I'd like to thank all the passionate fans and the dedicated staff for their support and hard work in my time here. It has been an honor for me, and my family, to represent the Stars and the city of Dallas."
Filed in: NHL Teams, Dallas Stars, | KK Hockey | Permalink

05/20/22 at 12:07 PM ET | Comments (0)
Filed in: NHL Teams, New York Rangers, | KK Hockey | Permalink

05/20/22 at 11:52 AM ET | Comments (0)
NEW YORK (May 20, 2022) – Anaheim Ducks center Ryan Getzlaf, Edmonton Oilers defenseman Darnell Nurse and New Jersey Devils defenseman P.K. Subban are the three finalists for the 2021‑22 King Clancy Memorial Trophy, which is presented "to the player who best exemplifies leadership qualities on and off the ice and has made a noteworthy humanitarian contribution in his community," the National Hockey League announced today.
Each NHL team nominated a player for the King Clancy Trophy, with the three finalists and winner chosen by a committee of senior NHL executives led by Commissioner Gary Bettman and Deputy Commissioner Bill Daly.
The selection committee applies the following criteria in determining the finalists and winner:
Filed in: NHL Teams, | KK Hockey | Permalink

05/20/22 at 09:54 AM ET | Comments (2)
from Mark Kiszla of the Denver Post,
Is this series over? Far from it.

But am I calling out Bednar for not having his team ready to play, allowing the Avs to whiff at the chance to grab this series by the throat?

Abso-freakin-lutely.

Bednar is blessed with by far the most talented roster of any professional team in Denver. But the Avs couldn't have played with less passion or less sense of purpose if they were coached by Uncle Vic Fangio. If the Broncos came out flat for a big game, the uproar in this town might cause Mt. Evans to crumble.

Is Bednar, who has never found a way to win more than one playoff series in any of his previous five seasons on the Colorado bench, coated in Teflon?

From the jump of Game 2, Colorado had none. When the most star-studded team in the NHL is so uninspired that center Nathan MacKinnon and the fellas looked as if they were skating in a Slurpee, whose fault is that?
Filed in: NHL Teams, Colorado Avalanche, | KK Hockey | Permalink

About Kukla's Korner
Kukla's Korner is updated around the clock with the work of our own talented bloggers, plus links to the best hockey writing around the internet. We strive to bring you all the breaking hockey news as it happens.
The home page allows you to see the latest postings from every blog on the site. Subscribe here. For general inquiries and more, please contact us anytime.
Most Recent Posts
Most Recent Comments