Blog: Abel to Yzerman By Paul
02/17/18 at 05:17 PM ET | Comments (3)
Your game day preview featuring CJ, KK, AA, JA and JB.
Anyone get them all correctly?
Filed in: | Abel to Yzerman | Permalink

Blog: Abel to Yzerman By Paul
02/17/18 at 02:50 PM ET | Comments (8)
from Ansar Khan of Mlive, first up the Mike Green talk...
The Red Wings and Lightning have had many discussions and will continue to talk. Detroit would like Tampa Bay's first-round pick this year, which is sure to be in the high 20s, if not 30th or 31st. If the Red Wings must settle for a second-round pick, which would be around 60th overall, they'll also want a young player who can step into their lineup next season...

The Red Wings offered Howard or Petr Mrazek to Philadelphia after Flyers goalie Brian Elliott was injured last week (he had core muscle surgery and is expected to be out 5-6 weeks). The Flyers said they're not interested in either. They appear content with Michal Neuvirth, who has gone 3-0-1 since Elliott's injury....

Some teams have shown interest in forward Gustav Nyquist, including the Nashville Predators, whom the Red Wings visit tonight (8 p.m., Fox Sports Detroit).

Nyquist has one year remaining on his contract at $4.75 million, but his salary next season jumps to $5.5 million, and he has a full no-trade clause. He told MLive earlier in the week that he hadn't been approached about waiving it and indicated he might consider it depending on the situation. he is tied for second on the team with 15 goals.
Filed in: | Abel to Yzerman | Permalink

Blog: Abel to Yzerman By Paul
02/17/18 at 01:03 PM ET | Comments (10)
The Predators have not named their starter for tonight.
added 1:05pm, HSJ tweet,
Andreas Athanasiou good to play tonight. Sick Thursday.
added 4:07pm, Detroit's projected lineup is below...
Filed in: | Abel to Yzerman | Permalink

Blog: Abel to Yzerman By Paul
02/17/18 at 12:24 PM ET | Comments (13)
Helene St. James of the Detroit Free Press answers some questions.
You can figure out the question by her answers..
...There is also interest in goaltender Jimmy Howard. Petr Mrazek is not drawing interest – he was offered to Philadelphia after the Flyers lost Brian Elliott last week (he's out five-to-six weeks) for an asking price of a third-round pick and the Flyers declined. The Wings are trying to move defenseman Xavier Ouellet, who doesn't fit into their plans any more. Forward Gustav Nyquist is drawing interest, though he has a year left on his contract.
This too...
Depend somewhat on what happens with general manager Ken Holland, who is in the last year of his contract. If Holland stays, Blashill stays. I know higher-ups in the organization think Blashill has done a good job given what he has to work with. Many players have played better than they did last season even though it doesn't show in the standings....
more Q & A...
Filed in: | Abel to Yzerman | Permalink

02/17/18 at 12:05 PM ET | Comments (0)
from Kevin Woodley at NHL.com,
It wasn't that long ago that a big rebound meant a bad rebound. That's no longer necessarily the case.

A one-timer from Edmonton Oilers defenseman Yohann Auvitu ricocheted off the pads of Florida Panthers goaltender James Reimer during a game Monday. After the puck bounced back high into the slot, the Edmonton broadcaster said the big rebound was a mistake.

Far from it, actually.

With Florida up by a goal and Edmonton goalie Cam Talbot pulled for an extra attacker, three players were crashing the net looking for a rebound of Auvitu's shot. Reimer's best option was to kick the rebound past that first wave of attacking forwards, so the big rebound went to teammate Jamie McGinn near the top of the face-off circle and, 11 seconds later, Vincent Trocheck scored into an empty net.

"There are guys 5-10 feet in front of you, and if you just leave a rebound right there you can get in trouble," Reimer said. "So you give it extra juice and your guys are on the other side."
Filed in: NHL Teams, | KK Hockey | Permalink

02/17/18 at 10:29 AM ET | Comments (9)
GANGNEUNG, South Korea — The U.S. Olympic Men's Ice Hockey Team outshot the Olympic Athletes from Russia 29-26, but was defeated 4-0 here tonight in its final preliminary round contest of the 2018 Olympic Winter Games at the Gangneung Hockey Centre.
"I thought it was a great game with unbelievable pace," said Tony Granato, head coach of the 2018 U.S. Olympic Men's Ice Hockey Team. "As an athlete, you love to play in games like this. The crowd was awesome. Our guys played hard to the end. We didn't get any breaks tonight and certainly give them credit. They're a really good team. We have a really good team too and this game will help us as we move to the next round."
The U.S. Olympic Men's Ice Hockey Team (1-0-1-1/W-OTW-OTL-L) returns to action on Tuesday (Feb. 20) in the qualification playoff round. Time, opponent and television coverage of that contest are all to be determined, but the game will be live streamed on NBCOlympics.com.
For the complete game recap, click here.
added 10:50am,
Filed in: Non-NHL Hockey, International Hockey, | KK Hockey | Permalink

02/17/18 at 08:39 AM ET | Comments (0)
from Damien Cox of the Toronto Star,
EDMONTON

The bad moves are piling up on GM Peter Chiarelli, and the bad metrics, particularly historically awful penalty killing, aren't complimentary to head coach Todd McLellan. Nobody expected the Oilers to take such a massive step backward this season, and somebody, you figure, has to pay the price.

Ryan Nugent-Hopkins needs to move on. Problem is, the Oilers felt the same about Taylor Hall and Jordan Eberle, and the trades involving both of those players look pretty bad right now for Edmonton. The Oilers have historically been one of the NHL's fastest teams, and now they're one of the slowest. As said many times, that Milan Lucic contract is going to haunt them.

The key question is whether the Chiarelli/McLellan combo can return, or whether they need to wipe the slate clean in Edmonton. Again.

Tough call for owner Darryl Katz. Connor McDavid's cap hit, don't forget, jumps to $12.5 million from $925,000 next season.

MONTREAL

The Canadiens can't blame the absence of Carey Price for this debacle. He's been a big part of it. There's no No. 1 centre, and you'd have to be an eternal optimist to believe Jonathan Drouin is going to become that guy....
Filed in: NHL Teams, | KK Hockey | Permalink

02/17/18 at 08:16 AM ET | Comments (2)
Shi Davidi of Sportsnet,
Three-on-three overtime on the international-sized ice is flat-out bonkers, especially since the teams don't change ends and face the long change the way Canada and the Czech Republic did Saturday at the Pyeongchang Olympics. The pace is frenetic, the transitions are immediate and the space to operate appears even more endless than it does in the NHL.

Andrew Ebbett thought he might get off on a breakaway during the crazed stanza but was out of juice, so he sprung Mat Robinson, who started the play by stealing the puck and hustled his way onto the attack. But on the messy ice the defenceman lost the puck before he could fire a shot away, another in a series of opportunities the Canadians couldn't covert.

"Ugh," Robinson said afterwards. "I probably won't be able to sleep tonight."

The same surely extends to some of his teammates after a 3-2 shootout loss to the Czech Republic at Gangneung Hockey Centre in a very physical and tremendously entertaining contest, a result that may cost the two-time defending Olympic champions a chance to advance directly to the quarter-finals.
Filed in: Non-NHL Hockey, International Hockey, | KK Hockey | Permalink

02/17/18 at 07:52 AM ET | Comments (0)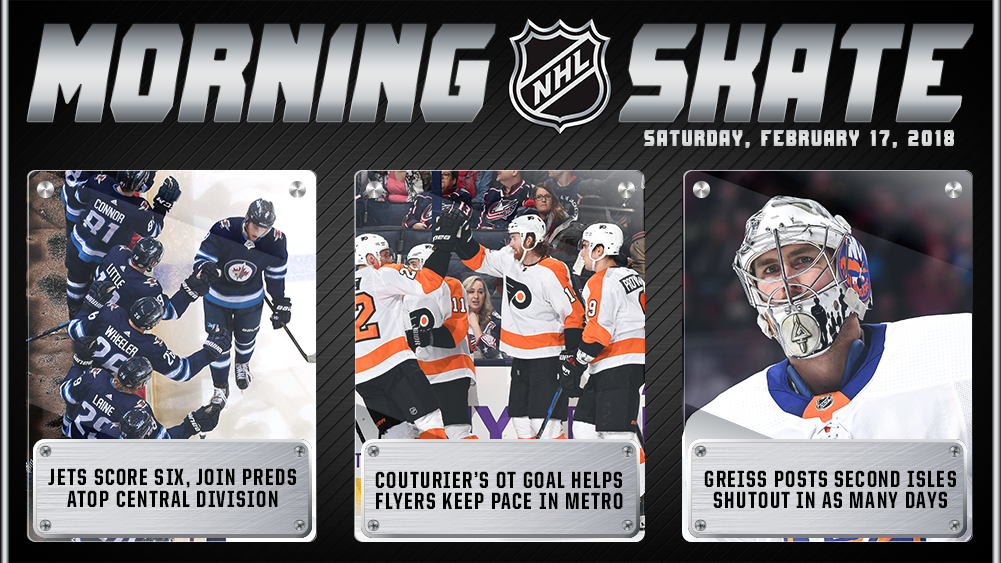 FRIDAY'S RESULTS
Home Team in Caps
Philadelphia 2, COLUMBUS 1 (OT)
NY Islanders 3, CAROLINA 0
WINNIPEG 6, Colorado 1
DALLAS 2, St. Louis 1
Filed in: NHL Teams, | KK Hockey | Permalink

02/16/18 at 08:42 PM ET | Comments (1)
from Don Brennan of the Ottawa Sun,
Rather than hiring a replacement for recently departed president and chief executive officer Tom Anselmi, the Senators owner will leave his cozy nest in Barbados, set up an office in the nation's capital and assume the CEO duties of his own team, a well-placed source inside the organization says...

Melnyk came to town earlier this week and held a staff meeting, at which point he presented his new plan. The boss would become hands-on, directing the staff and running the business.

It is not known whether Melnyk will hold a news conference to share what strategy he has devised, if any, to increase the number of ticket-buying customers. But the odds of that happening appear to be slim, if his most recent means of communicating with the fans are any indication.
Filed in: NHL Teams, Ottawa Senators, | KK Hockey | Permalink

« Previous < 1 2 3 4 5 > Last › Next »
About Kukla's Korner
Kukla's Korner is updated around the clock with the work of our own talented bloggers, plus links to the best hockey writing around the internet. We strive to bring you all the breaking hockey news as it happens.
The home page allows you to see the latest postings from every blog on the site. Subscribe here. For general inquiries and more, please contact us anytime.
Most Recent Posts
Most Recent Comments