02/18/18 at 09:28 AM ET | Comments (1)
Watch the hit below if you missed it yesterday/
Filed in: NHL Teams, New Jersey Devils, | KK Hockey | Permalink
Tags: miles+wood
Blog: Abel to Yzerman By Paul
02/18/18 at 07:29 AM ET | Comments (3)
from Helene St. James of the Detroit Free Press,
"I thought our work ethic was great," Blashill said. "There were certainly moments in the Tampa game where our work ethic was really good and then there were moments where it wasn't good enough. We can't be that — we have to be an every-shift, work-ethic team and tonight our work ethic was great the whole time.

"That doesn't mean we didn't make mistakes — we made lots of mistakes. We can live with mistakes but you can't live without having an unreal work ethic, being highly competitive and as detailed as possible and we did a good job."

Being able to close out in regulation was a relief for a team that over the previous four games twice had blown three-goal leads.

"The last couple wins, with Anaheim and this one, we've been able to find ways to win those tight games," Blashill said. "That's real important. I think we've taken real steps forward."
more on the game headlined by Witkowski's first goa...
Below,. watch highlights from the 3-1 win and post-game reaction.
Filed in: | Abel to Yzerman | Permalink

02/18/18 at 07:11 AM ET | Comments (4)
from Isabelle Khurshudyan of the Washington Post,
Washington Capitals forward Devante Smith-Pelly went to the penalty box after a fight 8:36 into the third period Saturday night at United Center, and four fans sitting against the glass of the box chanted "Basketball, basketball, basketball!" at him, according to a team spokesman. Smith-Pelly is black.

Smith-Pelly reacted, confronting the fans through the glass while holding his stick. An off-ice official sitting next to him in the penalty box notified building security, and the fans were kicked out of the arena. Smith-Pelly didn't speak with reporters after Washington's 7-1 loss to the Chicago Blackhawks.

"There's absolutely no place in the game of hockey or our country for racism," Capitals Coach Barry Trotz said after the game. "I think it's disgusting, and there's no place for it. Athletes in our country don't deserve that. It just shows ignorance."
Below, watch the incident...
Filed in: NHL Teams, Chicago Blackhawks, Washington Capitals, | KK Hockey | Permalink
Tags: devante+smith-pelly
02/18/18 at 07:04 AM ET | Comments (0)
Six minutes long.
Filed in: NHL Teams, | KK Hockey | Permalink

02/18/18 at 06:59 AM ET | Comments (0)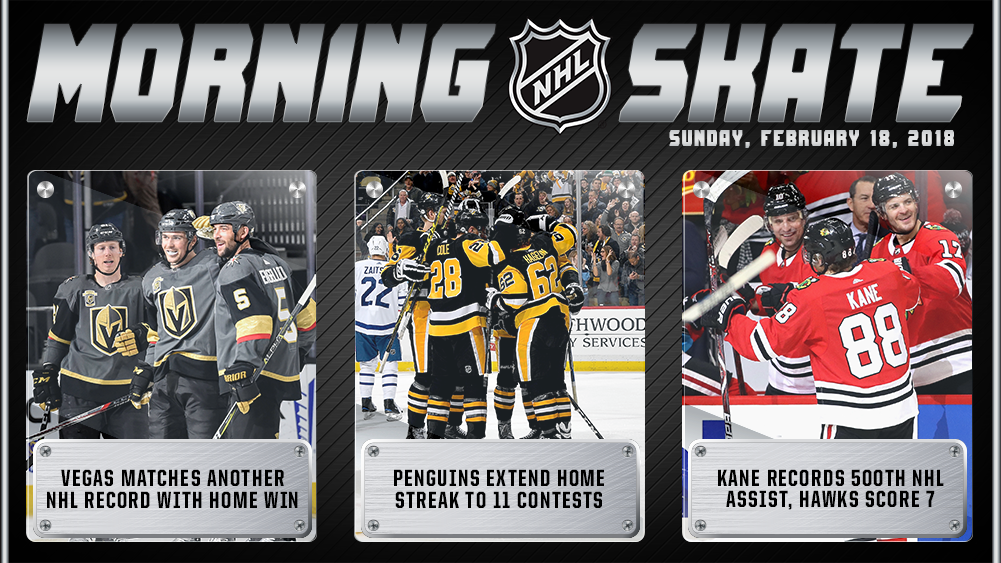 SATURDAY'S RESULTS
Home Team in Caps
Los Angeles 4, BUFFALO 2
Anaheim 3, MINNESOTA 2 (SO)
OTTAWA 6, NY Rangers 3
ARIZONA 1, Edmonton 0
VEGAS 6, Montreal 3
New Jersey 4, TAMPA BAY 3
PITTSBURGH 5, Toronto 3
Detroit 3, NASHVILLE 1
CHICAGO 7, Washington 1
VANCOUVER 6, Boston 1
Florida 6, CALGARY 3
Filed in: NHL Teams, | KK Hockey | Permalink

Blog: Abel to Yzerman By Paul
02/17/18 at 10:42 PM ET | Comments (8)
Wings win 3-1
Saturday nights are the busiest time of the week for me so I will provide the goals below if you provide the comments on the game.
Detroit team stats added below...
Filed in: | Abel to Yzerman | Permalink

02/17/18 at 09:44 PM ET | Comments (0)
Topics discussed by the panel include: Cam Talbot after the game today and the calls against the Oilers, the hit by Miles Wood tonight, don't be surprised if Erik Karlsson is traded by the trade deadline and Chris Tanev's named being mentioned in trade talk.
Also trade talk surrounding the Penguins and Blue Jackets. Ken Holland being mentioned as the GM in Seattle and a few other names too.
via Sportsnet,
Filed in: NHL Teams, | KK Hockey | Permalink

02/17/18 at 09:08 PM ET | Comments (0)
Topics discussed by Don Cherry and Ron MacLean- Should have been a penalty shot in Team Canada game, Phil Kessel, Nazem Kadri and the Leafs/Pens game tonight, the Winnipeg Jets and Matthew Tkachuk . Plus defensemen being beat on the inside and a few other topics including Cherry's return to Boston.
via Sportsnet,
Filed in: NHL Teams, | KK Hockey | Permalink

Blog: Abel to Yzerman By Paul
02/17/18 at 08:50 PM ET | Comments (2)
from Lance Hornby of the Toronto Sun,
Preceding the Maple Leafs' arrival in Detroit on Sunday are recurring reports Toronto is pressing the Red Wings to acquire Luke Glendening.

Head coach Mike Babcock likely is applying the most pressure, having been a strong supporter of the big checking centre going back to their time together in Detroit. Glendening's best season, 12 goals and a plus five, was Babcock's last season with the Wings. The undrafted University of Michigan star signed a four-year deal with Detroit last summer, but at $1.8 million US a season, it's not a cap-breaker.

The Wings, who are not likely in the playoffs again this year, have a good relationship with the Leafs through Babcock's former boss Ken Holland. But that doesn't mean Glendening would be acquired for nothing. Like many teams ahead of the Feb. 26 NHL trade deadline, the Wings would like to pry away some of Toronto's prospects or draft picks.
continue plus more Leafs topics...
Filed in: | Abel to Yzerman | Permalink

02/17/18 at 08:43 PM ET | Comments (0)
from Mike Harrington of the Buffalo News,
Memo to Terry Pegula, Kim Pegula and Russ Brandon: If you dare to increase ticket prices after this clown show of a hockey season, prepare for fan (and media) wrath unlike anything you've ever seen.

The players in your locker room insist they care. It's lip service. Constantly pulling no-shows at the start of games in front of their soon-to-be former season ticket-holders is a funny way of showing it. Even your rookie general manager - who certainly bears heavy responsibility for this disaster - has clearly moved past his breaking point....

Just then, GM Jason Botterill made a long-overdue statement on behalf of the paying customers. The denizens atop the 300 level and the residents of the press box heard a yell. Then the box shook with the slam of a door.
Filed in: NHL Teams, Buffalo Sabres, | KK Hockey | Permalink

« Previous < 1 2 3 4 > Last › Next »
About Kukla's Korner
Kukla's Korner is updated around the clock with the work of our own talented bloggers, plus links to the best hockey writing around the internet. We strive to bring you all the breaking hockey news as it happens.
The home page allows you to see the latest postings from every blog on the site. Subscribe here. For general inquiries and more, please contact us anytime.
Most Recent Posts
Most Recent Comments