Blog: The Malik Report By Paul
01/19/18 at 07:32 AM ET | Comments (16)
Ansar Khan of Mlive answers questions from the fans...
Q: How does (Holland) justify the large and long contracts he signed with (Justin) Abdelkader and (Darren) Helm? Both have been injured several seasons in a row. They have consistently under-performed offensively.

A: His justification simply is he believed they were worth it when he signed them.

Abdelkader received seven years at a $4.25 million cap hit in November 2015. He was coming off his best season (23 goals, 44 points) and they didn't have many players like him (decent size and physical, with scoring ability). At the time, he seemed like he might be the next captain after Henrik Zetterberg retired.

Helm was signed for five years at a $3.85 million cap hit hours before hitting free agency in 2016. They didn't want to lose his speed. He was coming off two fairly healthy and, by third-line standards, productive seasons (28 goals, 59 points combined). They valued his versatility (ability to play top-six or bottom-six, kill penalties and even play the power play).

I think the pressure to keep the playoff streak intact also played a role. They weren't ready to start rebuilding and believed Abdelkader and Helm could help them extend the streak better than whatever replacements they brought in had they not signed them.
more Q & A including Holland's future with the Wings...
Filed in: | The Malik Report | Permalink

01/19/18 at 07:26 AM ET | Comments (0)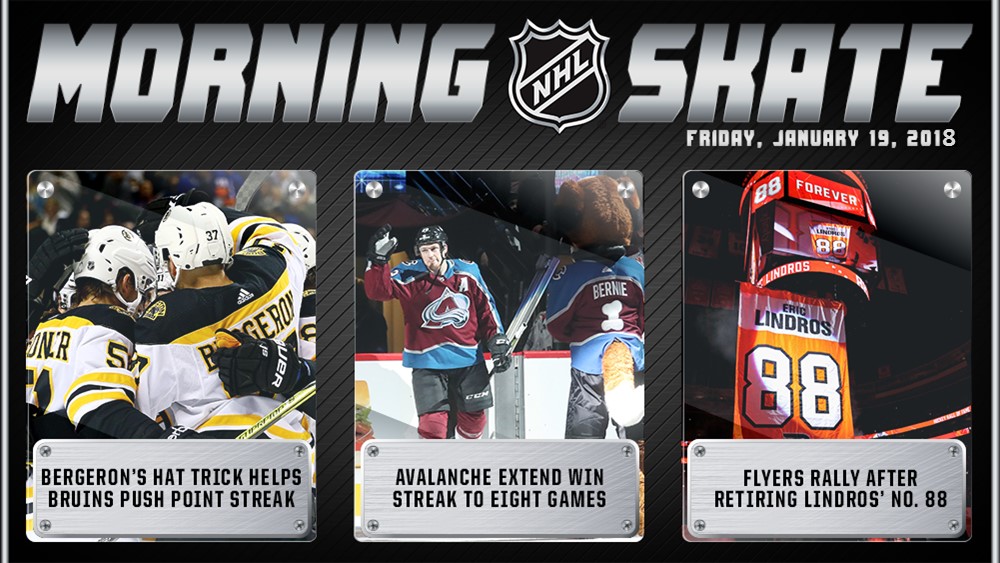 THURSDAY'S RESULTS
Home Team in Caps
NEW JERSEY 4, Washington 3 (OT)
Boston 5, NY ISLANDERS 2
PHILADELPHIA 3, Toronto 2 (OT)
COLUMBUS 2, Dallas 1 (SO)
NY RANGERS 4, Buffalo 3
St. Louis 4, OTTAWA 1
Vegas 4, TAMPA BAY 1
NASHVILLE 3, Arizona 2 (SO)
COLORADO 5, San Jose 3
Pittsburgh 3, LOS ANGELES 1
Filed in: NHL Teams, | KK Hockey | Permalink

Blog: The Malik Report By George Malik
01/18/18 at 10:22 PM ET | Comments (1)
Of prospect-related note:
In the KHL, Alexander Kadeikin took 3 shots in goal in 15:17 played but did not register a point in Lokomotiv Yaroslavl's 6-5 OT win over Severstal;
In the Finnish Liiga, Julius Vahatalo won 72% of his faceoffs in 11:23 played as Jukurit lost 2-1 in overtime to TPS Turku;
In the SHL, Christoffer Ehn finished at -1 with 1 shot, and a 50% faceoff record, in 12:48 played during the Frolunda Indians' 4-1 loss to Farjestads BK;
And in the OHL, Cole Fraser finished at -1 with 1 shot and Zach Gallant scored a goal on 2 shots, winning 5 of 18 faceoffs in the Peterborough Petes' 5-1 loss to Kingston;
Brady Gilmour finished at -1 with 2 shots and an 11-for-15 faceoff record, and Reilly Webb finished at -2 with 1 shot in the Saginaw Spirit's 6-2 loss to the Barrie Colts.
Filed in: | The Malik Report | Permalink

Blog: The Malik Report By George Malik
01/18/18 at 09:48 PM ET | Comments (4)
The Detroit Red Wings held a brief practice prior to the Toast of Hockeytown on Thursday, and before the Wings hob-knobed with their fans, the Wings' beat writers report that the team attempted to address its struggling power play.
MLive's Ansar Khan wrote an article about the Wings' power play woes...
The power play has converted only 2-of-33 opportunities the past 10 games (6.1 percent). The penalty kill has allowed nine goals in 28 shorthanded opportunities over 12 games. (67.9 percent success rate).

"I said in the beginning of the year we need elite specialty teams and I thought for a portion of the year we had that and right now we don't," coach Jeff Blashill said. "If we want to win games before the All-Star break, we need elite specialty teams."

The Red Wings have four games before the break, starting Saturday against the Carolina Hurricanes at Little Caesars Arena (7 p.m., Fox Sports Detroit).
Then the Wings play the Devils (away), Flyers (at Little Caesars Arena) and Blackhawks (at LCA)--and they play those 3 games over the course of only 4 nights--so the Red Wings are going to have to make some adjustments in a hurry.
Khan reports that Blashill plans on making some changes to the power play units, but more switching players from unit to unit as opposed to fielding new power play personnel:
Filed in: | The Malik Report | Permalink

01/18/18 at 07:59 PM ET | Comments (0)
Congrats Eric Lindros.
Filed in: NHL Teams, Philadelphia Flyers, | KK Hockey | Permalink
Tags: eric+lindros
01/18/18 at 07:23 PM ET | Comments (0)
from TSN,
One of the Canadiens' most glaring problems is their lack of a first-line centre. An obvious solution would be New York Islanders' star John Tavares, should he hit the open market this off-season. Dreger said that while Tavares leaving the Islanders is unlikely, the Habs have no choice but to be ready just in case.

"It's a pipedream. I'm still in the camp that believes that Tavares and the Islanders are going to find that middle ground. He'll stay and quite possibly finish his career with the Islanders."

"In Tavares you have to be all-in if you're the Canadiens, you're so desperate up the middle of the ice. I had an NHL executive tell me earlier this week that he believes that if Tavares goes to market, someone is going to offer a seven-year term at $15 million per season. If you're the Canadiens with $9 million in cap space right now, and that's going to grow in the off-season, if he hits the market, you need to be one of those teams ready to pony up that kind of dough."
more on Montreal trade options...
Filed in: NHL Teams, Montreal Canadiens, New York Islanders, | KK Hockey | Permalink
Tags: john+tavares
01/18/18 at 07:17 PM ET | Comments (3)
Filed in: NHL Teams, NHL Talk, | KK Hockey | Permalink

01/18/18 at 06:58 PM ET | Comments (3)
from Bruce Garrioch of the Ottawa Sun,
Pierre Dorion's phone has been ringing off the hook for seven weeks.

That doesn't mean he's ready to make changes … yet.

Addressing the media before Thursday's home game against the St. Louis Blues, the Ottawa Senators general manager said he knew the odds were long, but he still wasn't ready to throw in the towel on the National Hockey League playoffs.

Back from scouting department meetings in Florida last week, Dorion said the Senators had mapped out several possibilities for what direction to take depending on what happens before the NHL trade deadline on Feb. 26.

"We have a plan in place and we have multiple plans in place depending on where this hockey team goes and the direction we need to go to," Dorion said. "We know we're in a tough position right now.
Filed in: NHL Teams, Ottawa Senators, | KK Hockey | Permalink

Blog: The Malik Report By George Malik
01/18/18 at 04:50 PM ET | Comments (15)
The Red Wings' Thursday afternoon practice preceded the Toast of Hockeytown event, so it wasn't covered intensely. MLive's Ansar Khan posted the only Tweet from practice...
And the Red Wings posted a pair of player (Gustav Nyquist) and coach's comment videos:
added 5:43pm, some power play talk added below too..
Filed in: | The Malik Report | Permalink

01/18/18 at 02:11 PM ET | Comments (0)
from Neil Greenberg of the Washington Post,
Chicago is allowing 57 even-strength shot attempts per 60 minutes this season, its highest rate since 2007-08, the first year data is available. More troubling than the increased volume of shots is they are coming from the more dangerous parts of the ice, such as the slot and the crease. Once you account for shot quality, the Blackhawks are allowing shots that carry an expected goal rate of 2.5 per 60 minutes at even strength, the eighth-worst mark of 2017-18. Their expected goal rate against (xGA per 60) in their championship years, 2009-10, 2012-13 and 2014-15 were 1.9, 2.0 and 2.3, respectively.

Among the 146 defensemen playing at least 500 minutes at even strength this season, Keith's pair ranks 123rd for the quality of shot the team allows with him on the ice (2.7 xGA per 60), Brent Seabrook's pair ranks 116th (2.7 xGA per 60) and Gustav Forsling's pair ranks 143rd (2.9 xGA per 60).
more with graphs, charts, etc....
Filed in: NHL Teams, Chicago Blackhawks, | KK Hockey | Permalink

« Previous < 1 2 3 4 5 > Last › Next »
About Kukla's Korner
Kukla's Korner is updated around the clock with the work of our own talented bloggers, plus links to the best hockey writing around the internet. We strive to bring you all the breaking hockey news as it happens.
The home page allows you to see the latest postings from every blog on the site. Subscribe here. For general inquiries and more, please contact us anytime.
Most Recent Posts
Most Recent Comments